One of the most effective approaches to reaching and engaging a target audience is the sms marketing campaign.
They have quickly gained popularity as a powerful tool for businesses looking to make direct and personal 💟 connections with their customers.
In this article, we'll explore what sms marketing is, its benefits, as well as the key strategies 🔑 for creating effective campaigns. 👀
Ready to make a direct connection with your customer? Then let's get started! 😇
Smsing: the definition
SMS marketing is a marketing strategy that allows you to send an SMS message to groups of recipients with the aim of promoting :
🛍️ Products.
🫱🏽‍🫲🏼 Services.
💸 Special offers.
🥂 Events.
🗒️ Any other important information.
This is a direct marketing technique that uses short text messages to reach customers or prospects effectively and directly on their mobile phones. 📲
In addition, it can be used to
🔳 Acquiring new customers.
🔳 Building customer loyalty.
🔳 Distributing important information.
🔳 Promoting flash sales.
🔳 Setting up awareness campaigns.
Finally, "smsing" is an informal expression for sending a marketing sms. But it's not the only synonym, here are some others. 👇🏼
Synonyms for sms marketing
Sometimes you may find this marketing strategy under a different name. That's why here's a list of synonyms 🎁
🔹 Advertising by sms.
🔹 Text messaging campaign.
🔹 SMS advertising.
🔹 Mobile messaging strategy.
🔹 Mobile marketing.
🔹 Commercial sms.
🔹 Marketing by sms.
🔹 Advertising sms.
🔹 Prospecting sms.
🔹 Professional sms.
🔹 Sms campaign.
🔹 Targeted sms marketing.
🔹 Mobile promotional message.
🔹 Direct marketing via sms.
🔹 Text marketing.
🔹 Commercial messages by sms.
The advantages and disadvantages of an sms marketing message
Let's find out, without further ado, the advantages and disadvantages of a promotional sms (because yes, there aren't just advantages… 🫣).
High open rate:

generally over 90%, recipients read messages quickly.

Precise targeting:

based on recipients' preferences and demographics, increasing their relevance.

Affordable:

mostly inexpensive to implement, especially for small businesses.

Rapid response

: messages are often read and responded to almost immediately, enabling rapid feedback from customers.
Potential intrusiveness:

unsolicited messages can be perceived as intrusive, which can damage a company's reputation.

Compliance with regulations:

often subject to strict consent and privacy regulations (more on these later), which can lead to legal problems if not complied with.

Content limitation:

they have a character limit, which can make it difficult to transmit complex or detailed information.
Why use SMS advertising?
As mentioned above, it's a responsive direct marketing tool that offers a high open rate, fast response rates and, above all, the ability to target 🎯 and personalise messages. All at an affordable price, and we love that! 😇
If, despite all this, you're still asking yourself the question "Why do SMS advertising? 🤔" well, here's our 3-point answer. ⤵️
1)Marketing targeting
By collecting data and analysing customer behaviour, it's possible to create specific mailing lists and personalise messages according to individual preferences. 🦋
This level of targeting allows companies to ensure that their offers reach ✉️ directly to the people most likely to be interested in their products or services.
Recipients are more likely to respond positively to messages that match their needs or preferences. This is why the conversion rate is often higher. 💟
To illustrate what we mean, here's an example that I think will speak to you! 🗣️
A retail company might send special offers on sports products to customers who have previously purchased sports items.
Yet it could send promotions on beauty products to customers who have shown an interest in that category. 👀
2)Strengthening customer loyalty
Another point that's important to name is customer loyalty. Nowadays, companies strive to retain their customers because, keeping an existing customer generally costs less than acquiring new ones. 😅
OK, that's all well and good to say, but how do you go about it? 🤔
Don't panic, here's how, it's free: 🎁
Exclusive offers

➡️ loyal customers appreciate being rewarded for their loyalty. That's why some companies can send special offers, exclusive discounts or even benefits reserved for loyal customers by sms. This reinforces the feeling of belonging.

VIP privileges

➡️ some companies can create VIP loyalty programs. These members can receive advance information, invitations to special events or priority customer service.

Customer satisfaction

➡️ an SMS can also be used to collect comments and opinions from customers. This takes into account feedback and suggestions for improvement.

Regular communication

➡️ This keeps in touch with customers and keeps them informed of the latest news, offers and updates.

Appointment or event reminders

➡️ used to send useful reminders to customers,

enhancing

the customer experience and strengthening loyalty.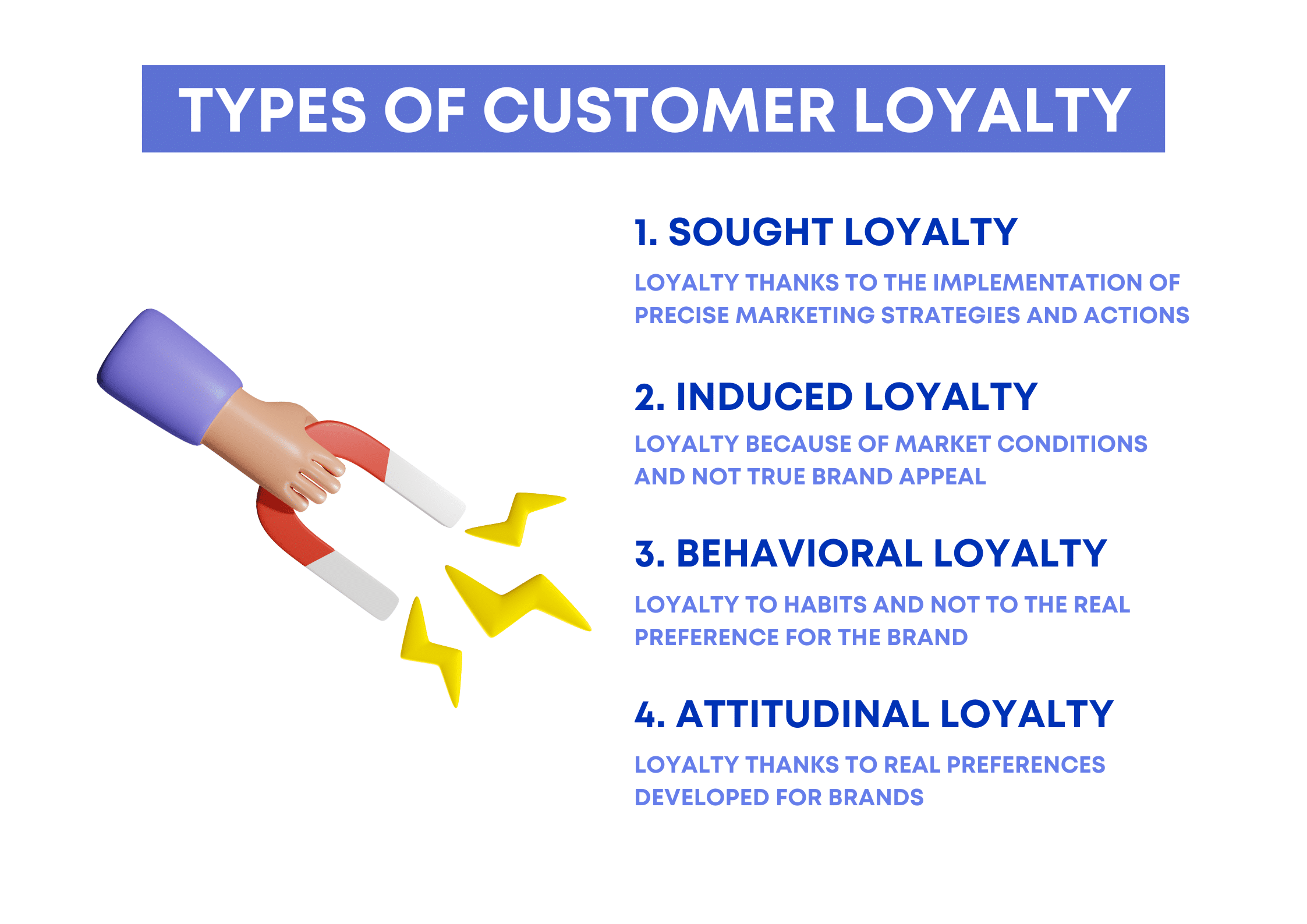 3) Product and event promotion
Using smsing to promote products and events is an essential aspect of this strategy. 🫶🏼
In fact, companies can take advantage of this method to inform their customers of new offers, exclusive sales or product launches. 🚀
That's not all, if, for example, you're organising a special event, such as a fashion show (soon to be Paris Fashion Week ✨), sms advertising can be used to generate excitement and engagement.
When and how should an SMS marketing campaign be sent?
Now that you've understood what an sms marketing campaign is, you need to know how and when to send it. Because, yes, you don't put what you want in it and you can't send it whenever you like.
So let's get down to the nitty-gritty. Sit down comfortably and take some notes. 📝
#1. Segmentation and targeting strategy
Any good campaign worth its salt starts with a precise segmentation and targeting strategy.
Segmentation involves dividing➗ your contact list into homogeneous groups 🫧 based on relevant criteria.
If you want to segment your list, you can use criteria such as :
📝 Demographics.
🤑 Purchasing preferences.
💻 Online behaviour.
📍 Geographical location.
Remember that. ⤵️
The finer the segmentation, the more you'll be able to personalise your messages and tailor them to the needs and interests of each group.
Obviously, targeting 🎯 goes hand in hand with segmentation. So it's all about choosing the ideal time to send your messages to each group.
You know we love examples, and so do you, so let's go. 🔥
If you have a specific promotional offer for students, it would be a good idea to send it during the back-to-school period. That way, all the students will flock to your offer! 🏃🏼‍♂️
#2. Choose the right timing
You know better than anyone, you rarely look at your phone at work and you're rather active when you're on public transport or quietly at home from 7pm.
That's why you need to take several factors into account to determine when to send your messages. 📆
First of all, think about your audience's time zone. I don't think you want to send a promotional text message at 3am, at the risk of disturbing your customers' sleep (yes, there are still people who don't sleep with the "do not disturb"… I don't know how they do it, but that's another subject).
Next, pay attention to timing. Let me explain. If you're promoting products linked to holidays 🏝️, seasons or particular events, then plan your campaigns accordingly.
Let's take Christmas as an example (it's coming up soon, by the way 🎄 ). Campaigns should start a few weeks beforehand, to give customers time to make their purchases, and not at the last minute.
Finally, remember to keep an eye on the days of the week. Yes, response rates can vary depending on the day.
For example, text messages sent in the middle of the week often have better results than those sent on the weekend, because people are busier.
#3. Define the message
Messages should be short, to the point and to the point. You have a limited number of characters at your disposal (usually 160), so make sure your message explicitly conveys the essentials.
Don't hesitate to include a CTA (call to action). To do this, ask yourself the following question 👉🏼 "What does my recipient do after reading the message?"
This could be to visit your website 🌐, register for an event or use a promotional code.
Finally, don't hesitate to personalize the message as much as possible by using the recipient's name and adapting the content according to their segmentation.
A personalized message is more engaging and shows that you consider the needs and preferences of each customer, and we love that! 🫶🏼
SMS software: 3 tools you need to know
Now that you've got a good understanding of what an sms marketing campaign is, we recommend that you choose reliable sms sending software to optimize your campaigns. Without further ado, here are our 3 favorites. 💟
1. Primotexto
This is a user-friendly platform for managing your campaigns. Its features include: 👇🏼
💬 Message personalisation.
🤳🏼 Contact segmentation.
📊 Performance monitoring.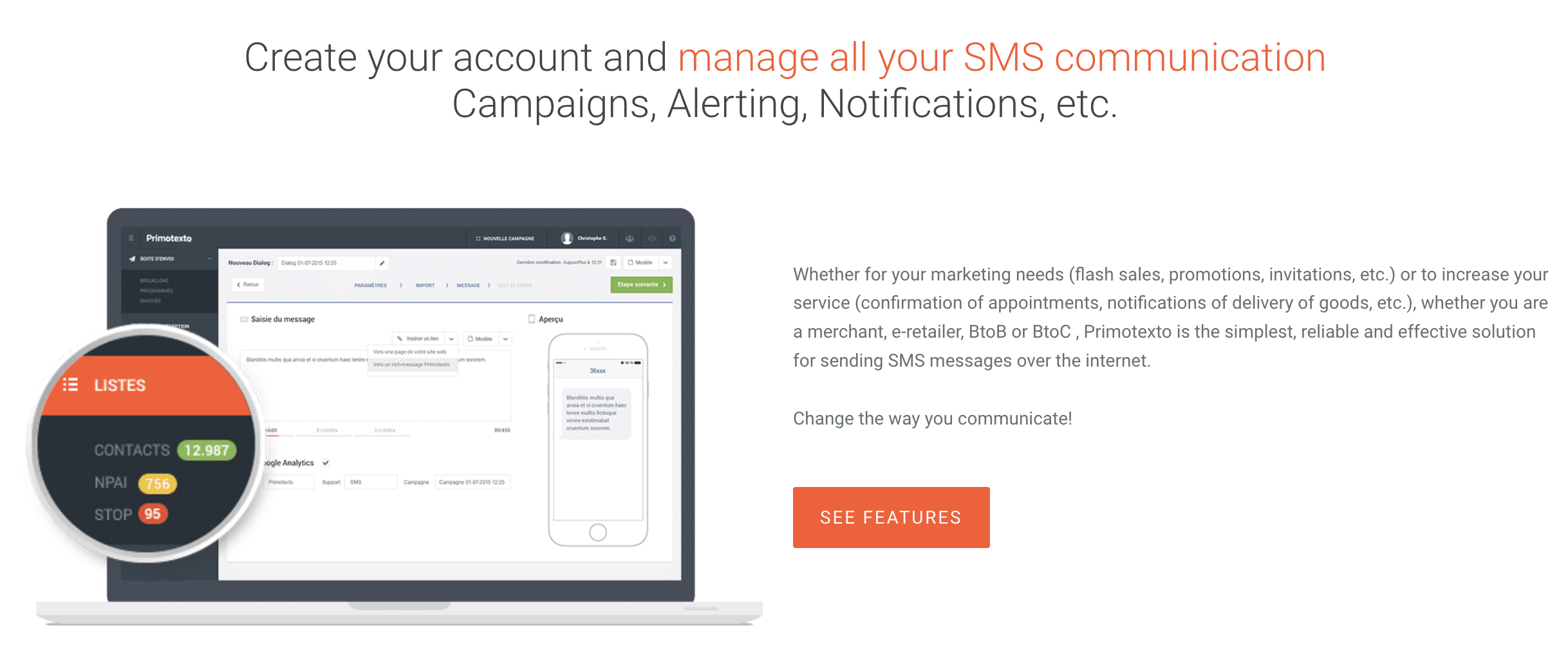 Finally, it also offers scheduling of mailings, response automation and integration with other marketing tools
2. Spot-hit
The second tool is Spot-Hit. This is an online SMS sending service that offers a variety of options for your SMS communication needs. 🗣️
Among other things, it allows you to send bulk sms, manage contact lists, and integrate personalisation features.

3. SmsFactor
Finally, the last tool, SmsFactor. Like the others, it offers the following features :
Advanced customization.
Detailed reporting on the performance of your campaigns.
Possibility of scheduling mailings to reach your audience at the best time.
👀 A little extra, it supports international sms sending, which can be advantageous if you're a business with a global reach.
Bonus tool: Waalaxy
With our prospecting and automation tool Waalaxy, you can extract the phone number from any LinkedIn account via data scraping. 👽
This practice is commonly used to connect programs to older ones that don't provide an API, or to extract data from third-party sources.
Don't panic, we'll tell you more about it in this article. ⬅️
5 tips for sms advertising
It's nearly the end of this article but, we didn't want to leave you hanging. That's why we've come up with 5 tips for successful sms marketing. 🔥
Gift, don't thank us. 🎁
1) Choose the right number of characters
We've told you this before but, a jab 💉 of reminder never hurts.
The number of characters in an SMS is limited, generally to 160 characters per message.
It's therefore essential to choose the content of your sms carefully in line with this constraint.
To do this, make sure the main message is at the beginning of the message to grab attention immediately. 👀
If, however, you have the soul of a novelist and your message is longer, we advise you to send it in several parts, making sure that each of these messages makes sense. 😇
Here's an example of a fashion marketing text message: ⬇️
2) Add a CA
As you've just seen, one of the key elements 🔑 of any advertising sms is the call to action (CTA). You need to clearly tell your customers what you want them to do, this can be :
Visit your website.
Take advantage of a discount.
Register for an event.
Make a purchase.
This must be worded in such a way as to make your recipients want to take immediate action. 👀
So forget the niceties and get straight to the point 🔥 we want direct action!
Remember, the more direct you are, the more you'll convert and therefore, your sales will increase. 📈
Let's discover an example of b2b sms marketing: ⬇️
3) Comply with regulations
This may seem obvious to you but, a reminder never hurt. SMS advertising is subject to strict privacy protection regulations, such as the RGPD in Europe and the TCPA in the United States.
That's why it's imperative to obtain recipients ' consent before sending SMS advertising.
Finally, make sure you include an unsubscribe option in your messages, allowing recipients to remove themselves from your mailing list at any time.
For example👇🏼
Failure to comply with these regulations can result in significant fines 😶 and thus, damage your reputation.
4) Avoid an intense campaign
Don't bombard 💣 your recipients with messages, as this can irritate them and lead to unsubscribes. 🥲
It is indeed essential to strike a balance by planning relevant and well timed mailings.
OK, if I have to take an example, you can send a promotional offer around the holidays or seasonal sales, they will be more effective than daily messages. 🎅🏽
5) Analyse the results
Last but not least, analyse theresults. 🔎
We advise you to monitor the following metrics :
🔵 The open rate.
🟣 Conversion rate.
🔵 The unsubscribe rate.
All this data helps you assess the effectiveness of your campaign and make adjustments to improve performance in the future.
Article conclusion: commercial sms
It's already the end of this article… Let's recap together what we've covered :
🔲 The definition of smsing.
🔲 Why sms marketing?
🔲 When and how to send your campaigns?
🔲 3 software programs to send them.
🔲 5 of our top tips for successful messaging.
Frequently asked questions
Did you think we'd be leaving you by now? Well no, we still have some important resources! 😏
How do you start a professional text message?
Here are a few tips on how to start an sms in a professional way :
🔵 Use an appropriate greeting.
🟣 Introduce yourself.
🔵 Be concise.
🟣 Be clear about the purpose of the sms.
🔵 Be respectful and polite.
🟣 End with a call to action (CTA).
🔵 Pay attention to the person.
Why communicate by sms?
Want a list of why communicating by sms is good? Here they are! 👇🏼
Speed.
High open rate.
Accessibility.
Personalisation.
Conciseness.
Multimedia.
Customer engagement.
Notification and reminders.
Emergency communication.

Regulatory

compliance.
What's the difference between an SMS and a message?
Here's a quick look at the difference between an SMS and a message
SMS ➡️ is a specific type of short electronic message sent via mobile phone networks. Limited in terms of characters (usually 160), and is mainly used for

text communication

.
Message ➡️ A more general term that can encompass a wide range of communications, including SMS, email, instant messages, social media messages and voice messages.
And that's the end of this article. You now know how to run an sms marketing campaign, well done! 👏🏼