How to get marketing qualified leads ? Lead generation is a key step in developing a business. Different techniques exist today to prospect effectively. Some approaches work better than others. We show you which ones to implement and how to know if they are right for your industry. 🎯
How to get marketing qualified leads ?
Leads are potential customers, generating leads means getting new contacts with the goal of turning them into customers. 🚀
So the goal is to turn them into real customers. Lead generation can be done through different channels to increase interest around a product or service. Let's first analyze the basics of lead generation before looking at prospecting on LinkedIn, one of the main channels used.
What to do before thinking about "lead generation" ?
Don't put the cart before the horse. Before you start generating leads, you need to ask yourself if everything is in order on your side:
Do you have a good product market fit?
Have you determined your personas? Do you know where to find them?
Have you created a sales tunnel that allows you to go from lead generation to customer nurturing?
If these terms still sound fuzzy to you, then you're not fully ready to generate new leads; you need to focus on your digital marketing strategy first. Fortunately, we have all the resources you need.
If these terms are clear to you, then it's time to move on. 👇
The basics of lead generation
Lead generation is an important first step in the sales tunnel. This one must be well thought out in order to accompany the prospect to the purchase. Prospecting allows you to find your audience and begin to establish a connection with them. To make the sales process more fluid, your sales representatives must be able to rely on a list of prospects. There are two basic pillars to lead generation:
identification,
qualification of prospects.
In order to define your qualification criteria, you must take into account the budget, the purchasing power and the need in relation to the product you are offering, then you will be able to qualify your prospects according to their actions.
Cold: He doesn't seem interested.
Warm: He needs to be convinced of the relevance of what you are offering
Hot: He is interested in what you are proposing.
Some also use the term lead scoring: the score advances according to the actions of the prospect in the buying process.
B2B prospecting on LinkedIn
The social network LinkedIn is a goldmine of profiles that allows professionals to get in touch and build a network. It is therefore a strategic choice if you want to generate leads. Every company needs to communicate where their customers are. If your company is B2B oriented, prospecting on LinkedIn is not just essential, but a must! 😱
The advantage of the professional social network is that you don't need the email of your prospects. Yet we are talking about prospecting and therefore new customers.
Unlike emailing, which loses efficiency in the long term, prospecting via LinkedIn has a much better message reading rate. Example of a performance indicator on LinkedIn: acceptance rate and response rate.
However, prospecting on LinkedIn can be particularly time-consuming. Defining your target and identifying your buyer persona are therefore priorities. Optimize your profile and improve its visibility by integrating visuals in your cover photo for example. To avoid drowning in search results, use the Sales Navigator and its advanced functions. You will then obtain a list of targeted and qualified prospects.
How to prospect online?
It's hard to do without digital today. Instead of trying to convince you of the advantages of online prospecting, let's discover how to prospect on the Internet.
The basics of online prospecting
Having a website is a good start, but generating leads is even better. In order to stand out from the competition, one of the main tools of online prospecting is inbound marketing. Part of your company's credibility is the image you portray.
Even if you've rightly opted for a multi-channel strategy, optimize your LinkedIn or Instagram profiles if you're targeting a B2C market. The content you share must be impeccable. Don't produce just to produce, offer quality.
This will drive engagement on social networks and improve the visibility of your posts. It takes work, but the results are there. If you are starting out in digital prospecting, it would be a mistake to focus on inbound marketing. Outbound marketing will allow you to get in touch with your qualified prospects.
Inbound marketing VS outbound marketing
In reality, these two techniques are not opposed to each other, they are complementary. With inbound marketing, you attract the prospect.
With outbound marketing, you are in a proactive approach. If it is well targeted, there is no reason why it should not work.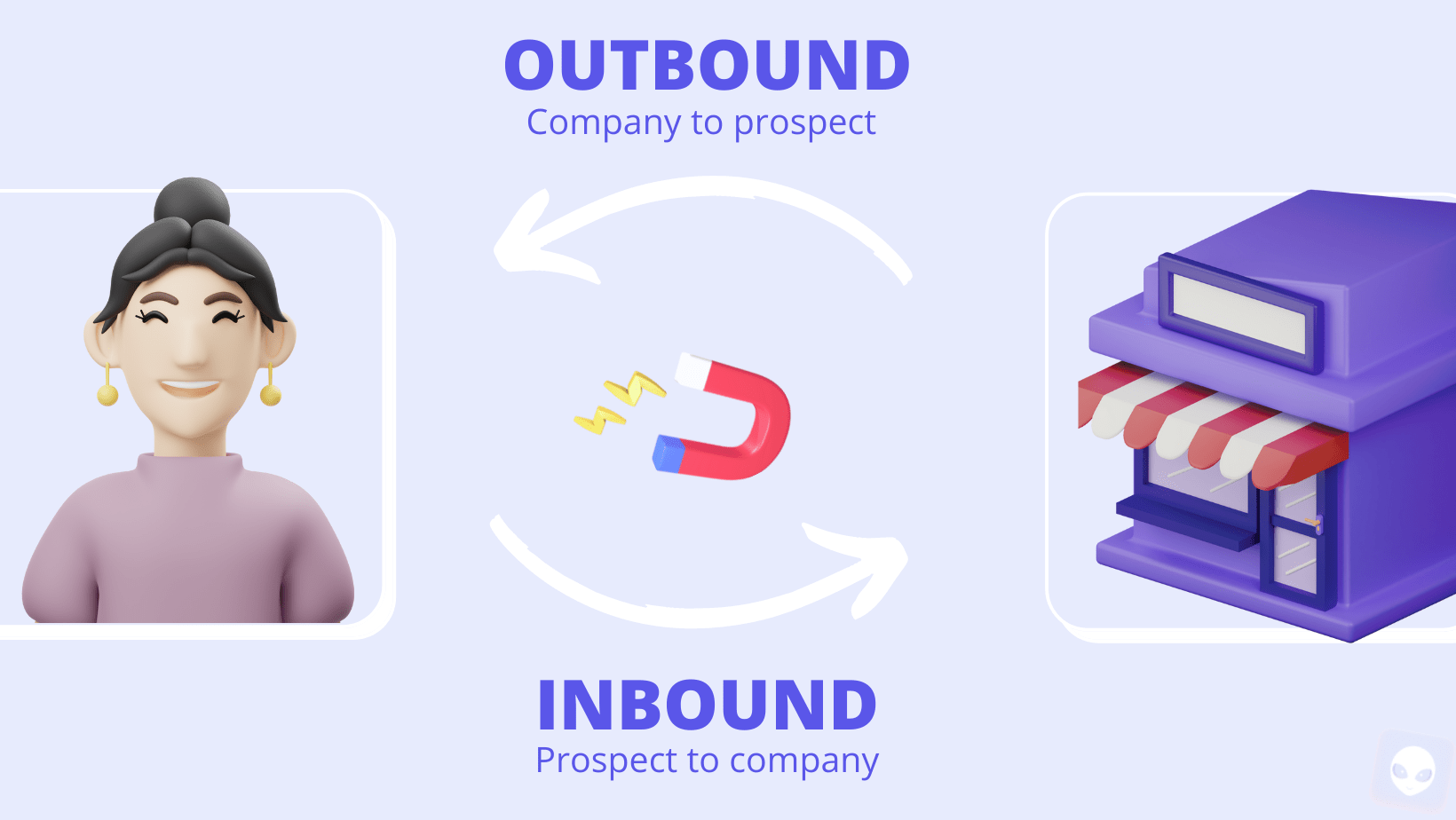 To prospect effectively online, the most practical option is to choose automated prospecting. You need to take your prospect through what is called a "conversion tunnel". This tunnel corresponds to all the steps the prospect goes through before becoming a customer.
How to get marketing qualified leads through inbound marketing ?
Inbound marketing is in opposition to outbound marketing, which consists of going out to find potential customers by calling them, mailing them or canvassing them in one way or another. Inbound marketing, on the other hand, consists of bringing the prospect to you, often by gaining their attention.
So far, this sounds like the definition of content marketing. But inbound goes beyond content marketing 🚀:
It's the entire process from first contact with your brand to conversion and then the process of improving and repeating the process.
In other words, Inbound marketing encompasses all the ways to attract potential customers and convert them through these different means.
How to get marketing qualified leads through outbound marketing ?
Outbound marketing, as we said above, is a more direct sales technique, which leads you to contact your prospect directly without reaching them. The basics of outbound marketing are now :
Targeting.
Advertising.
Scraping.
Cold Email.
Advertising has developed on the internet over the years: LinkedIn Ads, Youtube Ads, Google Ads… It is becoming more and more accurate but also more and more popular as many companies are fighting for advertising space. 🐱‍👤
When it comes to scrapping and cold email, these are very recent marketing techniques. Before, it was about going door to door, then with the digitalization we started to buy databases to contact these people by email.
Now, for the most experienced strategists, it is possible to scrape data online: Google, LinkedIn. And add these prospects directly into a Google email campaign. Of course the main issue is once again to have a good segmentation to contact the right people and to deliver the right message to convince them.
What is lead data scrapping?
It is a tool that automatically finds the data of the people you have targeted: profile, profession, company, email address, phone number…
The tool will automatically scan the web pages according to the search filters you have set. If you want to know how it works follow the guide. 👀
How to make a digital conversion tunnel?
The conversion tunnel is all the steps your prospect goes through or can go through. Each company or site has a conversion tunnel of its own and defined in the marketing strategy, the steps through which the prospect will pass. Generally, this tunnel is composed of 4 key steps:
Attracting the customer.
Personalize their experience.
Convert.
Build loyalty.
For each of these steps, different channels are possible.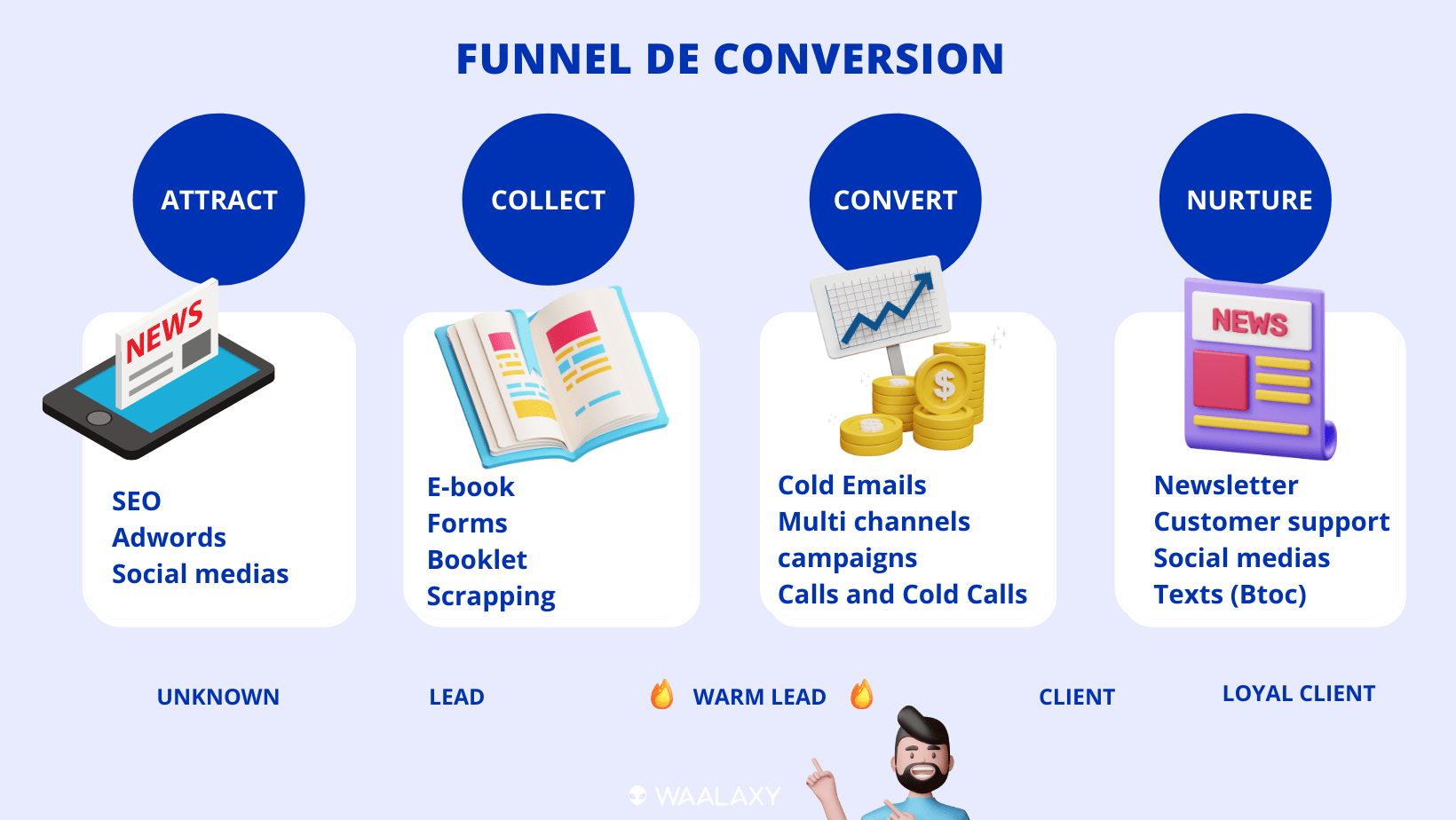 Example of a conversion tunnel
There is nothing more telling than an example, Here's part of what we have set up at Waalaxy to convert our leads. Attracting customers:
A blog with optimized articles (SEO: Search Engine Optimizer)
Displays (Ads) on Youtube, LinkedIn and Google.
Active communication on social networks.
Personalize their experience:
We collect user data when they sign up and we practice scrapping in order to recontact them.
We enrich the data with Dropcontact.
We send automatic and personalized messages to prospects according to their actions (download the tool, use the platform, download the white paper…)
Convert:
We use Waalaxy, a multi-channel automated prospecting tool (LinkedIn + Cold Email) to contact and convert our prospects.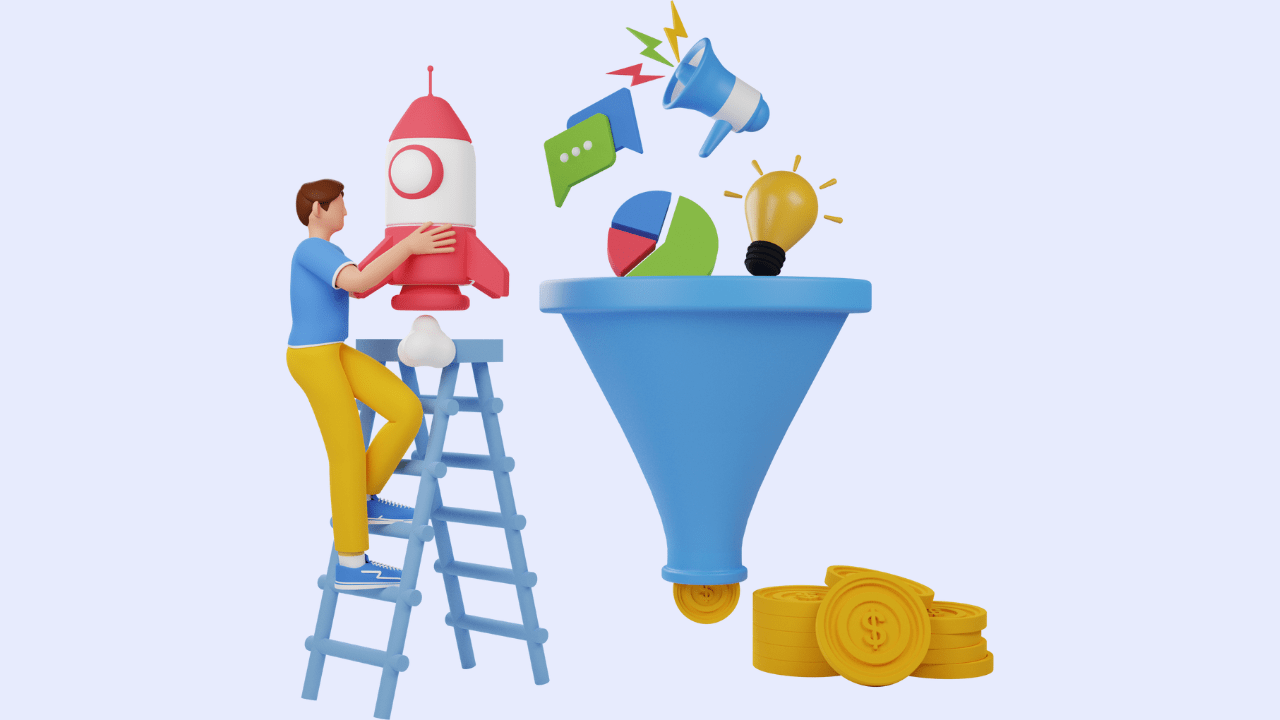 Automated prospecting saves us a lot of time and allows us to focus on other missions like improving our tool or customer service.
We answer all questions in the user chat in less than 3 minutes in a row. ⏱
Effective prospecting: the automation tool is your ally
Finding customers easily is the dream of every business. It's not impossible. It does not require technical skills and a solid database.
Drip marketing or marketing automation
We call drip markerting, automated message campaigns sent according to a specific schedule or action performed by your prospects. 🌈
I explain: These messages are most often emails or LinkedIn messages, although you can quite set up the same thing with sms to Facebook Messenger for example, especially if your target is Btoc.
These messages are written in advance and are often triggered by what we call triggers, i.e. actions of your prospects, at Waalaxy we use the term "auto-import". For example: when someone comments on one of your LinkedIn posts, they enter your CRM and appear in a dedicated campaign.(See how to do this 👀)
Drip marketing is like anything else, overused or misused, it can get your contacts angry.  You can use it to educate users, reward your best customers, write to users who visit a specific page of your site, users who downloaded your application…
In short, focus on some essential aspects, but avoid contacting your prospects all the time to sell them something. It doesn't work. ❌
A hundred people contacted
Using a free prospecting tool will allow you to automate lead generation on the one hand, but also to easily contact your prospects. The latest tools help you contact a hundred people a day. With Waalaxy, you can even do this in 10 minutes, for free every month if you subscribe to the freemium offer.
Tracking your KPIs is easy and you can say goodbye to Excel. An efficient prospecting is above all a scalable and easy to adapt prospecting. An automated prospecting CRM allows you to select prospecting scenarios to better adapt them to your targets. Lead generation cannot be done without the targeting stage.
Once this step is well in place, you can export your prospects and start an automated prospecting campaign.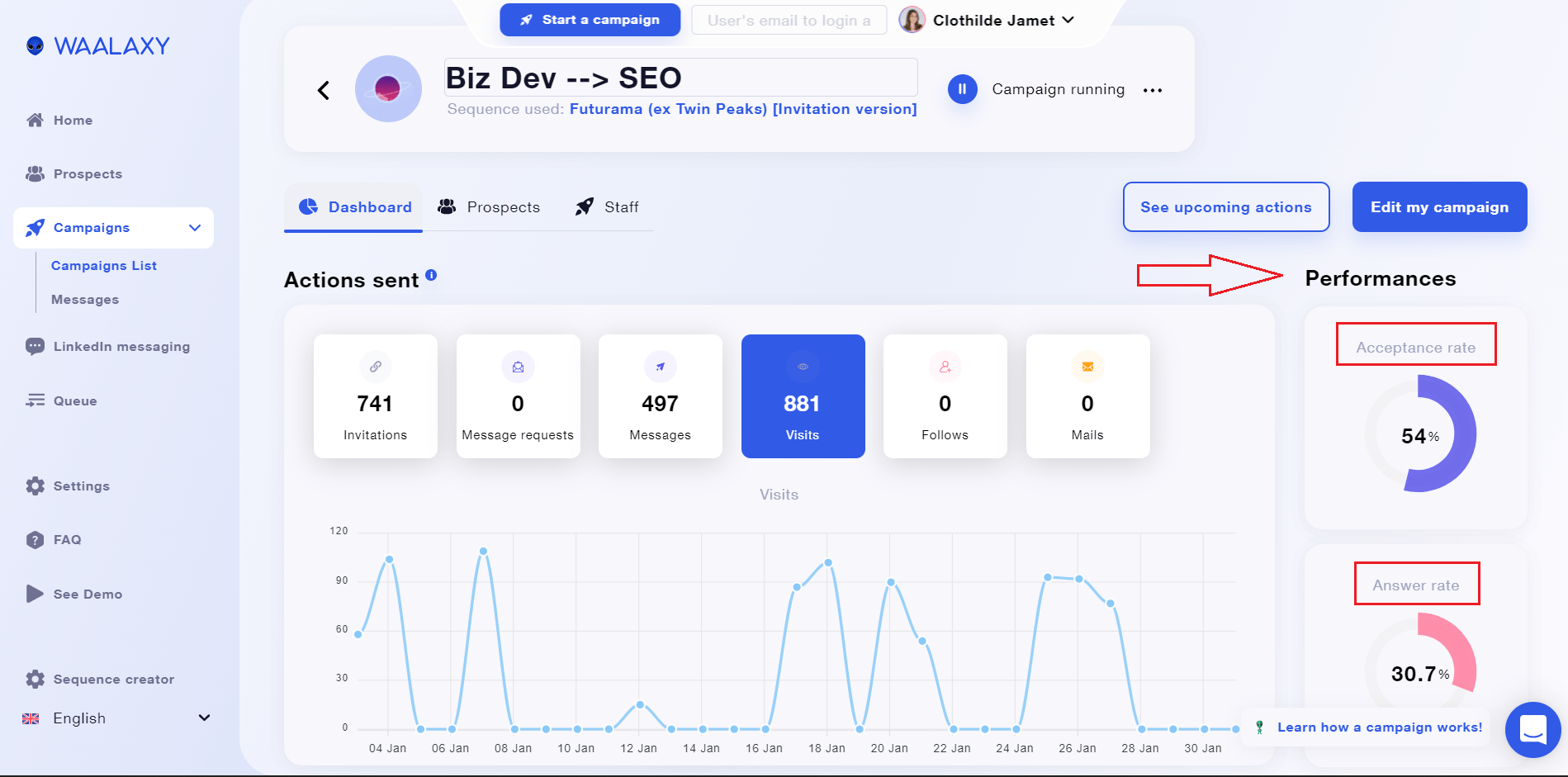 How to set up a quality prospecting?
To set up an effective prospecting campaign, you must :
target your prospects,
work on the contact by personalizing your prospecting message,
respond to messages using the AIDA method.
A prospecting tool must first and foremost be easy to use and effective. You must be able to combine emailing and LinkedIn prospecting (for B2B). With a multi-channel approach, you will get more results. However, there is one last point to consider: follow-up.
This is essential if you want to improve your techniques. Is the chosen segmentation relevant? An easy way to find out is to use an automation CRM.
You can set up an A/B test in a simplified way on some online tools or get statistical tracking. On Waalaxy, your dashboard tells you everything 😉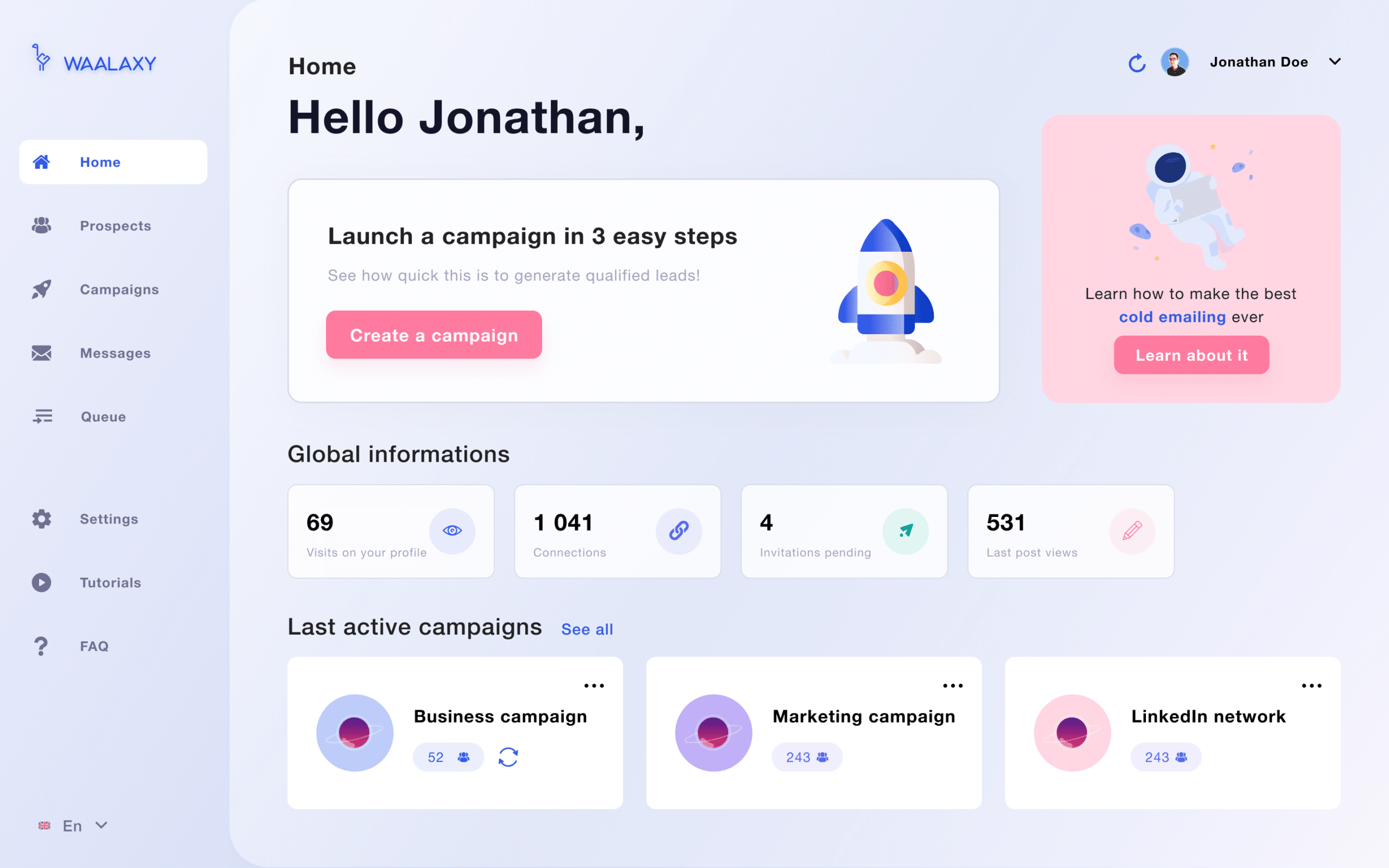 Conclusion of the article
When it comes to lead generation, saving time and simplifying processes is essential of course, but don't just focus on that. Targeting and personalizing your content is also important in order to turn your prospects into loyal customers. To gain efficiency, automated prospecting is your best asset.
Faq of the article: generating new leads
Here are the questions often asked by our customers, so we hope to be able to help you with your last questions thanks to the Faq. If not, ask us questions directly in the Waalaxy chat. 🥰