To start prospecting on LinkedIn, you must first define your persona. Once the persona is well defined, and to be able to maximize its conversion rate, it is advisable to optimize your LinkedIn profile. In this article, we take step by step everything to make a good LinkedIn profile.
Profile picture: center of attention
Imagine 3 people you only know on LinkedIn. How do you imagine them?
80% of you have normally imagined profile pictures. This is what everyone sees, all the time, on the network. Messaging, publications, comments and… your profile. Don't overlook this point: a professional picture is essential if LinkedIn is an important channel for you.
If you want to test your pictures, there is a great site to get an average rating on different criteria. And so choose the best pictures.
A common fashion is to surround your profile picture with a colored circle, with a simple assembly, to bring out the picture. The picture is is an important factor to make a good LinkedIn profile.
Clear title, concise message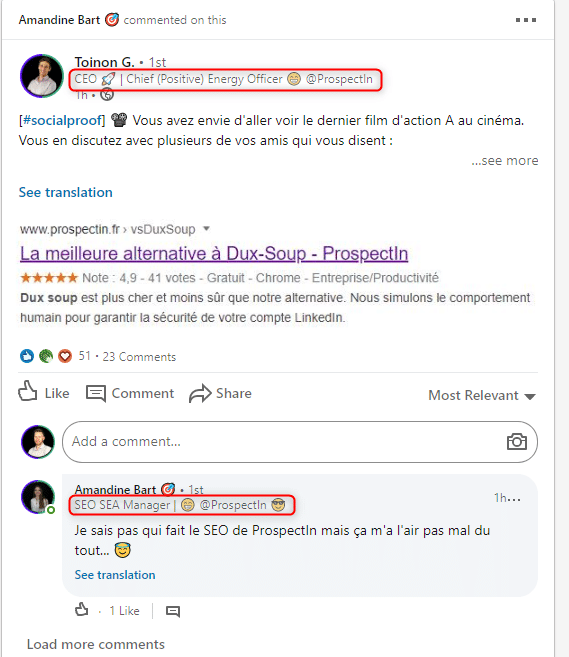 The title, along with the profile picture, is the very first thing people will see on LinkedIn, without even having to go to your profile; your title is visible when you post a post or comment.
It must, therefore, be clear and concise, no need to add an extended sentence, it will not be entirely visible. If you want to describe what you do more precisely, it will be in the "summary".
Should you use emojis in your title or name on LinkedIn?
You are free to define which message you wish to pass. The emoji brings a touch of color, makes it more visible, catches the eye. But if you are on a very strict or very serious activity, perhaps it is better to avoid it. You are the only person who can judge this. 😜
The cover photo: your personal landing page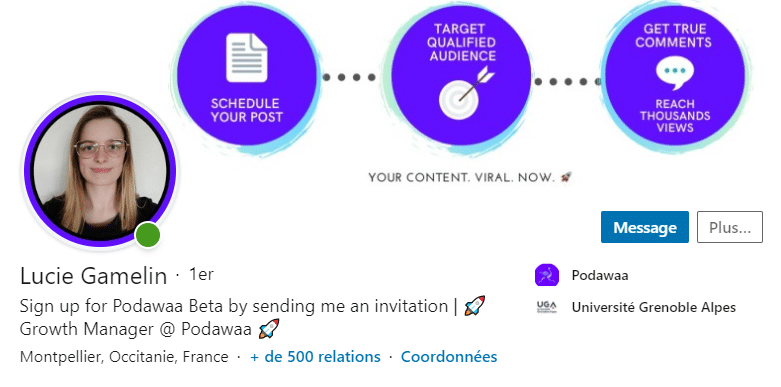 Your LinkedIn profile is a bit like your personal site. When you are searched for on Google this is one of the first results. And when you're active on LinkedIn, it's the first place you go.
The cover photo is therefore ESSENTIAL. It is visual, so the format is completely free compared to the rest of the profile. It is your vector of differentiation.
This banner should visually explain what you are doing. Your value proposition. Be creative. Like the profile picture, don't overlook the cost of this banner.
The summary: give more to those who want more
From experience, we rarely look at the summary. Already because the overview only takes two lines, which does not really encourage action. And that the format is very small and not very visual compared to the rest of the profile (hence the importance of the other parts).
It is, therefore, a part that you can write at greater length. Who gives more context to a person who really wants to know more. Like any editorial passage, favor storytelling. Tell a story. Your story.
While staying focused on your Call to Action. Also, avoid the "strong from 10 years of experience in business…" and everything found in cover letters and CVs. Unless your goal is to look like other profiles obviously. 😇
Highlight what you want with the selection
Another tip to make a good LinkedIn profile? LinkedIn allows you to create a selection. A certain content that is highlighted on your profile.
Whereas before you had to put them in your summary and outgoing links were only accessible in 3 clicks, today they are available in just one. Take advantage of it!
Give material to the visitor: your best blog articles, your own site, your customer testimonials, etc… But above all, choose the first 2-3 well: these are the most visible.
Experience and training: be specific, be real
Unless your employer recruited you on a false CV, 1st advice: be true.
Then it all depends on your goal with your profile. In our case, we are less interested in recruitment than in a profile intended to sell and have a strong communication activity on LinkedIn.
For recruitment, present all your professional and associative activities. Be exhaustive.
On the other hand, if your objective is to maximize "conversion rates" (ie. you intend to invite people to contact you or go to your site or you want to increase your reputation), we invite you to stay concise in the number of experience but precise in their descriptions.
What I hear by concise?
An example: I was a lifeguard at sea for several summers. It does not bring much to my visitors. Nobody cares.
Highlight experiences that strengthen your expertise, support your speech, tell a story. Do not make a resume that describes all the tasks performed. Create a story, sell your expertise. Be original!
And all the rest?
Useless. Recommendations and interests do not matter much to the visitor. The conversion happened before. The rest does not change much.
Think about translation
It is also possible to translate your LinkedIn profile. You will appear more easily in certain search results if you choose this option. Having a profile in English along with one in your native language seems a minimum if your activity is international.
The brain retains original information better. So be creative. Stand out from the crowd. Do not do like everyone else. Respect basic principles while trying to distinguish yourself! 😎