This is a user's hack from one of our oldest ambassadors. In this article, we will present you the case study of Julien Dereumaux from Pilot'in.
Worldwide social media use has climbed during the (COVID-19) pandemic, why not take advantage of this.
If you are in the B2B industry, you surely know where to look for clients: LinkedIn. Within the last year, LinkedIn has made significant effort into building a stronger community of people for people. 
People use LinkedIn for two main goals either to expand their professional network and skills or to look for career opportunities. 
80% of BtoB social media leads are generated on LinkedIn. 80%! However, at all levels, many people neglect their activity and do not develop their LinkedIn network. The reasons? 
 "Too time-consuming", "my prospects are not there", "I lack experience with that network". Here I give you 10 good reasons to do it. 
Of course there are other social media platforms where Pilot'In is, but the client acquisition and retention is through LinkedIn.  Julien proposes two different strategies: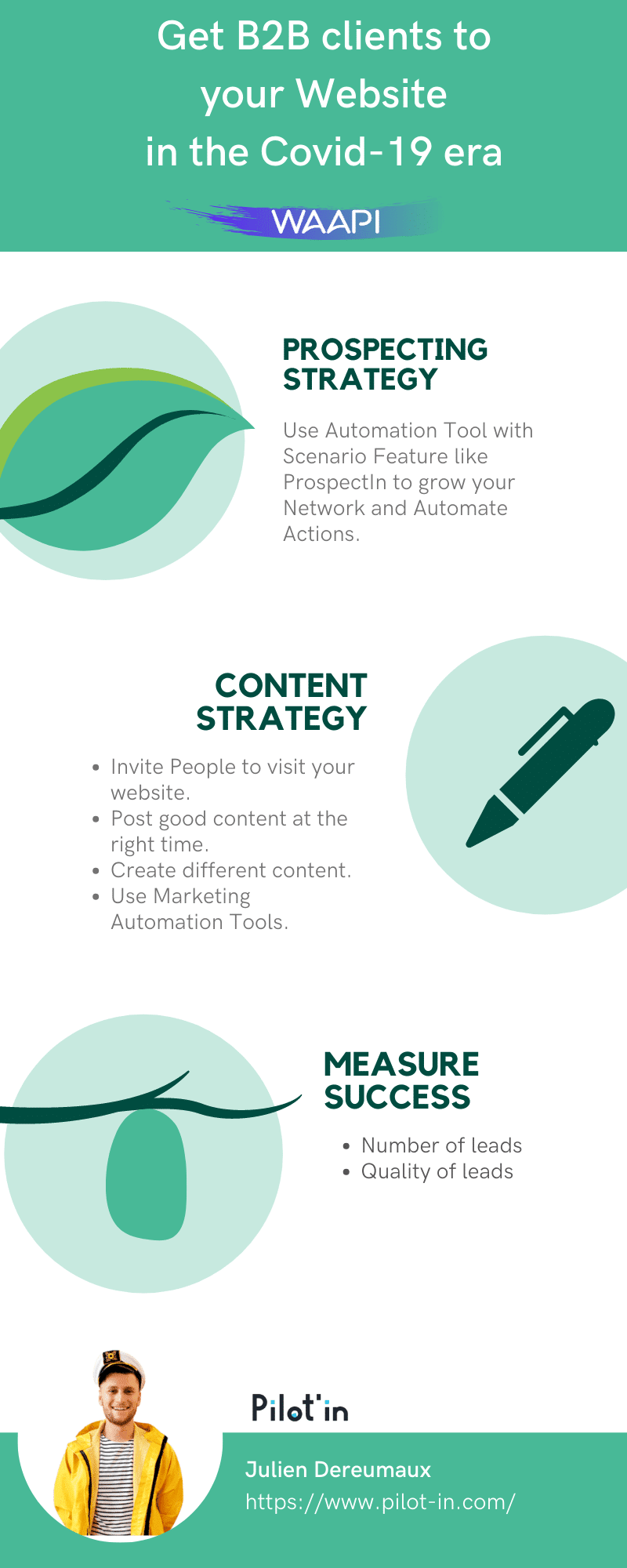 A. Prospecting strategy
How do you start?
Identify your clients on Linkedin, via Sales Navigator.  Click on it and you will find an article on how to use Sales Navigator for free. 😉 Otherwise you can always use Standard LinkedIn.
Look for your potential clients, and reach out to your contacts, add them to your network and give them information of value.
Sounds easy right? Let's deep into some details:
How to make the first approach with contacts on LinkedIn?
Automation Tools:
ProspectIn is a LinkedIn automation tool that will help you grow your network and automate your actions. One of Julien's favorites features are the scenarios and triggers.
ProspectIn has plenty of scenario options in how your contact can go through a "workflow" to engage with you, and all in an automated way.
The scenario we use at Pilot'In is the Dexter scenario. With the Dexter scenario you will be able to visit someone's profile, send and invitation and once you are accepted, send them a message :
"I use ProspectIn, and their scenario feature, my favorite is the Dexter Scenario, is a good one not to be too intrusive". :
Dexter scenario
Should I send a note with my invitation request?
"I only recommend to use an invite with a note, as long as is not a commercial message, you should always keep it casual"
ProspectIn has a CRM that lets you measure your campaigns response rate in order to help you improve your approach. The best way to improve your approach is to use the A/B test method and see what works best for your contacts.
Triggers with ProspectIn :
Triggers is my second favorite feature of ProspectIn.
The principle of a trigger is to trigger an action (the "output") according to a given event (the "input") and predetermined conditions. (the "conditions").
With triggers you can set up a drip campaign to contact them through other different channels. Here is a tool recommendation for that:  Zapier.
Piwaa is the brand new tool of WAAPI, this tool is the messaging-CRM for LinkedIn.
With Piwaa you can schedule follow-up automatically so you never forget a prospect.
Snooze a conversation to manage it later.
Tag your prospects. Filter your conversations based on tags.
Take notes on the prospect to keep track of the exchanges in the form of a "memo".
Use saved replies for LinkedIn, personalized by first and last name. To answer in a clear, precise, and personalized way to 80% of the questions of your prospects and candidates. And save time to respond qualitatively to the remaining 20%.
Julien uses Piwaa to send them information of interest and do a smart follow-up, for smart "I normally send a message 7 days after the first one, excusing me for the late response, kind of simulating a human behaviour". 🤓
So, just to sum up all the information above,  Julien recommends to use:
LinkedIn to reach out your potential leads.
ProspectIn, to automate your interaction and send them through a workflow, and also set up triggers to run a drip campaign.
Piwaa to do a smart follow-up and continue being in contact with them.

Let's discover the second strategy!
B. Content Strategy
"The quarantine boosted up our creativity and we were just vomiting ideas, a lot of content creation, with 3 webinars per week about different topics to help people create their own digital strategy, it was not about promoting Pilot'In but about great and useful content for them."
If you speak french, don't hesitate in visiting their YouTube Channel. 
How do you start?
Create content related to your industry and of interest for your network.
Share it through different channels.
How to invite people to visit your website?
"I prefer to send them content of value about their industry, for example a Webinar that we will have soon. I never send them the link right away. Is more about bringing them in with content of value, inbound marketing will push them to improve their digital approach and wake up interest in our services".
1. Post good content at the right time
When is the best time?  "Tuesday and Thursday 9 am".
What is considered a good content? "a good story telling". Good content depends on your network, we have some recommendation on copywriting inside our Growth Library. And you can also subscribe to our newsletter by sending me a message.
You can go and have a look on what Julien and his team publish in order to feel inspired.
2. Create different content on LinkedIn
Start with LinkedIn posts and sharing content from your blog or industry.
Julien recommends to create content like webinars, white papers and videos, Pilot'In is now an approved training organization, they recently launched their e-learning platform: La Capitainerie. And this was thanks of quarantine and taking advantage on how technology is making us closer to each other.
3. Use Marketing automation tools
To nurture the relationship with all your public.
Do you recommend pods?
"Pods are good, but you have to be smart enough, people still abuse and do bad practices that can affect your image. I prefer to use other tools like:
Active Campaign
Plezi
HubSpot
Live Storm
Piwaa and Zapier"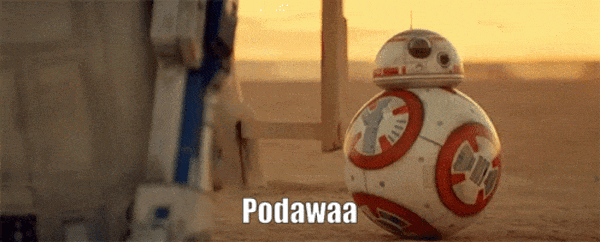 Example of tools for LinkedIn : here
And now, how do I measure the success of my strategy?
Quality and number of leads.
A lead is someone who is interested in what you are selling.
❄️ 𝗖𝗼𝗹𝗱 𝗹𝗲𝗮𝗱𝘀: Those who never showed any interest in your company and were put-off by your efforts in contacting them.
⛅️ 𝗪𝗮𝗿𝗺 𝗹𝗲𝗮𝗱𝘀: Those who have expressed an interest in your company with whom you will start creating a relationship.
☀️ 𝗤𝘂𝗮𝗹𝗶𝗳𝗶𝗲𝗱 𝗹𝗲𝗮𝗱𝘀: Those who need your product and are a step further on your sales funnel.
Ex, 𝗪𝗔𝗔𝗣𝗜💚, automation tools creators.
⛅️ Our warm leads are those who follow us on social media and sign up for the newsletter, they know something about our tools and might be somehow ready to give it a try if need it.
☀️ Our qualified leads could be someone who might have googled "automation tools for LinkedIn" because he is looking for a service like ours. 
That's it ! So now, you can try it by yourself and start increasing your network and the number of leads. 🔥