Keeping up with every one of your LinkedIn connections is vital to make your business grow healthily. However, you may have noticed how much time you spend sending similar personalized messages to your network. Now, imagine if you had an easy and user-friendly solution to help you prospect efficiently in no time… Read ahead and learn how to easily send an automatic message LinkedIn!
Communicating with your LinkedIn network, a time-consuming yet essential task
The LinkedIn strategy is pretty straightforward: the more connections you have in your network, the more efforts you have to provide to keep up the relationship with them. To build up this quality business strategy, messaging is a great way to give and ask for news. If only it didn't take all your time!
Looking at the big picture, you might wonder if spending a day networking via LinkedIn messages is worth it. While you are catching up with your connections, other sides of your business are not developed. From this point of view, your priorities should be:
Optimizing your professional time;

Staying friendly and genuine on LinkedIn Messaging;
Reaching your prospecting goals.
Whether you are actively looking for a new job, prospecting or whether you'd like to send collectively personalized messages, you are facing a high-stake situation.
To this day, the LinkedIn messaging feature is not fully optimized
Undoubtedly, LinkedIn is the best tool to build up one's professional network. Its algorithm makes you stand out, as long as you follow an efficient strategy. Often posting relevant posts or articles makes you noticed by your potential targets. It works even better when you are interacting with your connections' posts.
When it comes to LinkedIn messaging performances, thing look a bit less exciting. As you know, you can exchange with your connections through a private « mailbox ». You can invite many of your connections to the same conversation. LinkedIn "quick answers" could be handy in some ways, but they are very impersonal most of the time.
Some people decide to upgrade their account subscribing to LinkedIn Premium, which allows them to send messages to people who are not part yet of their network: the Inmails can give you quite an advantage to prospect widely.
However, it seems that automated messages are not in LinkedIn's plans. Even if the platform is always aiming for user-friendly features, LinkedIn messaging looks quite poor and can limit you in your prospecting strategy. You can rest assured, we are here to give you the best solution to easily share collective yet personalized messages to your LinkedIn connections!
Send an automatic LinkedIn message thanks to Waalaxy, the most ethical automation software
Your main goal is to keep a friendly and unique tone in your communication to your network's members. Your dilemma: staying authentic sending the same message to several contacts. Good news: your dream becomes reality with Waalaxy! This LinkedIn automation software is the best for three reasons:
Waalaxy is the most ethical automation tool for LinkedIn, as it complies with the usage quotas determined by the platform;
 Our tool allows you to be more productive taking care of your every day LinkedIn activity following YOUR rules;
User-friendly, the Waalaxy interface is fun and easy to use.
You can try it for free now: write only one automatic message LinkedIn, set it with our "first name" and "surname" features, and choose a time pattern to send a second message if needed.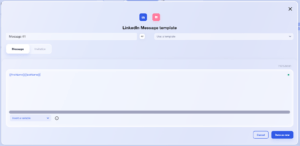 You can trust waalaxy to send your personalized automated messages: your account is safe, you stay friendly and close to your connections. Most of all: you are earning precious time!
How to send an automatic message on LinkedIn via Waalaxy?
Set your prospecting strategy, then select several contacts you want to reach. Within Waalaxy features, some opportunities allow you to do so:
Personal note: it's not a proper message, it refers to the note you are sending at the same time as an invitation. Statistics show that people are generally more eager to accept your connection's request if they see you are genuinely interested in sharing with them. You can automate it on LinkedIn and send several personalized invitations at the same time.

Campaign: it is an isolated action: you can choose to visit, follow, invite or send an automatic message LinkedIn. You have to be connected to the recipient of the message unless you subscribed to LinkedIn Premium and can send Inmails.

Scenarios: they are a bundle of campaigns set together. We suggest dozens of different patterns for you to try out. Waalaxy helps you choose the perfect scenario according to your business goals. Inside the scenario you selected, you can send an invitation, set up a number of days after which you want to start the conversation with a personalized message. You can even catch up a few days later. All our scenarios have smart names… Enjoy discovering them all!
Download now the Waalaxy Chrome extension to communicate more efficiently
Sending the same personalized messages to several people become essential when you want to grow your business. You can save time on this task, by keeping your authenticity and good relationships. Manually write many messages is a time-consuming task. Furthermore, you can't be sure about the results of such a campaign. 
When you address your connections with their name, you have more chances to reach them out efficiently and can expect an answer. Without Waalaxy, such a thing would be impossible: the LinkedIn messaging feature doesn't currently allow sending collectively customized automated messages.
Using the Waalaxy solution allows you to send friendly professional messages. Indeed, you can customize them in a heartbeat. You will sound genuine to your connections. The Waalaxy solution gives you the opportunity to optimize your LinkedIn account in every way possible. 
Don't wait to try Waalaxy's user-friendly powerful interface. Download it now in your Chrome browser and start right away your first campaign. You will soon be able to measure the efficiency of automated messages: you'll only have to compare the answer rate before and after using Waalaxy!