Waalaxy wants to be the essential tool for your B2B prospecting and our expertise on Linkedin has pushed us to go further to offer you the possibility to integrate multi-channel in your prospecting strategy i.e. being able to send emails via Waalaxy.
Cold emailing is a real lever for prospecting and is necessary to acquire new professional contacts by creating a personal relationship with them.
Once you have established your marketing and email strategy, you will be able to send emails via Waalaxy. But concretely, how do you go about sending emails via Waalaxy? 🤗
What is cold emailing?
One of our Copywriting Experts, https://blog.waalaxy.com/wp-content/uploads/2022/03/Visuel-Article-Blog-2022-1-2-1.png wrote you a guide to learn all about cold emailing, I'll leave it to you to read that article and come back here to learn how to launch an email campaign. 😍
Retrieve emails to send emails via Waalaxy
Waalaxy retrieves emails in two cases.
At connection
In the first case, when you connect with a person on LinkedIn following an invitation sent with Waalaxy. Emails here are usually personal, we don't recommend using them for cold emailing. Besides, you're not allowed to. 🤐
➡️ How to get free emails from your connections.
Email Enrichment
Waalaxy decided to integrate Dropcontact, the leading tool in this market. Email enrichment consists of finding your prospects' professional and verified emails in a totally RGPD way. To know everything about how exactly it works, I invite you to read this dedicated article on the subject. 😎
How to set it up via Waalaxy?
You'll need to run a campaign that includes at least one "Email finder" action. To find these sequences, you can go to the Campaign > Create Campaign > Add Action Filter > Email finder tab. 👇
You will just have to choose from the list of proposed templates. Select the sequence, then complete the different steps: adding leads, message contents, deadlines. 🚀
Send the emails via Waalaxy
You have professional and verified emails saved in Waalaxy, in each prospect contact record.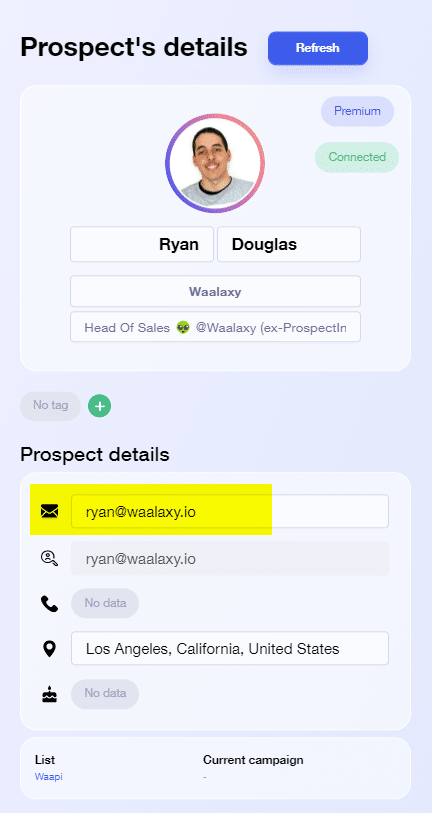 Setting up your email box on Waalaxy
You will first need to configure your mailbox in Waalaxy so that we can send emails from your email provider. Go to Settings > Email Accounts.

Here are some tutorials to help you get set up. 👇
🆘 You can also watch our video tutorials. 
Launch your email campaign
To launch your email campaign, you will just need to select a sequence template that includes an "Email" step. There are about 20 sequences in Waalaxy that include this step. It is also possible to include the "Email finder" and "Email" steps in the same sequence rather than making two separate campaigns.
Select the sequence
From Campaign > Create Campaign, filter by the "Email" action(and/or "Email finder" in addition) and select the sequence you want. 👇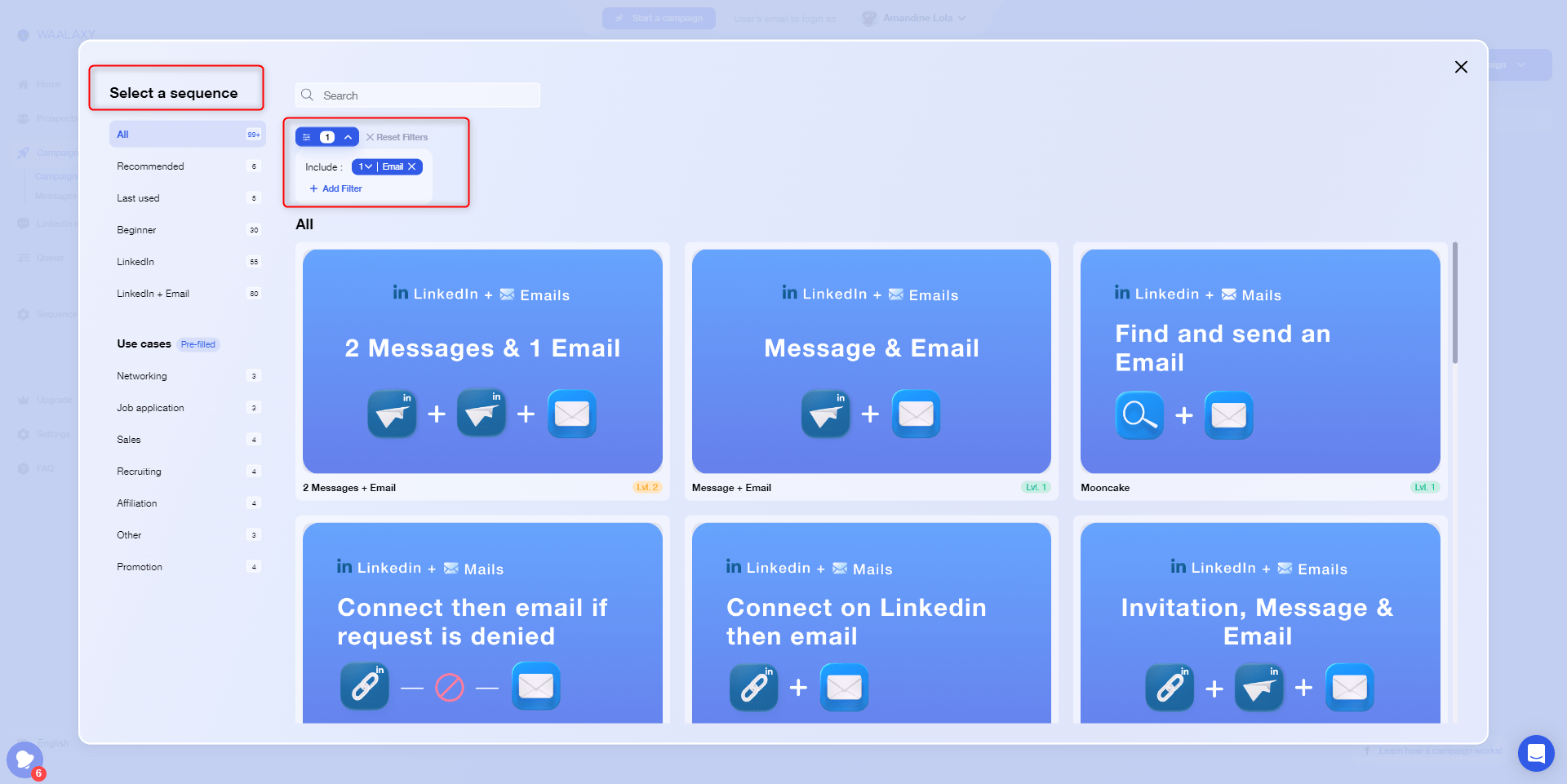 Prepare the campaign
Name the campaign.
Add the prospects to the campaign.
Choose your email and fill in the email content
Here you can fill in the content of your email. You can personalize it by adding variables: First name, Last name, Company name.
Define the subject of the email.
Choose the email provider that will send the email. 👇
Write the content of your email, and validate.
➡️ 9 Tips for writing your emails.
Launch the campaign
All the steps have been validated, you can launch the campaign.
Follow the progress of your campaign from the Campaign tab. 🚀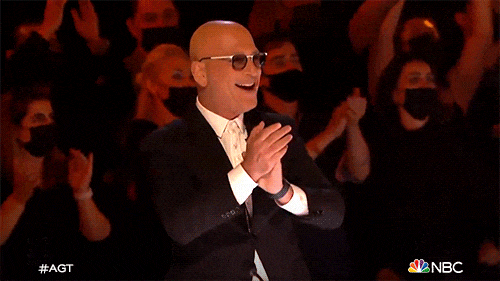 FAQ
What are the quotas of Email finder?
You can get up to 500 verified emails per month with Waalaxy. Only found emails are charged against the quota.
How many emails can I send?
The email sending quota depends on your email provider, it is not set by Waalaxy. Here are the weekly quotas according to your email provider:
Outlook: 100.

Office365: 10000.

AOL: 100.

GoDaddy: 250.

Rackspace: 10000.

Yandex: 500.

Gmail: 500.

Others: 500.
What are the mistakes to avoid in cold emailing?
Cold emailing requires a certain methodology for it to be effective and work. To help you out, we've written an article that will teach you everything you should NOT do. 😅
➡️ The 14 mistakes to avoid in cold emailing.
How many email boxes can I set up?
You can add as many email accounts as you want and have on Waalaxy.
Can I change the sending email during a campaign?
Yes, you can change the email during a campaign. To do so, pause your campaign, click on edit campaign. In the "Email" section, change the email and save the changes.
Are there any personalized variables for my emails?
You can add the variables First Name, Last Name and Company Name to your emails.
Are the emails stored in Waalaxy?
Nothing is stored in Waalaxy.
Conclusion
Cold emailing is a marketing strategy that is being questioned a lot, confusion between email marketing and complex technical requirements, you need to be strong to tackle it. However, it is one of the most effective ways to get your prospecting off the ground, combine with Linkedin actions, you will be able to scale your prospecting strategy and your business.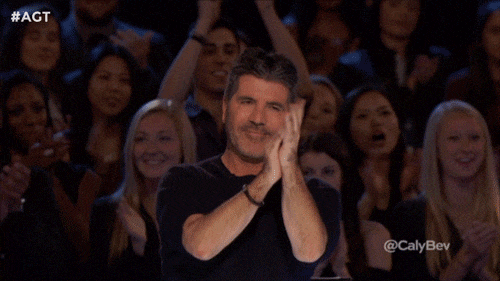 Now, you know how send emails via Waalaxy ! 🚀
Discover Waalaxy 🪐