Do you want to know how to schedule posts on LinkedIn ? 😉
In this article, you will discover how to in 5 easy steps and in just a few clicks. No need for HubSpot nor IFTTT.
We know that posting on LinkedIn can be time-consuming, and even boring at times… but, don't worry, we have just the thing for you!
You can schedule your posts to promote your:
Blog posts.
Infographic media.
Textual messages and content-marketing posts.
In order to help you go further in your social-networking tools, I will show you which tools to use and additional to help you improve your engagement in LinkedIn posts and supercharge your reach. ⚡
How to schedule posts on LinkedIn using Podawaa ?
Maybe you have already heard about our wonderful tool Podawaa, but if you haven't, here's an easy step-by-step guide to it, so you can quickly find your feet. 😉
Podawaa is a tool that helps you get automatic comments and reactions in your LinkedIn posts. By joining "pods" you automatically comment and react to the posts of the other members in your pod, but you also receive them.
As a result, you can choose which pods you trust and are happy to join. You get to decide the language in which you want the comments to be, the quality of the said comments, and much more…
Scheduling LinkedIn posts is very important for your social media marketing strategy. It might sound scary in the beginning, but once you get the hang of it, you will find that it will make your life so much easier by saving you precious time (and therefore money)!
Are you ready?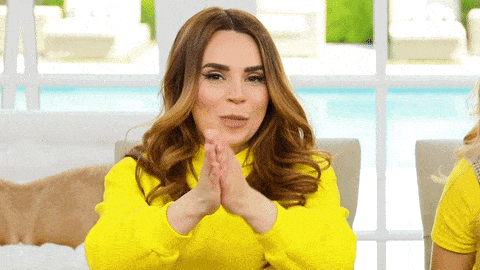 Step 1 : Install Podawaa extension
First things first, let's install Podawaa's Chrome browser extension:
Open the link above and install Podawaa to your Chrome browser by clicking on the button "Add to Chrome" and accept the terms.
Once this is done, you just need to "Pin it" to your browser, so you do not lose it (trust me, this step is important because the extension might be "hidden" after you install it, and you don't want to go searching for it every time you want to use it 🧐).
Click on the "Puzzle icon" of your toolbar, and pin the extension, so it stays visible, that way you can launch it at any moment: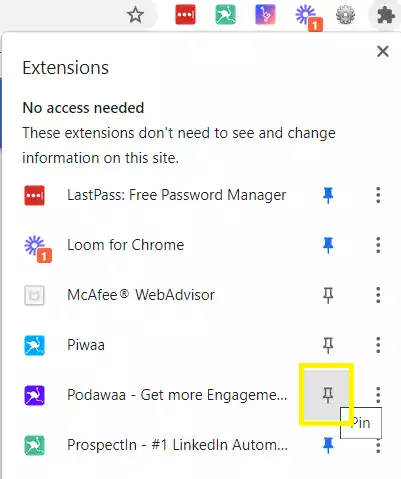 PS : at any point you can "unpin" the extension the same way we pinned it,  if you do not wish to have it visible anymore.
Now that you have Podawaa installed on your browser, you can use it to boost your LinkedIn posts by joining specialized pods. Most importantly, to schedule posts on LinkedIn, which is what we are going to do. 👍🏻
Step 2 : How to schedule posts on LinkedIn on the app
Firstly, always remember to keep your LinkedIn page open. Now, open the Podawaa extension using the icon that you previously pinned to your browser toolbar.
Go to the "Posts" menu, click on "+ New Post" button on your right side, and Select the "Schedule" tab: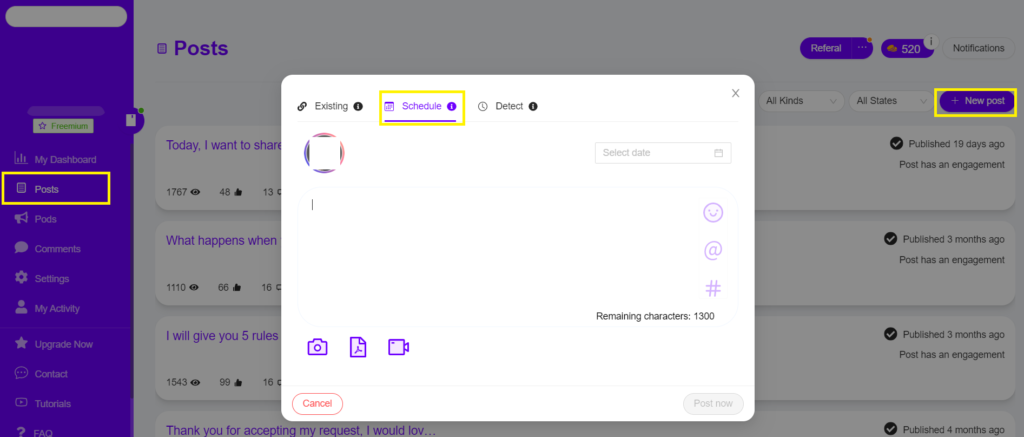 Easy right? 🤓
You are now ready to start writing your posts directly on Podawaa. You have 1300 characters (just like you would on LinkedIn). In addition, you can also include images, PDF documents and videos.
Here's our first tip for you: if you want to increase the "Dwell time" on your LinkedIn posts, I suggest you post PDF carousels. In this article, you will find all the information you need to do it. I promise you, this will get you even more views and engagement. 🚀
Step 3 : Write your LinkedIn post
This part is totally up to you, let your imagination run wild.
Just try to draft posts that are related to your professional activity. Address your posts to your potential leads and keep it interesting so that your connections do not scroll down on their feeds 🙈, but they take the time to read them, and engage with the types of content that are valuable to them.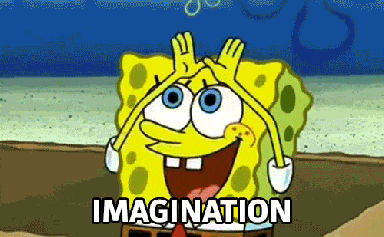 Second tip : Before scheduling it, remember that you can add attachments and useful hashtags to draw in your target audience. Adding hashtags is highly recommended, as it also points to the key topics that your post is going to deal with. So you probably don't want to skip this optional step!
As they say, sometimes "more is more"… No, but really jokes aside, this is a great way to make your post go viral. 👽
Step 4 : Schedule the date and time of your LinkedIn post
Once again, this step is as easy as 1, 2, 3… 🎶
You're almost there.
Complete your text, add the attachments if you wish, and using our LinkedIn post scheduling features, you can select the date and time you want us to post for you.
Click "Ok" in the content calendar, and then on "Schedule" and that's it. You did it!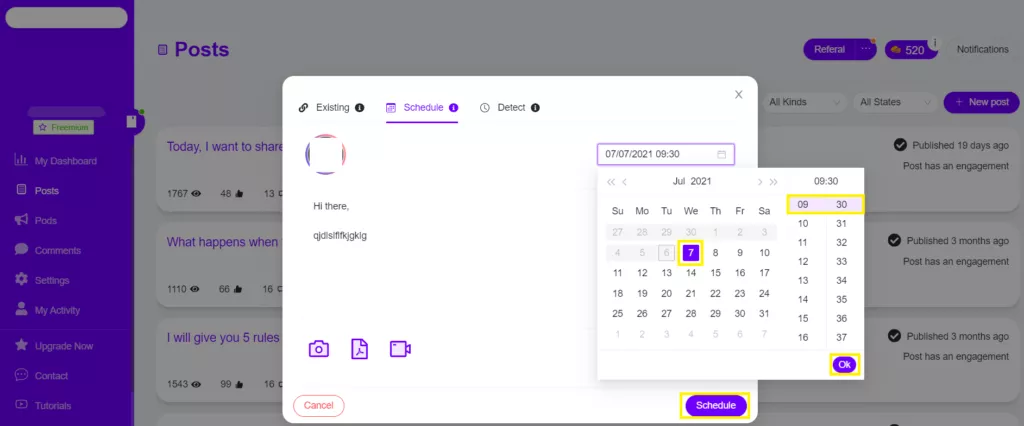 That wasn't so bad, was it? 😛
Most importantly, make sure to read your post carefully before posting to check for any potential mistakes. Also, make sure the date and time you choose is one where you will be active on LinkedIn, and Podawaa will do the rest in the back office.
The most active times to post are in the early morning – 8 to 10am, or in the afternoon 5-6pm, in order to have an organic reach to reach bigger audiences. But nothing is written in stone regarding posting frequency! I suggest you to read this article to find out more on the best times to publish on LinkedIn. 🤓
In short, to plan posts on LinkedIn, you just need to prepare them beforehand and use Podawaa's scheduling feature to make it easier for you to focus on other important aspects of your business while you integrate your social media strategies.
Step 5 : Boost your LinkedIn post (optional)
So, this next step is optional, as indicated in the subheading, but it is one of my (many) recommendations. Since you are already taking advantage of Podawaa to post, you might as well use the pods to increase your social media engagement !
But why, you ask? 🤔
Because this feature is a perfect way of using this 2-in-1 tool, with this extra step you don't have to worry about who or if someone is going to see your post, and react to it. You can rest assured that it will be posted at the date and time you planned. This way, you will have already scheduled reactions which generate even more organic engagement.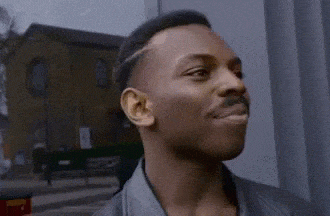 This is what you need to do:
Select the pod or pods you have previously joined.
Choose the type and number of reactions you want.
Add comments to your post.
Lastly, click on "Confirm engagement".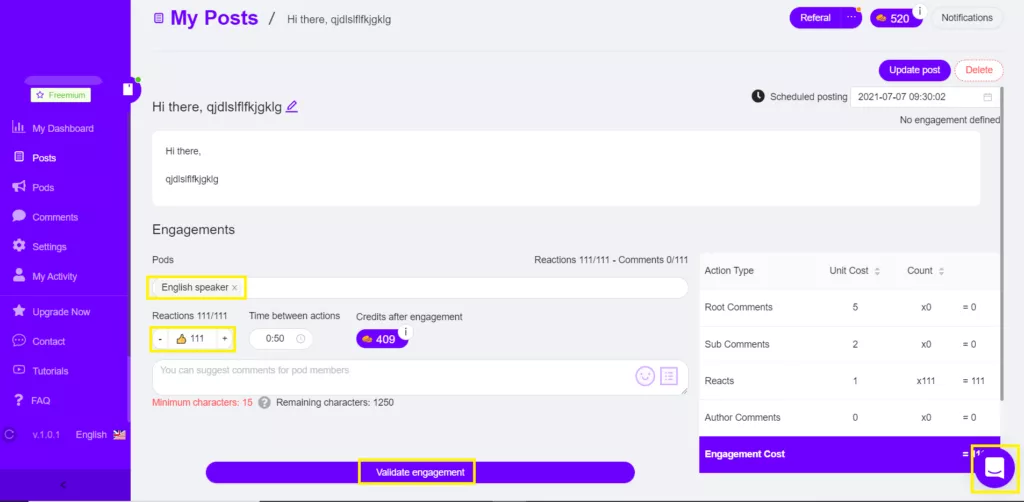 Final tip: you can "Update post" if you want to add something more before the time is due to post it, or even "Delete" it if you've changed your mind.
Track your engagements using the Dashboard in Podawaa, and adjust your social media content strategy if needed.
In case you need further assistance, we've put together a comprehensive FAQ here. You can contact our live support at any time via Waalaxy, and one of our Customer Service superstars will be there to help you in under 5 minutes! 🤗
To go a little further…
Okay, this will be my last tip, I promise! 😇
If you are feeling courageous and want to really supercharge your scheduled posts, here's one last tip for you.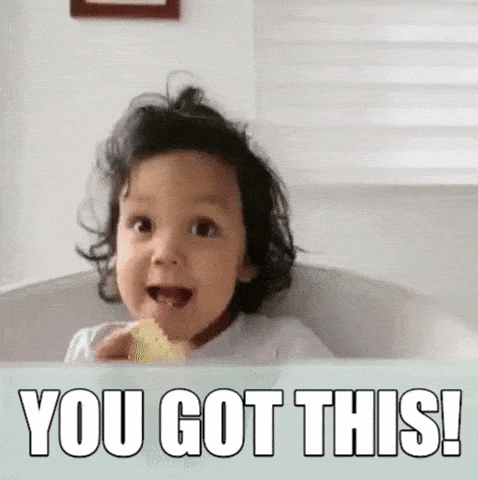 Finally, when you have published the post you scheduled and boosted using Podawaa's pods, you can go a bit further and use the Triggers to connect with the leads that are going to react or even comment on your LinkedIn posts.
What are Triggers, you might be asking? 🤔
Triggers are actions that can be programmed into your ProspectIn CRM depending on an "input action" previously defined, and that can become an "output action" that you choose in your lead generation pipeline.
For example, you can use the triggers feature to send a connection request automatically to any new lead that has reacted to your LinkedIn post.
Isn't that amazing? 🤩
In conclusion
There are 5 easy steps to follow:
Install the Podawaa extension.
Draft a LinkedIn post using Podawaa.
Content schedule with date and time.
Join pods and boost the reach of your posts using comments and reactions from other (optional).
To sum up, I hope that you find these tools useful for you, as much as they are for us. Because believe it or not, we use all our tools internally to grow as a business, and as a result we are constantly improving them for you and for us. 😘
Podawaa is an all-in-one automation tool for LinkedIn, that allows you to post your social content but also have scheduled engagement on it.
Do not hesitate to reach out to us via LinkedIn or via the chat support. We are always open to new suggestions and ideas. 💡
FAQs about how to schedule posts on LinkedIn using Podawaa
Can you schedule posts on LinkedIn?
The answer is YES, as presented in this article, we have shown how easy it really is to use automation tools such as Podawaa to do the work for you. If you are a forgetful person, as I am 😅, you will be glad to know that there are scheduling tools made to help you save time and not have to worry if the work will be done or not.
Is it safe to use automation tools like Podawaa?
Of course! Podawaa, as well as all the other tools by Waapi (i.e., ProspectIn) are meant to replicate human behavior and automate actions on LinkedIn. Therefore, we have special quotas to protect your account, and we make sure that our pods add quality engagement to your LinkedIn posts.
Why should I use Podawaa to schedule posts on LinkedIn?
Working alone is good, but working with a little help is even better! Podawaa is made to boost your engagement on LinkedIn, as going viral will increase your reach and get you seen by more potential leads. This has huge value, as as you know LinkedIn is the best place for B2b acquisition.
Can I use it for existing LinkedIn posts as well?
Yes, you can! 💪🏻 With Podawaa you can schedule a post on LinkedIn by creating them directly in the tool, or you can grab an existing URL of one of your recent posts and add the interactions you want! The possibilities are undoubtedly endless.
Can I schedule posts on LinkedIn for free?
You guessed it… it's a yes, again! 🤩 We offer a full week's free trial from the moment you install the extension. After that, you can continue using the Freemium account, or you can take one of our subscriptions. You can find more details about our pricing here.
Now you know how to schedule posts on LinkedIn! 🚀