Are you in the HR world and wondering 🤔 how to make a good linkedin post recruitment? Stick with us, that's exactly what we're going to look at today. What is the program captain 🦜? Well, I'm so glad you asked!
4 LinkedIn recruitment post templates
LinkedIn Recruitment Post: Why do it?
Tips for an amazing recruitment post.
Catchphrases in a LinkedIn recruitment post.
Hashtags.
With its millions of users, LinkedIn has become the go-to platform for recruiting top talent and showcasing your job openings. But you still need to know how to attract 🧲 their curiosity. Come on, we don't keep our secrets any longer, let's go.
4 LinkedIn recruitment post templates
Without further ado, let's give you some recruiting post templates so that you can attract the best nuggets 🍪 to your team. Keep in mind that you're in demand when you're a recruiter, so you need to focus on what might make a profile want to join you. Put your internship offers, your job offers in fixed term or permanent.
Putting the company's environment forward
To attract your future collaborator, you can very well put forward all the advantages of the company and your uniqueness. Let's take a closer look.
Are you interested in the best SEO agency in France?
Then here's what we offer you:
– An incredible open space 🧨
– Transportation to the agency is taken care of 🚅
– Gym available in the premises 🏋️
– Quality afterworks and team building 🍻
– Have a great salary 💸
Here's what we can currently offer you:
➡️ SEO Consultant in CDI💻(junior or senior, face to face or remote)
🚨 It's this way: [Put the link of your ad]🚨
#recruitment #newtalents #consultantseo
Template to attract a talent with the salary
Well yes, we should not be fooled, many of your candidates will refer to the salary you are going to offer him, you can highlight this uniqueness by expressing it in full transparency.
For the company [put your company name], we are looking for a full stack developer 🖥️.👇
👉 Very attractive salary:
– 50 to 70k annual gross depending on profile.
– Swile ticket restaurant card taken in charge at 60% 🍣.
– Vacation and Christmas bonuses 🎅.
– 15k bonus.
If you are a developer, don't hesitate to contact me via LinkedIn messaging or directly in comment of this post!
You can also apply on our website 👉 [insert link to ad] 🔥
Highlighting the latest arrivals in the company
This is a way to introduce your newcomers and at the same time allow you to bring new candidates to you.
At [put company name], we love to see new faces arrive 🎉
So, we'd like to introduce you to :
Henry Dupont, community manager 📱 (we hope he'll make better jokes than the CM of Burger King 🍔) ,
Léa Deschamps, web developer 🖥️ (she will put to "apache" our great website) 👀
Vivienne Dupuis, customer care 👩⚕️(she will be taking care of our customers).
But we're still missing another customer care 💉 and we're just waiting for you to join the team.
Apply in comments 👇
Attracting talent with a photo
Of course, for all these examples, you will have to develop your presence on the professional platform otherwise you might end up with nothing. And a little extra advice, do it with your personal account. You will have resumes to put in your resume library thanks to these templates.
Post LinkedIn recruitment : Why do it?
As we said before, LinkedIn has millions of users, more than 850 million in 200 countries, to be exact. The main function of LinkedIn is to find a job. So you can imagine that the platform offers you incredible visibility 👀.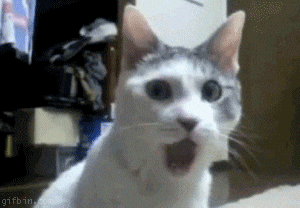 In the professional world, you can find more and more recruiters on the platform that is LinkedIn. In addition to offering you visibility, you can post your ads by publishing a job offer. But that's not all since the social media pro has also set up a tool that allows you to recruit more easily: LinkedIn recruiter.
Of course, before you can post a recruitment ad, you will have to establish yourself a little bit on LinkedIn, start publishing and then do it more and more regularly. If you put up a recruitment post and you don't have anyone in your network or they never see your posts, well, you won't get very far.
Tips for an amazing recruitment post
In order for you to put up incredible posts, you're going to have to start developing your visibility on the network. To do this, you'll already need to target your audience. Don't hesitate to add people from the same industry as you, then you target the potentials that you are interested in for the job offer you have set up. The next step in your adventure is to start being active on LinkedIn.
Talk about the employers you've worked with, talk about the experiences you've had, and any anecdotes related to the HR community. Once you have your little audience (well, your audience) and the algorithm has you down, it's time to set up your recruitment ads. You can parallel them on recruitment platforms (including LinkedIn) like Welcome to the Jungle.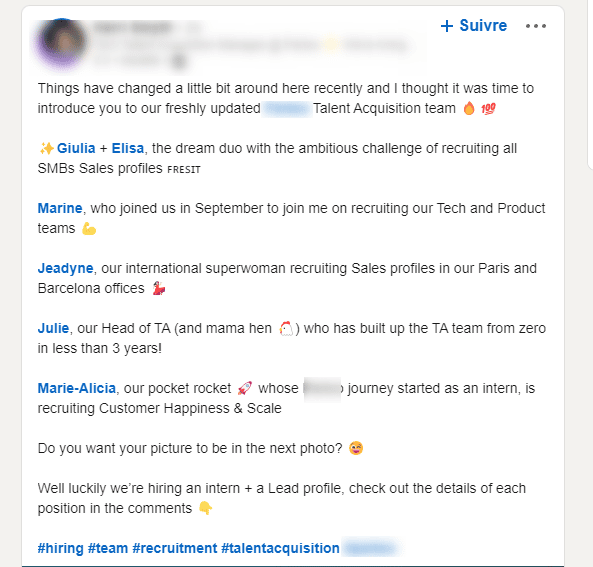 It is by posting regularly that you will have impact with your publications. The goal is to show:
Your expertise.
The values of the company you work for.
Your personal branding.
It will also be an opportunity to gain skills on copywriting.
Catchphrases for LinkedIn recruitment post
Okay, so we have the templates to highlight a job posting on LinkedIn, but how do I attract the ideal candidate from the first line of my post? Have you ever seen post teasers that made you want to click on "See more"? Well, that's exactly what you need to do.
Come on, we'll give you 3 catchphrases to make candidates want to come to you.
💡I have no idea what SEO is…
In this example, you show that you know nothing about a field. And at the end of the ad, you can say that you are looking for a specific position so that they can explain what their job is for example.
💡 🚨 NOTICE TO RECRUITERS 🚨
There, you will address theaudience that is in the same sector of activity as you. And then you're going to ask them a question like: "How do you recruit developers? Two birds with one stone, you'll attract talent and as a bonus you'll get recruitment advice.
💡Want to be part of an out-of-this-world startup adventure? 🔥
In this last example, you give the information that you are in a particular environment and then you will be able to unfold all the information of the position you are looking for.
Hashtags in LinkedIn recruitment posts
Of course, we couldn't pass up LinkedIn hashtags. And they become particularly interesting for your recruitment campaigns. With these little hashtags (make them relevant of course), you can give information about :
The location (e.g. #Montpellier if the job offer is in Montpellier).
The targeted position (#commercial).
The time commitment (#remote).
To indicate that you are recruiting (#recruitment and moreover it allows those looking for a job to browse the hashtag #recruitment).
To know everything about hashtags, feel free to refer to this little article right 👉 there.
Conclusion
When you are part of the recruiters, the main issue is to find the rare pearl, the ideal candidate, the talent that will complete your team. So you'll have to put forward a killer recruitment post ⛈️ to make this one want to come to you. But that's not all. In fact, in order to post a job, you also need to find the right platform. Well, you know what? LinkedIn is exactly what you need. As a result, we've seen:
4 templates you can use to attract candidates to your company.
Why make a LinkedIn recruitment post.
The catchphrases of a post.
And the use of hashtags in your recruitment posts.
By implementing the different templates we've given you in this article, you'll be able to give your employer brand a great deal of visibility. You need to be recognized on LinkedIn.
FAQ
We're getting close to the end 😭 of the article, but we still have a few things to share with you.
Tuto to create a post
If you're brand new to the professional social network LinkedIn, don't worry, it's not rocket science 🧙♂️ to create a (recruitment) post. We'll walk you through it step by step.
First step, you need to log in to the B2b LinkedIn platform.
Once on your home page, you'll click on "start a post."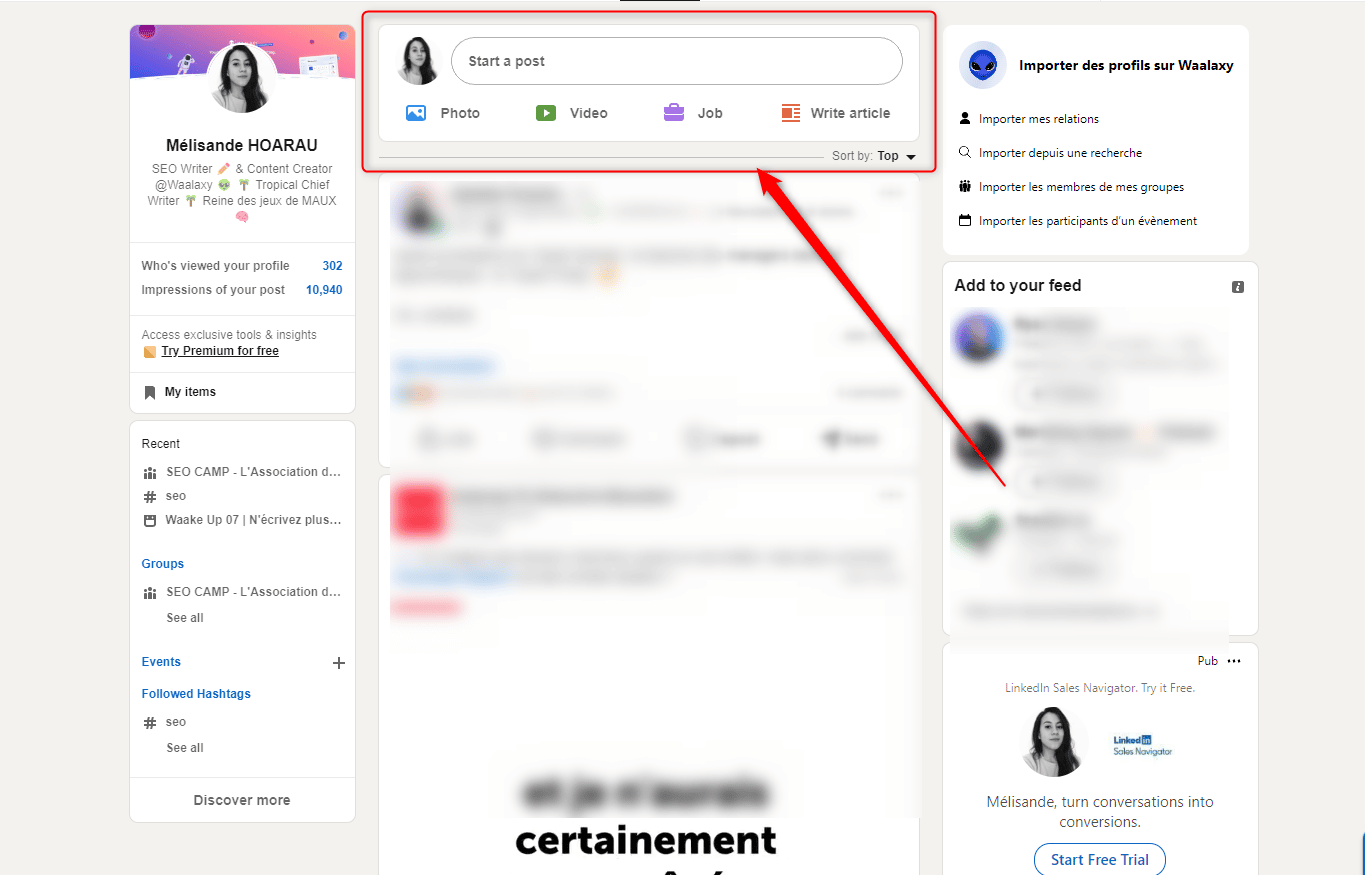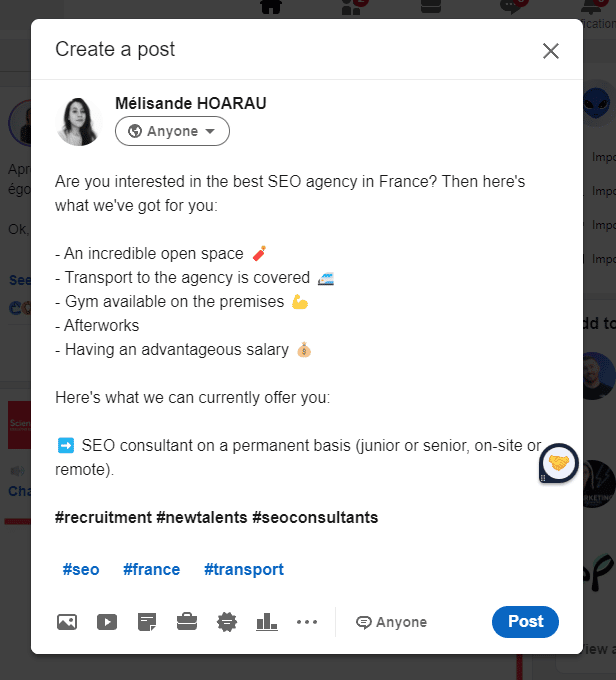 Once you've reviewed your post, all you have to do is click "Post".
And that's it! We told you: "Hyper easy"!
LinkedIn Company Page
You're probably wondering why we didn't mention it in this article. The truth is, you can put your ad on the LinkedIn company page…
But (because yes, there is a "but"), you won't have as much visibility as on your personal account. Yes Jamy, our dear professional network is a platform based on trust.
Therefore, we tend to put forward the publications of real people. That said, nothing prevents you from creating your company page to post news, put your offers and group people who work under the same banner. But make your announcements with your personal account, you will have more visibility 👀. And that's it, we're at the end of the line! With our tips, get ready for some great applications.
Yes, yes, the LinkedIn recruiting post has no more secrets 🤫 for you.