If you ended up on this article, is probably because you're wondering: "Which LinkedIn Premium subscription is right for me?" 🤔 After all, there is a wide choice of plans, that vary in advantages and price. Let's find out which one is best for you! ⚡
In this article, I'll give you a complete summary of what you need to know to choose your ideal LinkedIn Premium account effectively.
Follow the comprehensive guide if you want all the details! 👈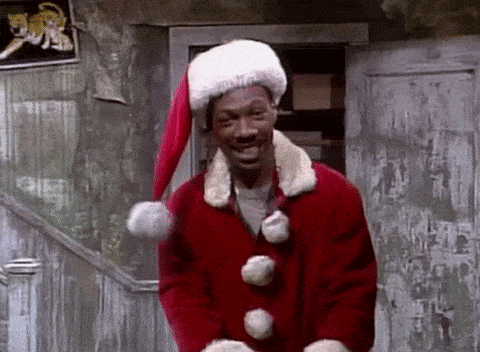 What is the Price for LinkedIn Premium?
All "Premium" things come with a cost! 💰 So let's find out what is the price to become a Premium on LinkedIn, by comparing the subscriptions below. 👇
| | |
| --- | --- |
| Account type | Monthly price |
| LinkedIn standard | $0 |
| Premium Career | $29.99 |
| Premium Business | $47.99 |
| Sales Navigator | $64.99 |
| Recruiter Lite | $99.95 |
LinkedIn Premium pricing
Before signing up to a Premium service, you might want to know how much LinkedIn Premium costs?
Makes sense! Let's talk about it now.
When you upgrade to premium accounts, it will bring you its share of benefits. So you will have 4 different subscriptions that will cover different needs 💡 :
Premium Career costs $29.99 per month if you take an annual subscription (the monthly subscription is slightly more expensive). This subscription is dedicated to job seekers, and it will help finding a job.
Premium Business costs $47.99 per month if you go for the annual subscription.
Sales Navigator starts at $99.95 per month – if you take an annual subscription. It has the famous "Inmail" feature which will help you in your prospection.
Recruiter Lite is a package that will allow you to recruit the best talent for your team. It costs €158.67 per month if you go for the annual subscription. The goal? To help company managers or recruiters in the field of human resources.
Keep in mind that the basic LinkedIn plan is a totally free account. You only need to think about setting up a budget if you're going for one of the premium options.🤑
You can get a one-month free trial if you're not quite ready to commit yet. To access it, you will need to enter your credit card details. Don't worry too much though, LinkedIn is kind enough to send you an email 7 days before your trial ends as a heads-up. 👀
What is the cheapest LinkedIn premium account?
As shown earlier, the cheapest LinkedIn premium plan is the "Premium Career" at €34.70 per month (with the annual subscription). 👏
However, there's something even better, our Waalaxy CRM is totally free and it can be used to replace LinkedIn Premium accounts! 🥳
But we'll talk more about it further in this article, so keep on reading… 🔍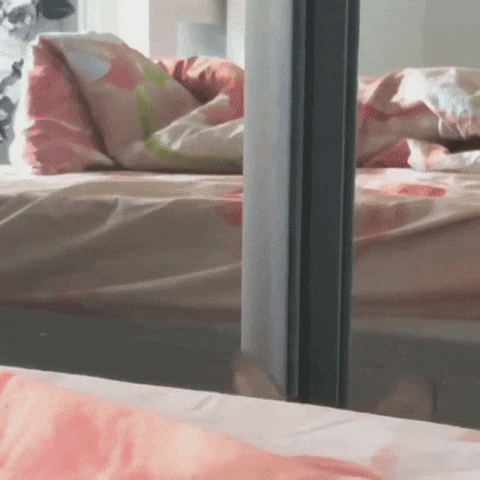 What is LinkedIn Premium? Benefits of the 4 LinkedIn Premium subscriptions
Although it's a social network, LinkedIn actually offers 4 Premium subscription deals: 👇
Career Premium,
Business Premium,
Sales Navigator Core,
Recruiter Lite.
If you want to use LinkedIn to its full potential you're going to have to know what subscriptions are available, what advantages they have, and at what cost ?
Let's have a more detailed look at these offers, and see which one best fits your needs! 🤲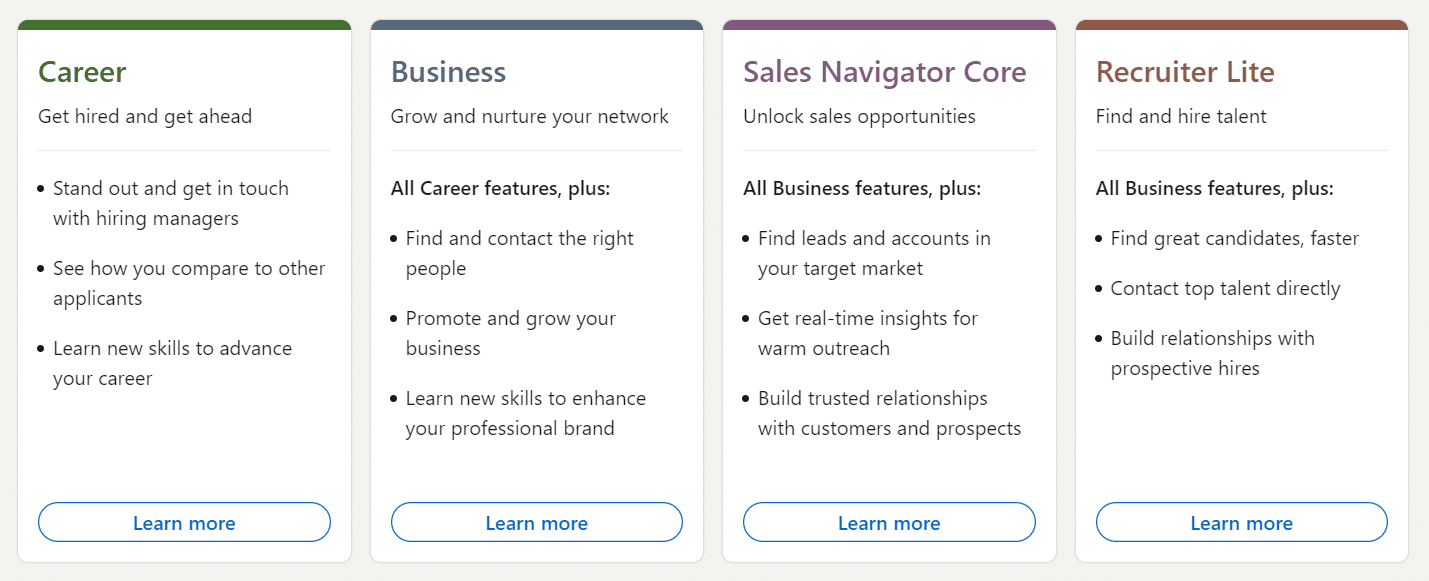 Premium Career = Find the best Jobs!
Premium Career Description:
To summarize the usefulness of the new career account in a few words, if you are looking for a position and you want to have all the odds on your side of finding your dream job postings, the LinkedIn Premium Career plan is the one for you. 👌
The Premium features of LinkedIn Career are designed to optimize your chances, you can find them here: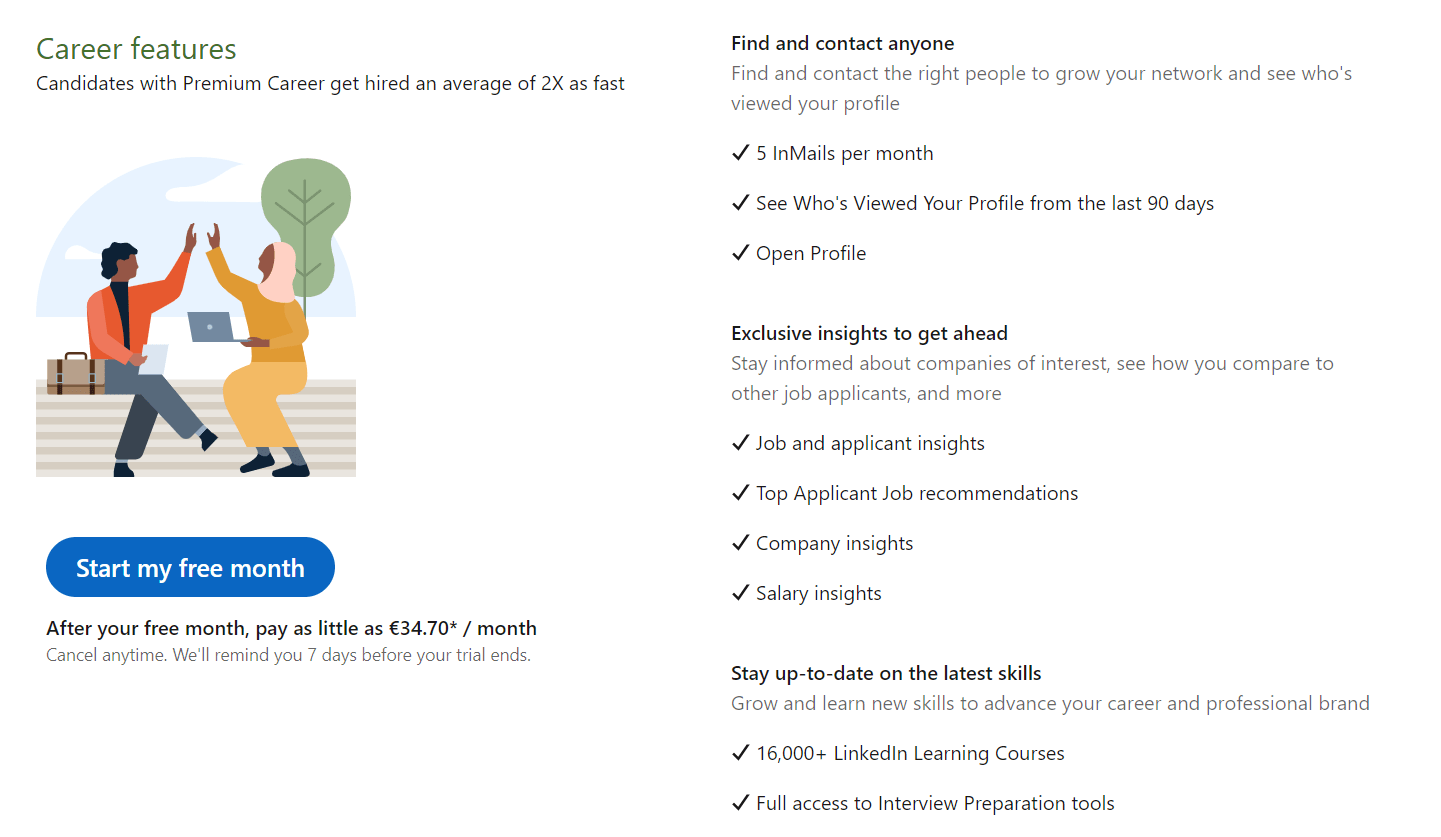 Premium Career Price:
The price is $29.99 per month. If you really want LinkedIn career,  I'd suggest going for the monthly option. This allows you to renew the plan the following month if you still need it, or cancel your plan if you don't want it to renew. Chances are you're not going to need a year to find the new job of your dreams. 🤗
Premium Career Review:
In order to stand out among recruiters, you can very well choose other options, like publishing regularly on LinkedIn in order to stand out. ✨ Some tools like pods can be very effective too. So the Premium Career plan is by no means a must-have premium plan. 👎
Premium Business = Develop your Network!
Premium Business

Description:

The Business Premium account is designed for those who want to develop their network in a qualitative way. For example, by strategically choosing who they want to add to their contacts. 🔗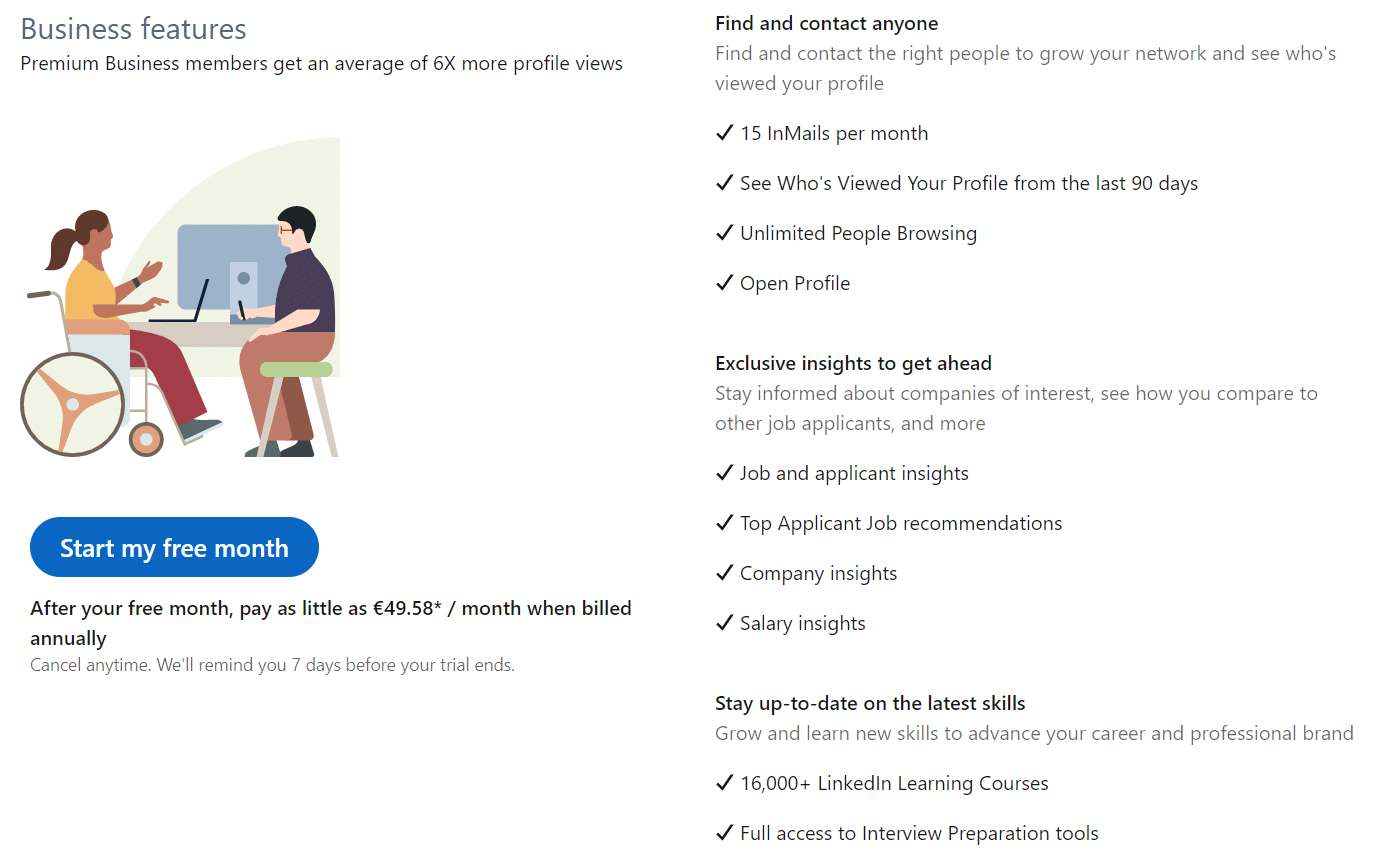 Premium Business

Price:

The price is $47.99 per month. To be completely honest with you, LinkedIn business is by no means the best option for growing your network. Spending that much per month for this plan is not very profitable. 🥱
Premium Business

Review:

If you want to develop a professional network, I'd suggest going for a tool like Sales Navigator to do targeted research, and couple that with an multi-channel lead generation tool like Waalaxy, to send automated actions. 📩

Do you want to learn more about Sales Navigator?

Great – keep reading! 😉
Sales Navigator = Boost your LinkedIn Sales!
Sales Navigator Description:
If you can't tell by now, the Sales Navigator subscription is our favorite! 👑
Basically, it's a lead generation tool. But it's so much more than that. It offers the best features that LinkedIn has to offer, allowing you to not only grow your network, but to also find candidates as a recruiter, to search for a job, and of course, to find more leads if that is your goal. 🎯
The Sales Navigator plan is like the Swiss army knife of LinkedIn offers. You can book a demo here! ✨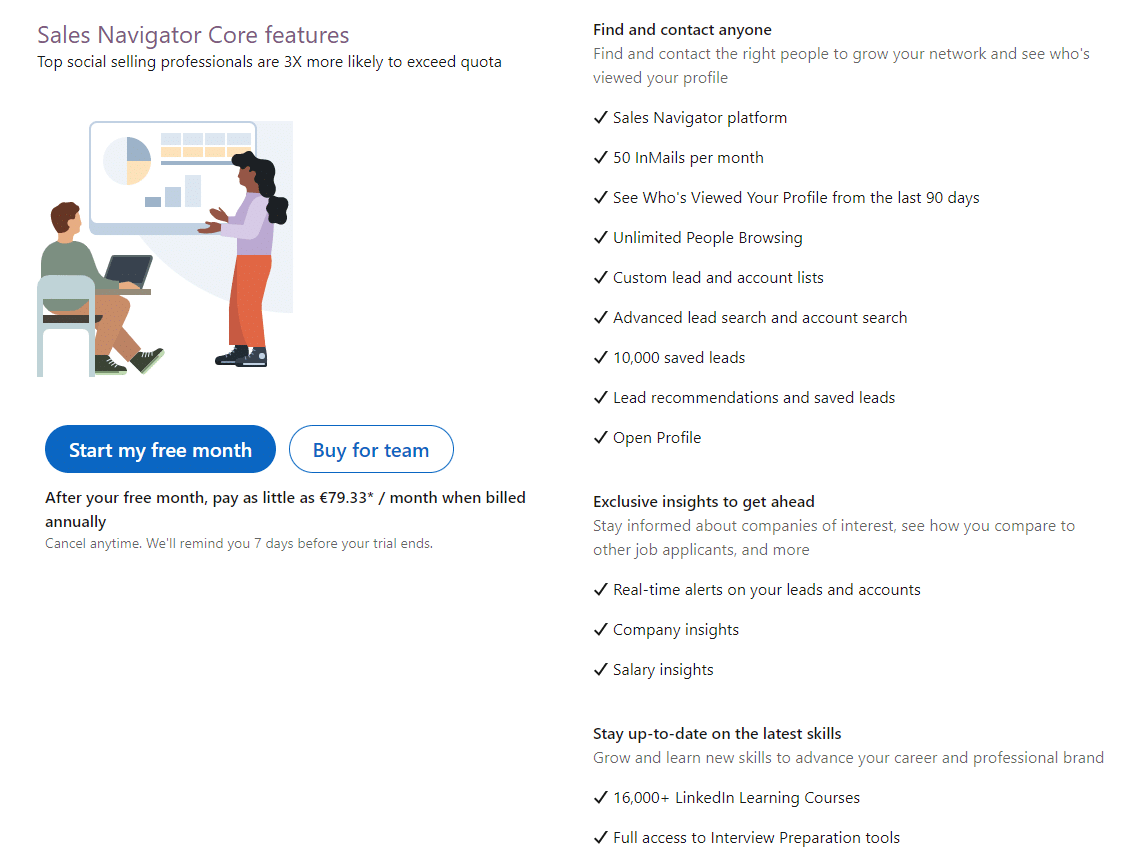 Sales Navigator Price:
LinkedIn prices Sales Navigator at $64.99 per month, when billed annually. 💲
In addition to having access to key information on competing companies, knowing who visited your LinkedIn profile and having unlimited profile views, you will also be able to segment your searches much more precisely. 🏹
If you have no clue where to get started with segmentation, you can get help on that by reading this article on how to segment on Sales Navigator. 💯
Another great benefit to having Sales Navigator is that you can access 2500 results in your search. On the classic LinkedIn plan, you're limited to 1000 search results! 💥
Sales Navigator Review:
If your goal is to do "social selling", or to promote your brand and services, then you should definitely opt for LinkedIn Sales Navigator as your premium account, then pair your Sales Navigator with an automation tool to boost your sales actions! 🤩
Recruiter Lite = Find the right Candidates!
Recruiter Lite

Description:

LinkedIn Recruiter Lite is aptly named, since it allows recruitment experts to have access to a mini sourcing CRM. 🤓 

Among these options, automatic candidate tracking and integrated recruitment are really great for optimizing your organization. 📈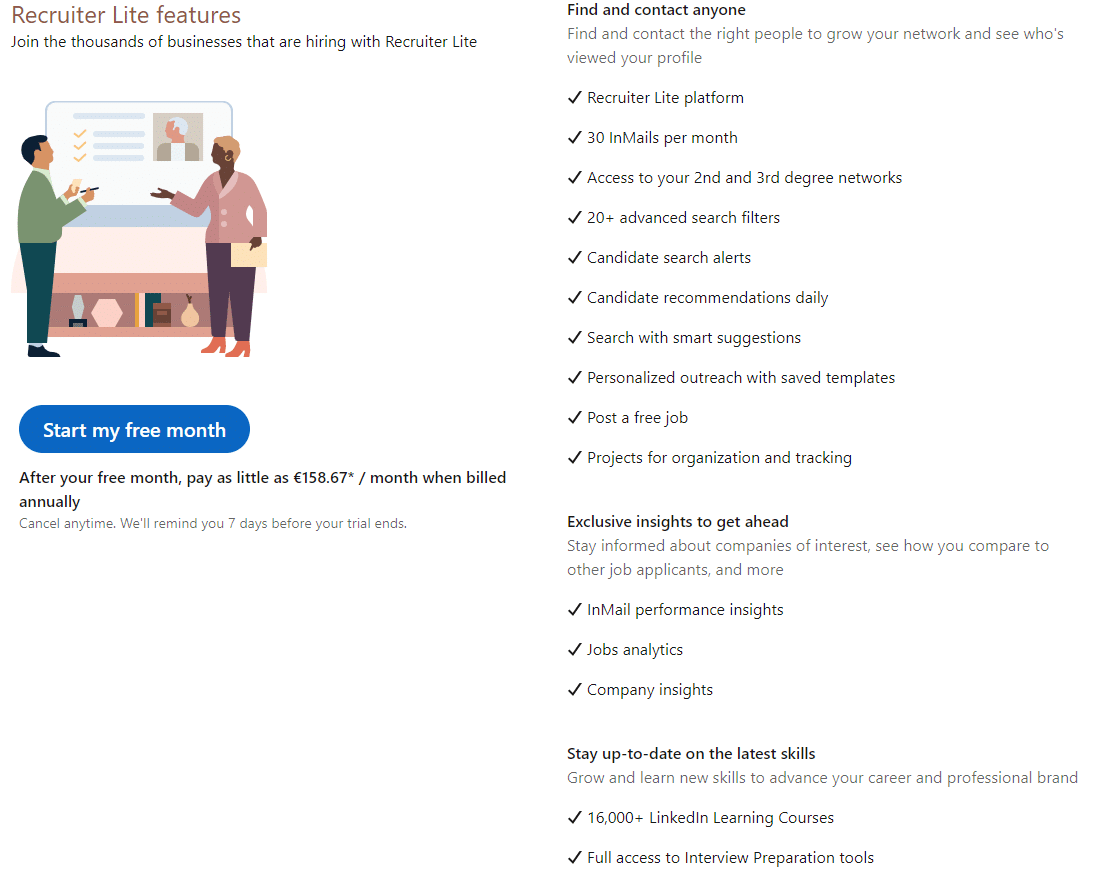 Recruiter Lite

Price:

The price of this option is the highest of them all, at $99.95 per month, when billed annually. 🥵

I am quite divided about the idea of recommending such a tool, because it is very expensive and lacks essential features. 🙊 For example, there isn't an option for having an online contact book or create your appointment reminders. 
Recruiter Lite Review:
So if you use LinkedIn a lot for your recruiting and receive more than 10 messages a day, you can quickly get lost. 😥 An automatic messaging tool like Inbox waalaxy is free and essential if you are an organized recruiter! 👌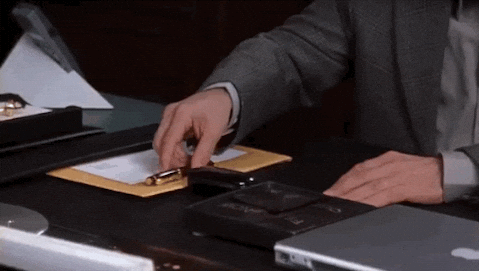 Is LinkedIn Premium worth it?
As you know, LinkedIn is a BtoB social network allowing you to connect and engage with professionals. Thanks to LinkedIn, you can, among other things, develop a clientele, reach out to existing clients, develop a useful network and work on your personal branding. 🚀
As the possibilities are truly endless, in order to understand your needs on the network to know which is the best premium plan for your needs, you have to ask yourself the following 3 questions:
How often do I use LinkedIn?
What is my goal in using this social network?
Who are my targets?
For example: if you are a freelancer and you offer online training, your career goals will be multiple: grow your network, promote your offers, gain new market information… The answers to these questions will allow you to define your needs on this social media network. 💡
If you use LinkedIn a lot for business purposes, you're probably going to invest in a premium account. We're here to help you compare the plans and find what plan works best for you. 😄
The limits of the free LinkedIn account
Furthermore, LinkedIn is pretty smart, so with the free plan, it only gives you limited access to its features, in order to entice you to invest in a paid account.
With the free plan, you will not be able to:
Send a message to people beyond your 1st level of relationship,
Use LinkedIn as you see fit for commercial purposes. You'll be limited by much lower search limits per month for example.
See who views your profile,
View some key information about the companies or people you are targeting.
Thanks to the premium offers, you have access to all these features and even other "bonus" features, depending on the account chosen.
In this second part, we'll talk about how to access a paid subscription plan for free! 😮
How do I get LinkedIn Premium for free?
Subscribe to the free trial offer
The first step in your mission to take advantage of LinkedIn's premium offerings is to sign up for the free trial. ⭐
Go to the "You" dropdown tab,

In "My account", click on "1 month free premium trial",
Then click on "View all subscriptions",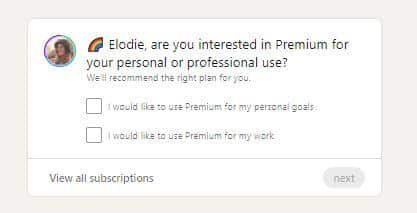 Choose the plan you want to try for free. Let's say, the "Sales Navigator" plan,

Then click on "Start my free month"
Then you can decide if you want the annual or the monthly plan. If you plan on having a LinkedIn premium subscription for a little while, I recommend you to take the annual offer in order to benefit from 20% discount. 😉
There you go, now you're ready to move your LinkedIn account to the next level! 🪐
Can you cancel LinkedIn Premium after free trial?
Wait! 🚨 What about if you don't want to keep the Premium account after the free trial?
No worries, in that case LinkedIn will remind you that your free trial resumes in 7 days so you can decide if you want to cancel it or allow it to automatically renew. 🤷
To cancel your LinkedIn Premium plan, follow these steps: 👇
Go to the "You" section at the top of your home page,
Select "Premium subscription choices",
In the left column, select "Subscription and payment",
In the "Type of account" section, click "Unsubscribe".
After you've determined the cause for the cancellation, click " Continue " and then "Cancel my subscription".
To clarify, if you get a premium LinkedIn account for free, during a trial period, you can actually cancel the plan the moment you sign up. That way you'll automatically stop being a Premium member at the end of the trial period. ✍️
However, with the yearly subscription, LinkedIn will retain your permission to use the Premium account until the following month. So keep that in mind when cancelling! 👀
Use Waalaxy to get LinkedIn Premium for free!
If you want to take advantage of your Sales Navigator account, you can download as many prospects as possible by using Waalaxy's CRM! 🌌
Whether you are a hiring manager, salesperson, or another type of professional, this tutorial will really help you segment your LinkedIn searches correctly: 👇
First of all, go to your Waalaxy account.
If you don't have one, there are the 3 paid plans that you can choose from ("Business", "Advanced" and Pro"), all of which you can get a free trial of beforehand. Of course, you also have the option of the "Free" version, which is free forever! 💘
The first step to set up our little hack to get Sales Navigator for free is to start the trial of Advanced Waalaxy. ✅
Then, in the "Pricing" tab, click the button to start a free trial and see for yourself if you like the tool. (Which, I'm sure you will! 🥰)
Download as many qualified profiles as possible
Are you ready to start winning over new customers? 😍
Once you have an "Advanced" Waalaxy account and Sales Navigator, you're a bit like Steve Rogers, when the frail young man from Brooklyn was transformed into a super-soldier and renamed Captain America. 🦸
In short, you become super badass in just a few clicks. 🧨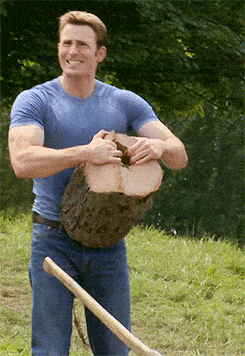 You will be able to download as many prospects as possible into your CRM using Sales Navigator during your free month . 😏
Try to segment your searches well to get 2,500 results or less. This will allow you to access as many prospects as possible without losing any along the way. 🏃
Then use Waalaxy to download them into your CRM and repeat the operation over and over! ♾️
You can even use Waalaxy to launch your prospecting campaign using the "Scenario" tab. 🤓
It allows you to visit profiles, send invitations and messages automatically! 🤖
How to do it? Simply by watching this simple tutorial to start prospecting:
How to cancel LinkedIn Premium?
If you're unsure if the LinkedIn Premium plan is for you, but you noticed that the trial period is over, you can still cancel your subscription! 😥
I'll show you how to do that below. 👇
LinkedIn Premium Login
First, click on the icon where your photo is located at the top of your LinkedIn home page in order to login to your Premium version account.
Then, select "Access my Premium."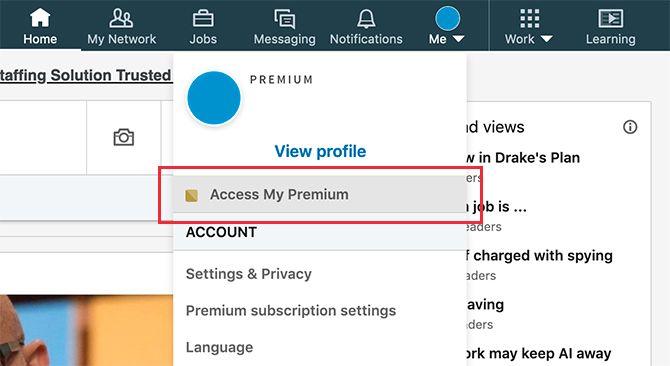 Next, click on the "Subscriptions and payments" button on the left, then click on "Change" on the right, opposite Premium Membership.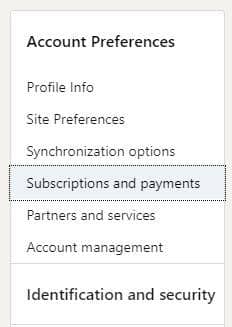 Finally, you'll find yourself on this page. To go back to the free standard plan, click on "Cancel and lose credits".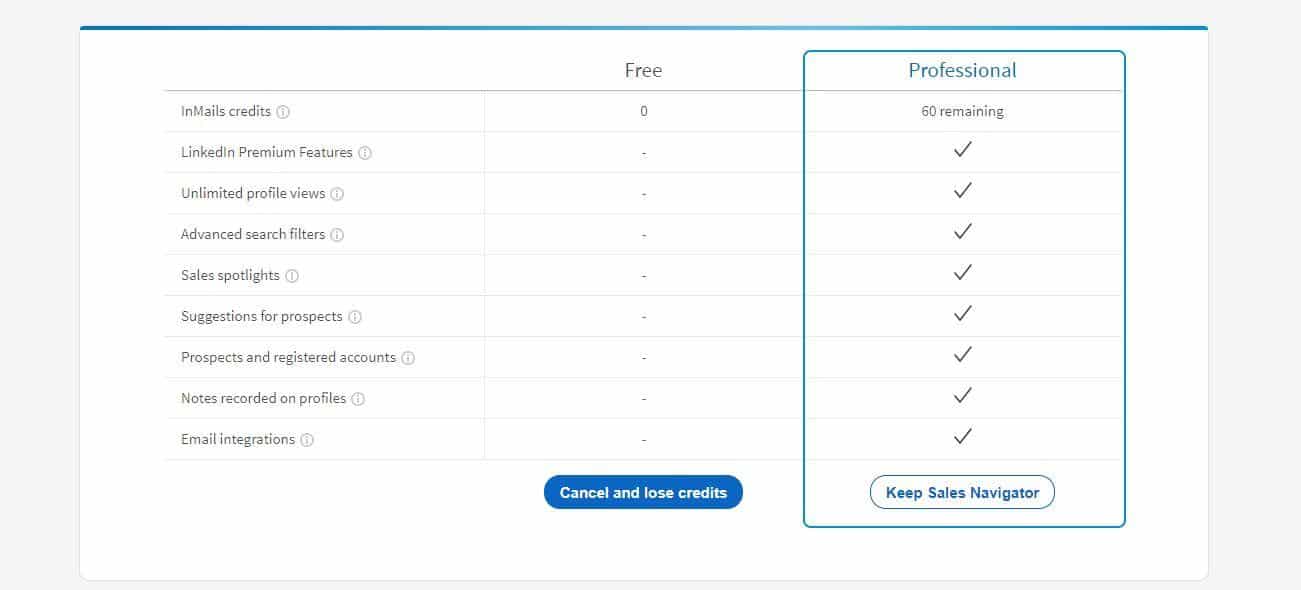 👉 Quick reminder: If you want to make the most of the free month, but not have the plan renew automatically, you can click "Cancel and lose credits" directly after signing up to the free trial. That way you'll still have access to the free trial. 🤲
Conclusion: LinkedIn Premium
That's it, now you know how to use LinkedIn targeting, and how find the right Premium account based on this! 🏅
On top of that, you also learned how to take advantage of LinkedIn Premium Sales Navigator for free, simply by combining it with Waalaxy. 👽
To conclude, whether you are a salesperson, recruiter, CEO and so on… This article will allow you to get the most out of the premium LinkedIn account that best suits you! 😃
Do you want our final opinion?
The best all-rounder, that works wonders for all goals is the Sales Navigator, simply because of its powerful search capabilities. 🚀
As a bonus, you will learn how to properly segment your searches according to your target thanks to "boolean operators".
Let's go! 👇
Bonus: How to do a good Sales Navigator search?
Use Boolean operators
No, we're not putting random letters together to create new words. 😂
Boolean operators allow you to refine your Sales Navigator searches using keywords. This allows you to find accurate results.
Let's say you are looking for work at startups, and want to contact the hiring managers, you can use Boolean operators to do just that. 🔍
The main ones for Sales Navigator are: "AND", "OR", "NOT" and quotation marks.
Do you want to know our recipe to get a perfectly baked search result? 🍰
Use quotations
If you are looking for an exact job titles, quotation marks are ideal. They considerably improve the relevance of your results. 🤔
For example, you are a recruiter and you are only looking for web developers:
Go to the Sales Navigator,
Click on "Filters" then "Title",
Type "Web developer" in title.

LinkedIn will only show you people whose titles contain exclusively what you put between quotes. 🤯
Add "OR" and "AND" operators
These operators allow you to associate items. 🧲
Are you looking for profiles who are both "Developers" and "UX designers"? It's a bit ambitious, but why not. 😜
You want to know how to link these 2 criteria?
Just use the "AND" operator.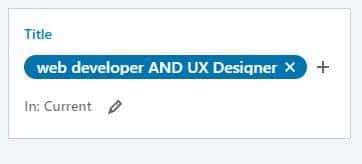 Are you looking for a "Web developer" OR an "UX designer"? Then type "OR" between the two words. 🪄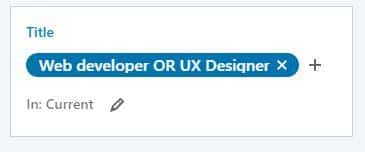 Sprinkle everything with "NOT"
The "NOT" operator is used to exclude certain profiles. ❌
Let's keep the example of the recruiter who wants to hire "Developers". You do not want to download "Freelance" profiles into your CRM, because your goal is to hire them on permanent contracts. 😕
You must then type on your keyboard as follows: "Web developer NOT Freelance". And that will do the trick! 🔮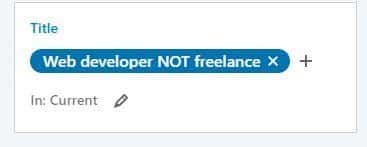 Mix them well to get the perfect batter!
Obviously, it's not just in recruitment that Boolean operators are useful.
They are ideal for qualifying your leads. 🥇 For example, are you targeting CEOs and Managers?
Easy! Type in your search on Sales Navigator: "CEO OR Manager NOT Freelance", for example. 👍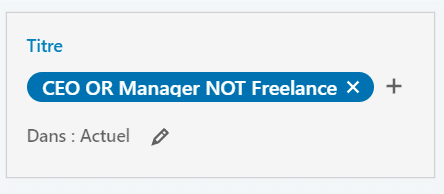 These operators will help you to segment your search. As I explained to you above, you will have to add more criteria to ensure you don't exceed the 2,500 maximum profile quota. 😬 This is a limit imposed by LinkedIn  for Sales Navigator users (it's only 1000 for other plans), but with Waalaxy's Team plan, you can actually get around this limit! 🎉
There you go, your delicious cake of leads is ready. 🍰
You can download your results, launch your prospecting actions and repeat the operation again and again. ✨
FAQ of LinkedIn Premium
Which LinkedIn Premium account should I choose?
There are 4 types of premium LinkedIn accounts. Each has different options to meet certain needs. 👇
Premium Career = To find a job,
Recruiter Lite= To find candidates for recruiters,
Sales Navigator = To grow your network,
Premium Business = To search for qualified prospects, boost your sales and acquire new customers.
How to take advantage of LinkedIn premium for free?
In this first part, I presented a easy technique of "Growth hacking" to help you make the most of LinkedIn premium without paying a cent. 🤑
To recap, there are just 3 steps:
First, get a free premium LinkedIn sales trial month,
Secondly, use the "Advanced" offer from Waalaxy,
Finally, download as many prospects as possible into your CRM!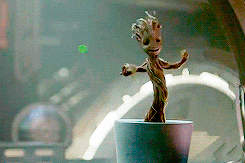 How do I unsubscribe from a LinkedIn premium account?
Finally, I showed you how to unsubscribe from your premium LinkedIn account. 🤫 Again, to recap, there are 4 simple steps to unsubscribe:
First, go to your LinkedIn home page and click on your icon.
Second, go to your premium account.
Third, on "Subscription and payment", click on "Change".
Finally, click on "Cancel and lose credits."
A crucial information to keep in mind is that you can cancel your subscription on LinkedIn Sales Navigator, but you will not be able to retrieve your information and your data if you decide to cancel your subscription. 🔔
How to use Boolean operators to do a good research on Sales Navigator?
I also gave you a super-useful hack for importing a ton of profiles from your target audience on LinkedIn into your sales funnel – Boolean operators. 🧑‍🍳
You will be able to get better qualified search results using these key options: "AND", "OR", "NOT" and quotations. 🍝
Perfect! 🌠 Now you know how to get a free LinkedIn Premium subscription and the alternatives that will best meet your business! I'm sure with these tips, you're going to be a boss at B2b prospecting! 🚀