Welcome to the ultimate guide to LinkedIn Live.🔥 Here you will discover how to create, succeed, promote and analyze your Live.
Grab a cup of tea, get comfortable and read at your pace.
Enjoy. ✨
LinkedIn Live is what and for whom?
LinkedIn Live is the Webinar version offered by LinkedIn, on LinkedIn.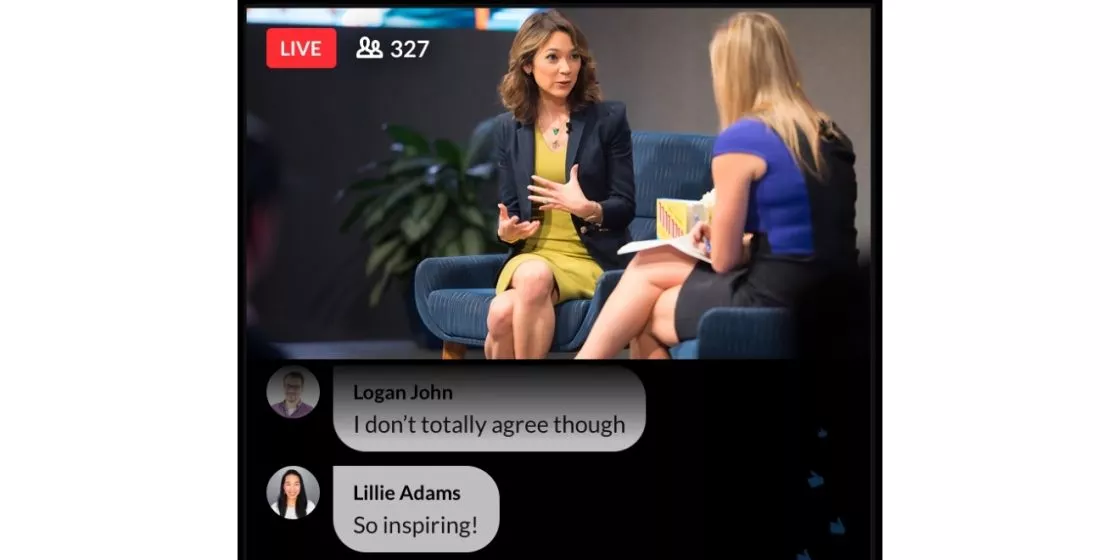 The professional social network is strong enough to surf on current trends and offer new features. In this case, webinars have become the new communication moment in 2021. Almost no one in B2b goes to a conference anymore. Video is booming and becoming the most popular communication medium in France. 🎥
87% of users would rather watch content online than on TV.

Livestream.
Any person or company wishing to promote a service or a tool or talk about something they care about can use livestream. They just need to make the request directly on the network 😉
In the subsequent step, you will create a LinkedIn event to promote your livestream.
How to create a LinkedIn Live and how to use it? #1
To get LinkedIn Live video, it's a bit complicated, I'm warning you. But I'm going to make it as easy as possible for you. Here are the steps:
You have to work with a LinkedIn partner. This part is not complicated as the list is long. (It's right here!)

You go to the live streaming partner you want, then you buy the product.
Each product is very different, some are premium, some are cheaper and less comprehensive. 😉
Contact LinkedIn to apply to become a "Live Broadcaster". There, you have to fill out this form, then they will reply within 10 days to let you know if they accept you or not.
The acceptance criteria are the following 3:
That you are active on the network (if you have never published anything, you have little chance of being accepted.) So, set up a publishing strategy before you send a request.
That you have quite a few followers. So you need to create connections on LinkedIn.
Finally, that you have never been blocked or considered a spammer on the network.
In short, that you use LinkedIn well and are a nice person. 🤗
Which streaming software to choose for a LinkedIn Live?
As you may have noticed when you clicked on the form, you have a lot of choices to stream your Live. Sometimes having a choice is annoying, because you are afraid of not making the right one – especially in these cases. Then you overthink things. 🧠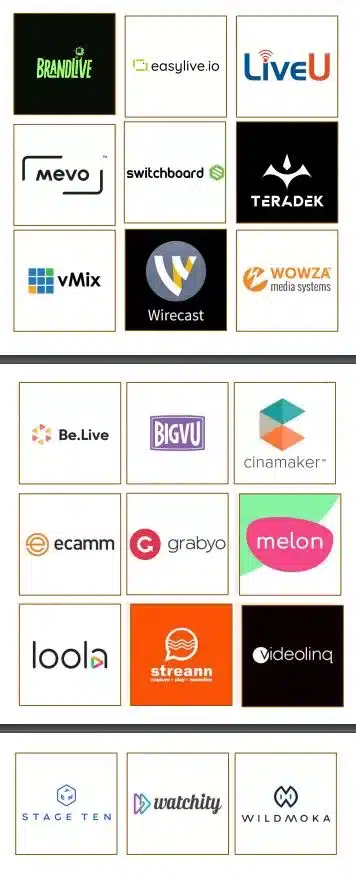 Since I'm super cool, I made a summary for you, so you don't have to do anything. 😂 (I analyzed the first 9 partners).
To understand the study :
Rates range from ⭐ to 5⭐.
Value for money from 🟢 to 🔴. There's also a 🟠.
Product quality will have a score from 1 to 50. (UX, security, options).
Choose LinkedIn Live streaming partner:
Brandlive (between $3,500 each and $60,000 per year).

⭐⭐⭐⭐⭐ – 🔴 – 40. (Great UX, but way too expensive).

Easylive (min $1188 per year).

⭐⭐ – 🟠 – 30. (UX to be improved).

LiveU (specialized on quality events: sports, live media).

The price is on estimate, but it will be expensive in any case. 40.

Mevo ($999 dollars).

Webcam pack to buy – this is not a streaming software.
Swichboard (between $29 and $99 dollars per month).

⭐⭐ – 🟢 – 20. (UX to be improved, but very good value for money).

Teradek (pro products for filming)

This is not a streaming software.

VMix (60 days free trial!).

⭐ – 🟢 – 40. (These are lifetime licenses, they are between $60 and $1200 dollars with all the options – it has become ultra rare to have lifetime licenses, so it's seriously worth it).

Wirecast ($799 per year).
⭐⭐ – 🟠 – 35 (Very easy to use, but big downside is if the stream freezes during a live stream, you have to restart the session, which halts the live stream altogether).
Wowza (between $85 and $175 per month).

⭐⭐ – 🔴 – 35 (simple to use software, but additional fees are charged for technical support).
Conclusion of the study: switchboard or VMix are great starting options. 🤗
Connect LinkedIn to the chosen streaming software
In this case, it will be the same for all streaming software. Follow these instructions precisely. 🤓
Step 🥇:
Once LinkedIn has given you the green light to become a broadcaster, you'll be able to land on this page.
Define the date and time of the Stream,
Define who can see the live
Write an intro of the live. (Add 2 or 3 hashtags)
Write a title,
Add an image.

Step 🥈:
Define the geographical area,
Click on "get the url",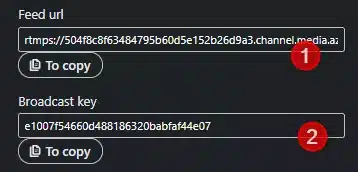 Go to the streaming software you have chosen, copy the broadcast key in your software and start streaming.
To start the broadcast, click on "broadcast live".
Smile, you are being filmed. 😍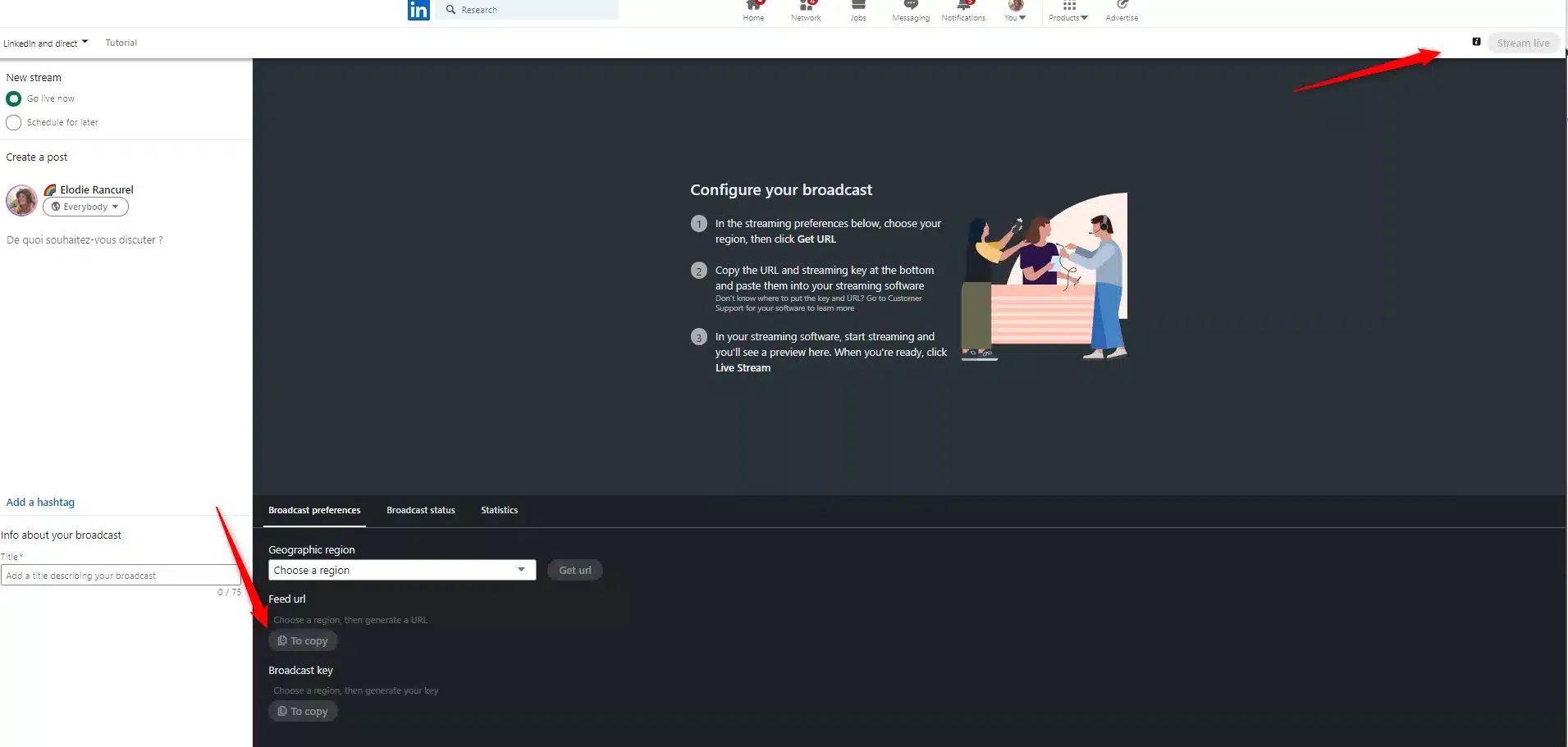 If you're new to streaming, I found a great article that explains how it works. 👀
(It also tells you what is the optimal video stream and the right bandwidth for a live stream).
When will LinkedIn live be available?
Once you have chosen your streaming partner and filled out the form, LinkedIn will respond within 10 business days, and you can then create a Live. All you have to do is get the broadcast link, then create your event on LinkedIn and add the live link to it.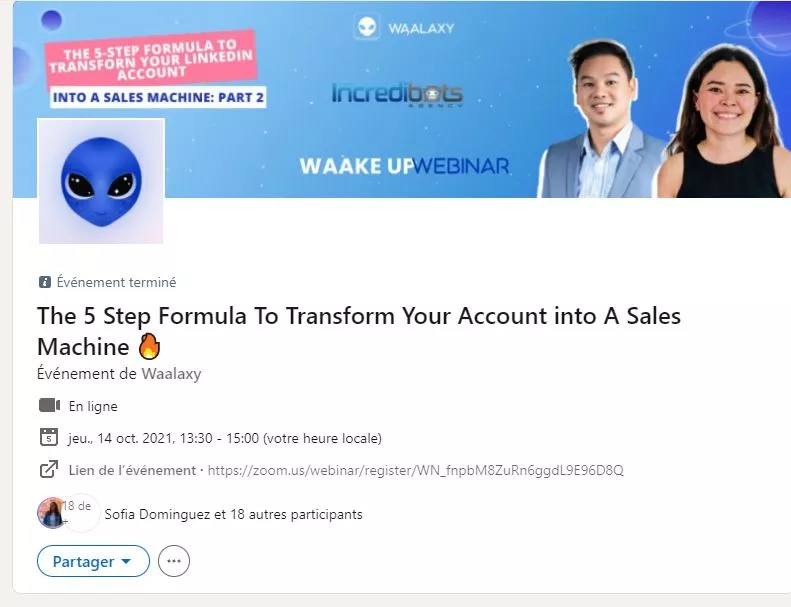 The next step will be to launch this feature on your streaming software and return to LinkedIn, to click on "broadcast live".
For the audience, the live will be available as soon as you click the button. You can choose to start the live 15 minutes before and up to 2 hours after the announced date. 💡 Important: Still, try to stick to the time you gave your audience.
How to promote your Live? #2
You have several ways to promote your live on the network 📣:
Share key announcements related to your event on LinkedIn and via social media marketing.
Post images and videos, written content (using good copywriting strategies) around your event.
Promote the event directly via private messages.
Leverage the reach of your speakers and sponsors – ask them to post as well and prepare "made by them" posts to ease their workload if needed.
Open the window and shout the news to the neighbors.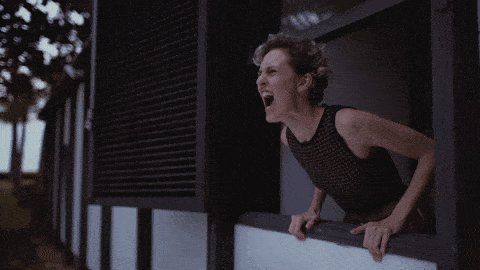 Promote your LinkedIn Live through the event
Here, there is only one thing you need to know – copywriting. Basically, it's about writing techniques that will make your text pleasant to read, catchy and that will sell. You need to learn how to make the audience dream. ✨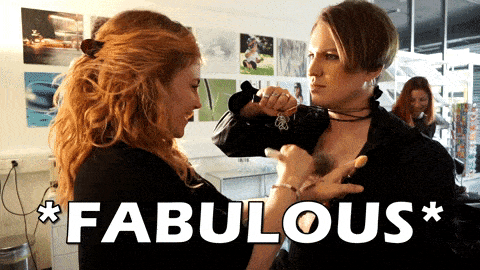 Discover the short guide to LinkedIn copywriting . 🔥
Create the event, it takes 2 minutes:
Log into Google Chrome,
Go to your profile on LinkedIn,
On the left side of your screen, you have your info. Scroll down.
There you will see "events" appear, you click on the ➕, then create.
To know what to put in this section, follow this comprehensive tuto. (4+ copywriting techniques).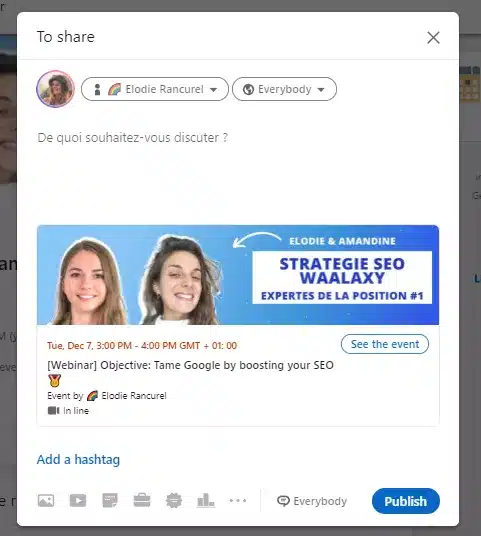 Once your event is created, you can publish on the network. I advise you don't flood your newsfeed with calls to action. It's better to combine several communication techniques than to make 10 similar posts on your live broadcast.
Send LinkedIn messages
You may not think about it, but it's ultra effective for promoting a Live. Don't forget that it's the number one social networking site in the world. 🥇 The goal is to invite people to register for your event. Once the prospect signs up, they will receive all the reminders. 😍 You have 4 options to promote a Live and build a lead generation strategy:
💔 Use the paid version of sponsored LinkedIn messages – We don't recommend it. It's kind of like advertising in a mailbox, they're not going to open it because they know in advance that it's advertising.
🧡 Manually sending messages to your target audience. This is super time consuming, definitely don't do this if you're working with high volumes.
💚 Use an automation tool to send automated messages quickly (still personalize your messages as much as possible, don't make these mistakes).
Automate your communication actions on LinkedIn
As we just saw, the feature for lazy and smart people is automation. 😎
Waalaxy allows you to automate these marketing messages quickly, thanks to a chrome extension integrated with your LinkedIn search.
Regarder à quoi ça ressemble 👀
The LinkedIn Ads to promote your live
To promote your Live on the network, LinkedIn Ads can be an interesting solution. It all depends on the budget you have and the type of volume you want.
Your target is large and you want to gain visibility, LinkedIn Ads. 🟢
Your targeting is niche and you want to sell, focus on direct contacts. 💌
If you want to do Ads, you'll need to understand how bidding works on the B2b network. 💰 Visit the LinkedIn Ads guide to get started. Then, your LinkedIn live appears on the news feed of your targets (that you have previously well segmented). You can add a call to action to your ad:
Register for the webinar.
Watch the live stream.
Reserve a seat.
Learn more.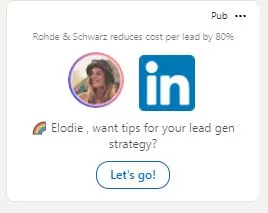 Hosting a Live on LinkedIn – Steps to prepare #3
Choose the format of the Live
There are several formats, I think it's important to ask yourself which format is the best. It's going to depend on 3 key pieces of information:
🎯 Your target audience. What do they prefer?
🗻 Your goal. Sell a product? Promote your brand?
💰Your resources. Some LinkedIn Lives can be expensive, depending on what tools and speakers you have. What are you willing to invest that will be worth the cost if it pays off?
Once you've determined those 3 things, look over here at the list of webinar types:
LinkedIn Live in partnership between two brands.

Goal > Boost your visibility and attract new customers with the visibility and database of the chosen partner. 👩‍❤️‍👩

The Webinar staged as a real conference,
The journalism-style webinar,

Objective of these two types of live > Notoriety, prove your expertise and professionalism on a topic/sector. 😎

The "question and answer" webinar,

Objective > Prospecting. Identify hot prospects, eliminate doubts about your expertise, product or service, turn the prospect into a customer. 🚀

Webinars with a giveaway: You'll be targeting a larger audience to showcase your brand or product – giveaways are a big draw.

Objective > Visibility and brand image. 😎

The sales webinar or product tutorial: You'll be inviting hot, highly qualified prospects to take action.

Objective > Turn the prospect into a customer. 💰
Choose one of these webinar types for your live event. You can also alternate and create a different content strategy depending on your goals.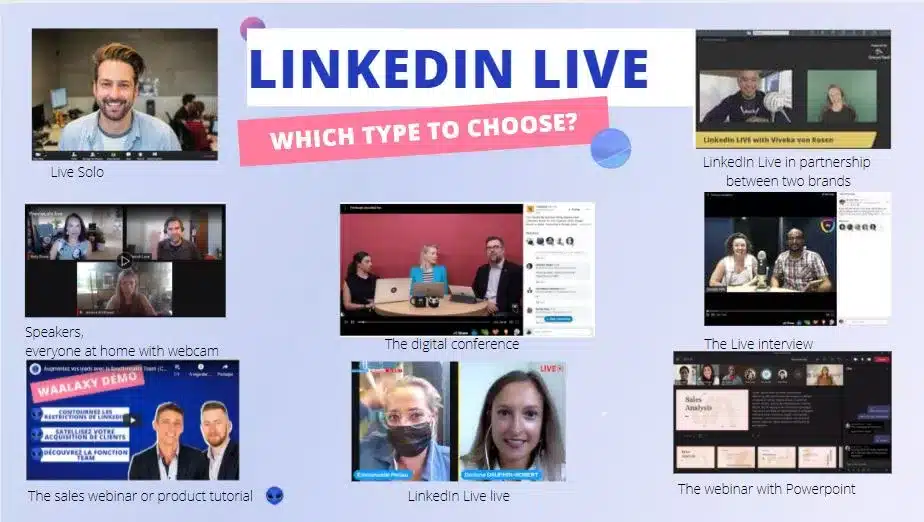 Succeed with your content
Hubspot released a big study a few months ago on webinar and live Btob trends and the question was: "Why do consumers sign up for webinars?"
[Hubspot] :
27% of people want to attend webinars that are not directly related to their profesional activity, passion or hobby. (Shame 😂)
24% want webinars that are entertaining and fun!
18% want to learn new things about their industry.
22% are interested in all 3 at the same time: so all webinars. They're a good audience.
Really, the important thing to remember is just one thing: people want to learn while having fun.
So what are the most fun Lives for them?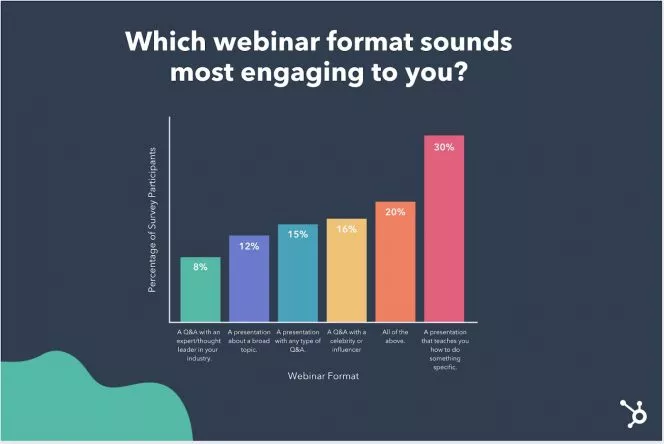 16% prefer Q&A, but with a well-known person or influencers.
15% prefer Q&A, regardless of whether the person is known or not.
8% prefer Q&A hosted by an expert in their industry.
For the rest :
12% are interested in broad topics. Example: Human resources, wellness.
20% by specific topics. Example. [B2b] Gain 5+ online customers in 1 month.
Conclusion? 🤔
Q/A and other audience interactions are highly appreciated.
Don't get lost in a broad topic, be specific and bring concrete data.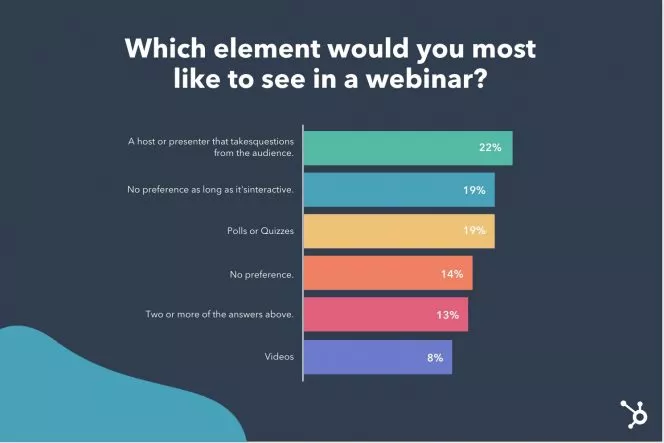 The live speaker(s) must be top notch
Speakers who KNOW their subject and are not boring, that's the basis. You really need to handpick them. If it's you, that's perfect: with this article you'll have all the keys in hand to perform well.
If it's not you, then this is not a choice to be taken lightly. 🧐
You're hosting or co-hosting this LinkedIn Live
If you're going to be speaking at the next live event, there are a few things you absolutely must master in your communication technique and a few myths you must bust. 😍
Myth: People care a lot more about your body language and physical tics than you think. ❌ (Like, if you scratch your head, it's okay). 😂
Communication: learn how to convince people and argue.
Myth: You need to have a professional attitude. ❌ Serious people are boring, even to serious people!
Communication: learn to become passionate and you will make everyone passionate. ✅ If the subject bores you it will show!
Body language is not that important
To explain my point in one simple sentence:
When it's not natural, it shows.
If you put all your brain energy into focusing on your posture and on your hair that you definitely shouldn't scratch, you'll lose focus on the main topic: your content and your audience. 🎯
With every little thought like "damn, I scratched my chin again," you lose focus on what's important: The LinkedIn Live you're doing!
Gesture will come naturally, along with confidence. If you really want to work on it, do it independently of the live and forget about yourself during the webinar, let yourself go.
Know how to argue
Obviously, the collaborators will have questions that you will have to answer clearly in order to avoid them having doubts about the quality of your presentation, or worse, your expertise.
There is nothing worse than being seen as incompetent when you are trying to improve your image, and this happens quite often in fact!
A bit of theory: You will need good arguments, evidence and credibility to convince. 
There are several types of arguments:
💡 The logical argument: it comes from the author, from their own speech. (data, figures). Example: a case study.
👩🍳 The argument of authority: it appears as a truth known by all, it is not very contestable. (1+1=2), no need to explain why.
🧡 The value argument: it refers to a system of well-established norms, whether moral rules, well-being at work, ethics. (Example: notion of right and wrong.) The value argument is also your way of expressing who you are and talking about your emotions. What are the values of your company and the ones you want to convey in your speech?
👨🏫 The experience argument: it is based on facts and testimonies. Although subjective, it remains concrete and can help to demonstrate an expertise. Example: your years of expertise, the number of satisfied customers, the rate of positive feedback.
🤺 The ad hominem argument: consists in confusing an opponent by opposing their own words or their own actions. It is usually used against direct competition. It's very difficult to use, you really have to be sure of what you're arguing about.
An argument is good, but it doesn't work without proof…
You must integrate into your speech, good reasons to believe you:
Proof of success : These companies use our solution and it earns X amount of additional business. Example: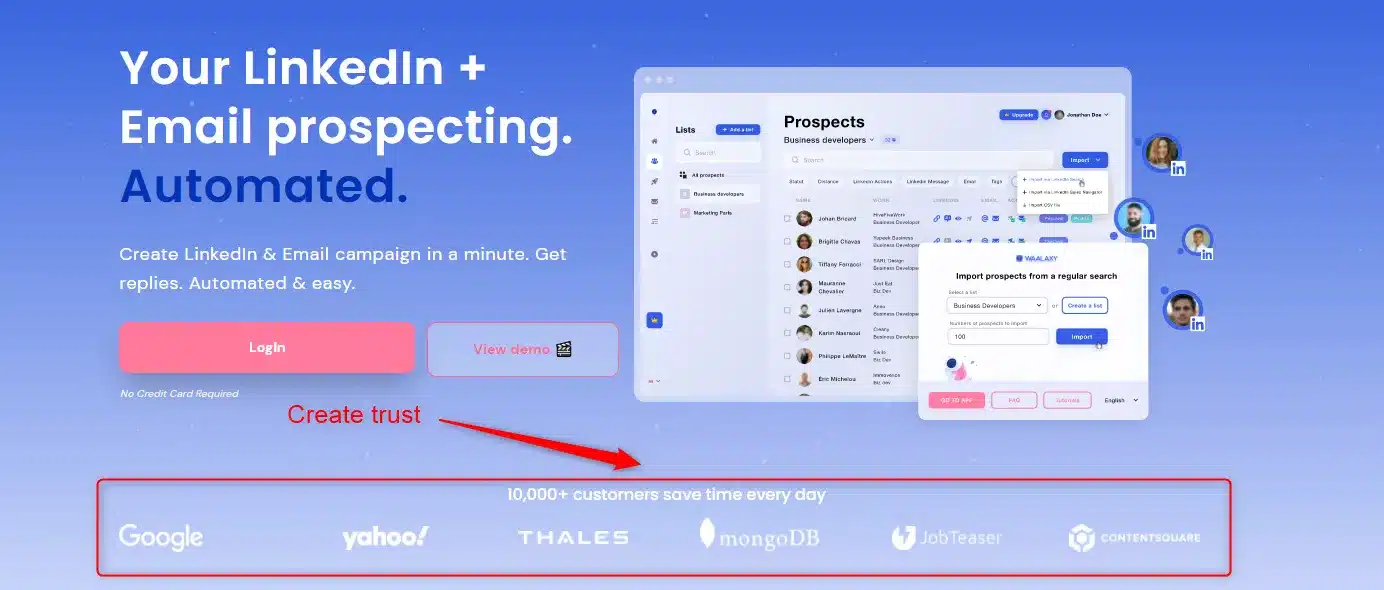 Proof of need: What will you improve in the lives of your prospects? Example: Today you take X months to successfully get 2000 new leads, with Waalaxy it will take you just 2 weeks. 🚀
Even if your Live is not directly aimed at selling something, you need to work for your brand awareness.
Therefore a high-quality Live is essential.
We are always selling something: if it's not a product or a service, we are selling ourselves.
Credibility please
Sometimes you start with a disadvantage. If you're like me (socialy awkward), it's harder to be taken seriously. (I'm writing this in my socks and pajamas, at the office….🙄)
If you're young and beardless like Toinon (CEO of Waalaxy). Don't worry, he's fine with self-depreciation 😂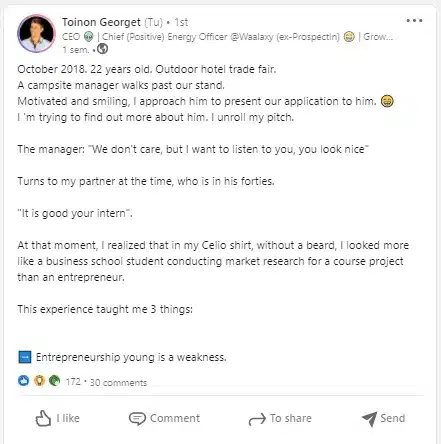 So, if this is your case, know that it is not a myth "the first seconds, counts", on the other hand the percentages are totally false and made up. ❌ It's not 80% in 3 seconds, it's not irreversible or lost in advance either. Just show that you're an expert on your subject and you'll be fine. 👩‍🍳
Rather be pretentious than appear incompetent.

Toinon.
We want emotion – passion – spectacle
Serious people are boring, even for serious people!
Appearing pompous and serious won't help you. In fact, the more you are yourself, the more fun people will have during your presentation. But you have to be able to relax.
In 2021, everyone is looking to do a job out of passion, and many people are standing up and turning their backs on the norm of the market: corporate life.
But life is like married life, you make compromises. 👩‍❤️‍👩
So, if you're not passionate about your business, that's not such a big deal. On the other hand, you need to be so convinced of what you're saying and it needs to be felt.
You don't have to love selling goat cheese at the market, however, your cheeses taste divine, the farm looks beautiful and you know no one will make a mistake buying them. 🧀
How do you avoid putting the audience to sleep?
There are several parameters that can make the difference between a good speaker, and a not so good one (I decided not to say "bad", so as not to offend you…).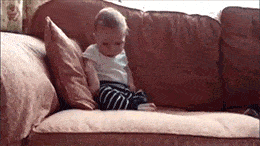 The tone of voice.
The passion.
The turns of phrases.
The knowledge.
The structure of your argument.
Confidence.
Getting your audience to interact with you.
I'm repeating myself, but it's super important for you to absorb this. I was at a yoga class this weekend, and the teacher asked us to recite complicated mantras for 45 minutes. The whole room stalled after only 4 minutes. Why? 🧐
He didn't explain the meaning, thus the "why".
Didn't take enough time to show the "how" (we were singing very wrong).
In short, there was no structure: why (benefit) > how (detailed explanation) > action. So if you don't meet at least one of these criteria, you won't be able to convince your audience to trust you, let alone take action.
The role of the moderator
"Moderator" is a complicated word for something simple. 🙃 It's a person responsible for improving the flow of the live stream by:
Responding to the audience in the chat.

Invite people to download or click on additional resources (blog resources, landing page, white paper…)

Note relevant questions that will then be answered by the speakers.
Try as much as possible to accompany people with technical problems (no sound/no picture).

You really need to check the webcams, microphone and internet connection of the speakers). It's always better to have fiber optic. 🙃
How to interact well with the participants?
To keep your audience from falling asleep, there's nothing better than engaging them cerebrally. 🧠 The human brain has a hard time just listening, and learns best by doing. If possible:
create surveys,
ask questions that they will try to answer in their heads,
create suspense,
repeat often what benefits they can get from what you are explaining.
do Q&A's during the live session. (frequently asked questions).
LinkedIn Live Analytics: performance of your LinkedIn Live – How? #4
There are several ways, some subjective, some objective to analyze the live (other than the cost). Generally speaking:
Numbers lie less than people.
Asking the audience for their opinion is not the best solution, or at least you can't settle for that. You'll have to take a trip to the KPI's (the data) to see what it says. 👀
Understand the stakes of Live
First of all, depending on the type of live you chose, the stakes are different (notoriety, personal branding, visibility, conversion..). The first thing to do is to remember why you made this LinkedIn live, to check the right indicators:
If you wanted to gain notoriety, look for your transformation rate. You may be disappointed, so focus on other indicators, more adapted (registrations, views, downloads..).
Knowing how to self-analyze after the webinar
There's nothing worse than a manager who doesn't know how to self-analyze. Other than perhaps a speaker who bores you. 💤
We've all been there, there are "the good teachers", the ones who captivate you and make you passionate about unsuspecting subjects and there are "the bad teachers" – the ones who you endure their lectures like a slow and painful torture. 🥱
For speakers, it's exactly the same: you are actually trainers passing on knowledge during your live. So, how do you analyze if you were good?
Ask yourself the right questions: did you communicate well with the audience? Should you target a wider audience next time or segment them better?
Not easy.
The evaluation on the spot
You can have fun asking your collaborators for feedback but let's be honest, everyone lies on these subjects: it's like when you have something in your teeth = you always discover it whilst looking at the mirror and not because your colleagues warned you. 😆
I'm not saying that honest people don't exist, I just have to say that if you don't have a great climate of trust, they will minimize their answers for fear of hurting your feelings.
Evaluating yourself on the fly means doing a little internal check-up. 🥵
If you don't naturally have the hindsight to know if the presentation was good and what you messed up as you are too full of emotions. Here are some things that you can ask yourself.
If you feel satisfied with yourself,
If you are always stressed,
If you feel uncomfortable and want to hole up in a cave. 🗻
If you feel like something wasn't clear.
Just write them down, without analyzing them, and wait at least 48 hours to do some real introspection.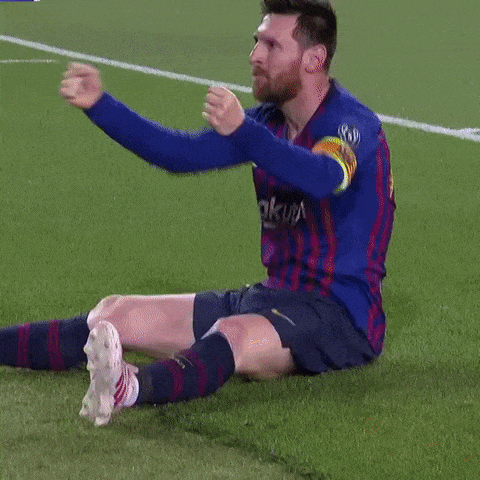 Cold evaluation
If you can have the replay of the live event, then even better! You'll be able to take a close look at what worked and didn't work. 🔍
Among the questions to ask yourself, I've made a selection of the most important ones. These questions aren't designed to stress you out or to make you crazy either. 🤪
If you've had moments of hesitation = why? Did you not master your subject completely? Were you afraid of the questions you would be asked?
If you spoke too quickly,
If you took the time to get to the heart of the matter and make it more accessible,
If you talked about enough real-life cases to help the listener project themselves,
If you were able to use storytelling, to convey an emotion.
If you were not too robotic,
If you were afraid of the audience = this is very significant. The more trained you are and the more you master your subject, the less you are afraid.
Don't forget to write down everything you did well and what makes you proud. 🧡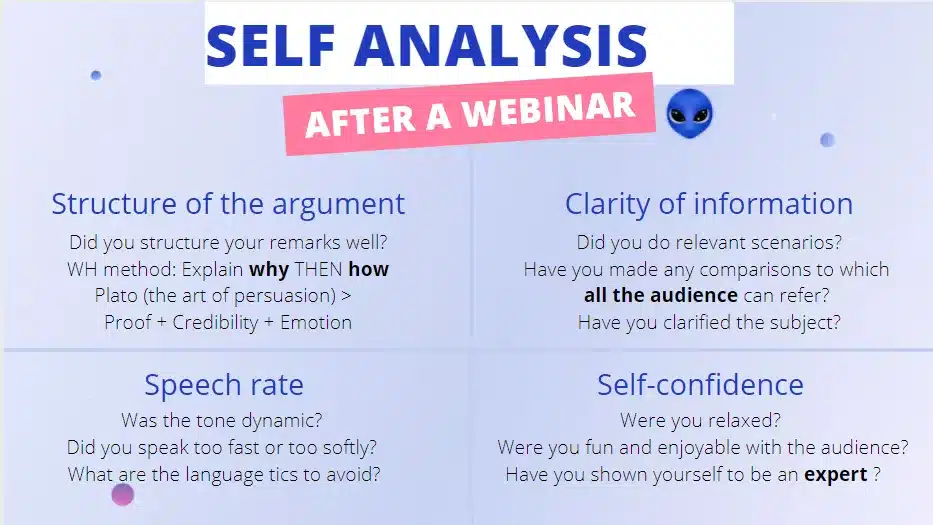 Analyze the results of Live with accurate data
There are dozens of indicators to measure the success of an event: whether it is digital or virtual. Among these indicators, we will choose the most relevant ones.
My goal is to give you the ones that are easy enough to measure and that interest us the most. 🤓
Classic ROI = event cost/revenue generated: In the cost you will take into account:

The number of employees solicited for this live and the time spent per person.
The cost of the speakers (if you paid them).
The cost of advertising: LinkedIn Ads, Google Ads, digital advertising inserts in a media.

The revenue generated will depend on the objective you have set (as we have seen above)
Number of subscribers/number of visitors. This indicator will allow us to know if the campaign was useful and if you sold yourself and your services well.
How?
With any type of Ads = you will be able to measure the number of subscribers vs. the number of people who have seen your communication campaigns.
When you go to send messages on LinkedIn: you have 3 options , all interesting, to know when it flopped (or when it was a success 😛).

Number of people contacted/number of responses,
number of responses/number of subscribers,
number of people contacted/number of subscribers.
Enrolled by acquisition channel:

If you use the emMail + LinkedIn option: do they sign up more by email or via a social network? Do they respond to you more on one channel than the other?
Each time you test a new channel, note your results, to know if it is a good idea to use it again or not.
Number of emails sent:

Emails = open rate and click rate. How many people clicked on the email to learn more? What kind of profiles were involved?
Clicks on the LinkedIn events registration form: How many people did your email convince to sign up?

Analyze live participation:

Number of viewers connected on the day of the live event/number of people registered. Did you send enough reminders?
Connection time: did they drop out at any point during the live event? If so, where? Depending on the tool you use, you can easily access this curve.
Activity in the chat = were there any questions asked? Are they technical or related to the topic?
Audience interaction = number of responses to polls, quizzes
Number of clicks on links in the chat = you can (and I recommend) using the chat as a conversion tool. People who watch your live are interested in your products and services, send them to your blog, landing page or white paper during the live.
Readjust and repeat the operation
Now that you're launched into a hysterical LinkedIn communication strategy frenzy, you're ready to roll. 🎶 (ready to continue rolling).
You just need to understand which metrics are weak, identify why and readjust. Likewise, you need to continue what's working. Successfully identifying what to cause success is extremely important. The goal is not to shake things up every time, otherwise you will get lost, but just to change some parameters and do A/B tests.
Q&A of the article on LinkedIn Live
Do you need a linkedin account to watch linkedin live?
Obviously, you will definitely need to have a LinkedIn account in order to watch a LinkedIn Live. It's simple. People who are going to create an event will do it on LinkedIn.
Where is LinkedIn live? How do I access it?
Finding the LinkedIn Live option on your LinkedIn profile is pretty complicated. In fact, it is a marketing solution. The easiest way to access to LinkedIn live is to click on this link.
When is LinkedIn live chat available?
The event chat is available as soon as the event is created. You can contact participants even before the day of the live event to share information or ask questions.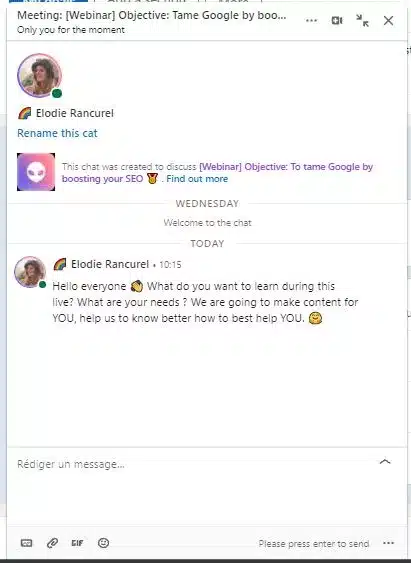 The live chat is available as soon as the live event starts. Don't forget to write a welcome message to your audience. The live chat is available to your audience at the time you have scheduled. You can start your live 15 minutes before the scheduled time and up to 2 hours after it. 😁
LinkedIn live: what is a streaming platform?
If you're new to streaming, I found a great article that explains how it works. 👀
LinkedIn live : Users' opinions
There are several ways to ask for user feedback during your live stream: take a poll, ask the question directly in spoken word or in the chat, or send a short questionnaire after the live stream.
The best way to know if they enjoyed it is to look at the live data. I'll just like to remind you that people lie, but not numbers 😉
Number of viewers,
Viewing time,
Activity in the chat,
Number of viewers  who watched the recorded live (replay),
Number of people who buy your product or service after the live.
LinkedIn lives: Price of an event
The price of a Live will vary depending on the streaming tool you have. It can be totally free, like with restream, or very expensive depending on the options you take. Use my comparison above to get an idea. 😁
LinkedIn events and LinkedIn Live: are they the same thing?
No. ❌ It's not the same thing. Basically, you create the event independently of the live event so you can promote the live event. Check out our LinkedIn event guide, if you need it.
Can I use Zoom for my LinkedIn Live?
You will need, before you start:
A Zoom Pro account.
A LinkedIn Live compatible account. (Fill out the form I shared above beforehand 😉).
An account on a streaming software (like Vmix or Switchboard) or a free account with https://restream.io/.
Webinars: LinkedIn's New Live Format
Why are webinars so successful in 2021? It's Oberlo who came out with some great statistics about video marketing.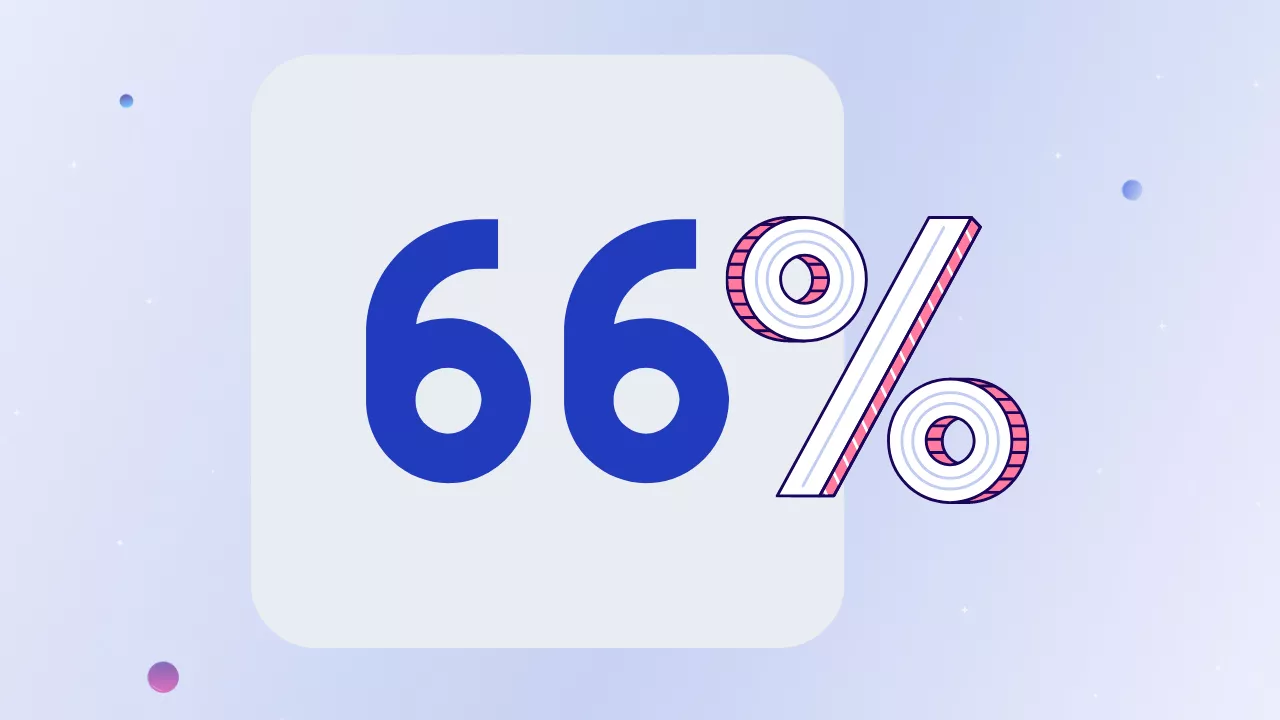 It's the percentage of additionnal qualified leads each year, because of video content marketing in US in 2019. By video marketing here we mean: Advertising, streaming video, webinars and their replay, product demos. 🎥
Now, if we decide to isolate the Live Webinar and look at the numbers, we remain very very satisfied with the results. Here are some stats by
Webikeo.
 📯
The average engagement rate to a webinar (live attendance + replay) is 55.6%. That's ultra high, when you consider that the average email open is 15%.
58% of Internet users think that the best time to watch webinars is during work hours (and that's perfect for LinkedIn Live, because it's a professional social network, that people consult it at work…).
They also say that the most popular webinars are 15 to 30 minutes long (60%+).
What's the alternative to LinkedIn Live?
There are tons of different platforms that allow you to do live broadcasts, among them are:
Webikeo,
Zoom,
WebEx,
Skype (free),
GoToWebinar
You can very well choose to use these platforms without going to look for your future clients on LinkedIn. This can be the case if you are doing a private webinar for your clients or partners or if you already have a database that you don't want to feed (even if it doesn't make sense in my head 😂)
On the other hand, it's 100% proven that LinkedIn is the best platform to find customers and get people talking about your product or service. So, it would just be too stupid not to use it.
YouTube Live tutorial
Now, if you want to use YouTube Live and promote your event on LinkedIn without going through LinkedIn Live, it's totally possible. YouTube as a free Live video streaming option. 🎥
If you think about it, it's even easier and cheaper to have a YouTube channel. Here is a small and high-quality tutorial to help you do a live broadcast on Youtube Live.
What about LinkedIn Live Audio?
This format was born during the lockdown period (amazing!). In order to get closer to your communities on LinkedIn, we also have the option of doing audios. As you might expect, you can come and listen to the audio on a topic of your choice (well when there is one). You can:
Invite your contacts to join the audio.
Exit the audio at any time.
Put emojis.
Raise your hand to intervene on an issue or other that concerns you.
Be aware that if you want to create a LinkedIn Audio, you will "only" have 3 hours to talk about your topic.
Conclusion of the article
There you go. You now have everything you need to succeed in your web conference – (create, promote, shine and alalyze the results) – whether it's a LinkedIn live or not.
Please don't forget to enjoy the process – you'll shine even brighter on the camera. 🎥
I hope these tips pay off. Feel free to share the links to your next webinar live on my LinkedIn account.💌
So, when are you going Live?
See you there! 😘