How to Flirt on LinkedIn? 👀 Surprisingly, this is a question that many people ask themselves these days, however the answer is not that simple, haha!
If you too are wondering how to use LinkedIn in the best way. Then have fun reading this article and decide for yourself. Let's get started! ⚡
How to Flirt on LinkedIn? Is it OK to Flirt on LinkedIn?
Flirting on LinkedIn is a pretty complex topic… Right away, I feel like saying that the answer to this question is No! Yet, human relationships are never "Black & White", there are always shades of gray in between. 🤔
In life, everything is allowed to you! So, a priori Yes, you can date on LinkedIn if you want to. 🤷
So, the real question should be more like, "Is online dating on LinkedIn appropriate or not?"
In that case, we would all agree (or almost agree), that it might not be the best place to find love online or your next hookup! 😘
Why? 👇 To find out, I give you my list of "pros and cons" further down in this article.
Is LinkedIn a Dating Site? (Hint: It's not Tinder)
Just as a reminder, LinkedIn is not an online dating site. Nevertheless, you can still date on Facebook or on free dating websites like Tinder, eHarmony or OkCupid.com. 🐣
We can all agree on that already, right? 😅
Indeed, LinkedIn was designed to:
Allow you to network around the world,
Find experts in various fields of activity,
Connect with your former colleagues or friends,
Follow the news of the companies you admire,
Find a job, contact BtoB prospects, etc.
It was never meant to be a website where you could meet your soul mate! 😜
👉 If that's still not clear enough, here's an article on "LinkedIn for Dummies" that will surely help you. (It's a joke, okay? 🙏)
How to Flirt on LinkedIn : Is it a Good Idea YES or NO?
On a more serious note, there are several factors to consider when determining if it's OK to flirt on LinkedIn or not…
Let's go through this list of "pros and cons" together! ⏬
Flirting on LinkedIn
Pros
Cons
Meeting people who do your same job or whom you admire.
Some people may take this type of approach as harassment, and they may report you on the internet
First create a cordial/friendly relationship, which may evolve into a romantic relationship.
It is possible that professional accounts are used by many people within the same team, so keep in mind that the conversation might not be private.
Find someone, like an old crush that you lost sight of when you left school or a previous job.
Some people use fake profiles on LinkedIn to recruit or prospect, so you may fall in love with someone who doesn't exist.
If you're shy and single, it's probably less awkward to approach a stranger via LinkedIn than on online dating sites / dating apps.
There are a lot of dating network set up specifically to meet someone special, so people don't want to be accosted in their pro accounts.
👉 Personally, I find this technique useful for any situation in which you have to make a decision. ✔️
Nevertheless, this time I'll let you make your own mind up about it, and if you have any other points of comparison, feel free to share them with me! 👂
How Do you Block a LinkedIn Contact Who's Hitting on You?
It finally happened… Unfortunately, you've stumbled upon a "reluctant LinkedIn flirt"! 😰
It's a situation that happens more often than you'd think, and it's especially women who report this type of "cyberstalking". 🚫
Here's an anonymous testimonial, where a female (in France) tells of her unpleasant experience of being flirted on LinkedIn: 👇
👉 If you are also facing this situation, here are the 3 steps to block someone on LinkedIn:
Go to the person's profile and click on the "More" button.
Click on "Report/Block" at the end of the list, and then a pop-up window will open.
From there, choose "Block (the person's name)" and click "Block".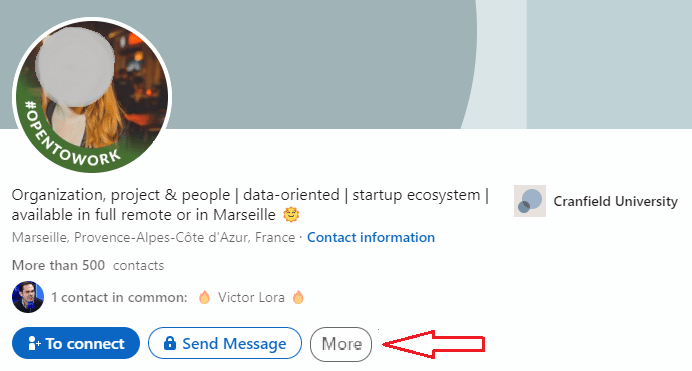 And that's it! 🙌 Say goodbye to unsolicited flirty phrases or inappropriate comments, you won't hear from that person again, and you won't see them in your news feed, either.
Conclusion How to Flirt on LinkedIn: Do People Use LinkedIn as a Dating App?
In conclusion, I don't recommend flirting on LinkedIn, for various reasons. But, mainly because it's a platform made for professional exchanges, so save your "sexy" seduction techniques for the afterwork, instead! 😚
Alternatively, if you want to have an anonymous LinkedIn profile, follow this tutorial: 👇
Log in to your LinkedIn account.
Go to "Preferences and Privacy."
Click on "How others see your activity on LinkedIn".
Turn on Private Mode so that your activity on LinkedIn is invisible.
By switching your profile to private mode, you can use the LinkedIn social network normally and view LinkedIn profiles anonymously, i.e. without appearing in the notifications of visited profiles. 🔎 It's very convenient way to surf anonymously on this B2B network and most importantly, to protect your privacy.
(Of course, you can also use the anonymous mode to stalk your crushes, but hey… Remember that this is not the main purpose of this network, haha!) 🥸
Can I Message My Crush on LinkedIn?
I know, I know… 🙄 Now, you're going to tell me that there are also people who lend themselves to "seduction games" on LinkedIn, because they have "unprofessional" profile pictures, or posts that may raise a doubt… 🎣
However, "better be safe than sorry" and be respectful in all cases, you never know if the person in front of you will have a problem or will have mixed feelings about it! 🧐
Here are some examples of friendly connection messages, which you can use if you want to get in touch with someone you like: 🤗
👉 You can opt for a formal or informal approach, depending on how you feel about the person and the message (compliment) you want to use to charm him/her. Also, keep in mind that the first message counts a lot, and you need to know how to impress your reader! 🍀
FAQ: Can You Flirt With Someone via LinkedIn?
How to Approach a Boy or a Girl on LinkedIn?
However, if you absolutely want to seduce someone on LinkedIn, here are some tips to approach your crush more easily and gently! 😏
Visit their profile in private mode / incognito mode,
Or, stay visible so that the person notices that you have seen their profile,
Then, send a connection request (with or without a note),
Like and comment on their posts as often as possible,
Congratulate them via direct messaging for their birthday or a new job.
Then, start a conversation via private message.
LinkedIn makes it easy to connect with someone, without having to force it. For example, on other social networks like Instagram or Snapchat, people know from the start that you want to hit on them. 🔥 Whereas on LinkedIn the hook-up is much more subtle, kind of like if you have a crush on your boss or coworker at the office. 🤫
Of course, dating is never the main goal of this professional social network, but love can knock on your door at any time… 💘 On the other hand, if you see that the person is not at all receptive to these approach techniques, then you have to let it go quickly in order to avoid that he/she blocks you forever!
That being said, I'm not here to lecture you. 🤐 Now you know how to flirt on LinkedIn, so go for it, but know that it's at your own risk… 🎲