Want to know everything about direct marketing? Implementation, strategy, definition… You've come to the right place. ✅ Discover our best tips and recommended tools for successful marketing projects.
Direct Marketing Definition
How to do direct digital marketing?
The main aim of direct marketing is to promote a product or service, acquire new customers and retain existing ones. Direct marketing campaigns can be used for different stages of the customer lifecycle, including loyalty.
Here's a quick rundown of its benefits for your strategy. 👇
What is the role of direct marketing?
Direct marketing differs from other types of marketing in that it aims to reach prospects and customers directly. Potential customers with marketing actions targeted. Often using marketing tools such as emailing, digital marketing campaigns, digital networks and so on.
This can include different media to reach targets. 🎯 For example, we use databases to send personalized e-mails.
Direct marketing is typically considered to be more interactive and relationship-oriented than other types of marketing, offering higher conversion rates and greater customer loyalty.
The truth is, a company can't focus on just one type of marketing. It's better to focus directly on direct vs. indirect marketing.
Advertisers can plan and execute
direct marketing operations
with various
marketing
techniques, such as personalization, to maximize the return on investment of their
marketing campaign
.
We'll explain how below. 😜
Direct marketing strategy example
Let's take a company example to give you some context.
Put yourself in the shoes of XYZ, a B2B supplier of technology products for businesses. To increase its conversion rate, it decided to combine different direct marketing techniques.
Here's a case study of the direct marketing strategy it adopted: ⏬
Database segmentation:
📱 The company segmented its database according to criteria such as industry, company size, geography, prospect's profession (example: CEO).
This enabled them to send targeted direct marketing campaigns personalized to each segment. She used the Sales Navigator and loaded the prospects onto the Waalaxy CRM.
Personalized emailing:
📧 The company used emailing via Waalaxy to send personalized messages to each segment of its database.
The emails included special offers and updates on the products they were most interested in.
Campaign mail. 👇
Find more email templates. 👀
Multichannel Prospecting Plan:
📩 In addition to emailing, the company also used other direct marketing channels such as phone calls and messages on LinkedIn to reach prospects. In addition, they also used promotional ads on social media to attract new customers.
➡️ Here's how to find prospects' phone numbers on LinkedIn. 👀
➡️ Here's how to combine emails + LinkedIn messages in automated campaigns.
Tracking and measuring performance:
🎢 The company used CRM tools to track the performance of their direct marketing campaigns. They measured key indicators such as open rate, conversion rate and ROI to assess the effectiveness of their strategy.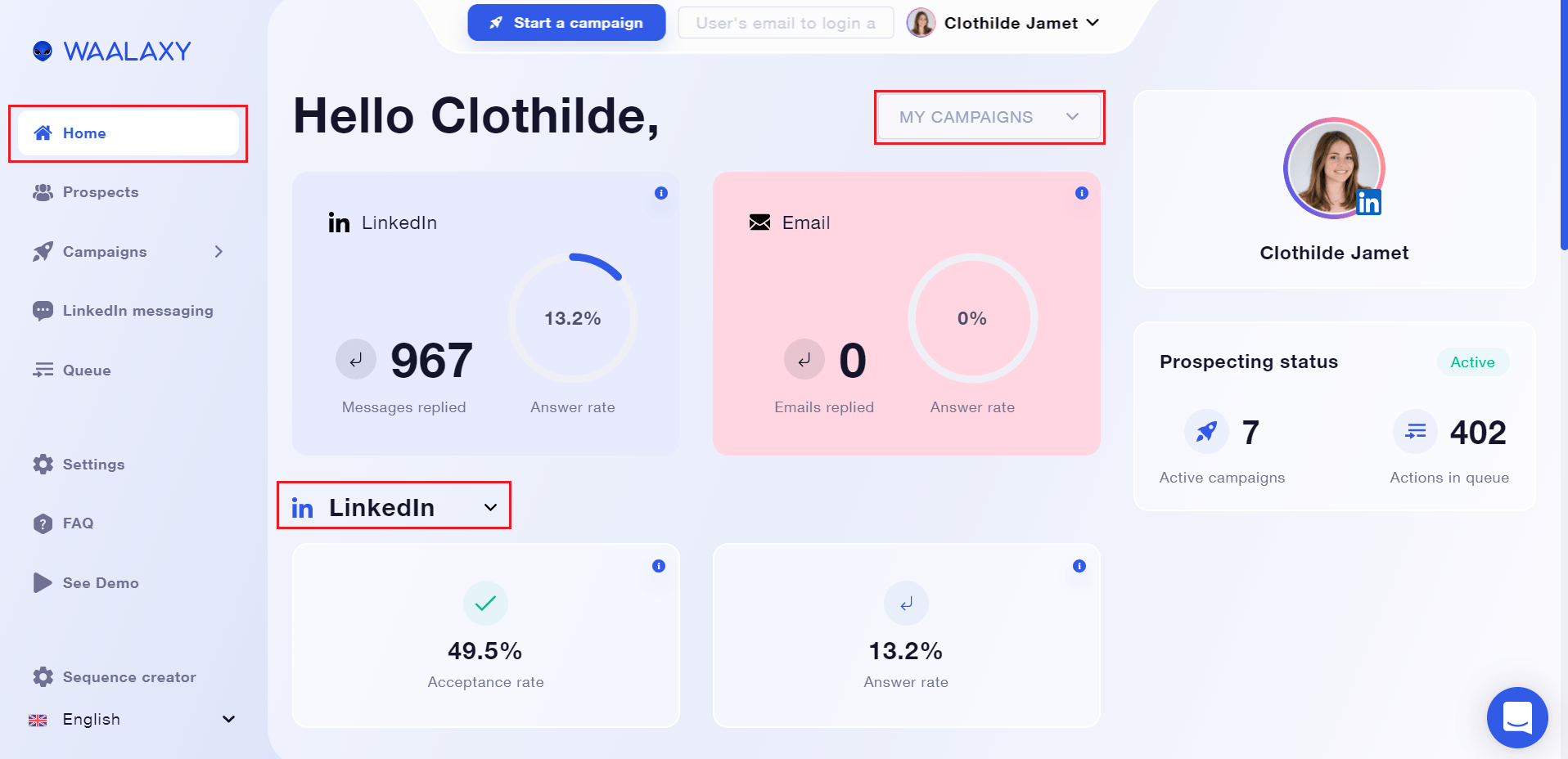 Results direct marketing channel:
🥸 The combination of different direct marketing techniques enabled company XYZ to increase its conversion rate by 35% in 6 months.
The open rate of its messages increased by 25%, while the return on investment of its direct marketing campaigns rose by 45%.
In conclusion, the combination of personalized and targeted marketing techniques, such as emailing and multichannel prospecting, can be highly effective in increasing conversion rates for B2B companies.
Types of Direct Marketing
Yes, here is a non-exhaustive list of the different types of direct marketing:
These types of direct marketing can be used alone or in combination to maximize the effectiveness of the marketing campaign.
The 5 essential tools for direct marketing
1) Emailing platform:
📧 Emailing platforms enable you to send messages personalized and targeted to lists of recipients.
They can help measure open, click, and conversion rates to adjust campaigns accordingly. Mailchimp, Constant Contact and AWeber are examples of popular emailing platforms.
There are three ways to send e-mails to your prospects:
Scrape the data to find a list of contacts,
Buy databases,
Get your prospects' contacts through a form or e-book.
Once you have established your database, you will need to learn how to segment your prospects according to your personas.
Then add your lists to your emailing tools and create personalized emails. 💌
2) CRM software:
💻 Management systems for the customer relationship(CRM) systems centralize information on customers, prospects, and interactions with them. They are the heart 🥰 of your business, enabling you to better target prospects, retain existing customers and optimize marketing operations.
Without them, you're in the dark when it comes to prospecting.
Salesforce, HubSpot and Waalaxy (BtoB) 👍 are examples of popular CRM software.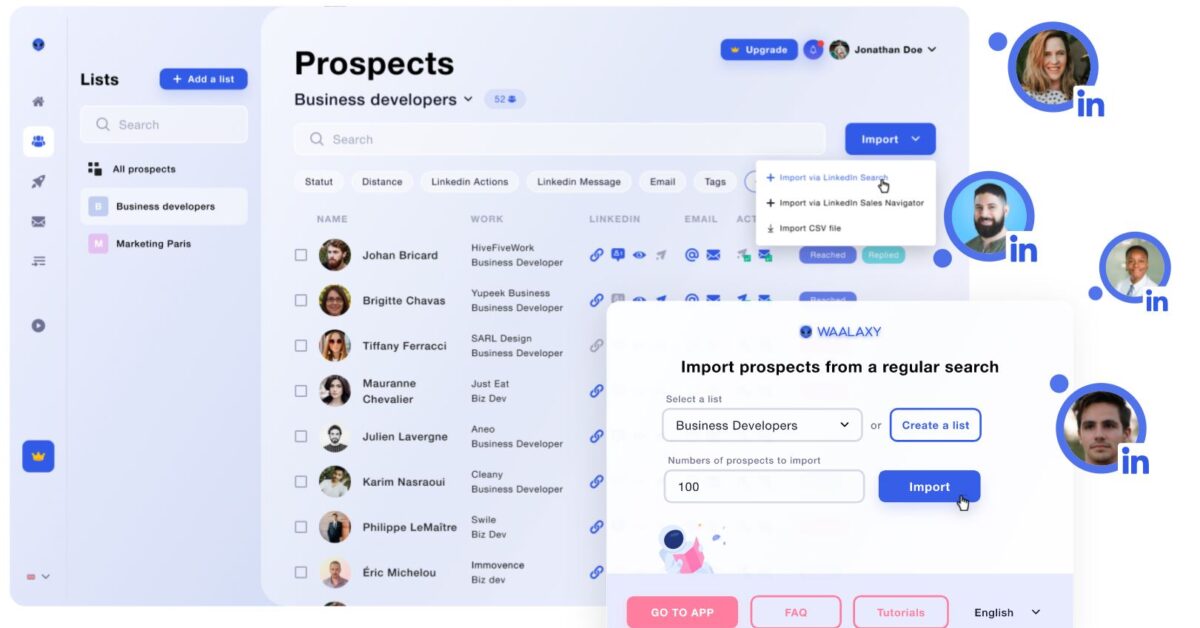 3) Data analysis:
📊 Data analysis tools help measure the results of marketing campaigns and identify opportunities for improvement.
Google Analytics for blog analysis, Mixpanel for business analysis and Tableau are examples of popular data analysis tools.
For example, we use Analytics 📈 to understand which pages of our blog are most visited, to obtain data on our visitors (and potentially people interested in our solutions) and therefore to refine our marketing.
The more data you have on your best leads, the more likely you are to give them the right message. 😉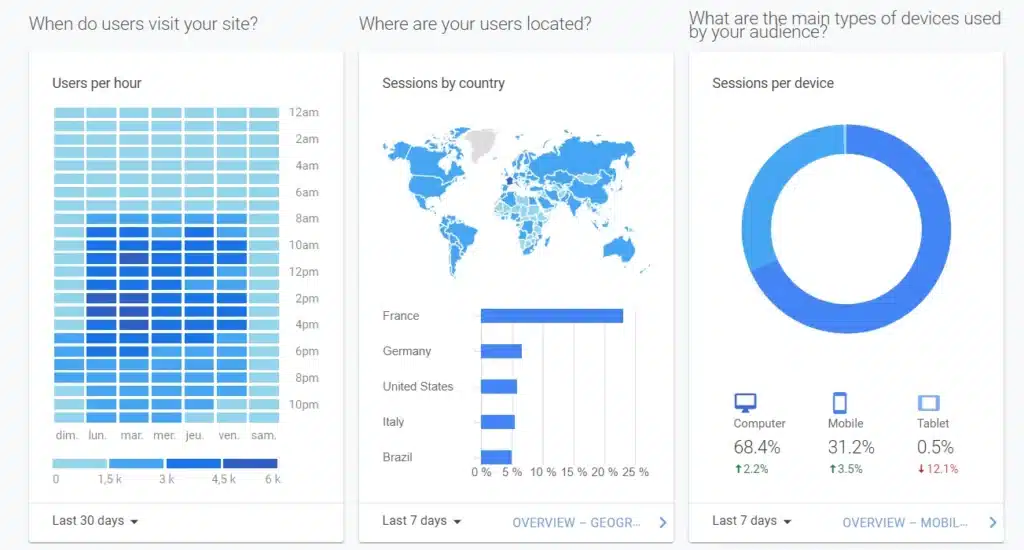 4) Database generation tools:
No prospects, no customers. So it's your priority to know where and how to find them before you even try to approach them!
Database generation and segmentation tools enable you to find prospects and divide prospect lists into specific groups. Based on criteria such as purchasing behavior, demographic information or interests.
This allows you to send more relevant messages and increase conversion rates. Marketo and Infusionsoft are examples of popular database segmentation tools.
If you're more of a B2b player, we advise you to use the Sales navigator from LinkedIn to find and segment new prospects on the network. 🤑
4) Marketing automation platform:
📲 The marketing automation platforms automate marketing processes such as database segmentation, e-mail dispatch and relationship management client.
They optimize marketing efforts and maximize return on investment.
Hootsuite (social networks), Waalaxy (B2B automation), Zapier (synchronization) are just a few examples of popular marketing automation platforms.
We strongly recommend using Zapier the tool acts as a link between your various tools, transferring the data collected to your CRM and automation tools.
With Zapier, you can, for example, combine your automated CRM + your emailing tool + Sales Navigator, and all the tools communicate thanks to the integration.

What is a direct marketing campaign, and how do you plan it?
Visit marketing campaigns, direct marketing campaigns are planned using segmentation techniques to divide the database of prospects and customers into specific groups. Based on criteria such as purchase history, geographical location, demographic profile, etc., the customer's database is then segmented into specific groups.
Campaigns can be customized for each group to maximize the effectiveness of each campaign. 📈
Our 3 essential tips for a successful marketing campaign
Avoid spam
For successful campaigns, it's crucial not to be considered spam by recipients. 🙈
To achieve this, it is important to comply with anti-spam policies and not to send spam. Mail and use opt-in mailing lists.
Visit advertisers may also use data cleansing techniques to ensure that their prospects' information is up-to-date and valid.
Best practice article
Segmenting well: What are the elements of direct marketing?
I'll say it again! Segmentation is a key element in marketing. 🎣
It allows you to target prospects most likely to be interested in offers. Companies can use demographic, behavioral and profile data to segment their customer files.
They can also use scoring techniques to assess the relevance of prospects.
To segment properly, ask yourself the following questions:
Who are my personas?
What are the determining factors that motivate consumers to buy my products (demographics, profession, purchasing power, etc.)?
Using multi-channels
Direct marketing can include various channels such as the mail postal e-mailing, text messaging, etc. mobile marketing and digital marketing via networks like LinkedIn. To maximize results, companies can use a multichannel that combines different channels to reach prospects. 🧲
For example, a marketing campaign might include a telephone call-back followed by a mailing, a coupon offer or an SMS campaign. Companies can also use specialized service providers to direct their marketing operations.
What's the difference between direct and indirect marketing?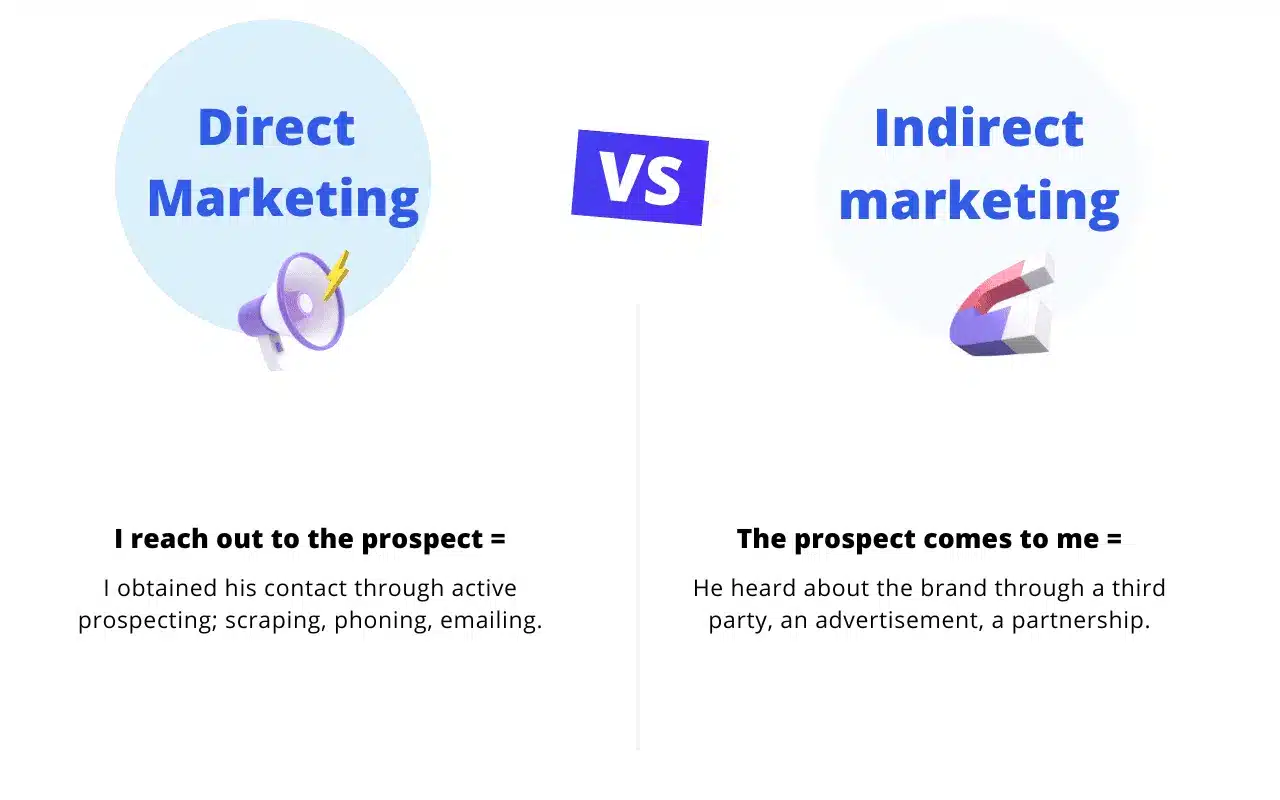 Direct and indirect marketing are two different approaches to promoting a product or service.
📢 Direct marketing aims to reach potential or existing consumers directly through direct communication such as emailing, direct mailing, telemarketing, etc.
The aim is to promote a product or a service, to acquire new customers and retain existing customers.
🧲 Indirect marketing, on the other hand, involves promoting a product or service using third parties such as the media, influencers, partnerships and so on. The aim is to reach many people through indirect means of communication.
Indirect marketing is more focused on creating a positive brand image than on generating immediate sales.
Conclusion: What are the elements of direct marketing?
Direct marketing is a marketing strategy that aims to reach potential or existing consumers directly using various methods. Communication channels such as emailing, social networks, advertising campaigns, etc. 🗣️
FAQ : What is Direct Marketing?
What works best, direct communication or indirect marketing?
There's no single answer to this question, ❌ as it depends on many factors such as the type of product or service, target audience, campaign objectives, budget, etc.
Direct marketing can be highly effective in generating immediate sales and building customer loyalty. Existing customers using targeting techniques to reach specific consumers targets more efficiently. ✅
Indirect marketing can be a very effective way of building a customer base. brand image and to reach many people using indirect means of communication.✅
Overall, the best approach will depend on your specific objectives and target audience. It may be useful to use a combination of both approaches to maximize the effectiveness of your marketing strategy.
It is important to make A/B tests and adjustments to determine what works best for your particular business. 😉
What is mailing in direct marketing?
Mailing refers to the sending of e-mails promotional such as brochures and catalogs to prospects or customers. They can also be e-mails or promotional e-mails. 📨
Some use the word "mailing" for digital e-mails, others for any type of e-mail.
How does direct marketing work to build customer loyalty?
Direct marketing can help build customer loyalty by using personalization techniques to communicate with them in a more targeted way. 🎯
For example, by including exclusive offers for current customers product and service updates, feedback surveys, and more.
What are the different channels used in direct marketing?
📱 The channels used in marketing can include mailing, emailing, telemarketing, SMS, social networks, etc. The aim is to reach recipients in a direct and personal way.
Why direct marketing in targeting?
🎯 Targeting in the direct marketing consists in selecting the prospects or customers who will be most receptive to your message, based on criteria such as their purchase history, geographical location, demographic profile, etc.
Synonyms for targets are "segments" or "personas". 🏃
What is the prospecting marketing strategy for new customers?
Visit marketing strategy from prospecting for new customers is to use different marketing channels to reach potential prospects and convert them into customers. 🏹
This can include promotional mailings, newsletters, etc. e-mails telephone operations, etc., we call it the lead nurturing.
How can direct marketing improve customer relations?
🤝 Customer relations can be enhanced by using direct marketing to communicate personally and regularly with customers. This can include updates on products and services, exclusive offers for existing customers, etc.
And now you know all about direct marketing!