On the Internet, an error 404 indicates that the requested resource (usually a web page) cannot be found. 😰 Often, you'll see a message with the words "not found" in English. Want to know how to avoid it? 🔍
What is 404 error? 404 error Meaning
A 404 error is an HTTP error code sent by a web server when the requested resource is not available or the server cannot find the resource. 😮 Generally, this is a site that does not exist or no longer exists.
It's not uncommon to find 404 errors on your website, and they're easy to spot. When a 404 error prevents a user from browsing, a "404 File Not Found" error message often appears to inform the user.
There are several possible causes for this 404 error. Following a dead link, ☠️ either because the requested resource has been removed or placed at another address, or because a web user mistyped the address in a web browser, 👀 or because the webmaster mistyped the address when designing a showcase page, for example.
HTTP 404 error: Not found
This code can also deviate from its meaning and be returned after access has been restricted to a particular web resource, for example, by censorship of a site. 🚫 The 404 code is defined by the HTTP list of communication protocol codes (Hypertext Transfer Protocol).
Depending on your browser, 404 errors may be called something different: 👇
"404 Not Found": the page you are looking for cannot be found,
"The requested URL cannot be found on this server",
"HTTP 404",
"HTTP 404 Not Found",
"404 – File or directory not found".
What causes 404 errors Not Found?
There are many causes of a 404 Not Found error, including: ⏬
An incorrectly typed URL,
A deleted web page,
A moved web page,
A server problem.
Correcting these 404 errors is very important, as the quality of your site's navigation is a must. 😬 As we know, not being
able to access
websites is extremely frustrating.
Visitors may abandon your website and go to your competitors to find
the content
they need. 🔔 As far as
SEO
is concerned, this doesn't have much impact (but that we'll see later).
After all, Google recognizes that it's difficult to keep track of all the links, so it's "normal" for all websites to have tons of broken links that cause 404 errors. 🫡
On the other hand, too many errors can lead to abnormally high bounce rates and affect
visitor
behavior. 🤫 In the latter case, your website can be classified as low quality and
lose visibility
in search engines.
So, let's take a look at how to avoid this mistake? 🤲
How do you avoid an HTTP error 404 page?
To avoid an HTTP error page, you can
follow these tips
⏬
Check the URLs of your web pages before publishing them.
Don't delete web pages without redirecting users to a new page.
If you move a web page, make sure you redirect users to the new page.
Keep your server in good condition.
In general, 404 errors do not adversely affect your site's performance in search results. If you are sure that these URLs do not appear on your website, you can safely ignore them. 😉
However, it's important to ensure that these invalid URLs and others return valid HTTP 404 response codes and are not blocked by your site's robots.txt file. 🤖 Here's how to deal with 404 errors: 👇
Decide whether you want to correct the error. Many, if not most, 404 errors can be ignored as they do not affect

your site'

s indexing or

ranking

. Please correct it if the URL has been sent to Google (Error).
If a page is deleted and there is no replacement or equivalent page, a 404 error is displayed. After about a month, you should no longer see 404 errors in your reports.
If the URL was generated by a script or never existed on your site, you probably don't need to worry. It can be frustrating when you see this error in your reports, but unless the URL reports a link that is often misspelled, there is no need to correct it.
If the URL contains words or elements that are often

misspelled

or spelled differently. For example, "waalaxy.com/cancelling" (note the extra 'l' in 'cancelling') instead of "waalaxy.com/flight/canceling".
What effect does a 404 error page have on SEO?
A "Not Found" 404 error can have a negative impact on your website's
SEO
. 🙈 This is because
search engines
perceive 404 errors as a sign of a poor quality website.
This can lead to a drop in your website's ranking in search results! 👎
However, your e-reputation drops when you delete a page with external links; the 404 page

loses the popularity

it had on the site.
Affects the

quality of

the indexing robot's

crawl

. So if your website contains a lot of web pages with 404 errors, the indexing robot will crawl resources (web pages that are not relevant), when it could be crawling web pages that are essential to your SEO strategy.
Poor user experience. 404 errors can easily "irritate" web users when they are browsing websites. To overcome a poor user experience, you should consider customizing your 404 error page.
There are many myths and rumors about this, but Google does not penalize websites with too many 404 pages 🙂 However, they can have a negative impact on SEO for a variety of reasons: ⏬
Indexing problem: Google does not index pages containing 404 errors. This is untapped potential on your website.
Loss of "link juice": backlinks are external links that point to your website. They give Google power and importance. If your backlink points to a 404 page, you lose all your precious benefits.
Wasted crawling budget:

Google's crawlers

generally don't waste time crawling websites. Crawling time is limited. When Googlebot spends time on a 404 page, that time is wasted.
Internal linking problems: understanding your website and how search engines link to it internally is essential for your SEO.
In conclusion, 404 errors can make your site difficult to crawl and have a negative impact on SEO. 🙈
Example of funny 404 error pages (Waalaxy)
404 pages have really become an integral part of web culture, which is why many webmasters have decided to adapt this error page in a humorous way. 😂 In addition, many websites create their own error messages, which is the case with Waalaxy. 👽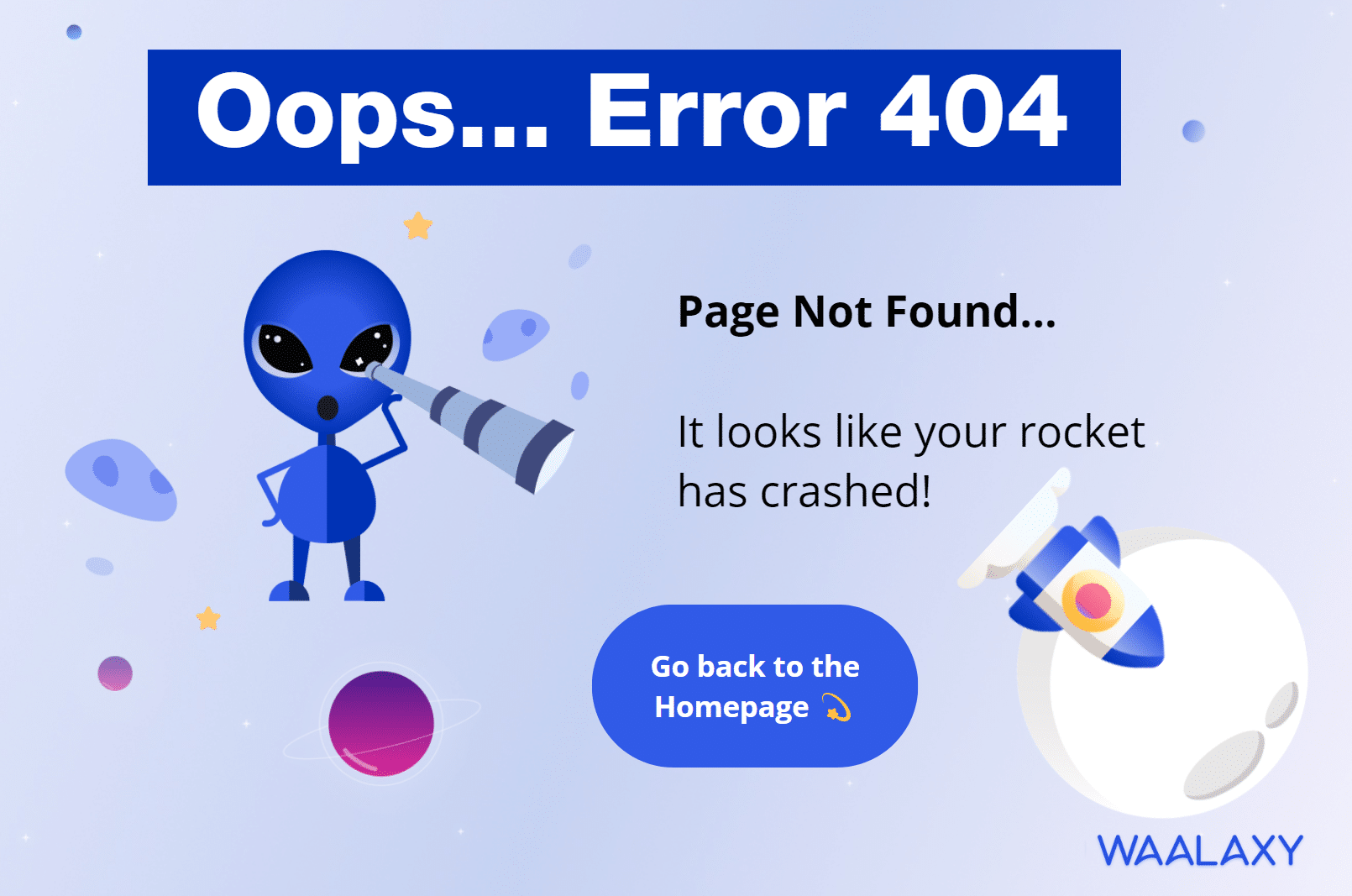 Web servers are usually configured to display custom 404 error pages that provide a more natural description of the message and may display a sitemap, search form, or 404-page widget. 🤗
Many organizations use the appearance of a 404 error page as an opportunity to provide some humor and downplay what users often perceive as an error or failure on their part. 😉
Pages frequently contain graphic elements that emphasize the website's theme, show confusion in a humorous way, and may offer animations or games for the visitor. 👍
What do you think of ours? 😅
How to fix 404 error for free?
If you encounter a 404 error, you can try the
following solutions
: ⏬
Check the URL of the web page.
Try rewriting the URL of the page.
Create a redirect to another web page.
Contact your web host to ask for help.
There are many tools available that allow webmasters to list 404 errors and correct them manually, including
broken link analyzers
such as the WordPress extension "Broken Link Checker". 🕵️ These tools help you find existing links within a particular website.
One limitation of these tools is that they only look for links within a specific website and ignore 404 errors from links on other websites. 🤔 As a result, these tools miss many errors… One solution is to
scan external links
and look for 404 errors.
Another popular method is to use history file analysis to track 404 error page traffic. 🤓 This can help you learn more about what users with 404 errors are seeing on your site.
Another way to track 404 error page traffic is to use a web server log analysis based
traffic tracking tool
like "Awstats" or a JavaScript-based tool like
"Piwik"
. ✅
What should a 404 error page contain?
Setting up your 404 page is important to meet the needs of web users and make navigation easier. 💻 This page needs to take into account a better user experience (UX). To achieve this, on your 404 page, you can: 👇
Include a link to your home page,
Add links to popular blog posts,
Add links to the most interesting categories or products,
View site map,
Provide an internal search engine,
Add a way to report a 404 page.
How do I set up a 301 redirect?
The main (free) way to fix 404 errors is to set up a 301 redirect, which is a permanent redirection from a broken URL to a working URL. 👌
This tells Google and other search engines that the error URL has been permanently changed and replaced with a new, coded URL. 🤩 This redirect allows users to automatically access a functional page without noticing the redirect.
In addition, there are several solutions for
correcting these URLs that cannot be found
: ⏬
Web server level: If you have advanced skills, you can implement redirects directly at the server level. WordPress, for example, allows you to implement these redirects in your .htaccess file, but be aware that the slightest error can cause major problems for your website. 😯
With plugins: If you have a CMS like WordPress, you can use various plugins to fix 404 errors quickly and easily. 🙏
Phew! I hope that with these tips, you'll be more reassured about this very annoying error. 🤨
Conclusion : Fixing 404 Errors
Now that we have defined a list of possible 404 errors, it is important to know how to correct them in order to improve navigation on the site in question. 🚤 Only the webmaster can make the necessary changes to correct these search errors (unless, of course, the user has mistyped the address). 😅
Simply change broken links pointing to non-existent pages or create permanent or temporary redirects as required. ✅
From a disappointed web user's perspective, you can get a positive feeling for your business and your site by customizing your 404 page. 🤡 Many CMS (WordPress, Drupal, PrestaShop…) offer this customization option.
And there are many reasons to customize your 404 page: 👇
To reassure visitors,
Reduce the bounce rate,
Increase session length and the number of pages viewed,
Optimize your conversion rate,
Improve your site's branding.
Article FAQ
What are 404 errors?
A 404 error code is a server error that occurs when the server cannot find the web page the user is looking for. 😪
How can I identify pages that have 404 HTTP error codes?
Search engines are the best at
identifying 404 errors
. 🌐 In fact, their job is to regularly scan websites and all their pages, just as web users do.
Finding 404 errors is easy with the
"Google Search Console"
tool. ⌨️ It will provide you with a report listing the sites that have been found. You can also use a crawler that works like an
indexing robot
.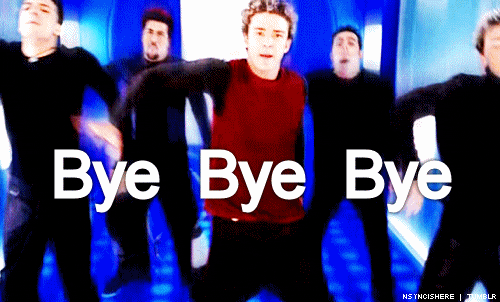 Now you know all the tips on how to prevent the error 404. 👌