Wondering which tool to choose between Waalaxy and Linked Helper?
We explain everything and especially how to find the right B2B prospecting tool for you. Follow the complete guide on prospecting for your business > here! 😎
What is Linked Helper?
Linked Helper is an automation tool on LinkedIn that allows you to schedule a number of actions in order to prospect new customers among other things, this tool allows you to send personalized connection requests, send messages, and follow potential customers..
It is one of the first tools that really attracted many people to LinkedIn automation.
So, to see the Linked Helper guidelines, follow this link, and you will have information on good practices.
What is Waalaxy?
 Waalaxy is a secure tool that seeks to give access to automation and lead generation to all : 
Multi-channel prospecting,
Personalized campaigns,
Optimized Inbox for Prospecting (🆕),
Mail finder,
Analytics,
ℹYou can even bypass the 100 invites per week limit safely for your LinkedIn account! But we'll let you find out for yourself!
By the way, Waalaxy is launching its first 100% free offer. 🎁
The Linked Helper & Waalaxy comparison
There was a time when automating LinkedIn was a "hacker thing". Linked Helper was among the first to generalize this method. 🎉
But automation has become mainstream. The results of prospecting on LinkedIn compared to "cold emailing" are such that a BtoB company can no longer afford to ignore this acquisition channel or exploit it manually. Today there are many automation tools, and you can find detailed comparisons on several sites.
So don't hesitate to ask around to find your gem. 👀
How to choose your LinkedIn automation tool properly?
Tools have more and more additional options:
Integrated CRM,
Email sending,
Message templates,
Detailed analytics
The best way is to compare the tools by using the free versions or trial periods.
Discover Waalaxy 🪐
Think sales performance and not mass prospecting
With the democratization of automation and LinkedIn as a BtoB acquisition channel, it has become necessary to stand out.
A simple sales approach is no longer enough. As it happened with cold emailing, once effective, and now overused, LinkedIn presents a real challenge to differentiate It is therefore imperative to be able to measure your performance! And above all, you need to target your customers, optimize your conversion tunnels, and your landing pages, and easily set up A/B tests.
The automation tool then becomes an extension of the CRM and not a spamming tool. So make sure you choose a complete tool.
Linked Helper Interface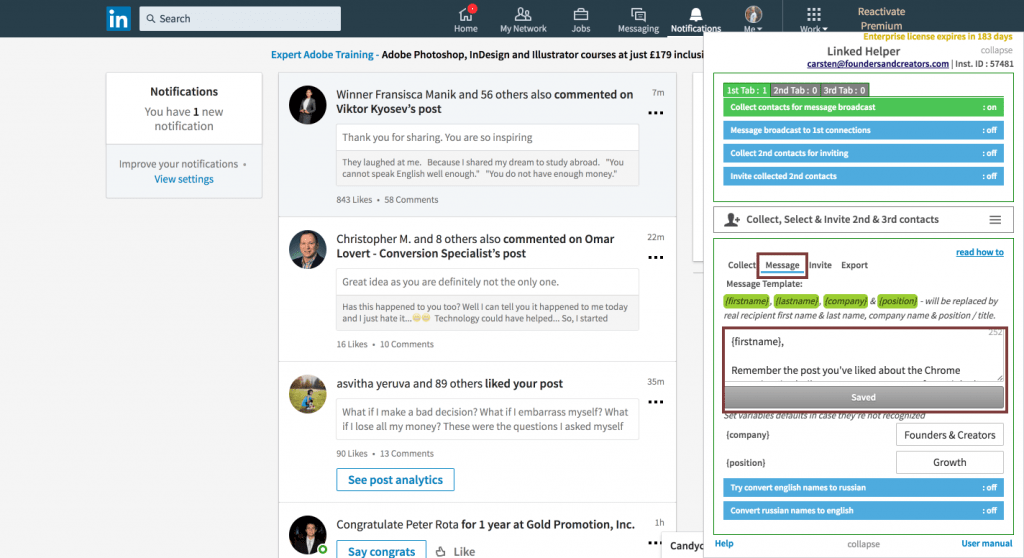 Waalaxy Interface
With the proliferation of marketing automation tools and qualified lead generation opportunities that LinkedIn offers, users will take to more ergonomic tools with much clearer onboarding.
We are talking about ergonomics, for us, this remains an important finish of the product. When you start automating, it is not easy to find your way between :
Making a good message.
Thinking about the follow-up.
Thinking about your persona.
Attracting the curiosity of your prospect.
And so on…
Therefore, it is important that we arrive at a platform that facilitates our automation task. You have had a glimpse of what Waalaxy and Linked Helper interfaces are, we let you decide!
Conclusion
To decide which tool to use on the market, I would say, you should try them both Waalaxy and Linked helper. 😁