Wondering which tool to choose between Waalaxy and Linked Helper?
We explain everything and especially how to find the right B2B prospecting tool for you. Follow the complete guide on prospecting for your business here! 😎
What is Linked Helper?
Linked Helper is an automation tool on LinkedIn that allows you to schedule a number of actions in order to prospect new customers among other things, this tool allows you to send personalized connection requests, send messages, and follow potential customers..
It is one of the first tools that really attracted many people to LinkedIn automation.
The Linked Helper Vs Waalaxy comparison
You may have been waiting for it, probably wondering what to choose between Waalaxy and Linked Helper 🤔.
Today we are going to make a small comparison between these two softwares which seem to offer the same service but perhaps not the same functionalities. And what about the price?
We'll show you that right now.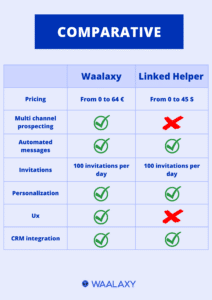 Is Linked Helper dangerous?
For your health, no, I don't think so. In fact, it's rather cumbersome to install Linked Helper.
When you get to their site, you will have to download the application on your machine.
If you want to do digital marketing with LinkedIn automation, you should know that it's not always risk-free for your LinkedIn account.
There are a number of "guidelines" that need to be followed and depending on the tool you use, these are different A considerable number of accounts have been banned in recent months as a result of using Linked Helper.
So, to see the Linked Helper guidelines, follow this link, and you will have information on good practices.
And of course, like all tools, this one has performance limits. Discover the limits of this tool in this article
Is Linked Helper the pioneer of automated prospecting on LinkedIn?
There was a time when automating LinkedIn was a "hacker thing". Linked Helperwas among the first to generalize this method. 🎉
But automation has become mainstream. The results of prospecting on LinkedIn compared to "cold emailing" are such that a BtoB company can no longer afford to ignore this acquisition channel or exploit it manually Today there are many automation tools, and you can find detailed comparisons on several sites.
So don't hesitate to ask around to find your gem. 👀
How to choose your LinkedIn automation tool properly?
Tools have more and more additional options: integrated CRM, email sending, message templates, results analysis… The best way is to compare the tools by using the free versions or trial periods.
Discover Waalaxy 🪐
Think sales performance and not mass prospecting
With the democratization of automation and LinkedIn as a BtoB acquisition channel, it has become necessary to stand out.
A simple sales approach is no longer enough. As it happened with cold emailing, once effective, and now overused, LinkedIn presents a real challenge to differentiate It is therefore imperative to be able to measure your performance! And above all, you need to target your customers, optimize your conversion tunnels, and your landing pages, and easily set up A/B tests.
The automation tool then becomes an extension of the CRM and not a spamming tool. So make sure you choose a complete tool.
The tool must be easy to use
At Waalaxy, we put a lot of emphasis on the user experience. The tool is very easy to use, even for a marketing automation beginner.
Even if the targets are growth hackers and growth marketers, we believe that the interface should be well designed, And since pictures are worth a thousand words and we try to be as neutral as possible in our comparison, here are the interfaces. 👇
Linked Helper.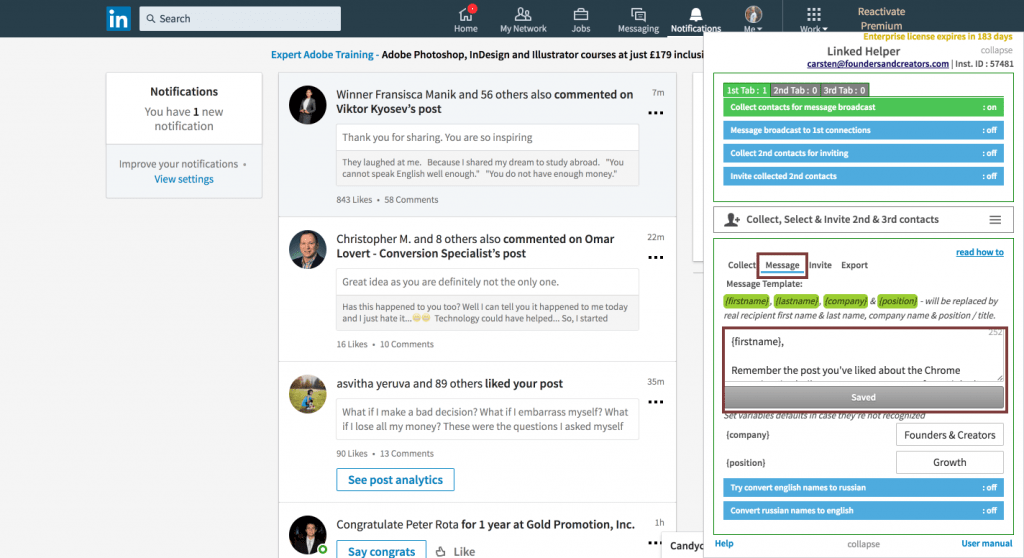 Waalaxy. 
With the proliferation of marketing automation tools and qualified lead generation opportunities that LinkedIn offers, users will take to more ergonomic tools with much clearer onboarding.
We are talking about ergonomics, for us this remains an important finish of the product. When you start automating, it is not easy to find your way between :
Making a good message.
Thinking about the follow-up.
Thinking about your persona.
Attracting the curiosity of your prospect.
And so on…
Therefore, it is important that we arrive on a platform that facilitates our automation task. You have had a glimpse of what Waalaxy is, here is the Linked Helper interface.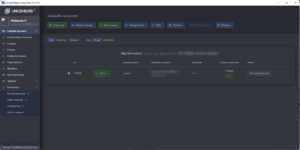 Simpler alternatives
In our opinion, there are more developed tools than Linked Helper today. By any chance… Waalaxy. 😂 A secure tool that seeks to give access to automation and lead generation to all. Your return on investment can only be positive.
By the way, Waalaxy is launching its first 100% free offer. 🎁 You can even bypass the 100 invites per week limit safely for your LinkedIn account! But we'll let you find out for yourself!
Why Waalaxy and not Linked Helper?
Waalaxy uses a completely different technology, which does not manipulate LinkedIn's HTML code and leaves no trace of your visit to LinkedIn. If you respect the security quotas, it is a secure and ergonomic marketing tool accessible to everyone.
Plus, Waalaxy has a freemium version. For life! 😍🎁
Of course, we've developed the tool to our liking and we think it's beautiful and easy to pick up. What about you, what do you think 😍
The team plan at Waalaxy and Linked Helper
You are probably wondering what the differences are between the different team plans of Waalaxy and Linked Helper. We explain it to you now.
Linked Helper team plan
You should know that there is no difference at Linked Helper between the personal and the organisational licence in terms of functionality. You have either a standard or a professional license. The big difference is that for an organizational license, you can assign it to any employee of your company 👍. With a standard license, it only belongs to the Linked Helper account under which it was purchased.
Waalaxy and its team plan
The Waalaxy team plan facilitates "multi-account" management. This is for anyone who needs to manage multiple LinkedIn accounts at the same time. The first thing you need to know is that you can import leads from a LinkedIn search from account A to account B.
The main advantage of taking a team plan is that you only need to pay for one Sales Navigator account. The price depends on the number of seats you take. You will pay the price of the plan you have chosen x the number of accounts you need. Check out this article for more information.
Why choose Waalaxy?
It's a simple and uncluttered tool, integrating the same features as Linked Helper but with the multi-channel, with ergonomic aspect, and strong security!
On Waalaxy you can create action campaigns on Linkedin, similar to the transactional email system, but directly on the social network. Also, you can send emails automatically with Waalaxy.
Thanks to your LinkedIn actions, you can find the professional emails of the people you connect with on the network. We developed an email finder directly integrated into the tool to boost your multi-channel marketing without you having to do anything!
It's the ideal software to set up a marketing automation strategy.
You can for example send invitations to a prospect, then 1 day after acceptance, send a message. Send a precise reminder if the person sees the message or clicks on the link Thanks to the dashboard, you can track the performance of your campaigns and messages and easily implement A/B tests to optimize your results As you can see, with Waalaxy, you will be able to :
Manage the marketing automation of your business.
Boost your conversion rates.
Save time on your prospecting.
Attract more people to your conversion funnel and therefore your landing page.
Linked Helper has paved the way for automation on LinkedIn. Now that automation has entered the public domain, it's time to innovate and look for the right tool for you between Linked Helper and Waalaxy!