A great number of reasons can lead you to remove your LinkedIn account. Perhaps you are sick of the multiple notifications sent by the network. Maybe you are no longer convinced of the network's efficiency. Whatever the reason, you've decided that you want to close your LinkedIn account. By the end of this article, you will know everything there is to know about closing your LinkedIn account.
Closing your LinkedIn account: which consequences?
Before you permanently delete you LinkedIn account, be sure you know all the consequences. Here is the exhaustive list :
Of course, your profile will no longer appear on LinkedIn.
You will not be able to access to your account's information nor relations.
You will lose all the references you received on your profile.
As a precaution, you should download a copy of your LinkedIn data before you remove your account permanently.
Removing your LinkedIn account step by step
Here is the step-by-step process to delete your LinkedIn account. However, be aware that you can change your mind within 20 days after the closing of the account.
The easiest way: the direct URL
To close your LinkedIn account, you can go directly to this page. Fill in the form with the reasons which led you to the removal and your password, and it's a wrap!
From your profile
When you open LinkedIn, go to the Settings and privacy section to delete your profile. Don't panic, the following paragraph will explain everything to you – with pictures !
Click the "Me" icon at the top-right corner of your homepage.
Select Settings and privacy from the dropdown menu.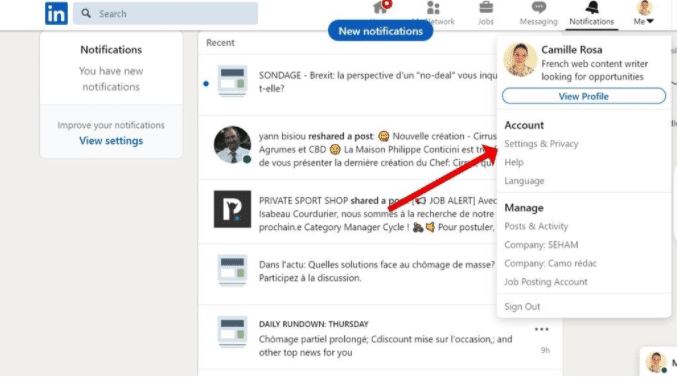 Go to the Account Preferences section.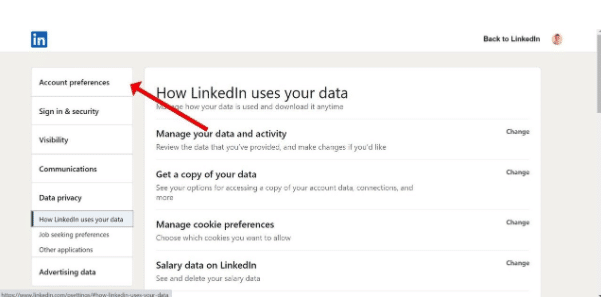 Click Account management then click Change, and finally Close Account.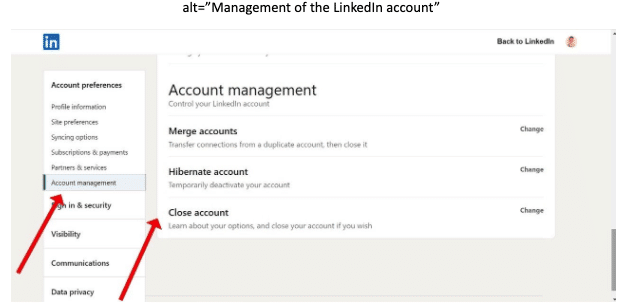 At the bottom, you will come across this dialog box which you have to fill in with the reasons that led you to delete your LinkedIn account. When you are done, click Next.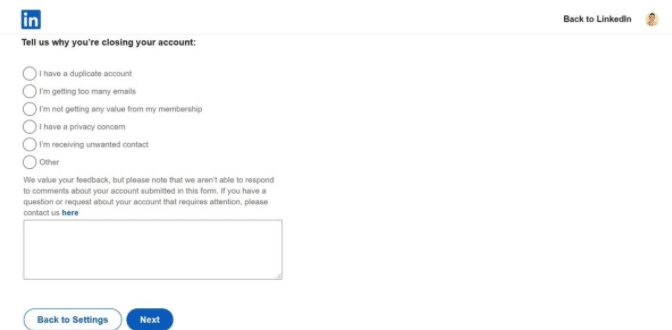 For security reasons, LinkedIn will now ask you to enter your password before you unsubscribe. Click Close account to end the process.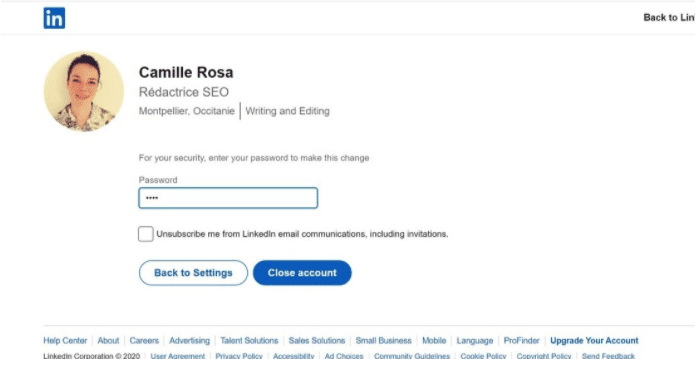 Remember: if you change your mind while you are removing your account, click the Back to LinkedIn mention at any point. You'll find it at the top-right corner of the screen.
How to close a LinkedIn Premium account?
If you subscribed to LinkedIn Premium, you have to cancel it before you can delete your account. Before you explore the entire app, be aware that this operation can only be made from the LinkedIn desktop version. Still at the top-right corner of your homepage:
Click the Me icon.
Go to Access my Premium from the dropdown, then to Manage Premium account.
Under the Manage subscription mention, click Cancel subscription.
Oh, I was about to forget an important detail: you have to cancel LinkedIn Premium at least one day before the billing date so you will not have to pay a month of subscription that you won't use!
After you are done with LinkedIn Premium, your account will automatically switch to the Basic option. To delete it, follow the steps previously explained in the present article.
What are the alternative choices to the removal of your LinkedIn account?
If you made the decision to delete your profile, you probably find that the advantages brought by the use of LinkedIn are not that numerous. But here is the good news: a problem never comes without a solution. Let's consider some concrete reasons that drives users to close their LinkedIn account.
How to merge or close duplicate accounts
It is possible that you end up with two or several LinkedIn accounts in your name due to a mishandling. But did you know that before you close it, you can merge your second account's information with those of your main account? To do so,  go to this page and follow the instructions. Then, close your LinkedIn duplicate account following the steps previously explained in the present article.
How can I receive less notifications?
One of the first reasons which leads users to delete their LinkedIn account is the fact that they feel overwhelmed by way too many notifications. On LinkedIn you can modify the frequency of e-mail notifications. To access it, go to the Settings and privacy section, then go to the Communications tab.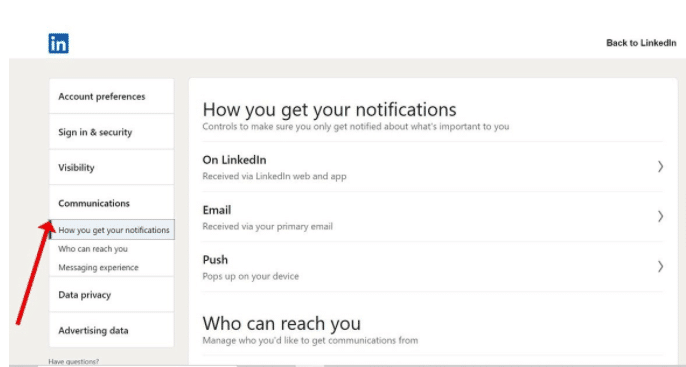 How to get some help in the management of your LinkedIn account
The decision to be done with LinkedIn is not without consequence. You probably came to the conclusion that the network is not really efficient for prospecting. In this case, maybe you should take a look at some advice for prospecting on LinkedIn.
Additionally, some automated tools can help you everyday to reduce the interactions which are necessary to manage your profile. Maybe you should try their features before closing your account. Of course, unsubscribing from LinkedIn is an option, but a real solution will allow you to make the most of the network 😉 Those are some ways to explore before taking the decision to delete your LinkedIn account permanently.
FAQ
I deleted my profile, but why does it still appear in search engine results ?
It depends on the way Google, Bing or the other search engines manage their information. Your profile may remain visible some time after you delete it. Don't worry, it is obviously temporary and will soon disappear.
I closed my LinkedIn account by mistake, can I recover it?
If you change your mind, you can reactivate your account within 20 days after you deleted it. However, you will not be able to recover your recommendations, subscriptions, pending invitations nor group memberships. That is why we always advise you to download a copy of your LinkedIn data before deleting your account permanently.