Prospecting on LinkedIn requires time, method and a certain strategy. To save time and go faster in your automation, there are different software including Neodeal. However, it has some weaknesses that Waalaxy largely compensates. We explain you everything!
Neodeal, an automation software with its limitations
Like many other software on the market, Neodeal allows you to automate your actions on LinkedIn. However, it has several weaknesses that could slow down your lead generation process. For example, Neodeal does not allow:
Neodeal offers only a small part of Waalaxy's features
See Waalaxy's pricing! + A Free option. 🎁
What, you don't have enough? Let's continue…
So yes, we admit it. We don't have the "skills recommendations" feature (Anyone still looking at that section anyway?). But, for the other features, they are essential optimal tracking of your actions on LinkedIn.
As far as conversions are concerned, it is not possible to track your performance or to have optimized funnels.
Neodeal's features are therefore basic and present a risk for your automation on LinkedIn.
Neodeal is not among the most secure tools
On the security side of your account, Neodeal has some flaws that could cost you a ban from LinkedIn. For example, there are no daily quota limits or time limits between your actions. And, unlike Waalaxy they do not simulate human behavior.
To go even further, Neodeal modifies the LinkedIn page by sending actions from locations that are different from yours. (Ex: You're in Paris, but your actions start from Lille). This makes the tool very easy to detect.
Neodeal is 3 times more expensive than Waalaxy
Neodeal's rates start at 50€ per month. And they are not even displayed on the website.
On Waalaxy, there are 3 paid subscriptions, a team subscription and a Freemium version for your enjoyment. 😍
Neodeal does not offer Scenario or Triggers functionality
Contrary to our tool, they do not offer these two essential features to have an even more advanced automation.
Scenarios in a few words? They allow you to plan a series of actions. Example :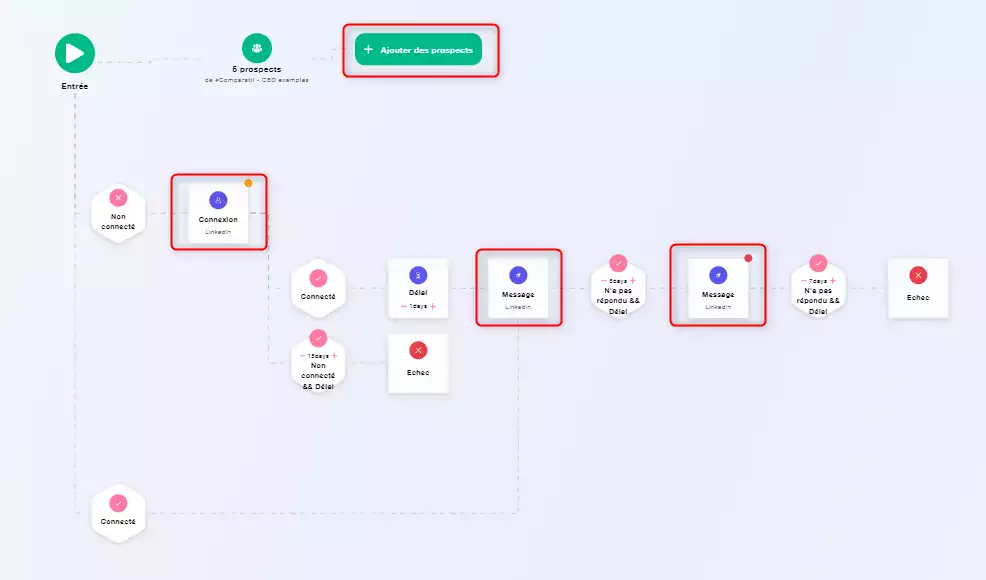 You can say to our tool: I want you to send a message to my prospect then if he saw the message on D+1 a second message (that you will have written and personalized beforehand) etc… The possibilities of scenarios are endless.
To learn more about the scenarios:
Finally, Neodeal does not offer you any Triggers features. I suggest you to discover this article to understand the interest of this feature.
Waalaxy, a complete tool with great performance

Unlike Neodeal, Waalaxy (formerly ProspectIn) brings together all the criteria you need to develop your community and generate qualified leads. You can at any time :
Multi-channel prospecting (LinkedIn + email marketing).
Exceed the 100 weekly invitation limit on LinkedIn.
Send personalized invitations and messages,
Import emails,
Track your prospects,
Track your performance,
Synchronize with over 2000 applications,
Undetectable by LinkedIn,
Define action schedules.
These are the strengths that allow you to not only :
Prospect safely for your LinkedIn account.
Save time,
Target your actions on LinkedIn,
Get qualified leads,
Develop your community in a targeted way,
Get an unlimited number of contacts.
Waalaxy allows you to combine efficiency, security and ease of use. Still not sure? We invite you to discover our users' feedback.
Waalaxy and Podawaa, for even faster results
To target your actions on LinkedIn even more, you can combine Waalaxy with Podawaa. Podawaa allows you to integrate pods in a personalized way among more than 15 criteria. Podawaa allows you to get qualified likes and comments and increase your engagement rate.
This tool offers the possibility to:
Create real commentary, related to your LinkedIn post,
Vary your audience,
Schedule your posts.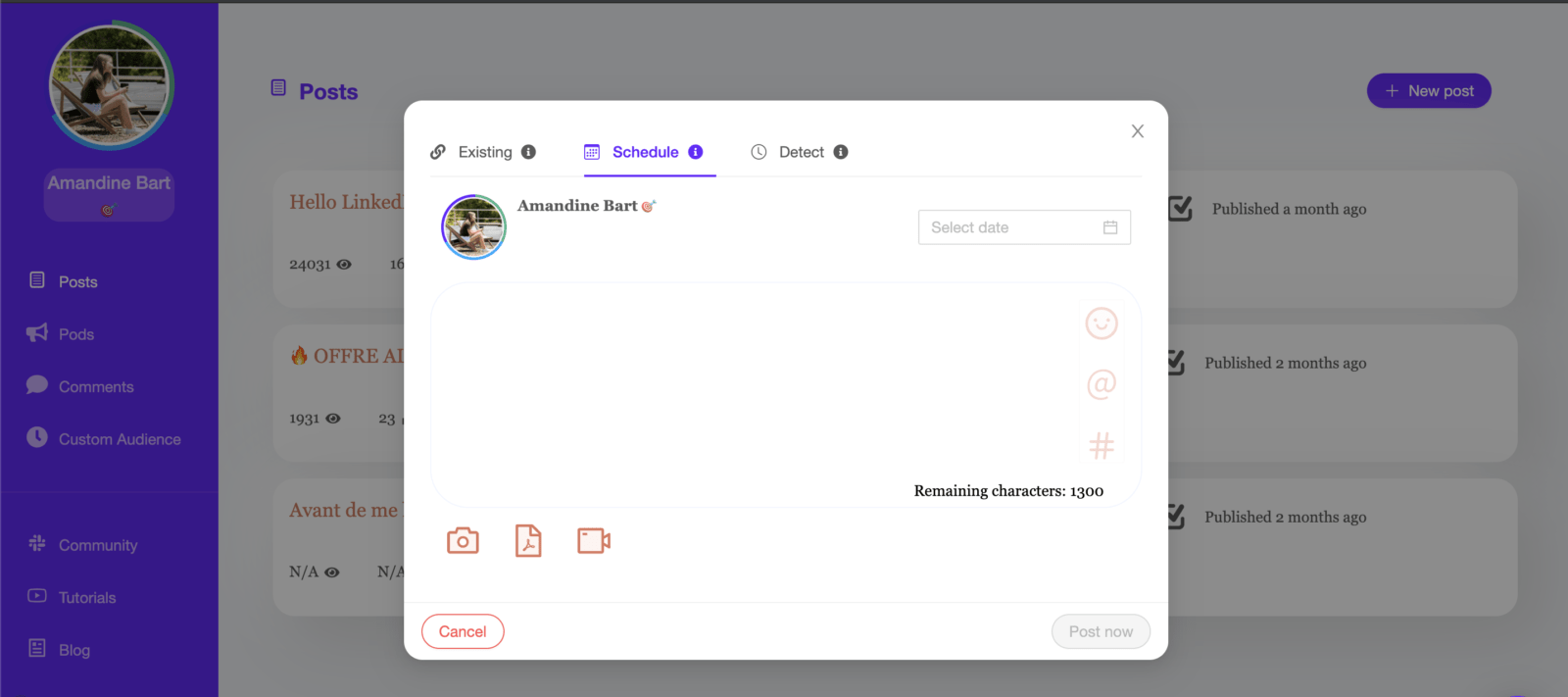 (Promise, you won't get "great post" 😜 nor comments in Russian if you are French, thanks to Podawaan Social Index).
Podawaa combines perfectly with Waalaxy, both in terms of functionality and ease of use. Both are available in Chrome extension and very simple in taking in hand.
In summary, with Podawaa and Waalaxy you can enjoy a formidable presence on LinkedIn unlike Neodeal which will allow you to advance less quickly because of its limited (and insecure) features. And on top of that we are 3 x cheaper, for 3 x more features. 😁