Often, we jump into the definition of a brand name as soon as we have an idea for a product or service.
But in reality, you're wasting a lot of time doing that. I explain how to create a real and lasting identity for your brand and make your launch a success.
Are you ready? 😜
How to come up with a Brand Name for your future Business?
Are you in the middle of brainstorming a business name? It is important to be creative in this process, as you need to find a unique name that relates to the value proposition promised by the company.
Moreover, it is not enough to choose a name, you must also think about : 👇
Check availability.
Make the trademark registration.
Register the company name.
Check the domain names.
Together, we'll go through all these steps, looking in detail at the 8 tips to follow before filing a name.
And we'll get started right away! 😉
1. Know your Business and your Products
How do I come up with a name that reflects my company's industry?
Often, the marketing department is the one that is furthest from the product or service being sold. Ironically or not, it is however this department that has to sell it the best. You need to understand and know them well.
Case 1) You are an internal or independent marketing department 🚀 :
Use the company's products: If possible, try the company's products and services to understand them better. This can help you better understand the pros and cons of the company's products and services, as well as future customer experiences.
Attend presentations and trainings: If the company offers trainings, attend them to learn more about the products and services.
Read everything you find: Data sheet, design, materials. Anything that will give you the material to take advantage of the product.
Case 2) If you are the creator of the product yourself, then it's up to you to create all the necessary resources for everyone to have maximum information about the tool/service 💡 :
Armed you with a small tribe of thinkers: Alone, it's hard to think of everything. When creating a brand name, it's best to have marketing experts on your side.
Create fact sheets: Data sheets, design, materials, visuals, mock-ups; ideas for marketing collateral. Anything that will help team members better understand the product/service.
2. Understand your Market
To understand the market the brand is entering, you need to know the players and their products. You need to be able to understand what their marketing strategy is and what they are putting forth to sell. That is, in two steps: 👇
✅ Identify the competitors:
Identify your company's direct and indirect competitors in the market. Direct competitors are companies that sell products or services similar to yours, while indirect competitors may include companies that offer substitutable products or services or have an indirect influence on your market.
✅ Evaluate competitive advantages:
Evaluate the competitive advantages of each competitor to better understand their strengths and weaknesses. This may include advantages in quality, price, service, brand awareness, distribution, etc.
3. Know your Audience
To know your target audience, you need to develop a persona, then test that persona.
If you don't have enough data on your potential buyers, it will be important to conduct surveys with your potential targets to understand their demographic and psychographic characteristics, preferences, needs and buying behaviors.
For example, you can create a structured survey to gather a lot of information on different profiles and help you establish a more targeted "profile type".
Then, you can create the persona, based on the common characteristics of the target audience, to better understand their buying behavior and develop targeted marketing strategies based on the data you have collected.
4. Create the brand identity and brand strategy
Once you understand what the brand is, what its products or services are and who the target audience is, you can start defining the brand identity and brand image.
To do this, you'll need to understand the brand's core points:
✅ Define the "ultimate mission of the brand"; that is, what is its added value in the marketplace?
✅ The brand's vision: i.e. what are its ambitions? How will it achieve its goals?
✅ The brand's values: what does it represent for the consumer? How should it be perceived?
✅ Voice/Tone: The brand's voice is the way the brand communicates with its audience. It should be consistent with the visual identity and reflect the personality of the brand you have chosen.
Let's take the example of the Nike brand to illustrate my point:
Mission:
To create innovative solutions to help athletes reach their full potential" and "to participate in the feel-good sensation of athletes."
Vision/Positioning:
"Building a better future through movement", i.e. being a driving force to inspire people to participate in sports activities, giving the desire for performance.
Values to stand out:
You already have, innovation, quality, diversity, inclusion (especially sports), well-being, good health, surpassing oneself.
Tone:
Passionate, motivating and inspiring, (which fits well with the vision, values and mission). The brand sometimes uses humor to connect with its wider audience, but stays in that "feel-good" atmosphere.
5. Creating the Graphic Charter
The graphic charter is an essential element following the guideline set by the brand identity. That is to say that all the elements of your brand will be taken care of to succeed in creating a cohesion between all the visual aspects (identity, website, logo…) and textual (brand name, storytelling…).
To build this graphic charter, you will have to think about : 👇
Specific colors used for logos, backgrounds, text and graphics; what colors work best depending on what you are selling and to whom?
Fonts to use for different types of text; Is the font more noble or classic?
Layout and brand visuals; are they more images, 3D illustrations?
Example of a graphic chart aligned with the brand identity: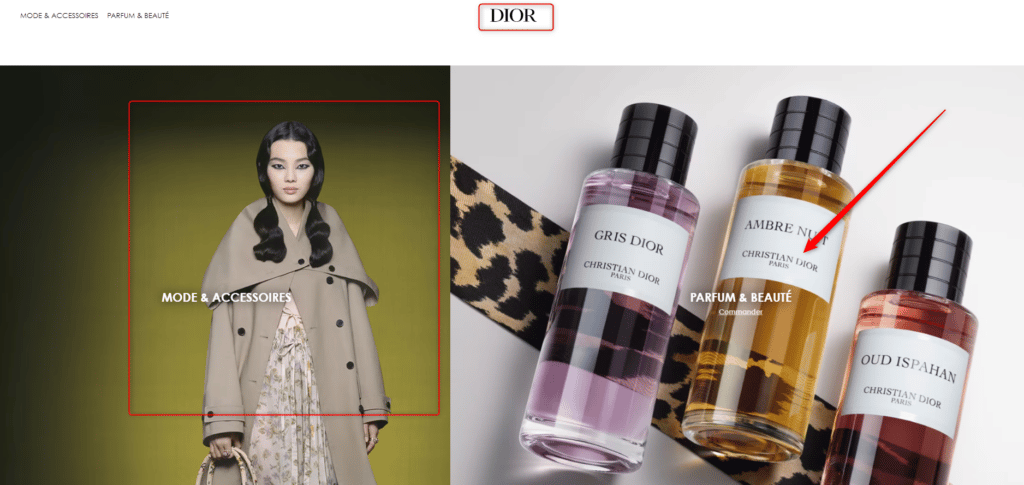 At Dior, they sell luxury. 🪙
Layout:
The layout of the Dior website is very clean, the font is minimalist, to leave more room for the visual.
Graphic design:
The graphics used are simple and sophisticated, the visuals are of very good quality and highlight the product.
Colors:
The color palette is very limited, mostly black and white, with accents of dark red and gold to give the "luxury" look.
Each aspect is therefore thought around and with the brand name.
6. Think about SEO and Keywords
Think about it, you will certainly want to create the website of your company. In this case, you have to make sure that the domain name has not already been taken.
You should check the list of brand names with available domain names. Many new brand names are created every day, so what is available today may not be available tomorrow.
For this, you have several tools, some paid and others free, for example: 👇
WHOIS Lookup is a tool that allows you to look up information about a specific domain name, including the current owner, registration history and expiration date.
Here I did a lookup to show you, you get all the information about boursorama.com in a snap.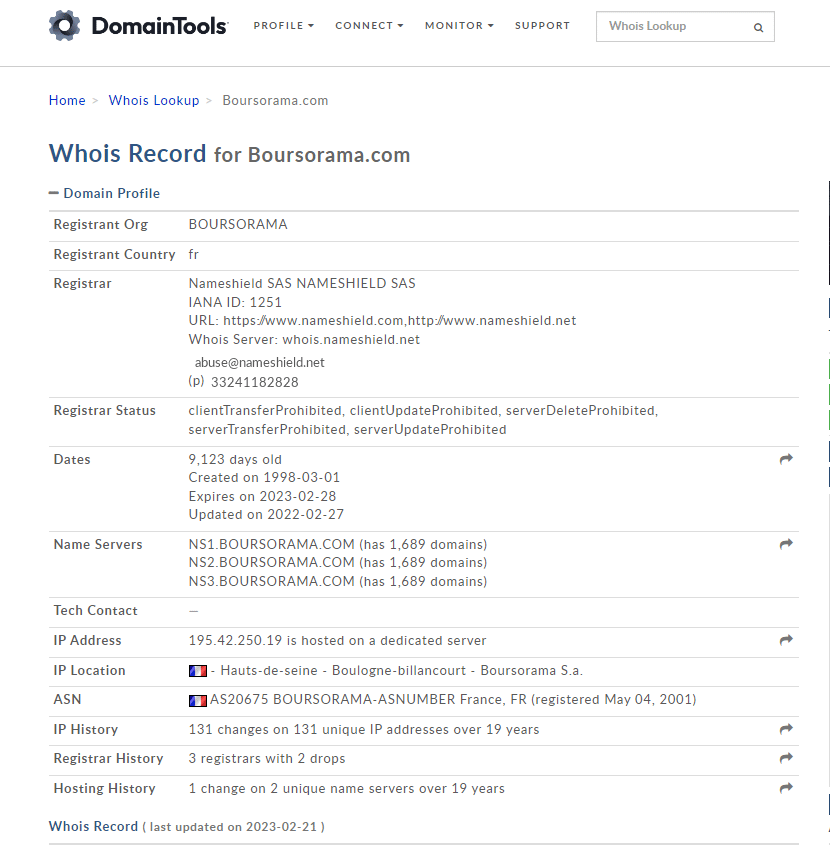 7. To Register your Brand
There is some information to know before registering your brand name. The law has set several rules regarding trademark registration.
The brand name must not describe the product or service.
❌ It must not mislead the consumer as to the source, nature or characteristics of the product.
❌ A brand name cannot be reduced to a complimentary term ("Great", "Awesome", etc.).
❌ Names with racist, homophobic, and immoral connotations are prohibited.
❌ The brand name must not already be taken.
Whether you're a self-employed entrepreneur or creating a big business, it's the same rules 😄 !
Then, after filing your application, the USPTO will examine it to ensure that it meets all the requirements for registration!
How to know if a Brand Name is Available?
You can do a trademark search on the website of the United States Patent and Trademark Office (USPTO) using the Trademark Electronic Search System (TESS). (It only works in the US, but every country has its own). 🚫
This will allow you to search for registered trademarks, as well as pending trademark applications, and determine if a similar or identical mark has already been registered or applied for.
On the other hand, you cannot, once you have registered the brand name, ask the company that was already there before you to change the brand name. Therefore, I do not advise you to use this name.
The best thing to do is to also do a Google search to see if the brand name appears in the results. If the brand name is already used by an existing company, there is a good chance that results will appear in the search engine. 🔍
How to Register the Brand Name?
You need to register your trademark to protect your intellectual property. You need to make your filing directly online. A guide to the trademark portal is available on the filing page.
If your search confirms that the brand name is available, you can file a trademark application with the United States Patent and Trademark Office (USPTO).
💡 Good to know: The search prices are around $100.
Final reminder: the name must be unique! 🙂
8. Test your Brand
Before launching your brand to the market, test it with your target audience to gauge their receptivity. Organize surveys or product tests to gather feedback and recommendations to improve your brand, go out on the street and test consumers on what they understand about the brand, what the name evokes in them, is it a good sounding name…
Ask a group of people how they feel when they hear the brand name. 👂
The name should be able to evoke positive emotions and fit your company values. (The one you chose above). 🥰
If you are looking for a market research survey, we have created a dozen free downloadable templates.
Surveys to Launch your Brand
What are the Current Trends to Find a Brand Name?
Brand names are very personal, they depend on the company and must be unique. So there are few "criteria to respect", except for a few guidelines: 👇
A simple and clear brand name:
Short, simple brand names are becoming increasingly popular because they are easier to remember and convey.
A brand name "sensation":
Brand names that evoke a certain image or emotion are also popular.
Brand names for sustainability:
Consumers and companies are increasingly aware of the environmental and social impact of brands. Brand names that convey the values of sustainability and social responsibility are becoming increasingly popular.
More History of Brand Names
Did you enjoy learning about brand names and why they work? Here's a little more about the best brands and why they work, through a great choice of company names from the start! 🏃
The Ubisoft Brand
The name Ubisoft comes from the acronym "Union des Bretons Indépendants", which refers to the group of five young Breton entrepreneurs who founded the company.
However, the Guillemot brothers quickly realized that the name "Union des Bretons Indépendants" was not really appropriate for a growing video game company, so they decided to keep only the word "Ubisoft. The name is easy to remember and pronounce in any language.
The Amazon Brand Name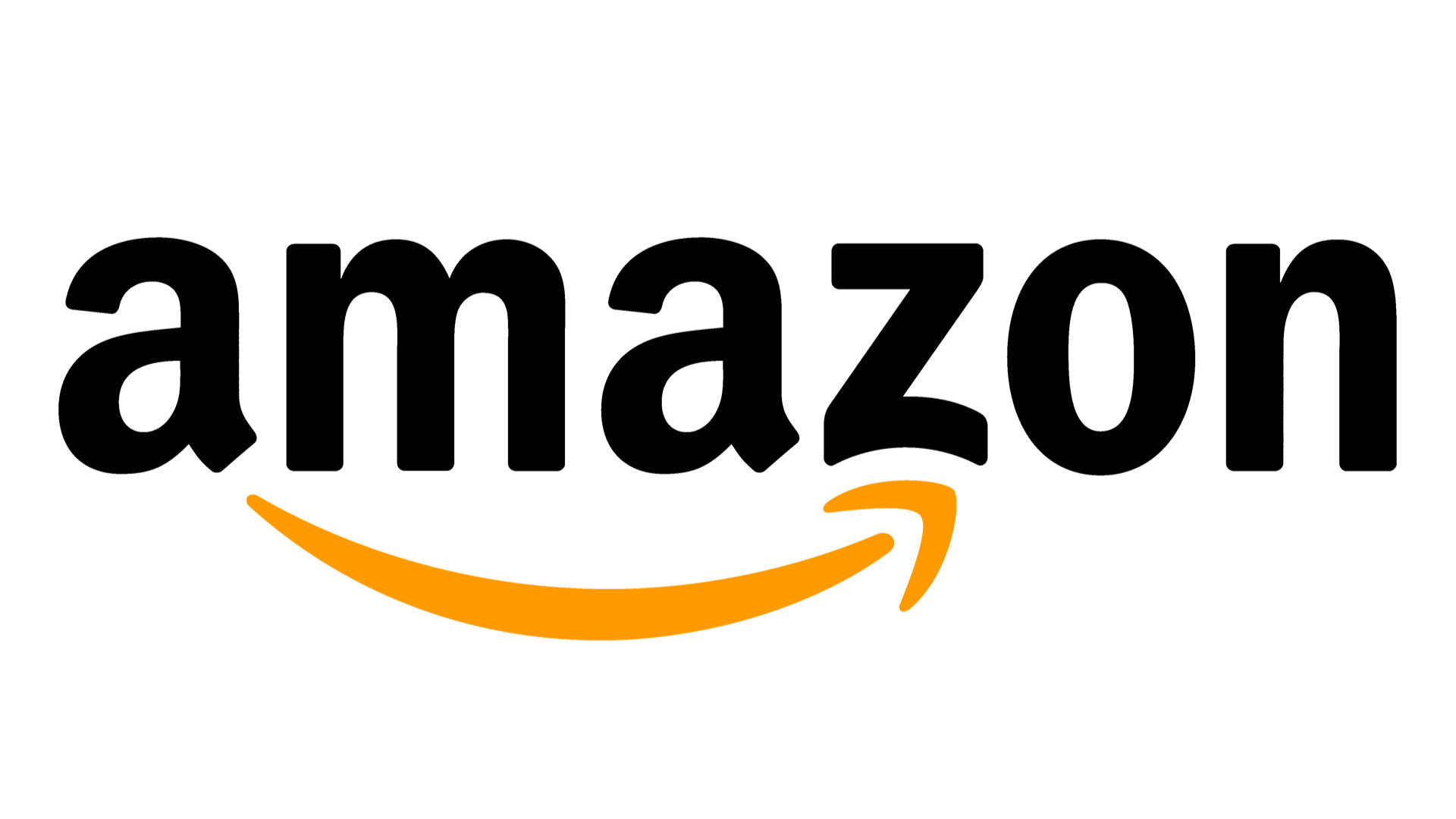 Amazon is an e-commerce and technology company. The brand name is associated with the world's largest river, which evokes growth, diversity
and expansion.
Amazon's customer service strategy and fast delivery practices have also contributed to its popularity.
The LinkedIn Brand Name
The name LinkedIn is a combination of two words: "link," meaning "connection," and "in," referring to belonging or inclusion. The name suggests that LinkedIn is a social network focused on professional relationships, connections and interactions between professionals.
Where does the Reebok Brand Name Come From?
The brand name "Reebok" comes from the English word "rhebok", which is an Afrikaans word (a language spoken in South Africa) for a type of antelope.
Bonus: Find a Brand Name Generator
There are several sites to generate random brand names. ⏬
Nomatic allows you to search and find brand names.
Panabee helps you find brand names using keywords.
LeanDomainSearch, a name generator that offers over 100 variations of a single word or phrase.
I tested Panabee to get an idea, if you type, for example "personal branding", the tool will propose you associated brand names and tell you which domains are available. I don't find it exceptional in the sense that the possibilities are limited and not very original.
My advice: have fun inventing names and test them!
I let you decide. 😉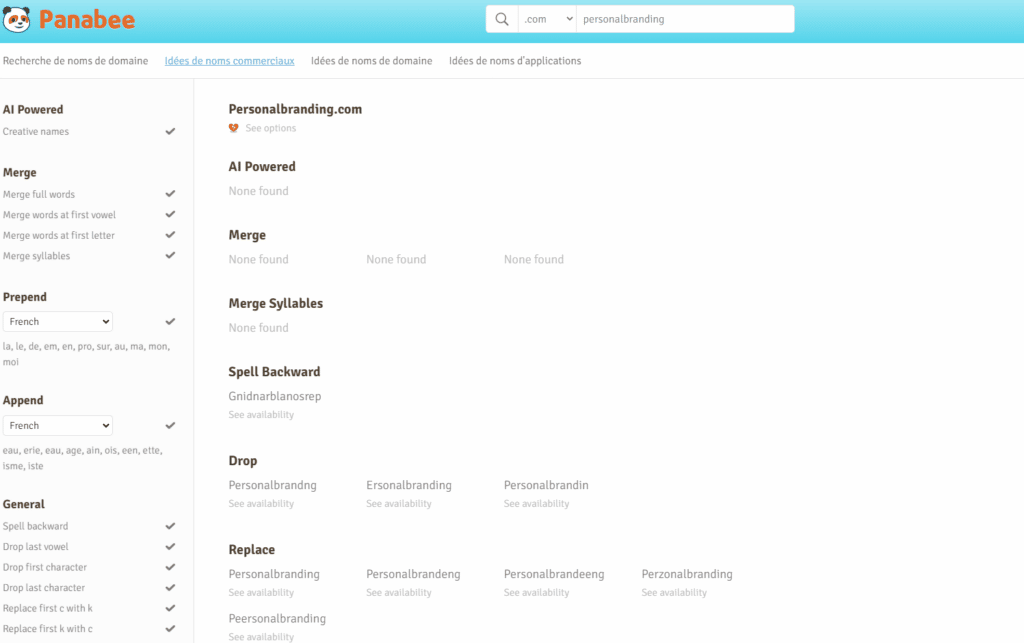 Conclusion: How to Come up with a Brand Name?
In summary, finding an original, memorable and easily pronounceable brand name can involve using name generators, checking the precedence of the name, including a slogan, taking into account the sector of activity and one's own name or surname. 😊
It is also important to register your brand to protect its industrial property and to differentiate yourself from the competition.
FAQ about Brand Names
How to Choose the Company Name?
The name of the business name is essentially chosen at the freedom of the founding partners. 🤝
They usually keep the name of the brand to create the company name, but it is not an obligation. The name must be declared at the time of the creation of the company, and it can be found on all the administrative and official documents of the company.
Can a Company Have Several Names?
A company can have several names: ⏬
A " trade name ", a " company name ", and even a " domain name " if you have an associated Internet site, and it does not have the same name as your company or your brand.
Can a Brand Name Contain Puns?
Of course, it can. You can already see it very quickly by looking at hair salons everywhere. Between "Sup'hair Star" and "It's in the Hair" you can understand that hairdressers have fun with puns. But, I am not sure if it's the right branding strategy.🤣
Now you know everything about the best brand name, how to register your name, the next thing to do is to launch your business. 😉