Have you heard of Waalaxy? Our stratospheric B2B prospecting tool straight out of this galaxy? Welcome! 👽 Waalaxy is going to become your new CRM and, is going to be full of data that you would like to sync, extract and process on other CRMs?
No problem. Via Zapier the synchronization is done in minutes. We'll detail everything here! ➡️
Zapier : what is it?
Zapier is a tool that allows you to connect lots of applications together in an automated way through workflows: a significant time and energy saving!
Zapier is a paying tool, you pay a subscription according to the number of Zaps you will make per month.
In order to reduce costs, we have set up a grouped sending system, updating the prospects 10 by 10 in your CRM. Waalaxy and Zapier synchronization requires a 3-step "Zap", available only with Zapier's premium offer.

Waalaxy x Google Sheets Zap link
Here you can use the link already established to synchronize Waalaxy with other CRMS. This zap looks like this:
Webhook -> Waalaxy -> Google Sheets, you will have to complete this Zap with the CRM of your choice afterwards. 😊
➡️ Waalaxy x Google Sheets Zap link
How to set up the synchronization with Zapier?
Here is the process..
1. Create the Zap
Go to Zapier,
Click on "Make a Zap".

Search for "Webhook By Zapier" and "Catch Hook" and click "Continue". You will get a URL to copy.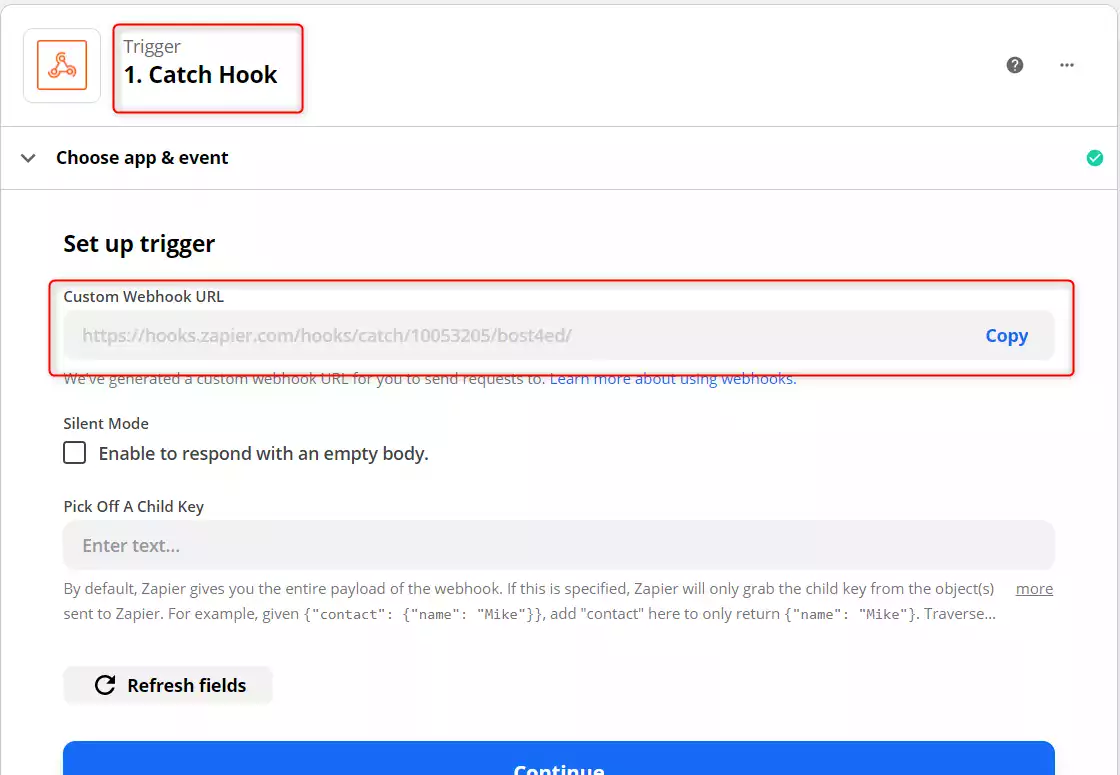 2. Create the campaign on Waalaxy
Climb onboard and head over to Waalaxy. 🚀
Click on "Campaign" and "Create a Campaign".
Select "CRM Sync".
Choose the sequence you like.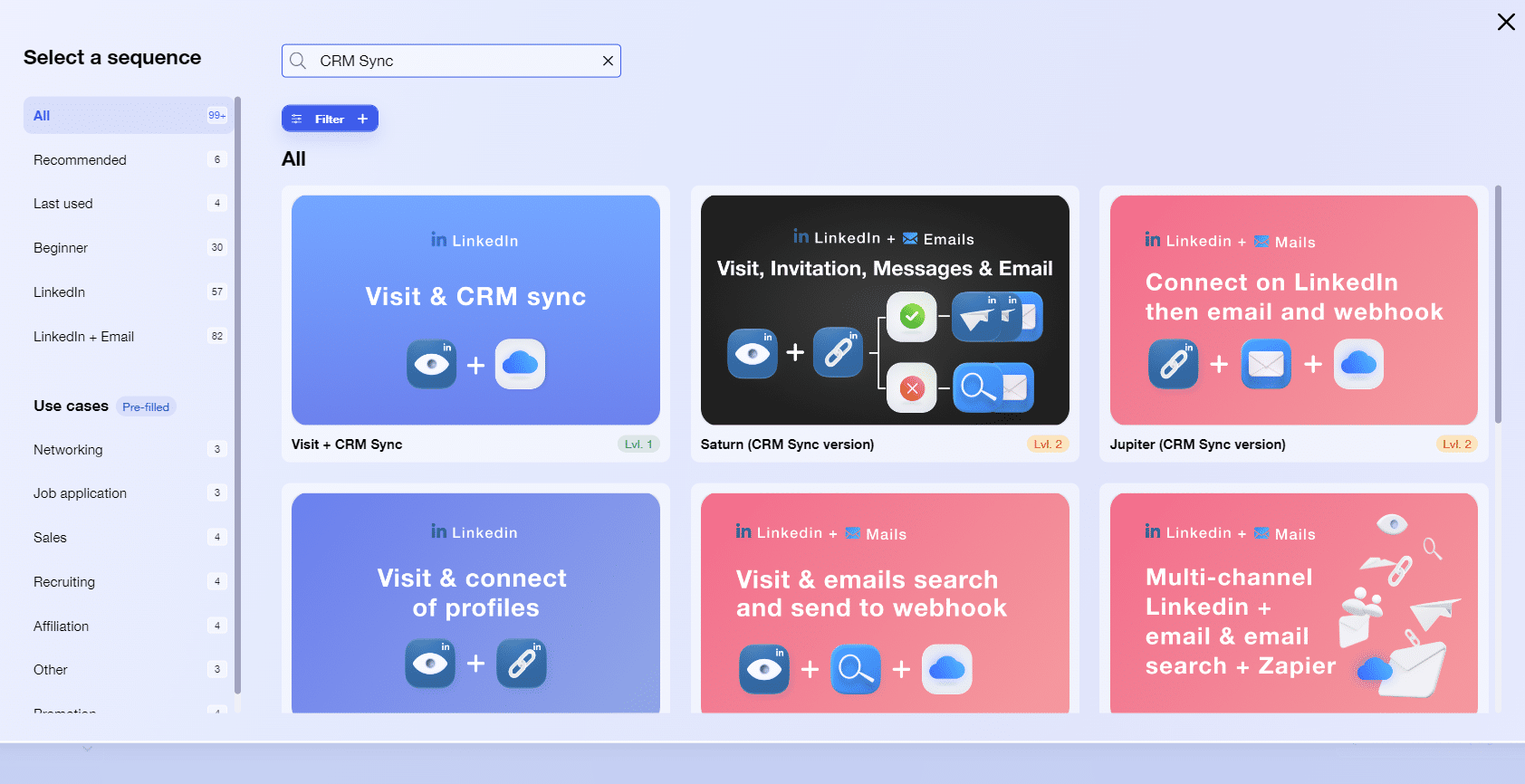 Fill in the "Invitation" fields by selecting your note (or not, it's optional), and "Email" by filling in the content and subject of the email you want to send.
Confirm.
Adding prospects with auto-import
You have noticed that a step was missing in the construction of your sequence… Where are the prospects? You have two options. In Waalaxy and unlike ProspectIn, the notion of triggers is directly implemented in the sequences and is called "Auto-import".
Adding leads without auto-import
Click on "Add Leads" and select the leads from one of your lists: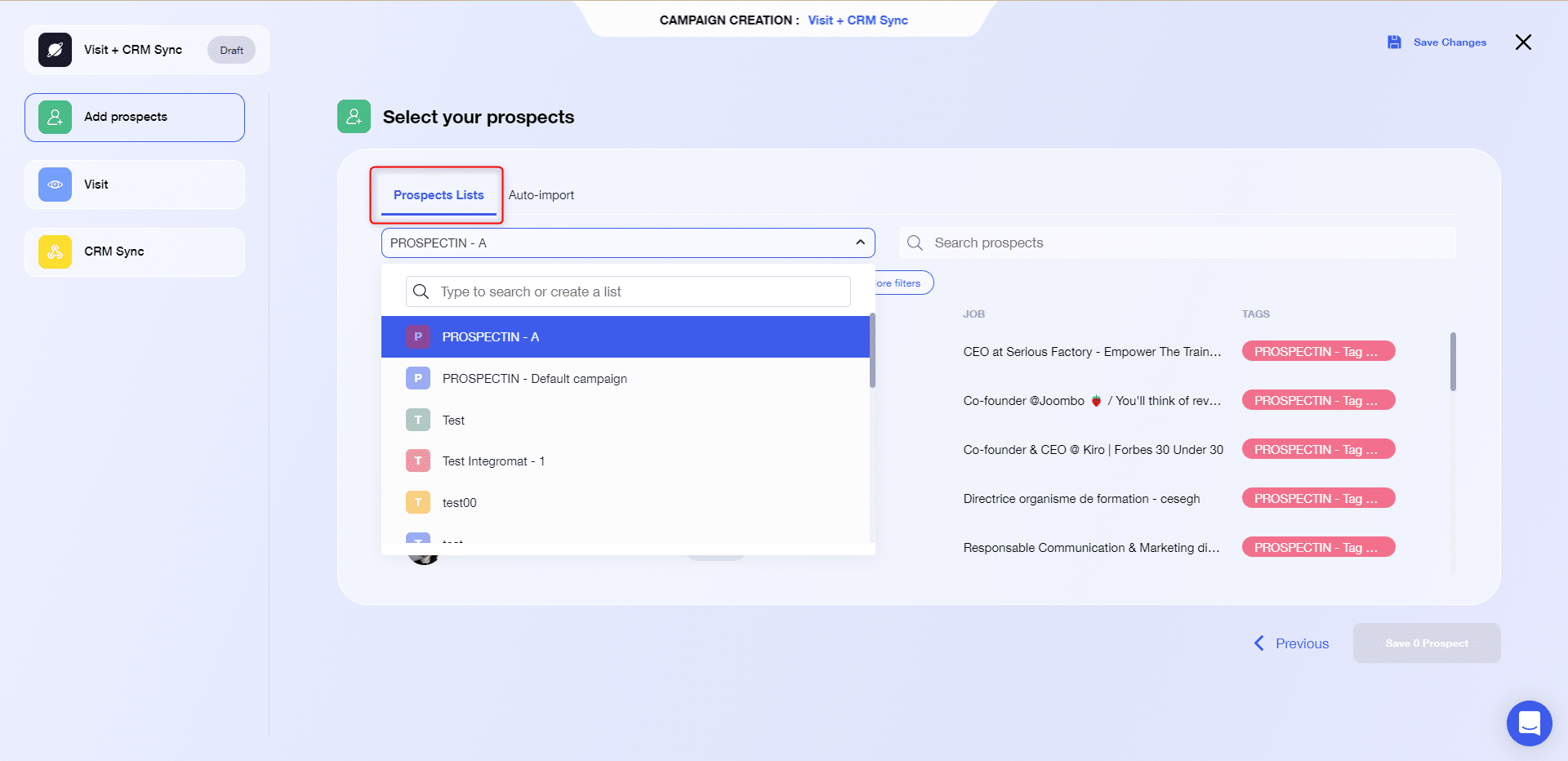 Adding leads with auto-import
You want all the leads that have completed action X to be exported to your CRM darling automatically:
Click on "Add prospects" and on "Auto-import"
You can import:
All the people who have sent a connection request.
All the people who have visited your profile.
All the people who commented on your Linkedin post.
All the people from a saved Sales Navigator search.
All the people from a Sales Navigator list.
And there you have it, your leads have been put into the sequence loop! 🥳 Now you can click "Start Campaign."
4. Zap Set Up
Back to Zapier, you can click on "Continue" then "Test Trigger" :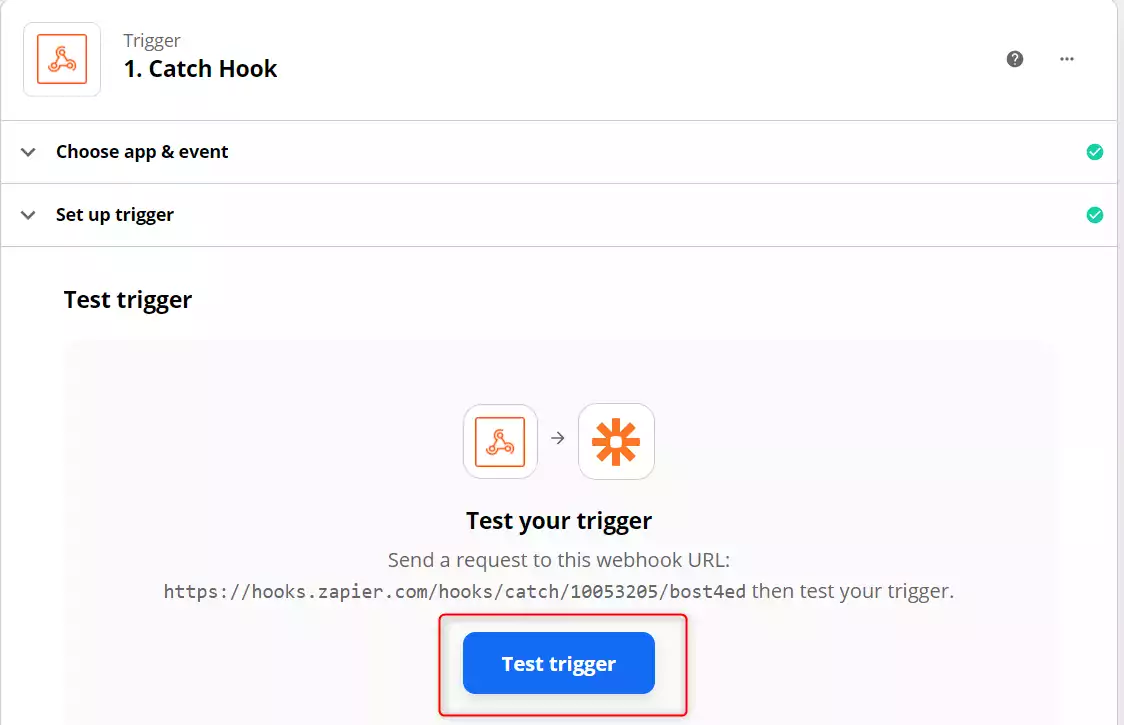 5. Format the data
This step allows you to define the keys and associated data that you will export to your CRM. For example, if the field in your CRM is "Email", you will create an "Email" key associated with the "Email" data received in the Zapier Webhook.
Click on "Format".
Select in "Action Event", "Text" and do "Continue".
Select in "Transform", "Split Text".
In "Input", select the value "FirstName" and fill in the separator ";".
In "Segment Index", select "All as Line-items), do "Continue".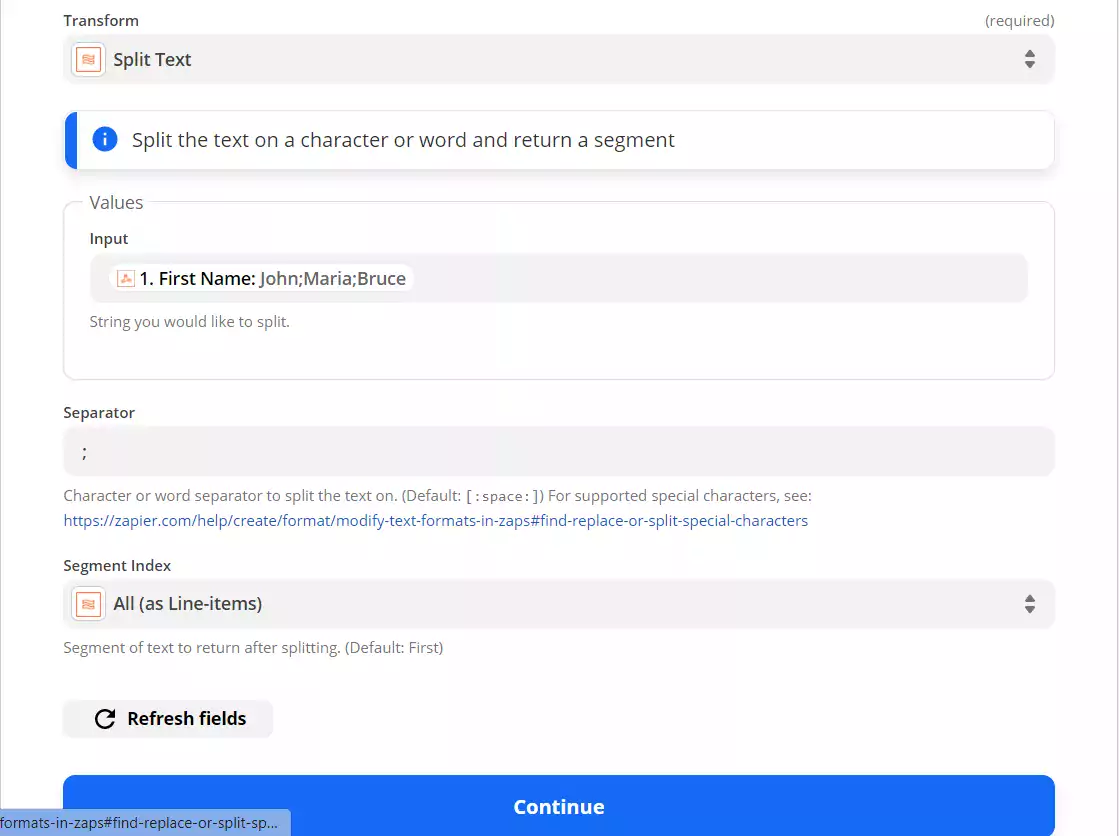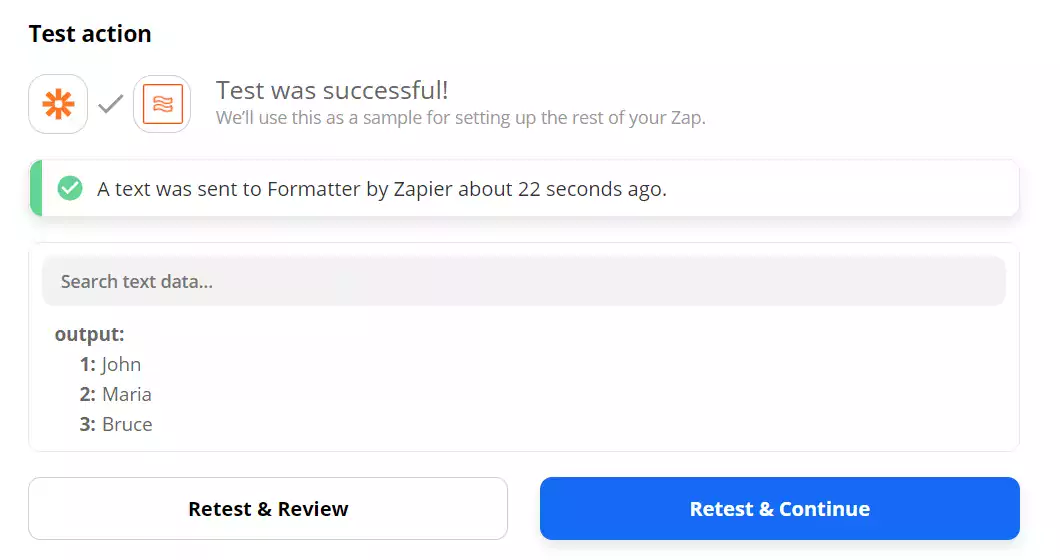 Do this step for all the variables you want to transmit:
First name.
Last name.
E-mail address.
Position.
Region.
Company.
Phone number.
Type of LinkedIn account.
…
6. Define the output action
If you want to export to another CRM, you need to create a second zap after this one. You need to go through a Google Sheet to separate the information sent in bulk.
Click on "+" and search for "Google Sheets".
In "Action Event", select "Create Spreadsheet Row(s)", then "Continue".
Select your Google Drive account, then fill in the fields "Drive", "Spreadsheet" and "Worksheet", this is to select the sheet that will receive the data.
⚠️ PS: Here, you must have previously created a Google Sheet with the different columns that correspond to the variables you selected earlier.

Select the corresponding variables in "Rows" :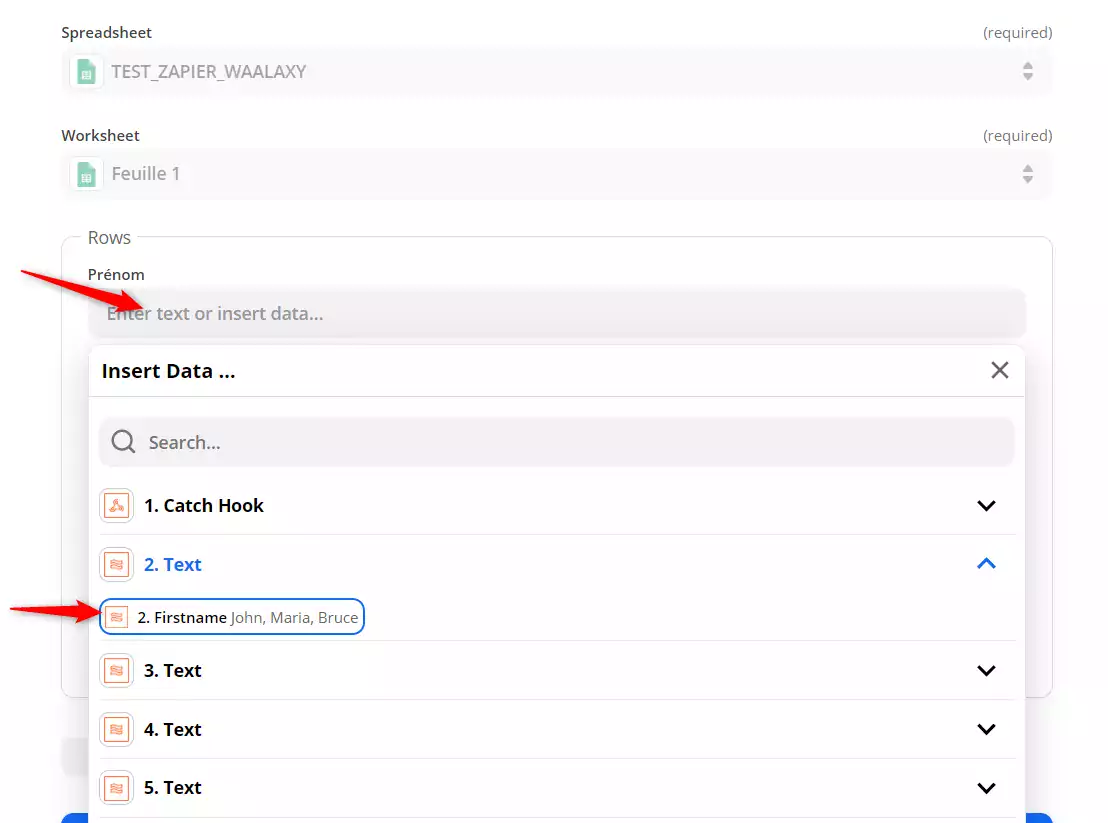 Repeat for all the variables you selected above and click "Continue".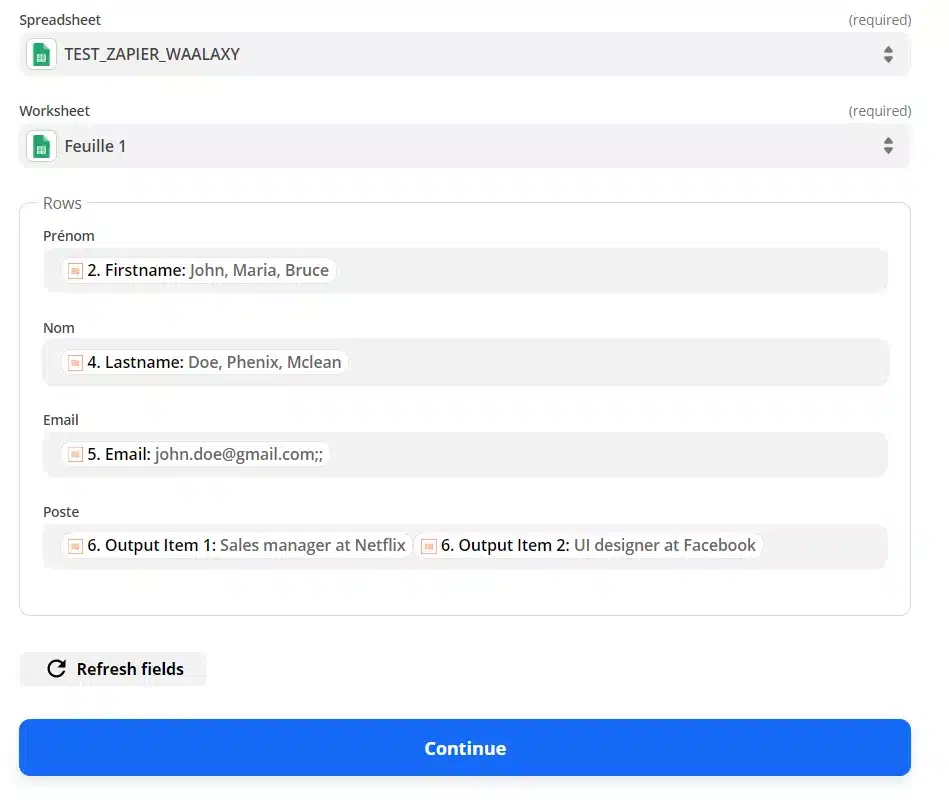 Click on "Turn On Zap" to activate it and you're done.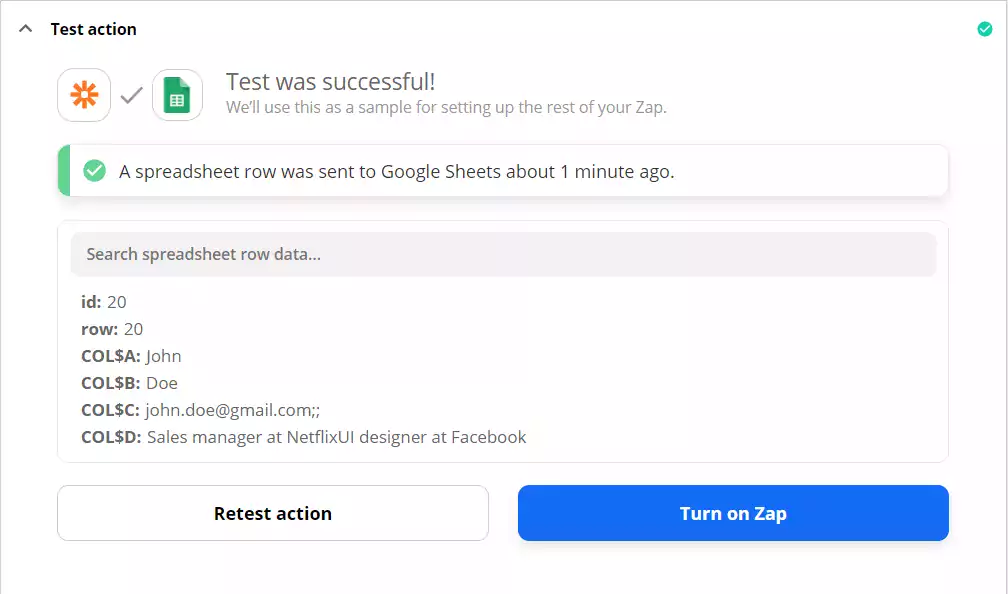 Your data will be correctly exported into the Google Sheet. We first send a data flow, so don't be surprised to see our buddies John, Maria or Bruce!

PS: The email field is blank for Maria and Bruce because we don't have this data, so the email simply won't export. 😊
Syncing Waalaxy to other CRMs via Zapier: one thing to know
You can do this process to connect Waalaxy with as many CRMs as you want, you'll just need to add an extra step after the Google Sheets one!
While waiting for available articles for Waalaxy, feel free to check prospectIn's synchronization section of the blog because the steps to follow are almost the same on Waalaxy as on ProspectIn!
See you soon in another Waalaxy! 👽🚀