How does Piwaa work? Security and data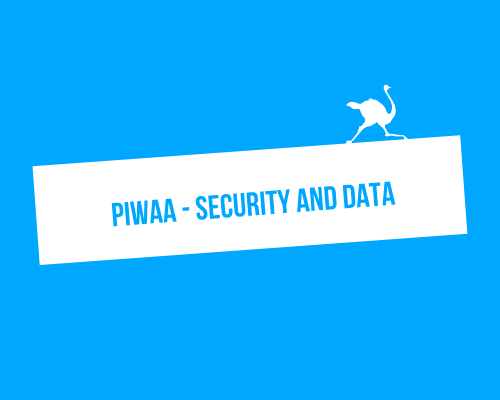 3

min
Piwaa is a "CRM-messaging" which is grafted onto LinkedIn, in order to save you time while improving your possibilites in the daily handling of your LinkedIn messages. 😜
As dozens of conversations will go through this tool every day, it is normal to ask: How does it work? Is there a risk of getting banned? How are my data managed?
At Waapi (which markets ProspectIn, Podawaa and now Piwaa), we like transparency. So we explain everything to you in this article. 🔥
How does it work technically?
Piwaa is a Chrome extension, which you can download directly from the Chrome Store.
It recreates a messaging interface, integrating other functionalities, all grafted onto LinkedIn.
Mmmh… I feel it's still unclear. Let's go back to the basics.
A website is divided into two parts. A client part and a server part.
👩‍💻 The client part: it's at home, on your computer. This is the user interface.
👨‍💻 The server part is at LinkedIn.
When you send a message on LinkedIn, the client part sends a request with certain information to the server part at LinkedIn, which will process this request.

Piwaa replaces the client part of LinkedIn by sending the same requests as the latter, from a different interface.
The LinkedIn server will receive the same information and will, therefore, be unable to see the difference. For LinkedIn's server, you clicked a button from LinkedIn.
Piwaa will then add various additional features to the LinkedIn messaging: pre-saved messages, tags, exports to Zapier, automatic follow-up, etc… which are managed on our side.
Is there a risk for my LinkedIn account?
None of course.
If you already use the other tools of our range, you will know that we place a huge emphasis on the security of your LinkedIn account.
Here again, there's no risk. There's no automated behavior. For LinkedIn, you use classic messaging. They are unable to tell the difference.
❌ I was told that LinkedIn consistently detects the use of extensions! ❌
You may not know it, but LinkedIn has a piece of code that allows them to detect the presence of extensions prohibited by their Terms & Conditions.
First: none of our tools are in this list of banned extensions.
Second: we know very well how this script works and we know how to intercept it. Instead, we send a request to the LinkedIn server saying "all is good and nothing has been detected".
Third: While tools like ProspectIn may one day be on this list, Piwaa is a tool that adds value to all LinkedIn users. They, therefore, have no reason to want to ban this tool, on the contrary.
Do I need to have a LinkedIn tab open?
Yes and no. So that Piwaa can retrieve your "authentication cookie", which allows us to send requests with your account without LinkedIn being able to notice it, you must open a LinkedIn tab when launching the tool for the first time.
Then… no more needed 😄 Everything is done in the background!
How do you handle my data?
The beauty of Piwaa is that we hardly store anything…
This allows us to be GDPR compliant. 😎
I will explain in detail:
Conversations are retrieved directly from the LinkedIn server. Absolutely no message is stored on our database, other than the responses you record in Piwaa (see the "Saved replies" feature)
By default, no information about your prospects is stored. We keep the first name, last name, profile picture, and conversation id when you take an action like add a memo, tag the prospect or schedule a follow-up message. That's all!
We do not store any information about you, other than your first name, last name, email, and profile picture. 🖐🏻
The only data stored are memos, tags, and saved replies, which are essential for the proper working of the tool and do not relate to personal data.
Obviously, you have the right to edit and delete data by contacting us via our chat support from the Piwaa interface. Our support will answer all your questions and take the necessary actions. 😁