Thanks to the updated triggers (see article), it is now possible to automatically export leads from ProspectIn to most CRMs via synchronization, Zapier or Integromat. We'll talk about Integromat here, but you can read about synchronization with Zapier here. This synchronization can be a bit tricky. We'll explain it all here!



What is Integromat?
Integromat is a competitor, or an alternative to Zapier. (Call it what you want 😎)
It's a pretty simple toolthatallowsyou to automate your workflow and gives you almost unlimited possibilities depending on the tasks you need to perform; all by connectingtoolstogether.
From social media to project management to customer support to marketing to sales and more, all of these areas can benefit from the automation offered by Integromat.

Here we'll look at how to send data retrieved by Prospectin through triggers to Integromat.
What are triggers?
Triggers allow you to automate actions on incoming events (invitation request, new message sent…) and create outgoing events (send to Zapier, send a message, etc…).. See this article for more information.
How to set it up?
To be transparent, Integromat is less simplified than Zapier, there are a few extra things to do.
0. Prerequisites
You must create an account on Integromat.
Personally, I use the free version of Integromat, which offers 1000 operations per month and 20.0 mB, which is more than enough for my needs.
Here is the pricing system of Integromat:

⚠️🚨 Before starting, I invite you to disable the automatic translation that might be activated by default on your computer.
Indeed, the automatic translation can translate pages but also the code of the page which causes problems, and bugs.
Here is how to do it:
1. Create the scenario
Like Zaps on Zapier, Integromat works with scenarios. You must know this notion if you use Prospectin.
Click on "Scenario" and "Create a scenario":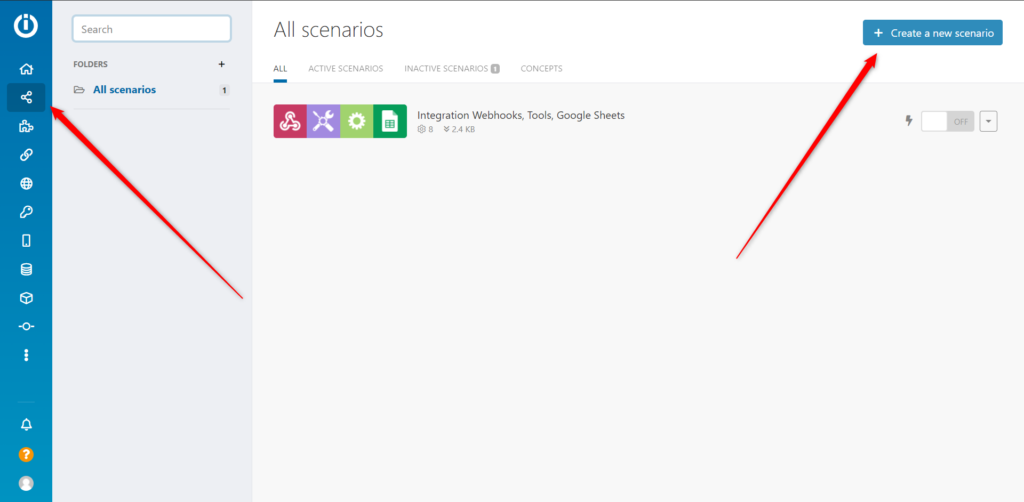 We propose you to search for the services to be integrated.
Search for "Webhooks" and "Google Sheet" and do "Continue"
You see your 2 applications in a white page,
You can select the Webhook and put it where you want on the sheet, it doesn't matter, but enough for me to write it. 😐
Click on "Custom webhook" :
Click on "Add"
Give a name to your webhook and click on "Save"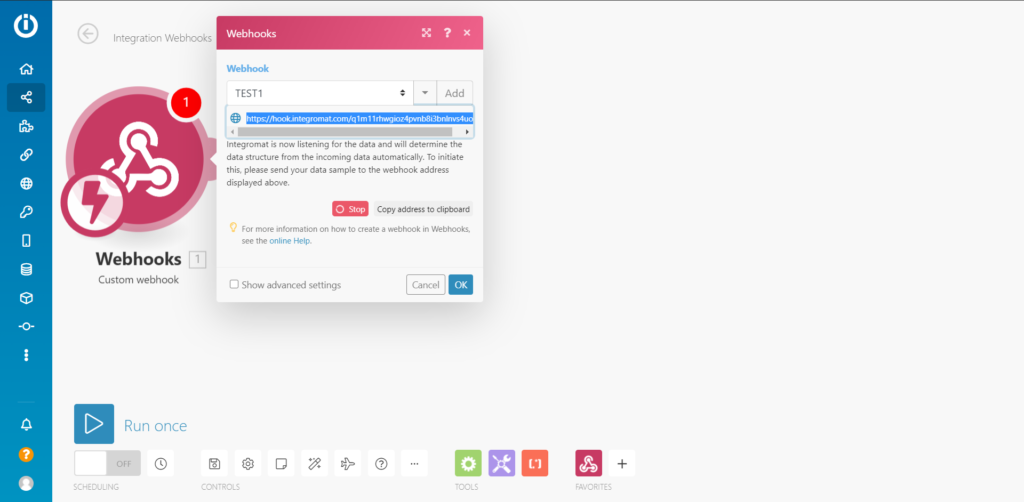 You will get the URL of the Integromat hook to copy.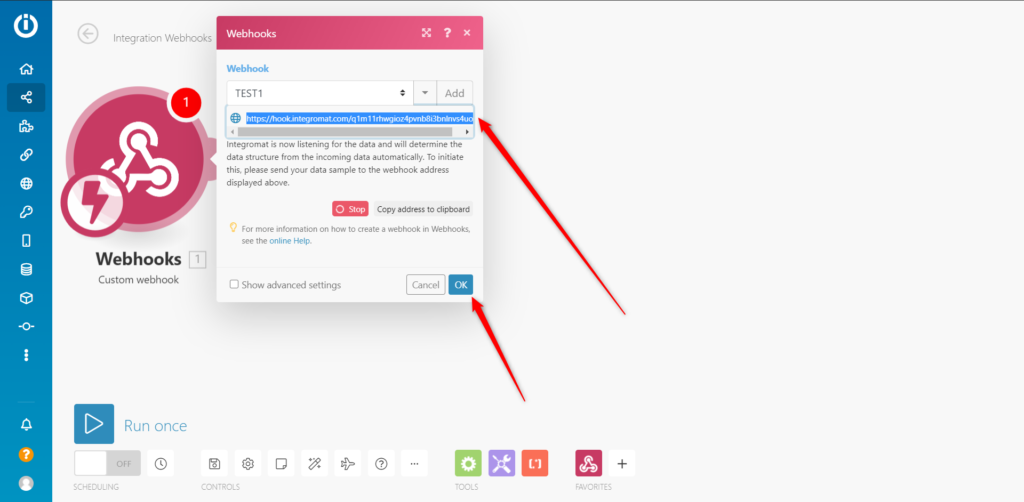 2. Create the trigger on Prospectin
Go to the "Triggers" tab in the ProspectIn back office.
Choose "Create" and then define the incoming event you want. For example, if I want to automatically synchronize with my CRM the leads that have been followed up, I choose "A lead has been followed up".
For the outgoing event, choose "Export to my own CRM".
Copy the URL of the hook previously obtained and "Save and launch"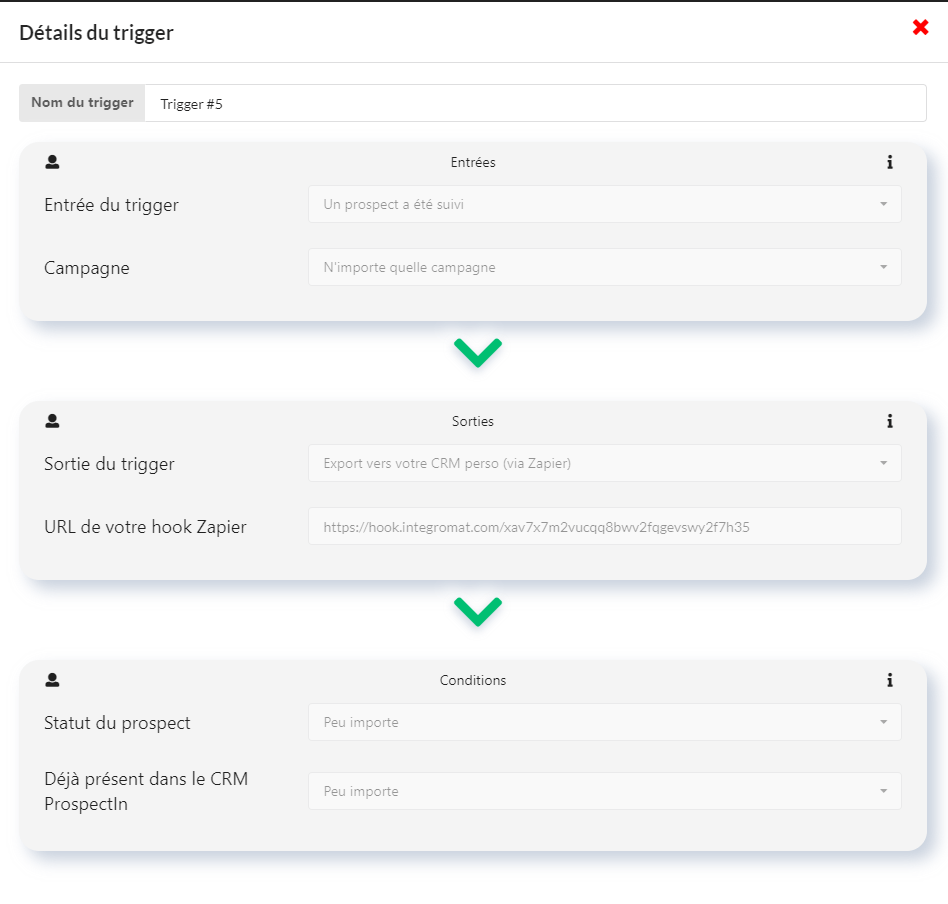 3. Format the data
It is important to format the data.
They are sent in a flow, in mass, so the tool must separate them, format them.
Back to Integromat.
Click on purple "Tools".
Choose "Set multiple variable"
You can rename "Tools", I personally put "SplitText".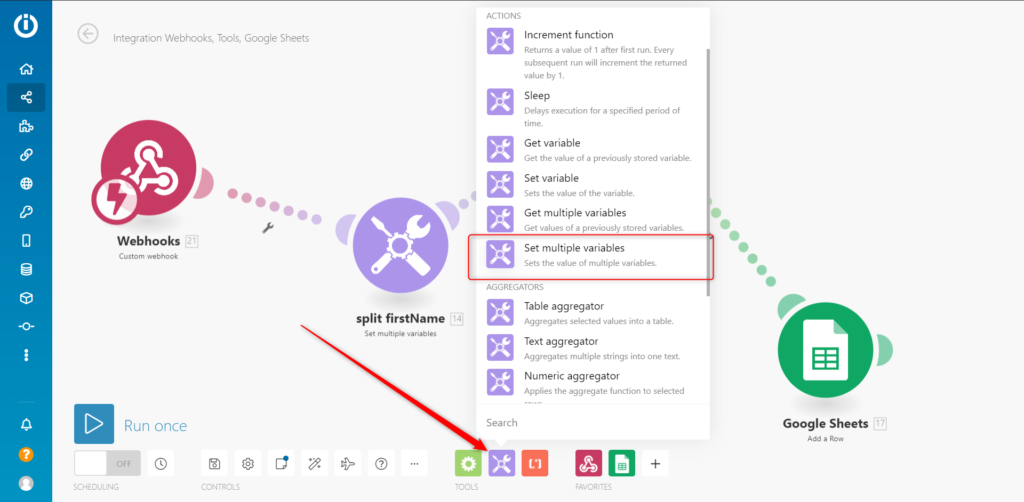 In this step, you have to select all the variables that are to be recovered to format them.
Click on the "Tool" and do "Add Item". All the variables are listed,
In "Variable Name", select a variable, for example "firstName"
In "Variable Value", click and go to the sub-heading "A", select "split"
Change the default separator ";" to separator "," :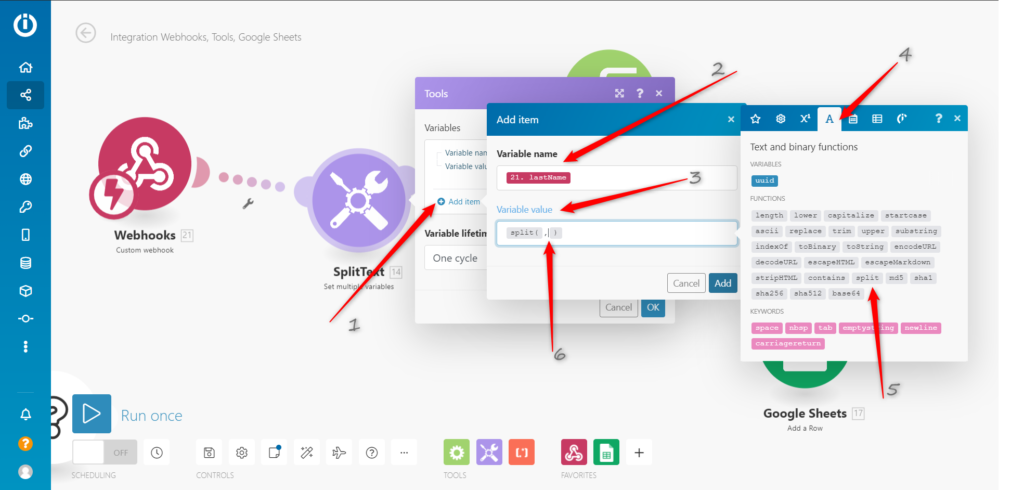 Repeat this process for all the variables you want.
4. Aggregate data
Click on yellow "Tools".
Select "Iterator"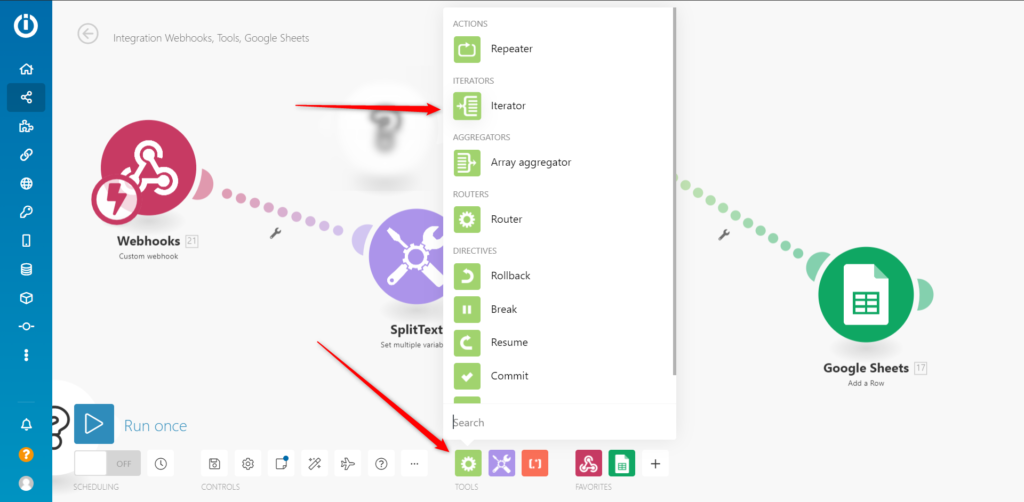 Click on "Iterator"
Activate "map"
Click on the "Array" section
Select the data you had previously formatted.
Click on "Ok"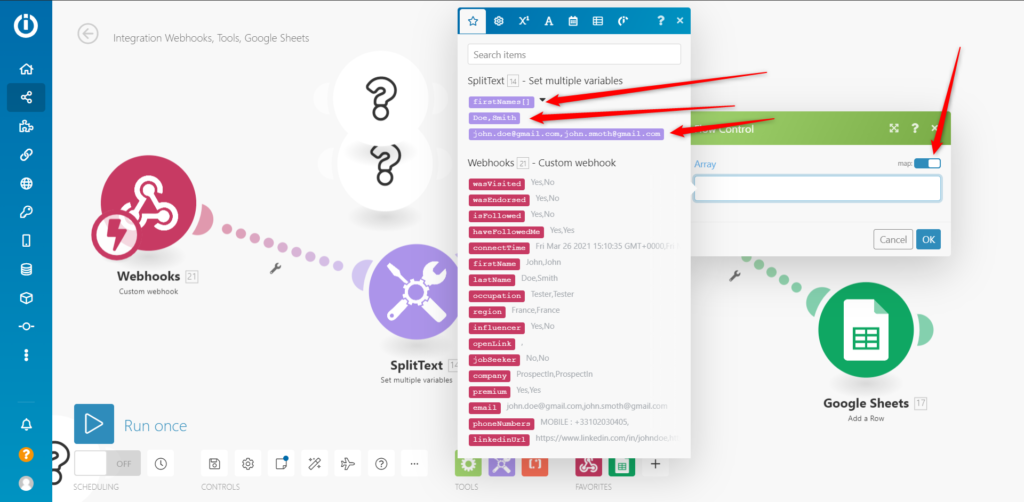 5. Connect with Google Sheeet
Select the "Google Sheet" module
Choose "Add a Row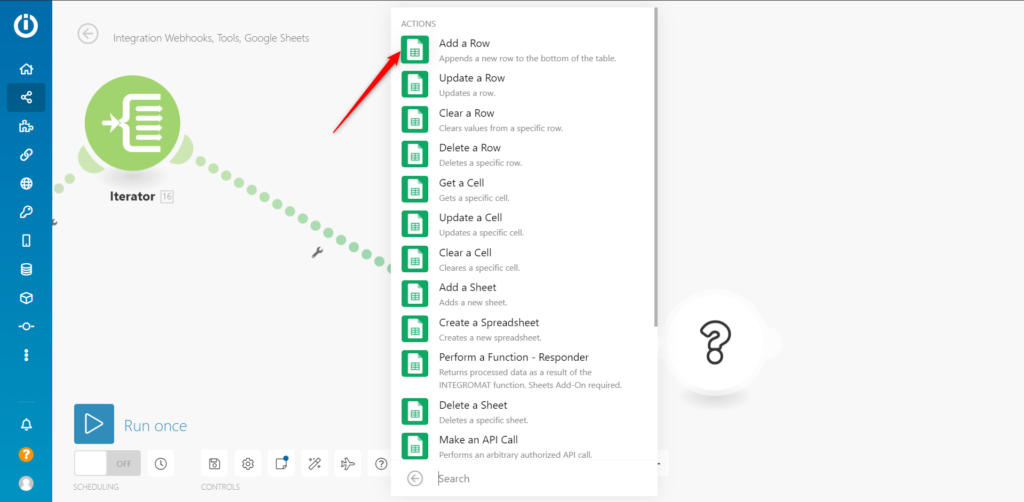 Connect your Google Sheet account
Select in "Mode" : "Select spreadsheet and sheet"
Choose the sheet
Click on "Ok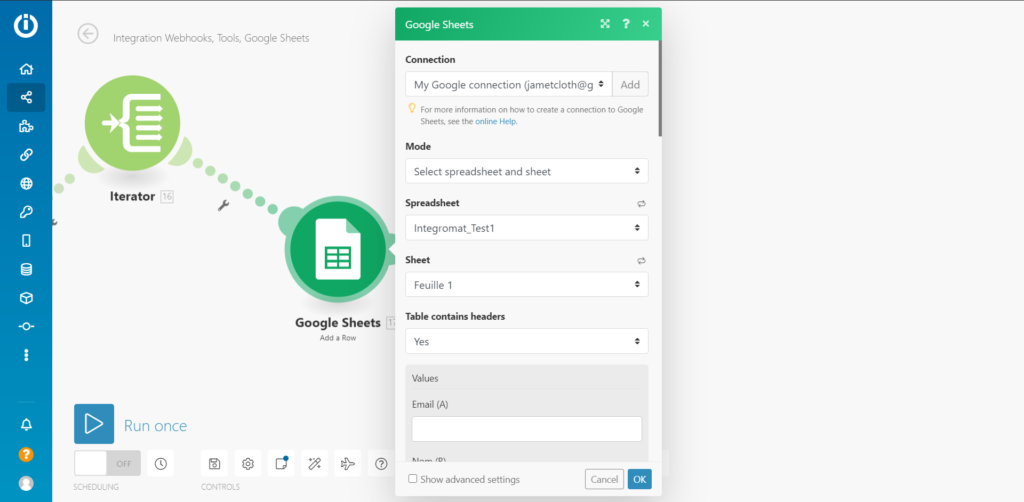 6. Run the scenario
You can now click on"Run Once" at the bottom left to start the scenario.
At the bottom right, you will find a box that will list the different steps of the scenario.
If there is an error, it will appear here, in red.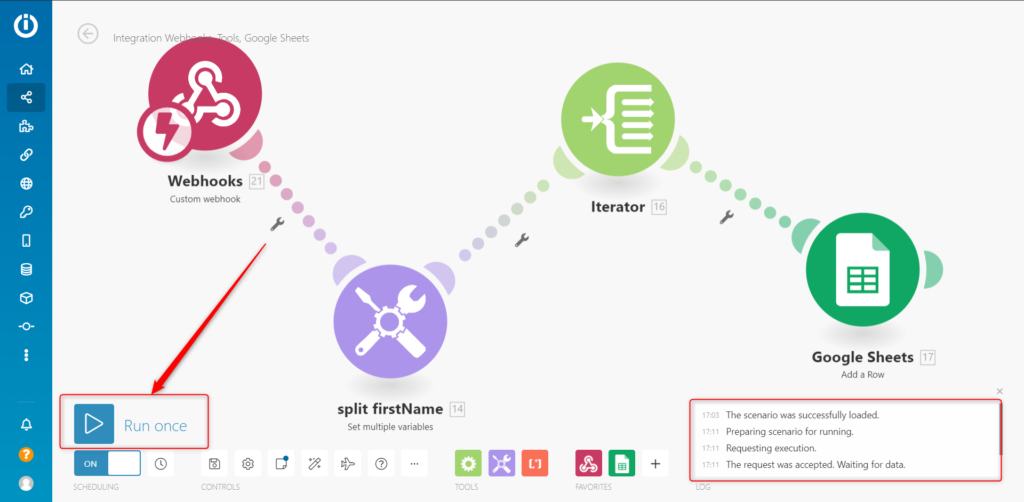 Now you can take a deep breath because it's over! 😄