Innovation, technology, performance are terms that we know well. If I tell you "search engine", you think of Google (or Bing), if I tell you "best series", you think of Netflix. Both of these players are web giants. And some of them own social networks. So you get the idea, let's see to which GAFAM these social networks belong.
In our daily life, we use objects and are users of social networks. These networks belong to big companies. Are you also curious to know who owns the networks you use every day? Personally, I think about it day and night (Ok, maybe I'm exaggerating a bit), so I went to investigate🕵️♀️ to give you all the information that will satisfy your curiosity.
GAFAM, what is it?
Doesn't that tell you anything, I'm going to indulge 😁 in explaining what the term GAFAM means.
GAFAM is an acronym that refers to the following American companies from the technology sector and listed on the stock exchange:
Google.
Apple.
Amazon.
Microsoft.
Ahh, there you see what we are talking about. You recognize them when you hear their names, right? Well, you should know that these 5 American companies are the most popular and listed on the stock market. Of these famous giants 🦛 of the web, well at least part of them because there are many others. If we were to count their market capitalization together, we could easily reach 4.5 trillion dollars. That's not bad. So it's easy to understand why they are also called the "Big Five".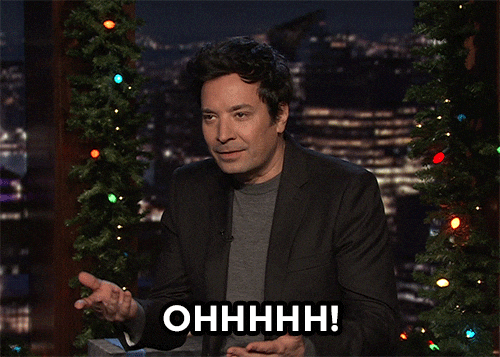 All these companies are listed on NASDAQ. What?! Another acronym? If you didn't know, NASDAQ is a company that runs the American 💰 stock exchange of the same name. It is the largest electronic stock market in the world.
Social networks
Let's make a small list together of what we could use as a social network. Of course, this will not be an exhaustive list but that we can find in a large majority of us.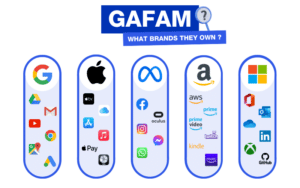 To which GAFAM belong these networks: WhatsApp
In order to keep in touch with friends and family ❤️ I use WhatsApp, which is a small application that allows you to send messages. I used to use Viber, but WhatsApp quickly took over. You can send them in the form of:
Text.
GIF.
Videos.
Photos.
Voice messages.
You can also send your location, files…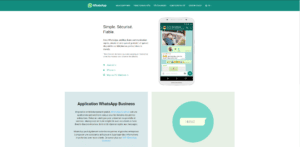 And of course, several people can be part of the same discussion. In fact it works exactly like Messenger. Speaking of Messenger, WhatsApp is owned by Facebook (also called Meta).
Indeed, one fine day in February 2014, Facebook announced its purchase of WhatsApp for $16 billion 💰. The head of Meta, Mr. Zuckerberg, then declares that WhatsApp would be a global communication platform and the application becomes free for all its users. You even have the option to download WhatsApp to your desktop, and that's pretty cool.
It's a good investment since there are more than 2 billion people connecting to it every month.
GAFAM LinkedIn
If you tell me you don't know LinkedIn, I'll think of two options:
This is the first time you've landed on the blog and in these cases, okay, I'm willing to understand that you don't know LinkedIn (and yet…).
You are playing a joke on me 😮.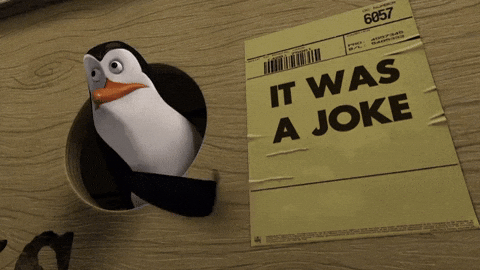 Well in case it's your first time, I'm still going to dwell on LinkedIn. This platform is a professional social network created in 2002 in Mountain View, California by Reid Hoffman, Jean-Luc Vaillant, Allen Blue, Konstantin Guericke and Eric Ly.
LinkedIn allows you to :
Being able to connect 💡 to other people.
Expand your network.
Make new professional connections.
Share about a topic you're an expert on…
It is a social network that has grown over the years, and even if you can find other professional social networks, nothing can replace the sacrosanct LinkedIn. You can also sell on LinkedIn, this network that has millions of users, and therefore, do some prospecting.
Discover Waalaxy 🪐
And if you didn't know, LinkedIn is owned by Microsoft. Inevitably, the giant sniffed out the opportunity of this B2B platform that monopolizes it in the professional social network market 😎. Yes, on this one there are several million active users.
Which GAFAM do these social networks belong to: Instagram
Let's move on to another of the social media that we can use every day: Instagram. Founded in 2010, it was created by Kevin Systrom and Mike Krieger.
This social network, it is one of the most popular applications in the world and once again, counts millions of visitors on its platform.
What you can do on Instagram?
Post photos.
Exchange with your friends.
Put short videos online (Real).
It is the most popular photo sharing application and thanks to its success, this social network has taken its place among the GAFAMs. And it is Facebook (or Meta) that has owned the platform since April 2012. Being part of the GAFAMs, Instagram gets a billion monthly users. This obviously drives brands to collaborate with influencers since the platform offers incredible visibility 👀.
GAFAM YouTube
Yes, YouTube is a social media too. Why? Because on YouTube, one can share content with a community and also comment on the content, put likes 👍 and share to others.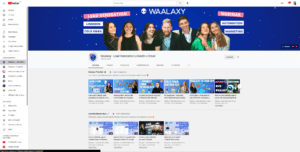 YouTube was launched in 2005 by three Paypal alumni. Of course, it was a success ✅ and that's why they sold YouTube to Google in 2006 (one year later) for 1.65 billion dollars (just that).
Of course, it's a platform that is growing well. It is available in more than 78 languages and there is almost no room for competition. You can connect from your smartphone, tablet and computer (as long as you have an internet connection). It is one of the most popular social networks.
GAFAM Waze
Do you know Waze? There is not a day that goes by without me using this application. At first it was to find an address I didn't know… And in the end I kept putting the app on so that it would make me avoid traffic and do so automatically 🕢.
If you don't know what Waze is, well it's a mobile app that helps you find an address. It helps you thanks to its satellite positioning system and also thanks to the map that can be modified by its users. In fact, it is a participative application. This means that its users can:
Warn about a danger or an accident 🚗.
Warn if there is work on a road being used.
Warn that there are police checks 👮♀️ (there is always some question about the legality of this, but it is mostly done when you are not driving. No one wants to pay 135 euros in fines).
You can even change the voice that guides you in the application, choose your car…
Waze was created in 2006 under the name FreeMap Israel by Ehud Shabtai. It was originally an open source solution that served to locate Israeli speed cameras. It is in 2010 that the application is launched outside Israel. The app was then acquired by Google in 2013 for $966 million 😱.
Which GAFAM do these social networks belong to: messenger
Facebook Messenger, this other social media, is an instant messaging service that was created by Facebook (we had no idea) in 2011. Through this network, you can:
Send photos 📷 and videos.
Exchange text.
Send voice messages.
Put stickers on.
Call you.
As you might expect, Messenger belongs to the Facebook group (so Meta) and the total number of users is 1.3 billion.
The digital giants
They can also be called the giants of the web and there are many of them. Among these giants 🦁 we can count:
Google.
Apple.
Airbnb.
Tesla.
Netflix.
Baidu.
Huawei.
Alibaba.
Amazon.
Meta.
Microsoft.
Twitter.
Uber.
Yahoo.
Xiaomi.
Yandex.
Rambler.
Tencent.
Vkontakte.
If we call them the giants of the web, there is a reason. It's because there are about 15 of them dominating the digital market. They share similar characteristics namely:
Many users are on their platforms.
A colossal database.
A turnover 💰 off the charts.
Their constant quest for innovation.
These giants are worrying, because they dominate the market. There is very little room left for a small company to launch an innovation. In general, they get bought by the giants and they cannot expand if they stay alone.
Conclusion of the article "to which Gafam belong these social networks"
During this article, we could see which GAFAM belonged to the following social networks:
WhatsApp.
Messenger.
YouTube.
Waze.
Instagram.
LinkedIn.
GAFAM represent the five most popular American companies listed on the stock exchange. They have a monopoly on the digital market and their acquisition strategy is a marvel of example.
These different companies do not necessarily have the same audience or the same product. And yet, they have managed to position themselves as leaders in their respective fields. They are incredibly successful giants 🌈.
FAQ from the article "Which GAFAM do these social networks belong to?"
Of course, we couldn't leave you without telling you about the little terms that go with GAFAM.
Clustering of the giants
As you might expect, there's more than just Google, Amazon, Facebook, Apple and Microsoft. There are other names that come to mind. We will briefly mention them to understand in which category these different "web behemoths" are.
The NATUs
NATU an acronym that stands for :
Netflix 📺,
Airbnb,
Tesla,
Uber.
This includes the different companies that were able to propose an innovative business model by offering a new service to a clientele that was in demand of novelties for a much lower cost than those we were used to see.
BHATX
This acronym refers to Chinese companies:
Baidu.
Huawei.
Alibaba.
Tencent.
Xiaomi.
These are the four companies in the Chinese digital market. As you know, GAFAMs do not really have their place on the Asian market. This is due to the supervision of the digital economy by the Chinese authorities.
The NASDAQ
Once again, we are faced with a small acronym that stands for "National Association of Securities Dealers Automated Quotations". And the Nasdaq is a stock exchange 💰 which was opened in 1971. It's the second largest stock market in the United States behind the New York Stock Exchange.
What about the other networks?
Now you're probably thinking that there are other networks that we haven't told you about. We haven't mentioned this list of social networks at all:
Twitter, which has millions of users. It does not belong to any GAFAM, it remains independent since 2006.
Snapchat is an ephemeral messaging application and is owned by Snapchat Inc.
Tik Tok is owned by a Chinese company called ByteDance.
The last word on GAFAM
For some time now in Europe, we find more and more small companies that want to stand up to the American giants. Indeed, they have for the most part a monopoly on all technology and advertising markets. We could have a glimpse of the complaint against Google for abusing its position on the market and favoring its own ad service.
Of course, in Europe, there is also more attention to how data 📣 is handled. In Europe, privacy is a big deal. It remains to be seen what different measures will be taken to prevent GAFAM from taking too much space.
Do you now know everything about to which GAFAM these social networks belong?