Export LinkedIn leads: 11 ways to generate new clients with ProspectIn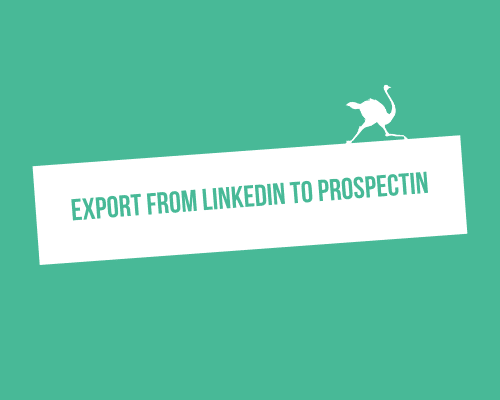 9

min
With this summary article, you will discover the 11 easy ways to export LinkedIn leads into your ProspectIn CRM.
In order to make your task a lot easier, I have added videos showing the process of each step. Just follow them along the way for each of the 11 approaches.
At the end of the article, you will have learned everything you need to know about exporting via LinkedIn and generating leads. 🤩
From a standard export on LinkedIn
Standard export via LinkedIn is easy to use.
What do you need to know about it?
It is limited to 1000 people per search (you have to segment your searches well to get 1000 results and not lose prospects along the road),
Categorization is limited, so we have compiled in an article the best practices for a good search. I recommend you to have a look at it 👀.
The big advantage of Sales Navigator is that the search limit increases from 1000 people to 2500 people, plus you can segment your searches very precisely. 🕵️
So you can load a maximum of 2500 people at a time, change the filters and repeat the operation as many times as you wish.
Once again, we love to make your work easier with this tutorial on how to do perform a super qualitative search on Sales Navigator. 👩‍🏫
Here is the process to follow for your LinkedIn export:
A Sales Navigator list, what is that? 😂
Let me explain:
You can save lead searches to lists using Sales Navigator on LinkedIn. These lists are a bit like prospecting files. They allow you to better segment and organize your searches.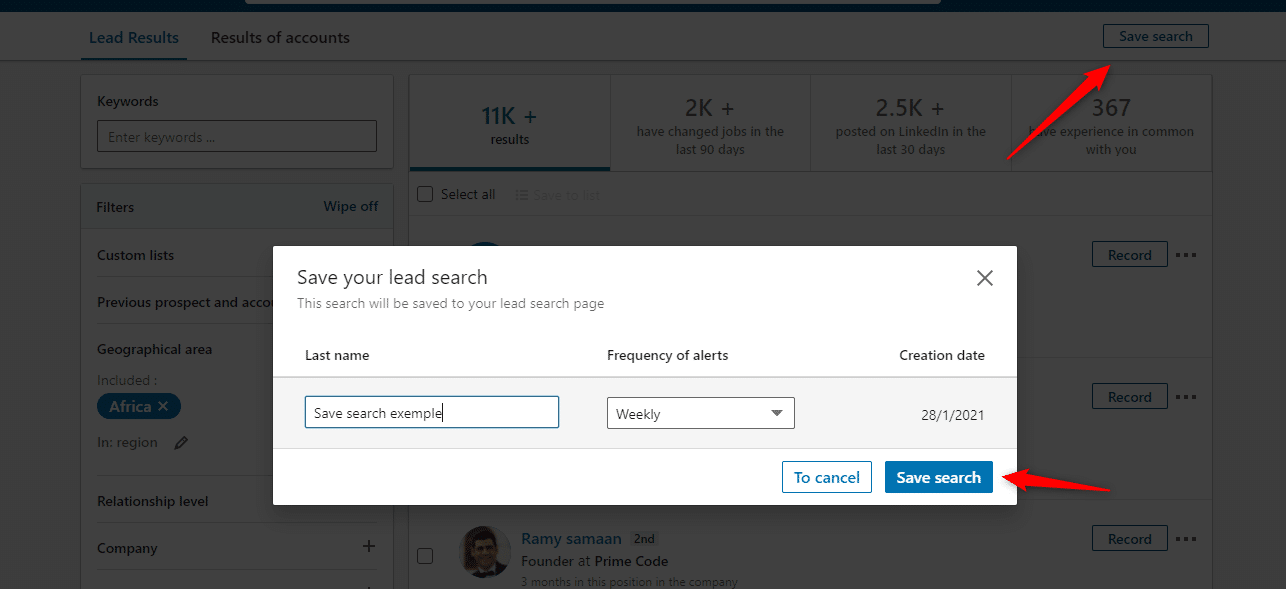 What is ideal 🎉 is to :
Download these lists in ProspectIn,
Associate each list with a different lead generation Campaign,
Create Scenarios with customized messages.
Your prospect won't even realize that he or she is receiving an automatic message 😉.
In order to download these lists into your ProspectIn CRM:
Start byperforming a standard search via Sales Navigator,
Click on:
Filter,
Personalized list,
Select the list of your choice and validate,
Click on the ProspectIn icon and download the leads into your CRM.
Here is the tutorial in GIF form :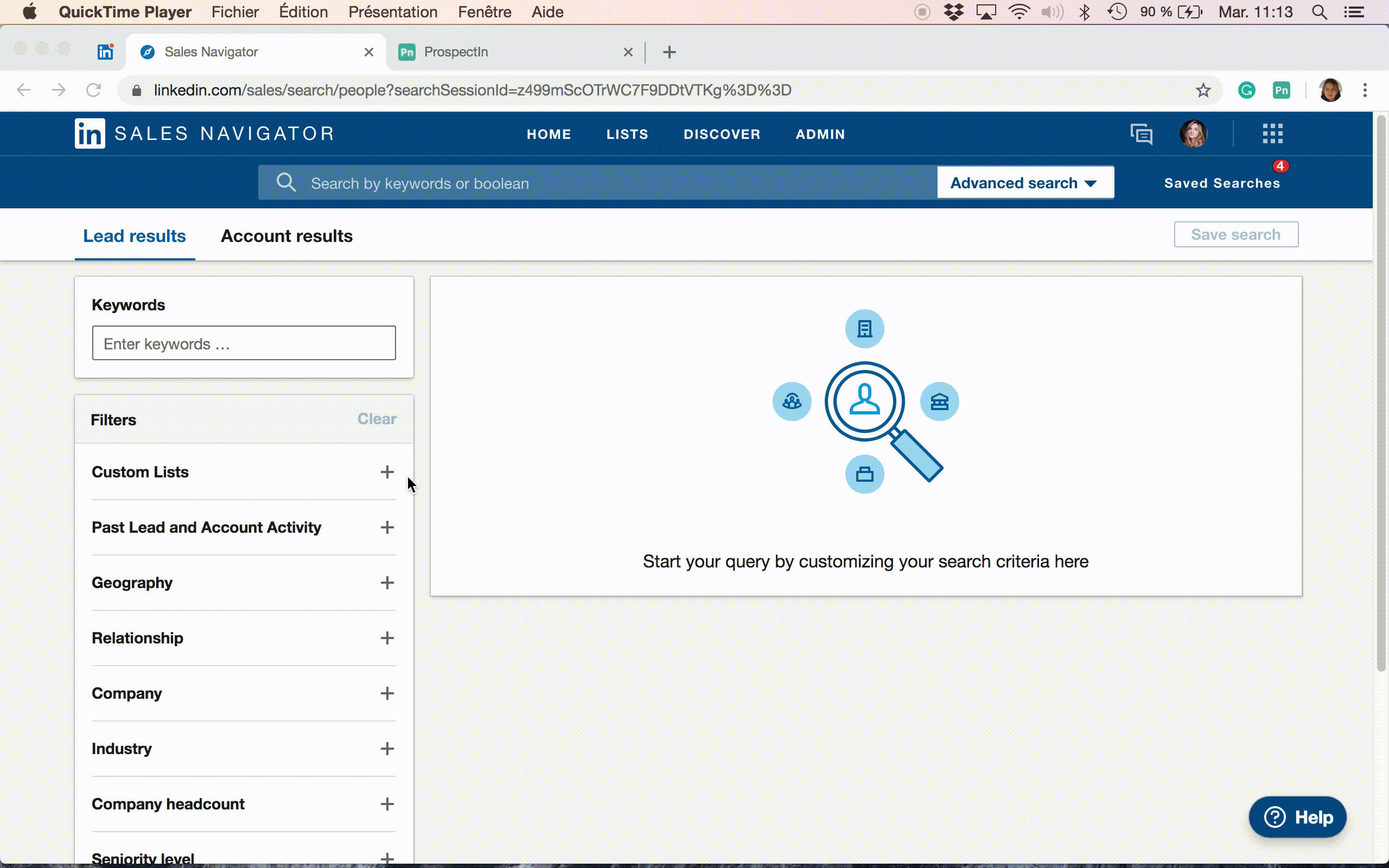 From a Recruiter Lite search on LinkedIn
You are a recruiter and want to combine the power of Recruiter Lite and ProspectIn?
It's easy, just follow these three steps here:
Search with LinkedIn Recruiter Lite,
Open the ProspectIn tab,
Save your search in a Campaign and validate.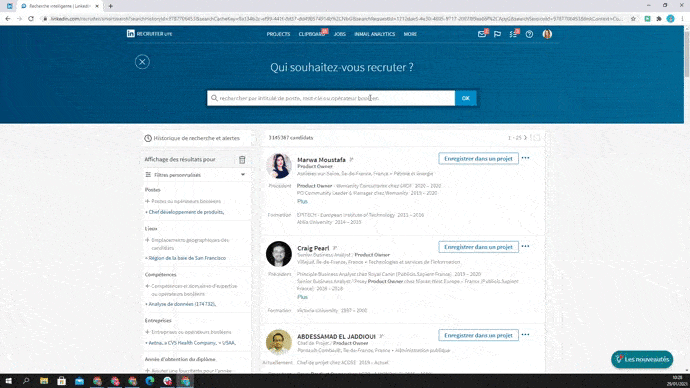 You will be able to recruit much faster and more efficiently by contacting thousands of candidates per day in just a few clicks.
ProspectIn works for you… go on take a break… get out the candles and run a bath 🛀.
And because you're a smart and skilled recruiter, you know that LinkedIn messaging is anything but ideal in terms of user experience. 😰
That's why we created Piwaa. our free LinkedIn email mini CRM 💌 to generate an appointment booking, create a calendar and prepare your reminders.
It was designed for you. It would be a shame not to use it. 😉
Export from the prospect profile on LinkedIn
Whether via LinkedIn Recruiter Lite, a simple search, or the Sales Navigator, you can upload a prospect's profile to your CRM.
All you have to do is:
Click on the profile of the person you wish to add to your CRM,
Press the ProspectIn icon in the upper right corner.
Choose in which Campaign you want to export the prospect,
Click on "validate".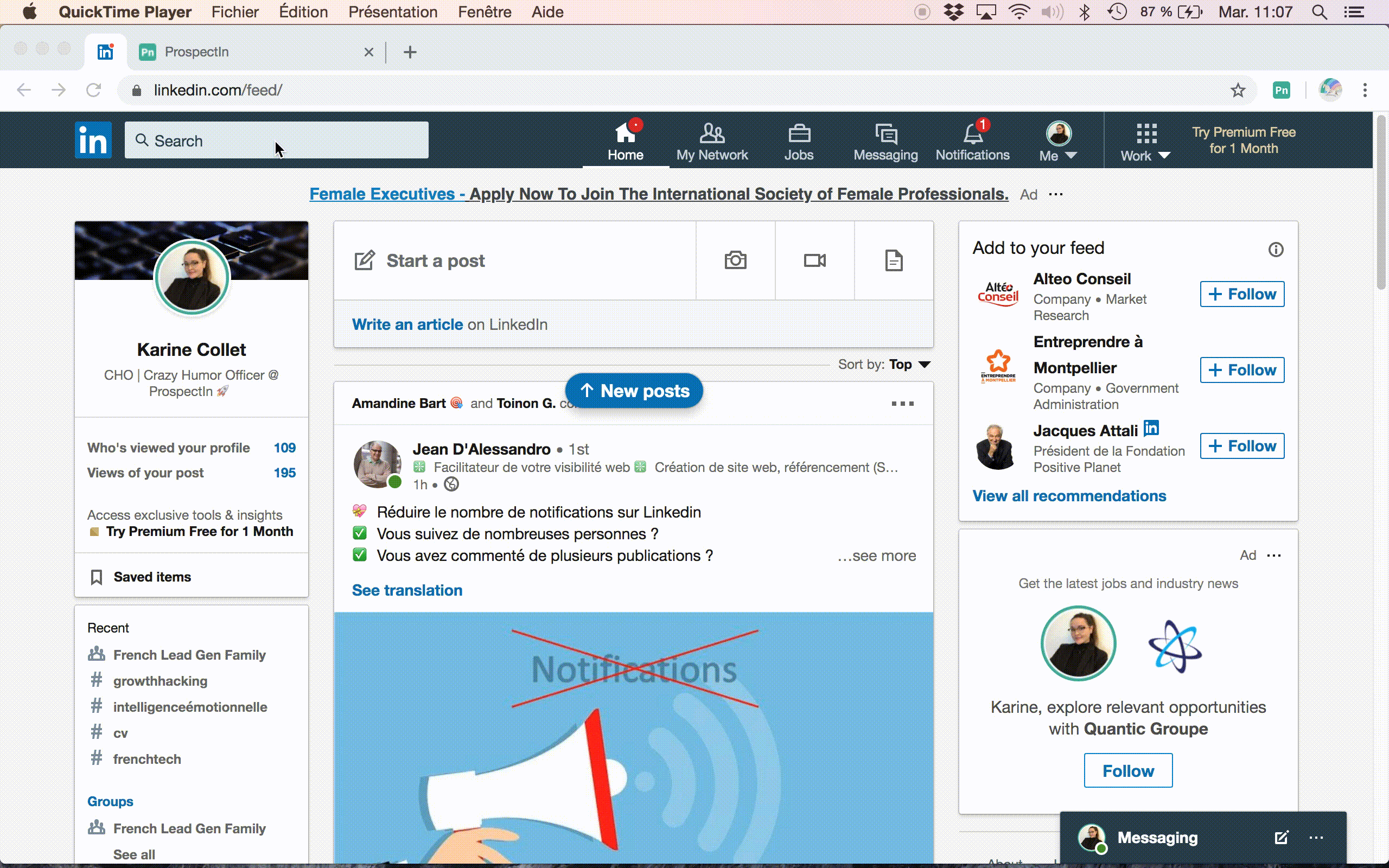 Exporting 1st degree relationships in your CRM
Many of you have asked us this question: Can I upload my own LinkedIn connections into my ProspectIn CRM?
The answer is: of course you can. 😁
It's excellent for nurturing your leads (i.e., putting them in the incubator), and thus transforming your LinkedIn connections into future customers. 🤑
Add a qualitative content strategy and value-added messages from time to time, and you'll get great results on your conversion rate and increase sales.
Be careful not to flood your contact with messages: write to them to find out how they are doing, take an interest in them and find out what they need.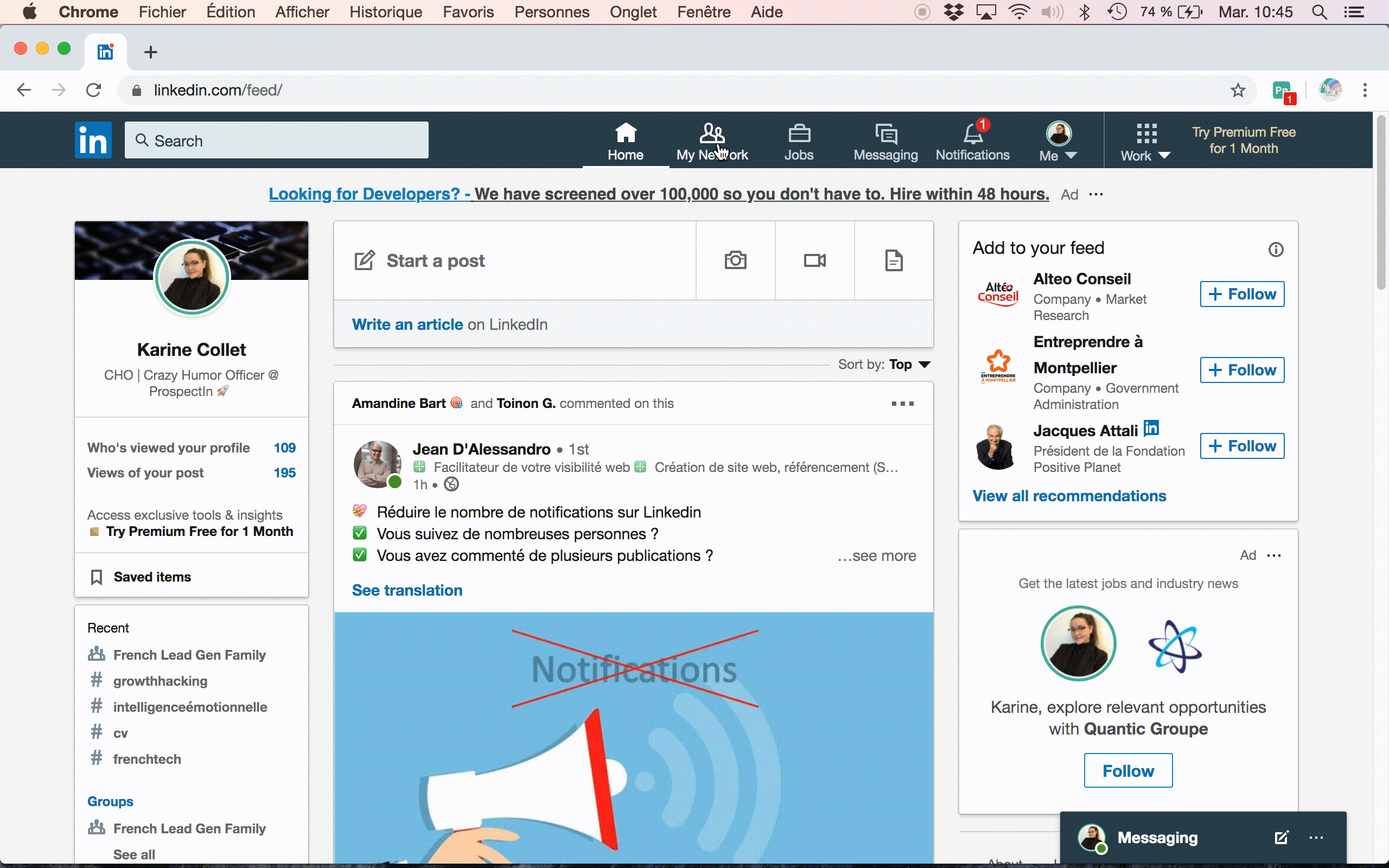 Good to know: The limit of LinkedIn for this export is 3000 people per day.
Export someone's relationships from

LinkedIn
Pretty cool, right? One of your competitors has a lot of connections on LinkedIn and you want to add them to your CRM in order to insert them in a Campaign?
You know that they are already qualified and that they are usually interested in what you're offering (or similar). So all you have to do is start nurturing them ! 😉
To export someone's connections from LinkedIn you need to:
Type on the search bar the name of that specific person having the same prospects as you,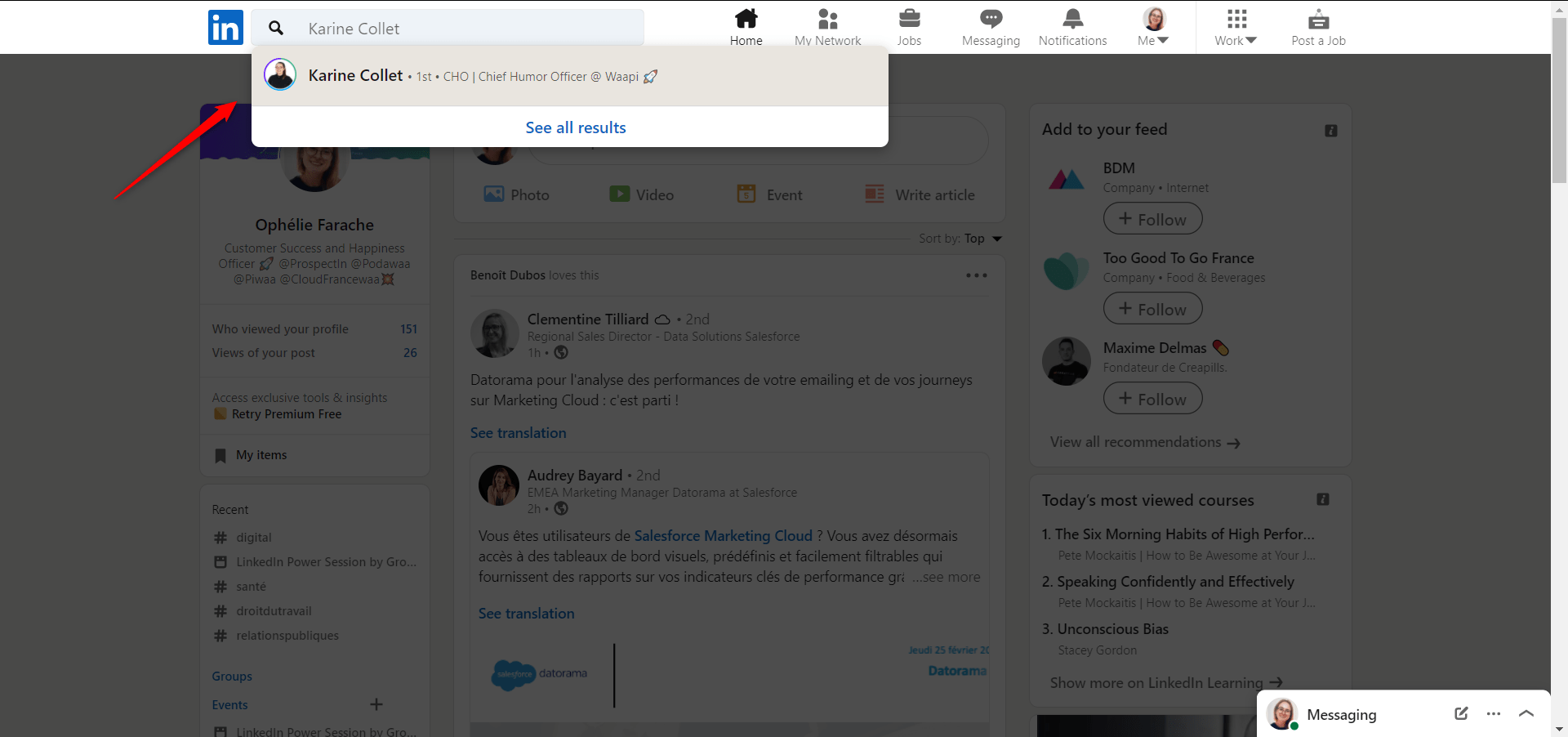 Click on his connections,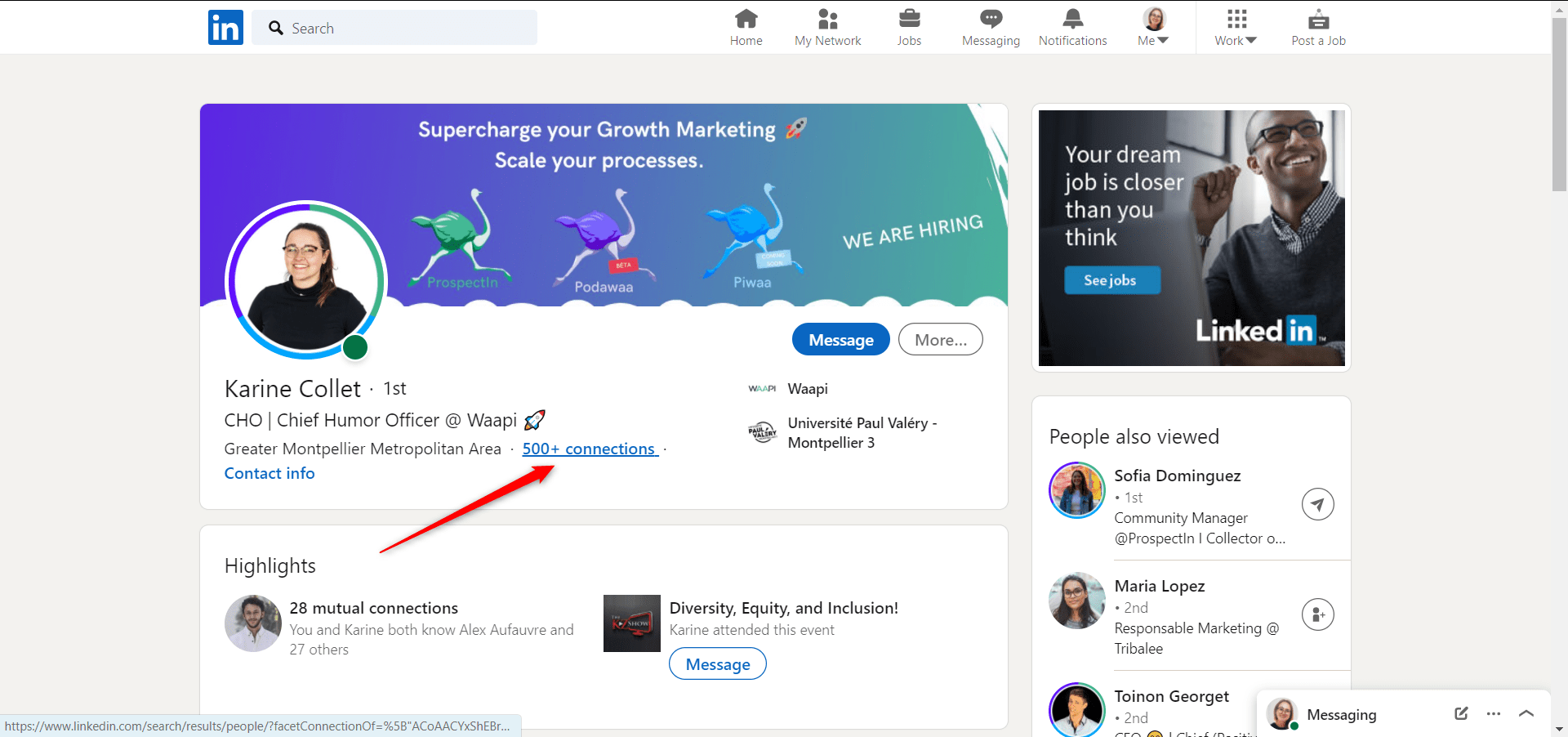 Then click on the ProspectIn extension to export these beautiful list of new prospects,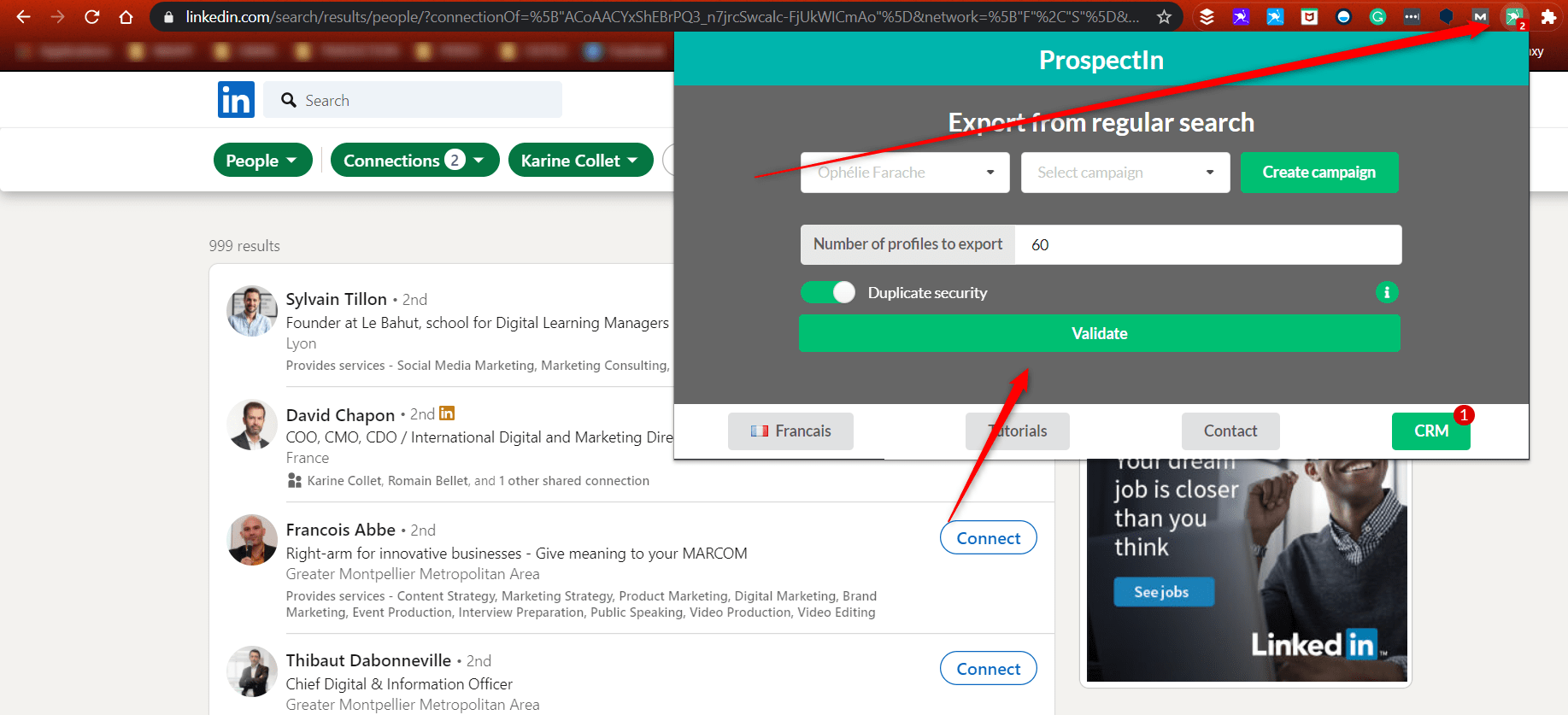 Export LinkedIn leads: from a post
This is one of my favorite features to automate your actions : Triggers 😍.
There are several ways to use this ProspectIn tool.
One of the things you can do is retrieve leads directly via posts on LinkedIn.
The method consists of collecting in your CRM all the contacts who commented on a post on LinkedIn, by choosing the option "has commented a LinkedIn post", when you create your Trigger.

The great thing about Triggers is that they do all the work for you. You don't have to do any prospecting. (Once again, it's time for a bath and candles 🛀✨)
There are several sales and marketing strategies to adopt, I advise you to put a maximum of them in place to boost your results.
Where to start?
While you create posts with high added value and generate a lot of engagement thanks to Podawaa :
Download all the members who commented your posts.
Lead qualification: Take the time to clean up your exports by removing the profiles that have posted automatic comments.
Send them to a Campaign (to create the Campaign: click on your lead generation system : ProspectIn, Campaign > Scenario > launch a new Scenario)
What else?
2. Subscribe to your competitors and LinkedIn personalities who have the same target audience as you.
This technique allows you to retrieve qualified leads directly from your competitors. 🤑
For example, if you sell Inbound marketing software, you can rush to the Hubspot CEO's account and subscribe to it.
Then, retrieve the lists of members who have commented on his posts,
Incorporate them into your CRM: time for customer aquisition !
Create a nice personalized Campaign. Your prospects are ready to be contacted 🥰.
Here is an example of what you can tell them:
"Hi, I saw your comment on Brian Halligan's post. It's great. Are you interested in tech development as well? I also work in the Inbound leads."
Stay open to dialogue and show your prospect that you want to find out more about their business without selling them anything (yet 😉).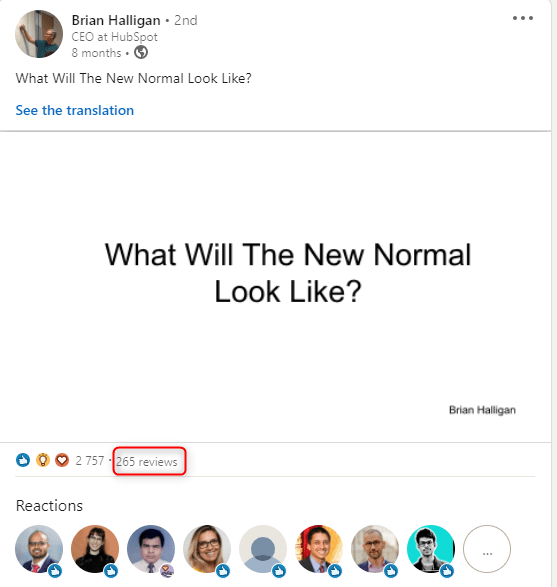 And in a matter of seconds, there are 265 new qualified B2b leads in your nice ProspectIn CRM.
Isn't life beautiful? 🌺
Continue to subscribe to your competitors and follow closely what they are doing with the teachings of Sun Tzu in mind:
if you know your enemies and know yourself, you will not be imperiled in a hundred battles
The Art of War
And here is the course of the mission to follow to find new customers 😉 :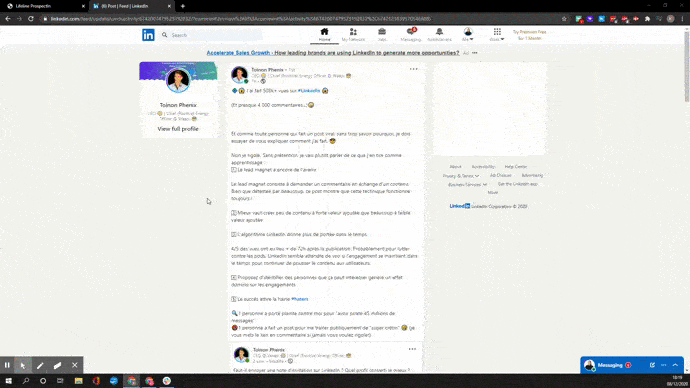 Good news: you can accumulate prospects via Triggers without limitation. You won't be limited by the number of people who commented on the post either: export unlimited!
Do you want to target people that used a specific hashtag in their post? Yes, with ProspectIn, it's possible.
Everything is possible. 🤩
It's a quiet an interesting feature to target an audience that is directly interested in the same subjects as you.
You can even use Triggers to automate that action every day.
Here is an example of how to do it:
Type the # in the search bar,
Click on "people"
Open ProspectIn and start the uploading process by pressing "validate",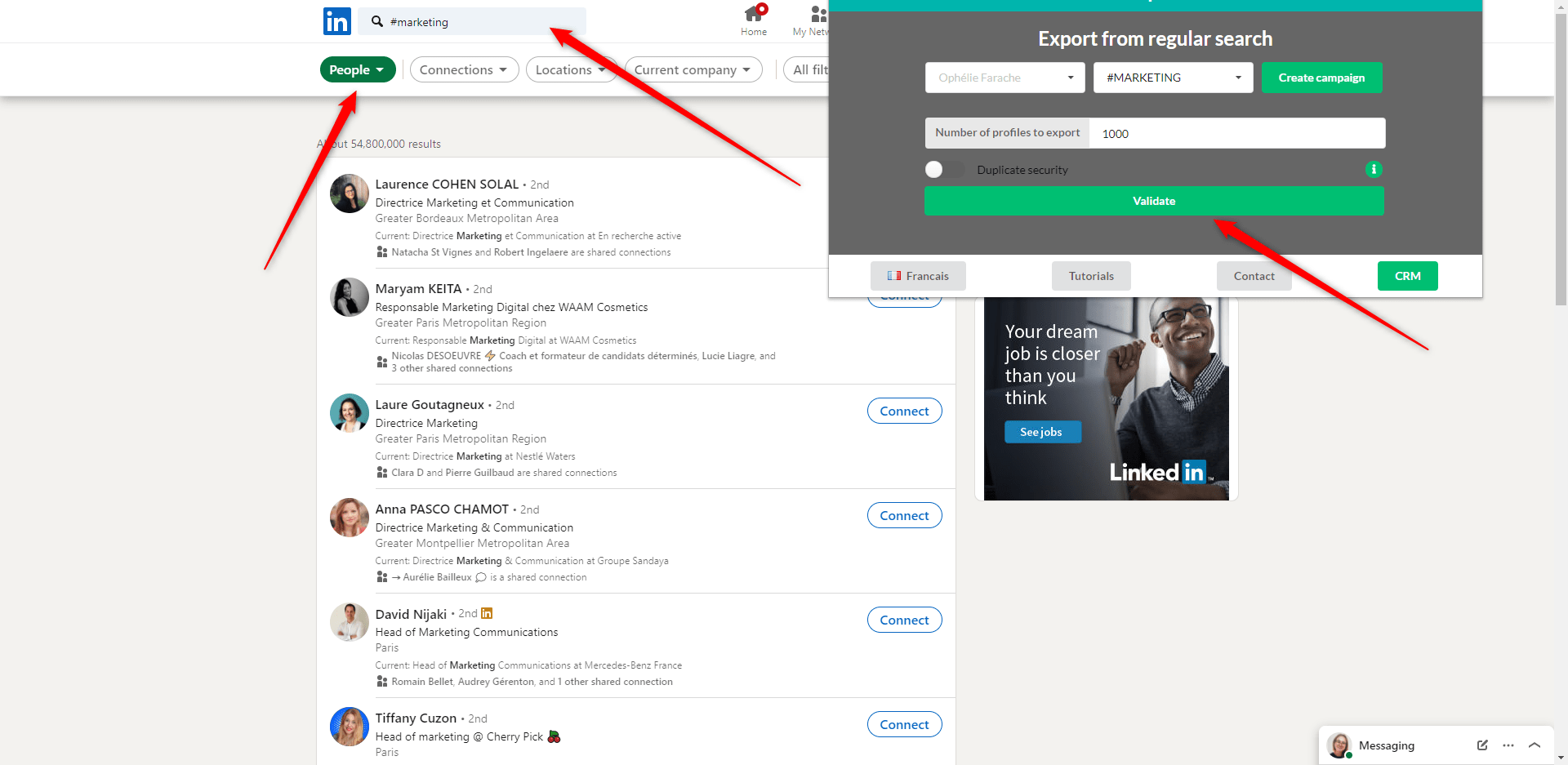 I would recommend that you clean up your search before you press enter. You will have a lot of results. For the #marketing, it's around 54,800,000. It's way too much 😂 you want to have around a thousand specific highly qualified leads.
Go on the filters option on LinkedIn and shorten the list by adding filters according to your target.
Export members participating in a LinkedIn event
Another great feature of Prospectin? That's right. 😁
Similar to Triggers, here is a nice and easy to set up Growth hack, to get all contacts of a LinkedIn's event :
You want to contact the participants of one of your virtual events beforehand?
You want to target the prospects of your dear and beloved competitor to offer them your (much better) tool or service? 😍
Here again, you are actively prospecting on the network by retrieving qualified leads without too much marketing effort. 🛀
Follow the guide 😉: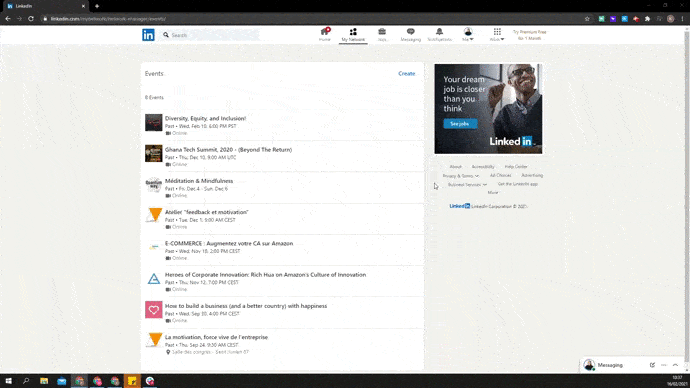 Important: for this action, LinkedIn limits your export to 1000 people.
Export members from a LinkedIn group
This is the third trick we've put in place to allow you to retrieve qualified leads from all over LinkedIn. 🧙
After your competitors' posts and events, here is how to export members via LinkedIn groups.
Choose groups in which your targets are concentrated. Once the export is done, write them a highly personalized message highlighting your common interests for the group and your desire to interact.
Once again, don't spam your prospects, but charm them: It's called relationship management 😘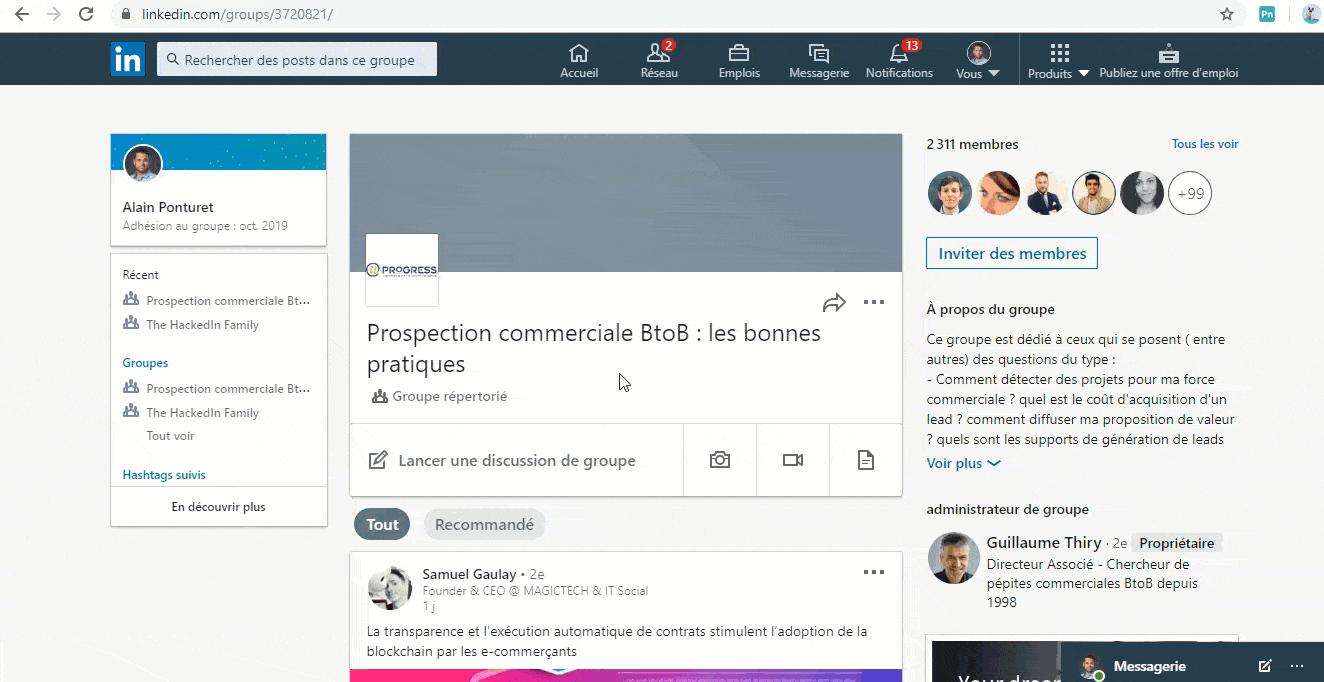 Good practice: Although you can load an infinite number of members into your CRM using this technique, I advise you to add a maximum of 2000 members at a time, so that LinkedIn algorithms won't see your actions. 🔥
Conclusion
There are 11 easy ways to export LinkedIn leads into your CRM :
Through standard search.
From a Sales Navigator search.
From a Sales Navigator list.
Thanks to a Recruiter Lite search.
From first-degree relationships.

Export someone's relationships from

LinkedIn.
By going on a prospect profile.
Directly via a LinkedIn post.
Export using to #Hashtag.
Members attending a LinkedIn event.
Members of a LinkedIn group.
Good to know : If you use another CRM and you want to export your prospects registered on ProspectIn to this one, it is possible by following our tutorial here.
FAQ summary of the article to export LinkedIn leads
Export LinkedIn leads from a search
You want to boost your sales opportunities by exporting contacts from LinkedIn?You can launch your search and follow the steps of the tutorials. Depending on the plan you have (Standard, Sales Navigator or Recruiter Lite).
Can you easily export your LinkedIn 1st degree relationships into your CRM?
The short answer is yes. ✅
Exporting your LinkedIn contacts is ideal for sending a message to all your connections. Find out how with our article.
3 Growth hacking techniques to export your competitors' leads into your CRM 😱
You can export LinkedIn members who comment on a post, who participate in an event or who have joined a group. Follow our 3 easy tutorials to get started. 🤑