The Enterprise Offer on ProspectIn: Prices & Features
We go over in detail the possibilities offered by the Enterprise plan and we look at who it is aimed at.
What is the Enterprise plan?
The Enterprise plan allows you to manage multiple ProspectIn accounts from the same platform. Basically it gives you the possibility of navigating between the CRMs of the various members of your company – from a single CRM.
When you browse the CRM of another member of your company, you can perform the same actions. It is as if you were connected to their CRM (prospect management, sending actions etc). The LinkedIn account of the CRM in question does not have to be open in order to access the CRM.
However, for the actions for the account in question to be sent, you will still have to have a LinkedIn tab opened.
Let's say, you are logged into your CRM, and you decide to access the CRM of a member of your team from your own CRM, so as to launch a campaign on your colleague's account. This member of your team does not need to have their LinkedIn account opened for you to be able to access their CRM. However, in order for the actions that you place in their queue to send, their LinkedIn account must be opened.
The Enterprise plan allows you to export prospects from a LinkedIn account to other members of the company. In particular, this allows you to keep a single Sales Navigator account for your entire team. You will then carry out your exports from your Sales Navigator account to the other accounts of the company.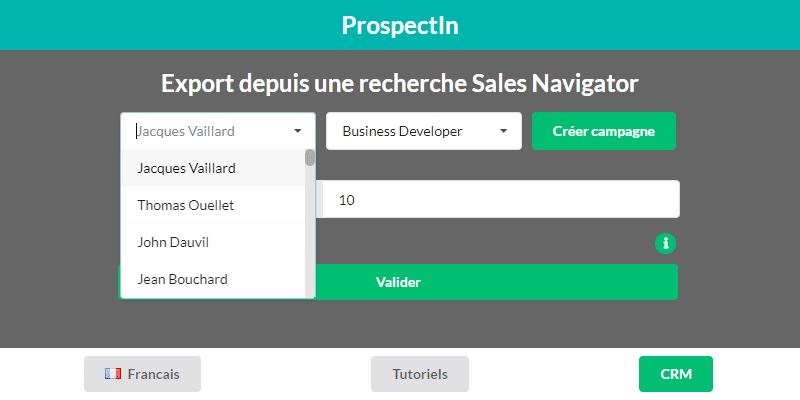 In order to prevent contacting your prospects several times with your different accounts, an anti-duplicate control feature has been integrated. When switched on, it prevents a member of the company from exporting prospects that are already present in the CRM of another member of the company. This check is also done when you add a new member to your company.
Finally, you have the Dashboard. This allows you to manage all of your Campaigns and have a global outlook of all activities. On the Dashboard you are able to view the overall statistics of the company, as well as the stats for each member of the company.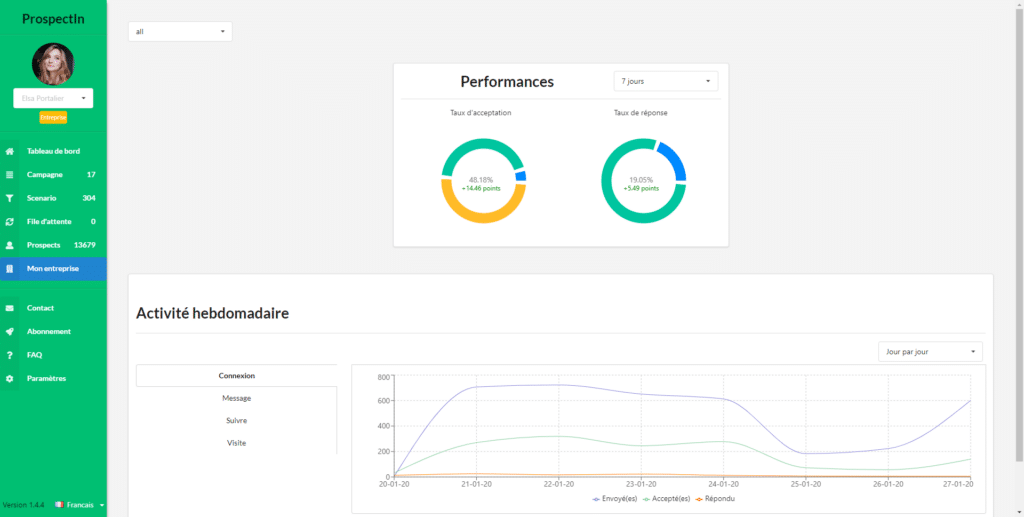 Who is Enterprise offer for?
The Enterprise plan is the ideal solution for:
Agencies who want to manage prospecting on behalf of their clients, whilst providing complete transparency for the client.
Businesses who want the option to combine all the Sales/Business Developer accounts of their team.
Businesses who want to manage the accounts of their collaborators or their team, so as to increase the strength of their prospecting activities.
Young startups who want to utilise multiple accounts (e.g. all of the founders' accounts) to kick-start the business.
In general, the Enterprise plan is suitable for people with multiple ProspectIn accounts who wish to manage their accounts from a single interface. The Enterprise plan allows you to set up a strong prospecting strategy in little-to-no time, and gain an extremely attractive return on your investment.
What is the pricing plan?
Each member of the company in our Enterprise plan is granted an "Advanced" subscription. The basic Enterprise plan (as well as the trial period) allows you to add 2 members, in addition to the member who subscribed to the Enterprise plan. You can then add additional accounts to your Enterprise plan as you please – the sky is the limit. The pricing is on a sliding scale – the more accounts you choose, the bigger the saving.
Frequency: Monthly/Quarterly/Annual
Base price for 3 accounts: 150/130/100 euros
From 4 to 8 accounts: 30/25/20 euros per month per additional account.
9-15 accounts: 25/21/18 euros per month per additional account.
16-25 accounts: 20/17/15 euros per month per additional account.
> 25 accounts: 15/13/10 euros per month per additional account.
---
To find out if the corporate offer is right for you and how you can use it, let me introduce you to some tools.
What you should definitely know:
You can create/use multiple LinkedIn accounts on your own PC. So you don't need to have 10 salespeople to take the Enterprise package. At ProspectIn, one person manages over 50 LinkedIn accounts. ?
Let me explain to you how it works, follow the guide… ?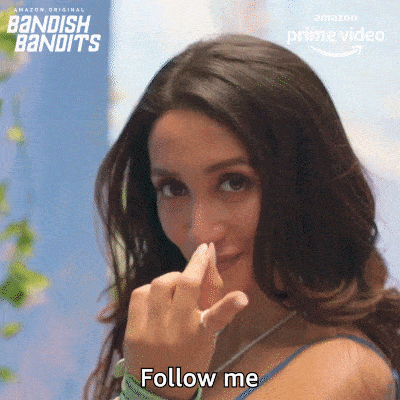 ---
How does the duplicate check on ProspectIn's Enterprise Plan work?
Prospecting with multiple accounts is very effective. However, it is very important you avoid contacting the same prospects several times with your different accounts! To assure this, we have implemented duplicate checks with ProspectIn in the Enterprise plan.
How the duplicate check with ProspectIn works.
First duplicate rule
You will find a small button with the words "Duplicate security" when exporting your prospects via the export pop-up from ProspectIn. When the button is switched on, it will be green. When green, you will only be able to export profiles that are not already present in the CRM of another member of the company.
So if a profile from a LinkedIn search is already present in a CRM of a company member, this prospect will simply not be exported.
When this button is not activated, duplicates between the different CRMs of the members making up the company will be possible. This means that a prospect may be present in several CRMs at the same time, and there's a risk that they'll be contacted several times with different accounts.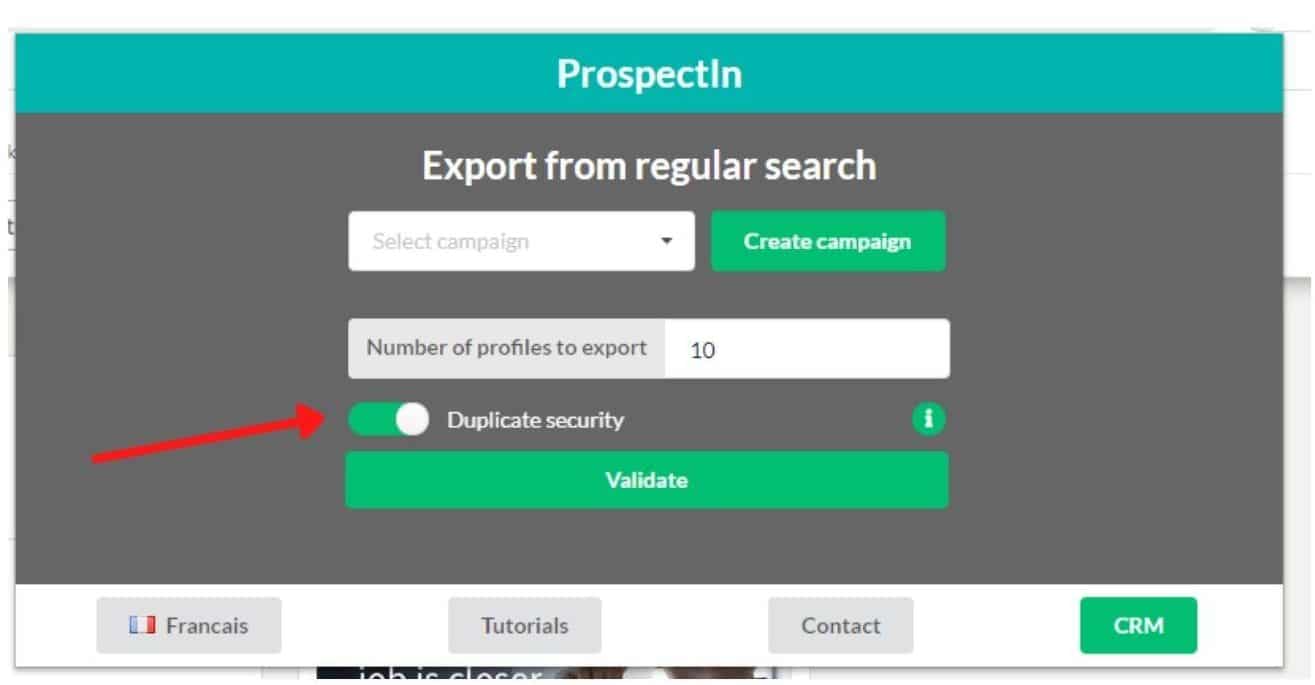 Second duplicate rule
When you add an account as a member in the Enterprise plan, a retroactive control of ProspectIn duplicates takes place. This allows you to exclude the profiles present more than once in all the CRMs of the members of the company.
The interface for checking duplicates appears on the "manage" page of the company and offers you several possibilities:
A quick and intelligent sorting system allows you to remove all duplicates present in the different CRMs in one click. That way the prospect will only remain in one CRM. The member CRM that will keep the prospect is decided by looking at which member account has "advanced" the furthest with the prospect. So for example, if a message has been sent by account A and just a connection request by account B, account A will keep the prospect.
Manually choose which account should keep prospects which exist in more than one CRM.
You can also choose to keep all or part of the duplicates.

Well, now you know everything there is to know about duplicate checks with ProspectIn. If you're unsure about anything, do not hesitate to contact Margot via chat, she is very responsive ?
---
As we explained, you can manage multiple accounts on a single PC, and being sure not to prospect the same user twice with the enterprise offer.
Now I'll explain how to proceed with the creation of your prospecting army ?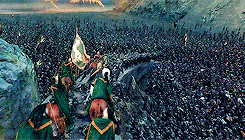 ---
How to use Google Chrome multi login?
Do you want to open several Chrome sessions, so as to use several LinkedIn accounts at the same time? This is the power of Google Chrome multi login. 
Open Google Chrome browser,

At the top right-hand side of the page, click on your profile picture,
Click on "manage user",
Add a new person,
Follow the instructions to log in.
Why use Google Chrome multi login?
This Google multi-account trick can be used to manage your Gmail accounts and your different google accounts. A session will have its own separate history and logins, so there's no need to log out and switch from one email address to another.
Each chrome session will have its own separate data. Let's say on your first Chrome account (account A) you always connect to LinkedIn, and on your second account (account B) you only use Twitter. The data will not be shared, and you will be able to save bookmarks for each session.
Find out how to perform Chrome multi-account login with our video tutorial:
How to switch from one Google Chrome session to another?
Open Google Chrome,

At the top right-hand side of the page, click on your profile picture,
A list with all your accounts will appear,
Select the profile you want and start browsing!
When you change Chrome users you can have multiple Google accounts opened at the same time.
Each account will have its own history, bookmarks, stored passwords, etc. This is very convenient if you want to move from your professional account to your private account and vice versa.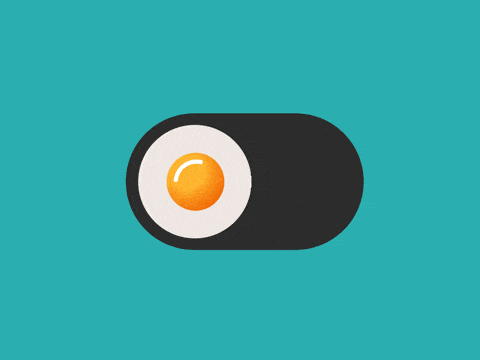 Using Google Chrome multi login with ProspectIn
Optimal for automated growth hacking, you can have multiple Chrome sessions open with ProspectIn, and manage your different LinkedIn profiles on the same computer, with zero risk of being spotted by LinkedIn.
Use all your profiles to launch actions according to your objectives. The goal of our tool is to save you a maximum amount of time by harnessing the power of automation for LinkedIn.
Deleting a Chrome profile
Open Google Chrome,

Click on your profile picture at the top right-hand side of the page,
Select "manage users",
Browse through the profile you want to delete,
Click on the 3 dots at the top right-hand side of the profile picture,
Delete the user.
 Now that you are aware of all the Google Chrome multi login tricks, you can switch LinkedIn accounts smoothly! ?
---
Are you ready to colonize LinkedIn with that last key information?
With or without salespeople, you can still use your imagination to create operational soldiers on the network.
Let us tell you a secret ? : Margot's account, our customer support queen from the beginning is not as real as it seems.
How do we do that? ?
Read on.
---
How to create a fake account on LinkedIn without being banned?
Are you wanting to develop your activity on LinkedIn but are finding that your one account on LinkedIn isn't getting you enough results? Or perhaps you're finding the quotas imposed by LinkedIn are simply too low for your prospecting needs? Here's how to create a fake LinkedIn account whilst minimizing the risk of being banned. The tips we're going to give you here are based on results from our own internal tests.
Just so you know, an AI is in charge of detecting fake accounts, so there's no hard and fast truth. That means there will always be some level of risk of your account being banned. However, with the use of the tips we list below, you can reduce these to a bare minimum.
Ready, set, go!

Step 0 : Create a new Chrome session
The first rule to keeping your account well and truly alive, is to ensure you do not share cookies with other accounts. LinkedIn also considers disconnects and reconnects as an alert of multi-login. To avoid this, you have are two possibilities: 
Create various Chrome sessions. This option has the advantage of being free and easy to use, but the disadvantage of not being unlimited. This means that you won't be able to create 15 accounts a day. And you won't be able to use one

proxy/VPN for all your sessions.

Alternatively, you can change your IP address every time you switch accounts, keeping the same IP for each account.
At ProspectIn, we tend to go for the first method. If for some reason that doesn't work, then we go for the second one. If you don't use any one one of these methods, you might as well bid adieu to your new account, and in some cases, even your main account.
Step 1: Create an email account
There are plenty of mailing services. The issue is that a lot of them ask for a phone number. That being said, the majority of them will accept 4-5 accounts being linked with one number. So if you're looking to just create a few fake accounts, that should work for you!
You should avoid temporary email accounts. We haven't tried them, but using logic it's safe to assume that LinkedIn is automatically going to be suspicious of accounts created using temporary email accounts.
So if you use one telephone number to create several email accounts on Gmail, Outlook and Yahoo accounts, you will already have between 10 and 15 accounts. Not bad at all!
When you create your email account, remember that your 1st level connections will be able see your email address. So ensure you choose an email address name that matches the persona you're going to create. Having the email address: ladyAnaMariaGonzales@xmail.com, and a LinkedIn account George Smith, might raise suspicion.
Step 2: Create your persona and give him/her a name
If you're feeling inspired, feel free to have fun with this! You should avoid common names like John Doe, as it won't add to your credibility.
On the other hand, avoid being too creative and creating a one in a million name. The goal is for your prospects to be able to find you or people with the same name if they search for you on Google. That way they have no reason to doubt if you exist.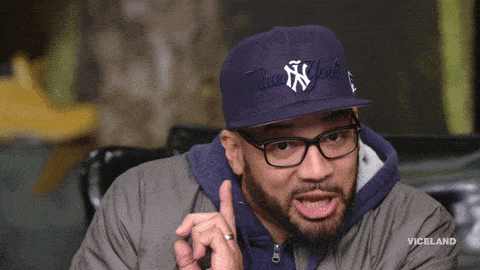 Step 3: Find a credible profile picture
Some people say having a profile picture generated by AI works well. Personally, we found that every fake account we created that used an AI profile picture was quickly banned. Whether this is pure coincidence or not, I would still avoid it.
To choose a picture, you have two main possibilities:
Use a royalty-free images bank: we like this method but the risk is that people may have already spotted your picture somewhere else. Or it's got such a "royalty-free" look to it, that no one believes it's a real person.

Try finding a suitable photo by doing a Google image search. The main advantage of this is that it essentially offers you an unlimited picture index. The obvious main issue with this method is that you don't have rights to the picture. So there is the possibility that someone may contact you to complain that you've used their image without legal authorization.
Whichever method you use, I suggest you edit the picture. Small Photoshop adjustments such as changing the background of the picture can ensure that your fake LinkedIn account can't be found through a Google Reverse Image search. It really does work.
Step 4: Create a LinkedIn account
Before you start creating your new LinkedIn account, make sure you've opened a new Chrome session or are using a VPN as advised in step 0. Doing this will ensure you're not sharing cookies with your original LinkedIn account.
Now you are ready to create your LinkedIn fake account. Search for LinkedIn by going through Google's search engine. I've noticed that going on LinkedIn by clicking on the URL through a search engine results triggers a standard on-boarding process. Not doing so doesn't necessarily increase the risk of your account be banned, however where possible it's a good idea to stick to the most classic path possible.
Once you're on LinkedIn, enter your login details.
"I entered my login details and LinkedIn asked for a phone number as an anti-robot check". If this happens to you, don't panic – scroll to the end of this article to find out how to get around this.
After LinkedIn's on-boarding you'll be asked for more information:
Your position: choose what you want.
Your company: Warning, if there are not a lot of employees in your company, I recommend you don't put your fake account under your real company (or don't click on the proposition to choose your company page. Just use the name). If your account is banned (things happen), it won't visible in searches, but will still appear in the number of employees. This is not a good look if you plan on creating various accounts (at ProspectIn, we are a 5-people team for 26 employees on LinkedIn).
Your phone number: if you have phone numbers that you've never used on LinkedIn, seize the opportunity. This can significantly increase your chances of survival. However unlike emails, you can only use one number for one account.

Step 5: Add your first contacts
This is a crucial step in a fake account creation: your first few connections. A low acceptation rate because no one knows you can trigger the suspicion of LinkedIn's AI. To avoid this, you should import a .csv file containing your close contacts who are likely to accept your connection request. Alternatively you can use import our accounts file – we'll happily accept your connection requests, and that'll give you a good start. You can also add yours to a growth database by filling out this form. Once added, you will begin to receive invitations and grow your network in an organic way.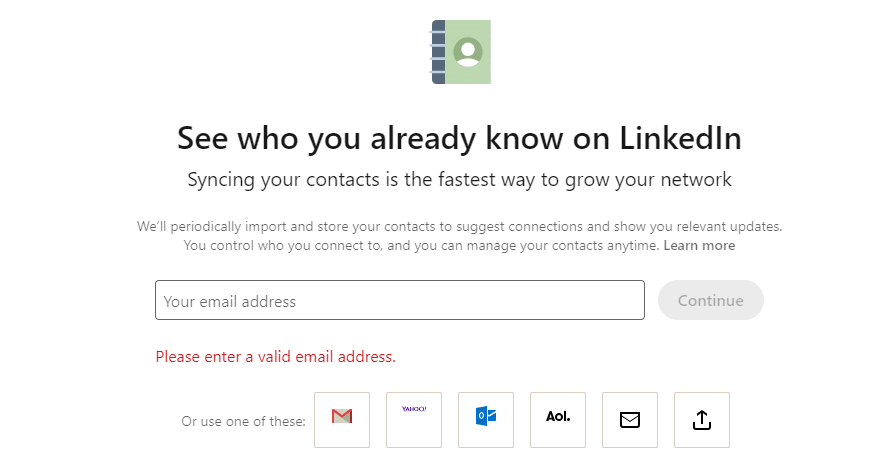 Step 6:  Survive
You have already done the hardest part of the job. Now you need to give your LinkedIn account a little breather. At ProspectIn, we let our accounts marinate for at least a month before we start any intensive prospecting activities.
Here are a few guidelines to ensure your account makes it to a ripe old age.
Guidelines for fake LinkedIn accounts
The first four weeks:
Log in 1 to 2 times a week. Like some posts, make some comments. A standard level of activity at the beginning.

For each login, update your profile a bit. Your work experiences, your bio, your qualifications etc. We recommend you create an elaborate past career at a big organisation. It appears it's harder for LinkedIn to verify these, so they often end up giving you the benefit of the doubt.

 Executive at Schneider Electric or Manager at Google anyone? ?

Add some profiles suggested by LinkedIn which make sense. Don't overdo it though. A dozen per login is a good number.

For every job or school, add a complete description. LinkedIn doesn't like empty job descriptions.
A LinkedIn account is regularly monitored during the first 3 months. That's a lot! During this period try and hold back from any crazy prospecting activities…
Once you've reached the 1 month-old mark, have a completed account, and have logged-in roughly a hundred times, you can start slowing increasing your prospecting activity. During this time we recommend you:
Avoid exceeding 50 adds per day before 1000 logins.

Aim to connect with second-level profiles at the beginning.

If you target profiles outside of this and have a very low acceptance rate, LinkedIn may ban you.
Bad practices

with a fake LinkedIn account
Using AI pictures 

Sending too many connection requests during the first few weeks 

Completing every inch of your profile on the first day 
Bonus tip…
Create female profiles that are 40+ years old
We noticed profiles that are a bit older, or that are female (thanks Benoît Dubos for the tip) converted better when prospecting. Perfect for a fake account, right?
A grandparent, a cousin, a little sister who doesn't use LinkedIn? Create an account for them!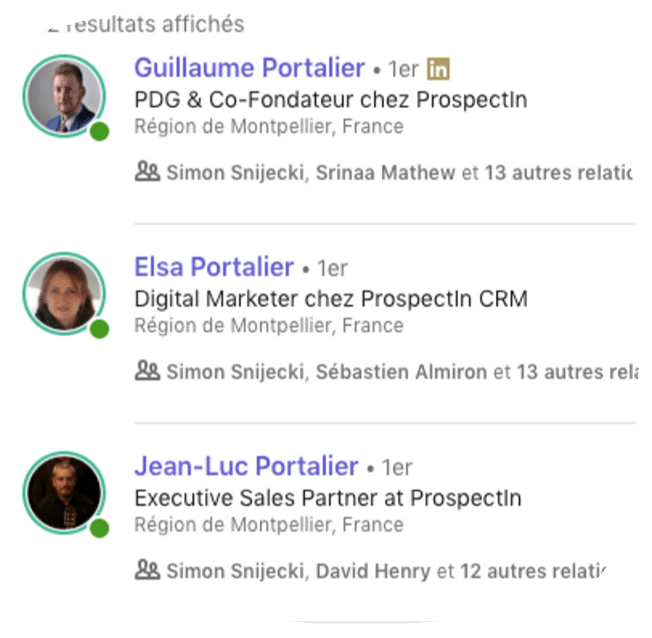 We'll be the first to admit that this is our favourite trick in the book at ProspectIn.
We find relatives who don't need a LinkedIn at the moment, and we ask them if we can borrow their identity to create a LinkedIn account.
This trick essentially allows you to fast-forward the wait/rest period. If LinkedIn blocks you, you'll be able to provide a valid ID card.
Duplicate your existing account
Your LinkedIn account is quite old and you were never asked for your ID? Create a second account. Put an extra character or letter in your name, or put it in capital letters. This trick will provide you with twice as much reach. Of course there's also the additional benefit of being able to quickly set up your account – as you already have all the necessary info at your fingertips.
LinkedIn asks for my number as an anti-robot check when I register
LinkedIn detected you were sharing an IP address with other accounts and wants to make sure you are not a robot by asking you for a phone number. If this happens to you, you will have to change your IP. Follow this procedure:
Close every LinkedIn tab open, including your main account.
Put your smartphone (I hope you have one!) in Connection Sharing mode: a phone IP changes every time you activate and deactivate the airplane mode. So you can do it ad infinitum.
Re-launch a new blank Chrome session.
Repeat the create an account process.
Normally, LinkedIn performes a verification to check if you are a robot, but it's rare for it to ask for your phone number. Warning, you must stay on Connection Sharing mode during the entire account creation process, without logging-in to another account. Then, wait at least 24 hours to log-in again, using this new account and you main IP address.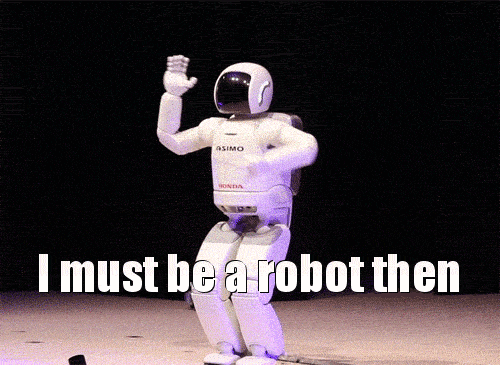 At Waapi, we are continuously experimenting and receiving feedback from big growth hackers so as to fight LinkedIn's AI. If you have any tips that we haven't mentioned, feel free to send us a message via chat! 😄
---
To sum up: whether you are one, 10 or 100, you can use the corporate offer to boost your performance.
As you may have noticed, we are fans of: working little with a lot of results. ?
So we went further in our automation process.
As Warren Buffett said so well :
"if you don't find a way to make money while you sleep, you'll work until you die!"
Let's talk about how we can make it happen now!
---
How can ProspectIn and Podawaa work in the cloud ?
How to use automation tools in the Cloud ? We found it the simpliest and fastest way to do it, so we made a product for it: Cloud Francewaa.
It's just amazing to automate all your actions on LinkedIn, and let your LinkedIn account work for you while you're doing other tasks, and that's what we do all the time here. So we wanted to share that with you. ?
Do you want to learn how it works in 3 easy steps and come into the cloud with us? The sun is bright up there! ?
You just have to follow this tutorial.
Great news : you can try Cloud Francewaa for free at the moment!
I am SO EXCITED to show you around, join me!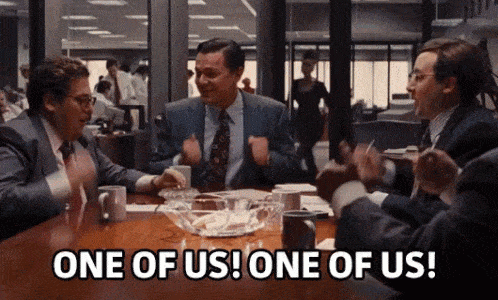 LinkedIn automation anywhere
How does automation tools work?
To make it simple: It's an algorithm that reproduces actions on LinkedIn automatically. It takes only five minutes to plan your actions on the CRM software, and the automation tool will therefore work by itself for several days.
So you could basically be anywhere to do it, as soon as you have the internet and your computer, you're fine. ?
ProspectIn, can be functioning only when your LinkedIn account is open, because it needs that information to process the actions you've set up.
LinkedIn automation anytime!
So, it used to be anywhere, but not anytime and with a tiny difficulty – having your computer with you.
But, if I am telling you that from now on, you will be working, without having to carry around your computer? Without having to open your LinkedIn account? (Well, we will be working for you, but no one needs to know that. ?)
Oh yes, you'll have to open just one thing, sorry… a bottle of wine ? or the bath tub maybe? ?
It's time for a technological revolution
Cloud Francewaa is completely changing the way you were working before : and for the best!
You won't have to keep your computer open anymore!
Are you in the game? ?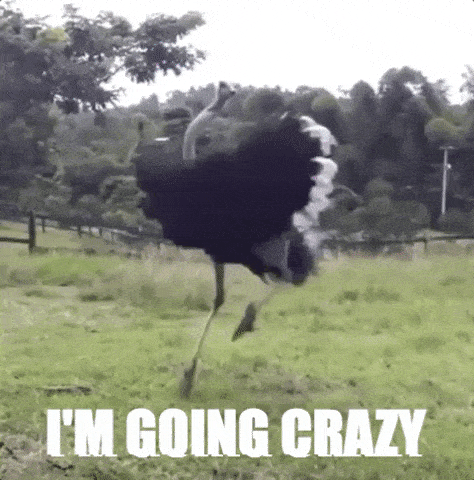 Step 1 : Get the Tool
Get the tool here. You have access to a 2 day-free trial. ?
Sign up and create a password.
Step 2 : Set up your preferences
Choose your working hours: The working hours don't have to be yours, simply the period when you want your LinkedIn account to be sending automated messages, connection requests and so on.
Do the same by choosing working days: if you're targeting an audience that works during office hours, you might not want to be automatically contacting them on week ends.? Be smart, and adjust the active hours to your target audience. ?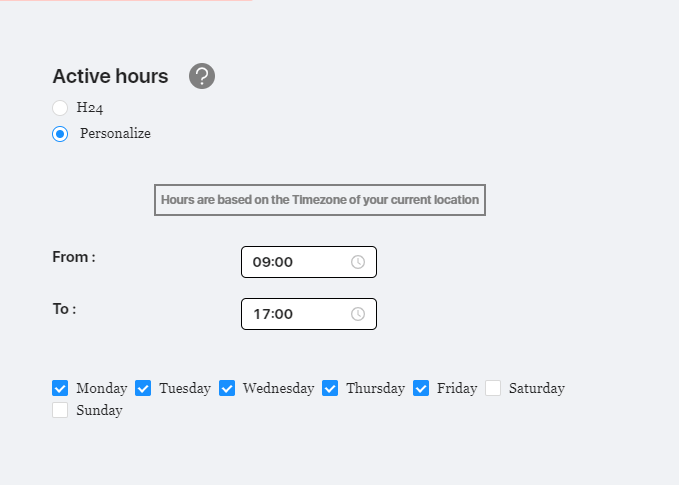 Link your LinkedIn account by adding the email address and the password: don't worry, we don't use your password for any other reason: only to set up your Cloud based LinkedIn automation.
Choose which automation tool you want to connect to Cloud Francewaa: which means, which tool will be working even when your computer is closed. ?

If you want to add another tool that is not on the list: you can! By just :

Typing the name of the tool, you want to add to your Cloud Automation strategy.
Copy the URL of that tool.

Go on Cloud Francewaa and paste the URL,
Press the button "to add."

Step 3 : Validate and enjoy the cloud
You just need to press enter, and the tool will start processing. It takes around 2 minutes to process and it will tell you if it's all good or if you've made an error.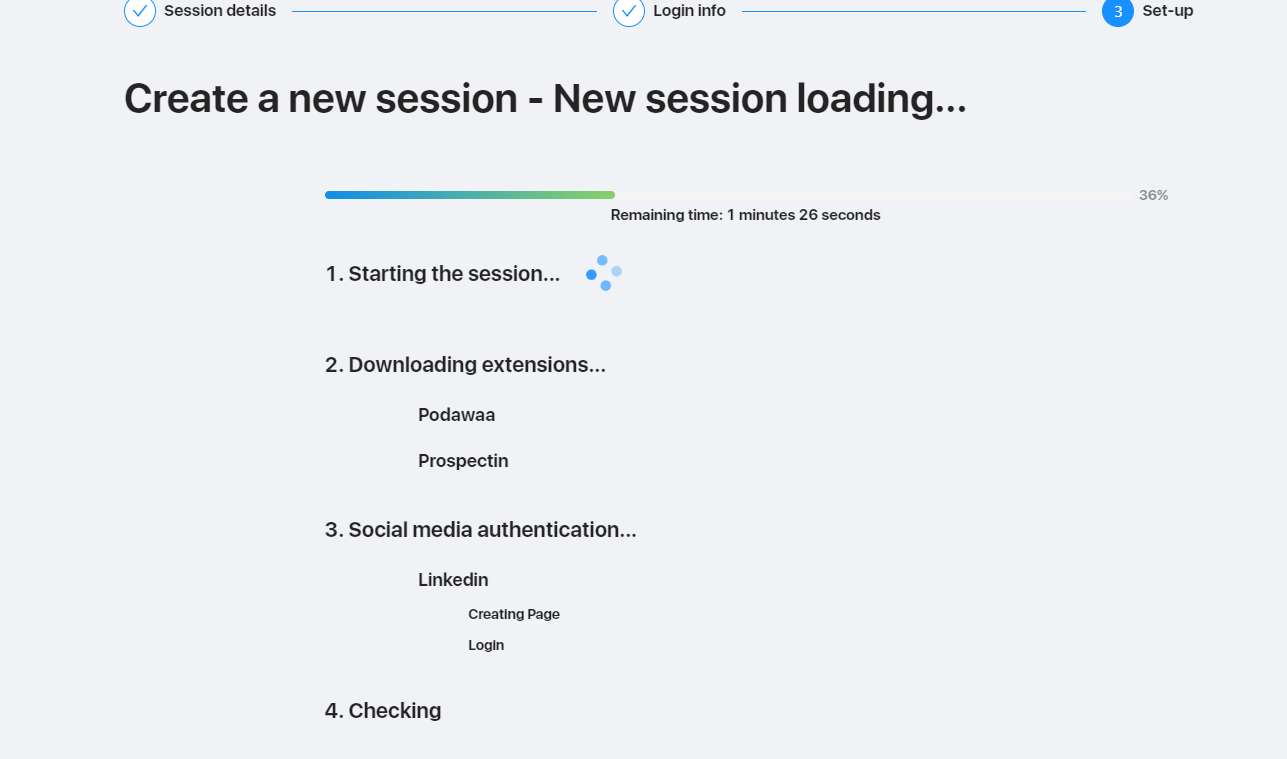 You can now let the Cloud working for you! ?
What about the price?
You might wonder: what is the price of peace?
Some people would say there's no price for peace – it's simply too precious.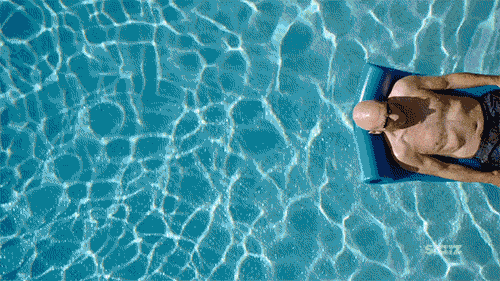 Then, what would happen if you could buy it for a very fair price?
9.99€ a month for the monthly subscription, or only 59.88€ yearly at the moment. (50% Off for early birds).
Stay in touch
Please, feel free to tell us what you think, and ask as many questions as you feel like ? in the chat dedicated to it directly in the Cloud Francewaa Chrome extension.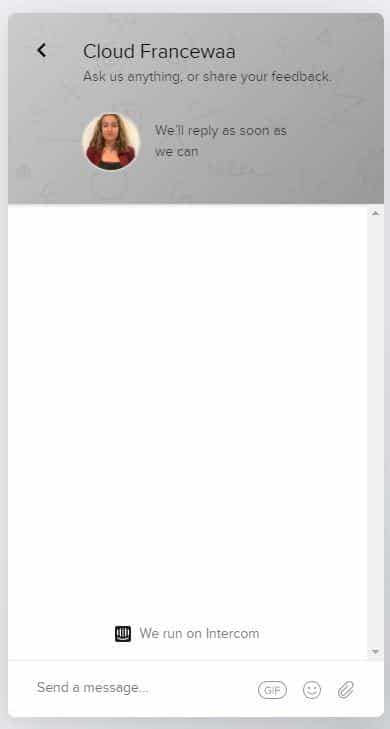 Ps: Don't worry for the design of the tool, our talented "customer experience" designer is a bit busy at the moment, but she will be working on it soon. ?
---
As you can see, we developed tools like ProspectIn, Podawaa and Cloud Francewaa to make our lives easier, and yours as well.
The more our business grew, the more we had messages from prospects on LinkedIn.
Soon enough, you'll make the same observation as we did. The LinkedIn messaging system has many limitations and is not made to receive that many messages.
So we developed Inbox waalaxy, the mini LinkedIn messaging CRM. We'll tell you how to use it and take advantage of it for your development strategy. ?
---
How to use saved replies with Inbox waalaxy
In addition to having a much more ergonomic interface than that of LinkedIn messaging, Inbox waalaxy has many features that will save you a considerable amount of time in managing your LinkedIn messages. Today, it's my pleasure to present to you: saved replies for LinkedIn ?
Saved replies for LinkedIn, what for?
At Waapi, we're fans of automation. We even have a saying that goes "Anything that is repeated more than 3 times should be automated".
This saying is what motivated us to develop ProspectIn and Podawaa.
These products allow us to generate an incredible amount of leads on LinkedIn. Unfortunately, LinkedIn messaging does not allow us to optimally manage this constant flow of messages.
When dealing with a large number of LinkedIn messages related to prospecting, we noticed that 20% of responses allowed us to process 80% of the requests from prospects. #ParetoLaw ?
For example, when you sell a product, a number of similar questions and comments come up regularly:
"Can you tell me more about X product?",
"What is the pricing?",
"How does it work?",
"What is the difference between products X and Y?".
As we are obsessed with efficiency, we ended up setting up a system of pre-recorded responses via a Google sheet. Although it was effective, it wasn't the most practical nor personalized method.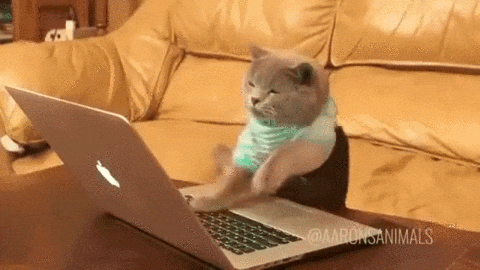 Inbox waalaxy's saved replies allow you to save messages which can then be reused at will; all from the same interface in which you send your messages.
Since your answers are written once and for all, you can afford to spend some time writing extremely comprehensive responses.
These recorded answers will serve as a base, which you you can you to respond quickly to recurring questions and comments. Of course, you will still have to make slight edits on occasion to ensure optimal personalization, however the core of the answer will already be there. ☝️
How does it work?
It's easy to create a saved reply:
Access the saved replies form,
Click on "Add a reply",
Give your saved reply a title,
Enter the content of your message,
Click on "Add".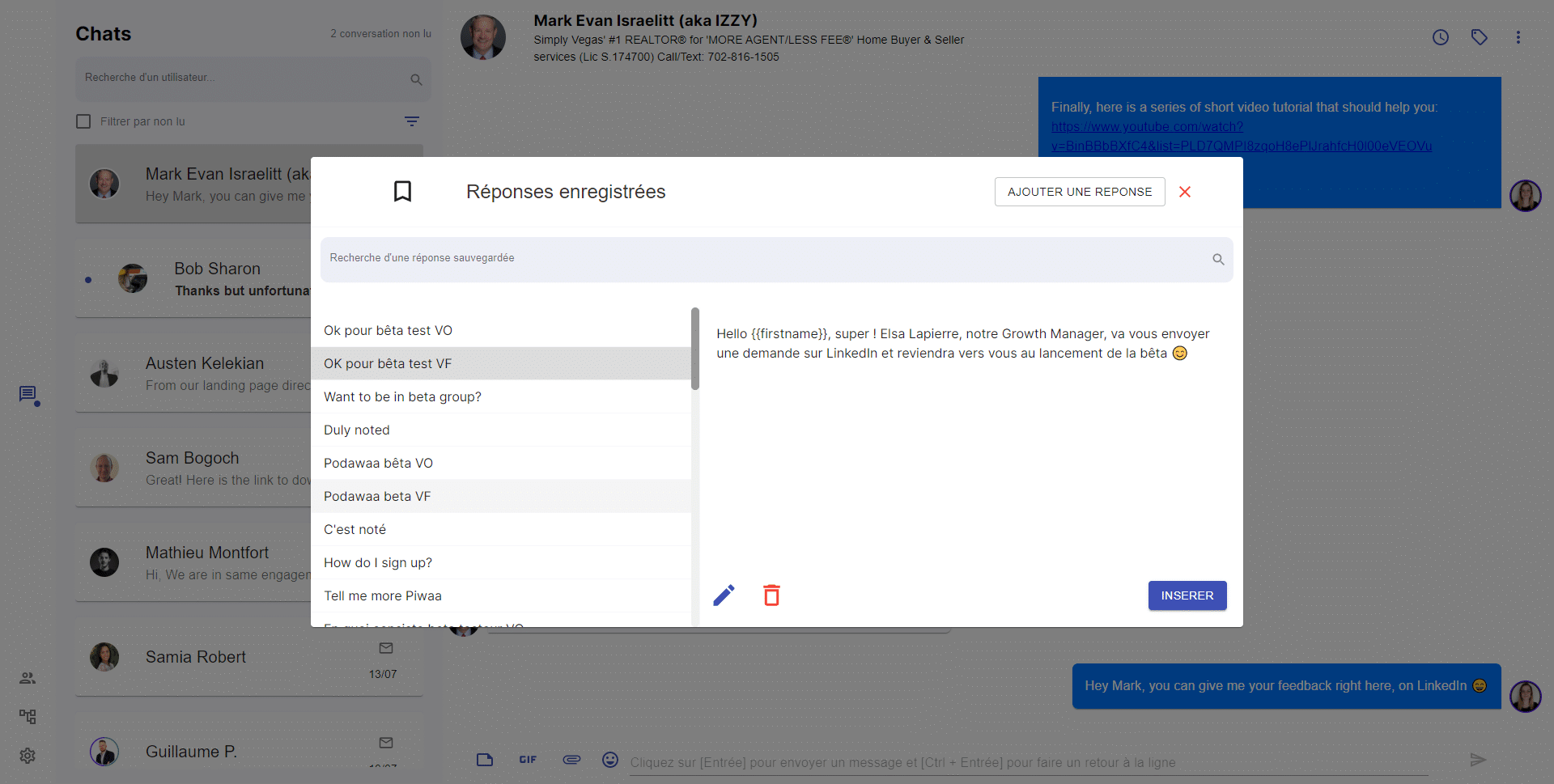 Tips
In the content of your message, you can use the variables "First name" and "Last name". The first and/or last name of the contact will be automatically retrieved. Quite handy when your contact's name is "Mihály Csíkszentmihályi" ?

You can search for emojis through the emoji picker, or you can simply use the emoji shortcuts directly. For example, if you type ":)" the emoji ? will appear automatically. LinkedIn has never developed this feature, despite the fact that it is elemental.

Your saved replies are listed in order of use, with the most used response appearing at the top of the list. Each response has a "counter" which is incremented by +1 for each use. This means that the order of the saved replies is constantly evolving according to the frequency of use and last date of use
You can search for a reply using the search function on the saved replies form. The search is carried out on both the title and the content of the saved reply

All saved replies can be deleted and edited
When you start responding to a message, the use of the hashtag (#) allows you to search your saved replies directly, without having to go through the form.
And that's it for the saved replies. Now it's your turn! ?
---
Why use tags and automated follow-ups for LinkedIn with Inbox waalaxy?
In this article, I will introduce you to the "tags" functionality as well as the "snooze", and automated follow-up for LinkedIn feature. Together we're gonna go through how and why you should use them.
Tags
Let's start with the tag functionality. This feature allows you to tag contacts from LinkedIn messaging. Although basic, this extremely practical feature for organizing your messages is missing from LinkedIn messaging.
To tag a contact, nothing could be easier: just click on the tag icon.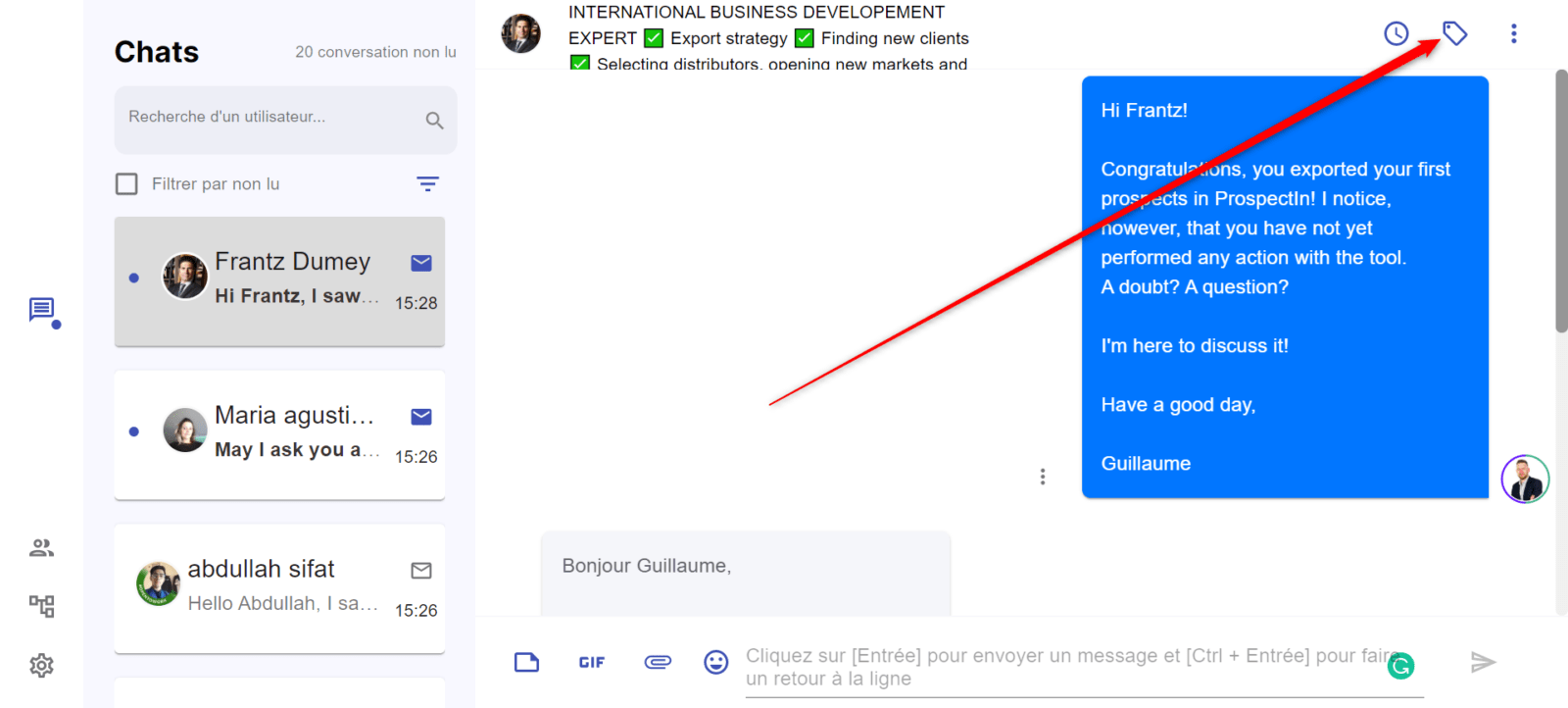 Doing this will take you to the tag creation form, where you can then create a new tag or assign an existing tag.
You can assign as many tags as you want to your contacts.
Tags are visible from the "details" tab of your contacts. They allow you to classify your contacts and to use filters to only display the contacts to which you have assigned specific tags.
Tags allow you to sort your contacts according to certain criteria. For example, if you use LinkedIn to prospect, you can use tags to identify your conversations based on the progress of your prospects in your sales funnel, or based on the campaigns they are associated with.
Another major benefit of tags is that they are visible in data exports. With the Zapier/Integromat integration, you can link Inbox waalaxy to your CRM and update information (including tags).
Snooze
The "snooze" feature allows you to remove a conversation from your messenger, in order to make it reappear at a later date.
Extremely handy for keeping your LinkedIn messaging tidy without forgetting to respond to messages that are important, but not entirely urgent.
To use the snooze function, just click on the icon and set the date and time you want the conversation to reappear.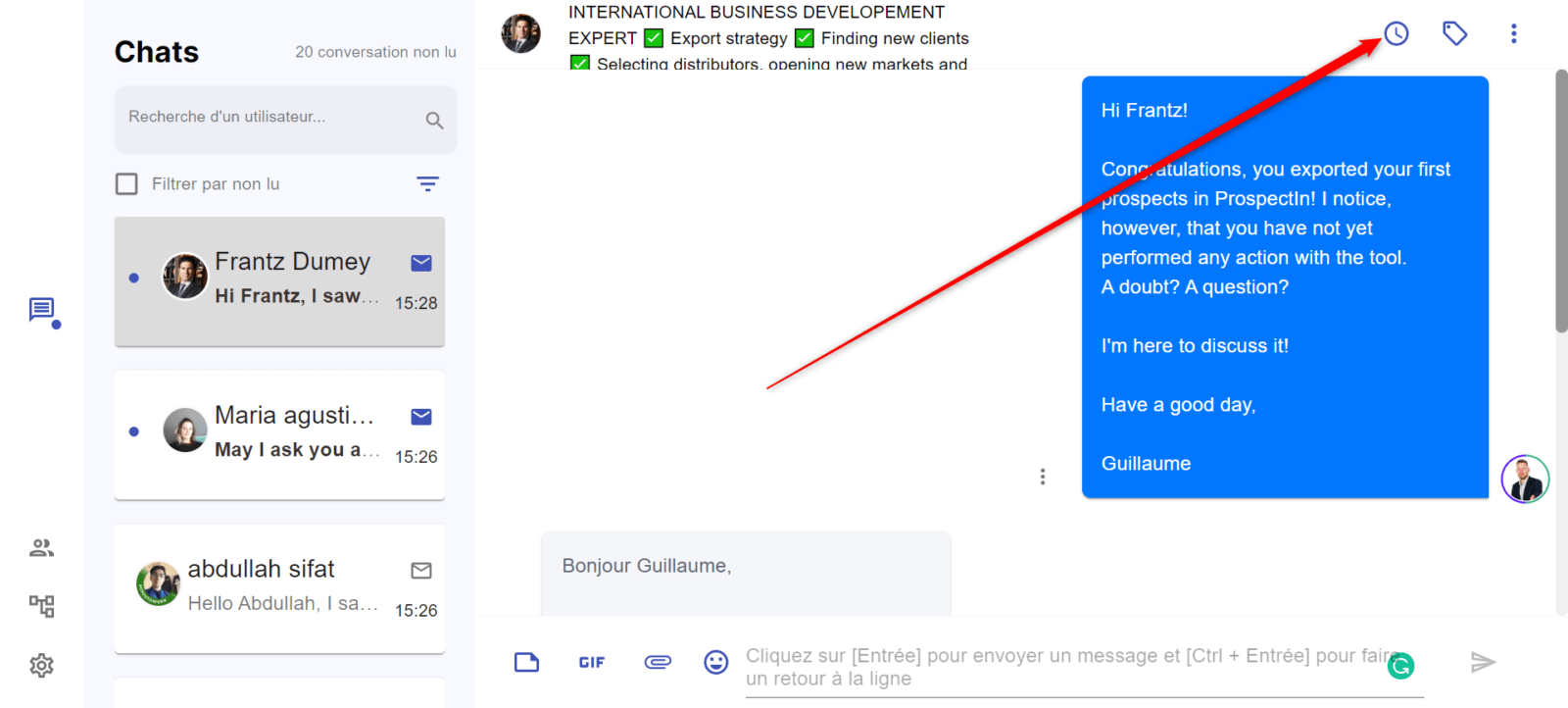 Automated LinkedIn follow-up
The LinkedIn automatic reminders feature uses the same principles as the snooze feature, but this time, instead of the conversation with a contact simply re-appearing on a given date and time, you can schedule a message that will be sent in the future.
To schedule your automatic follow-up, simply go onto the form of the snooze feature and enter your message. You can, of course, use the variables "first name" and "last name", as well as your saved replies.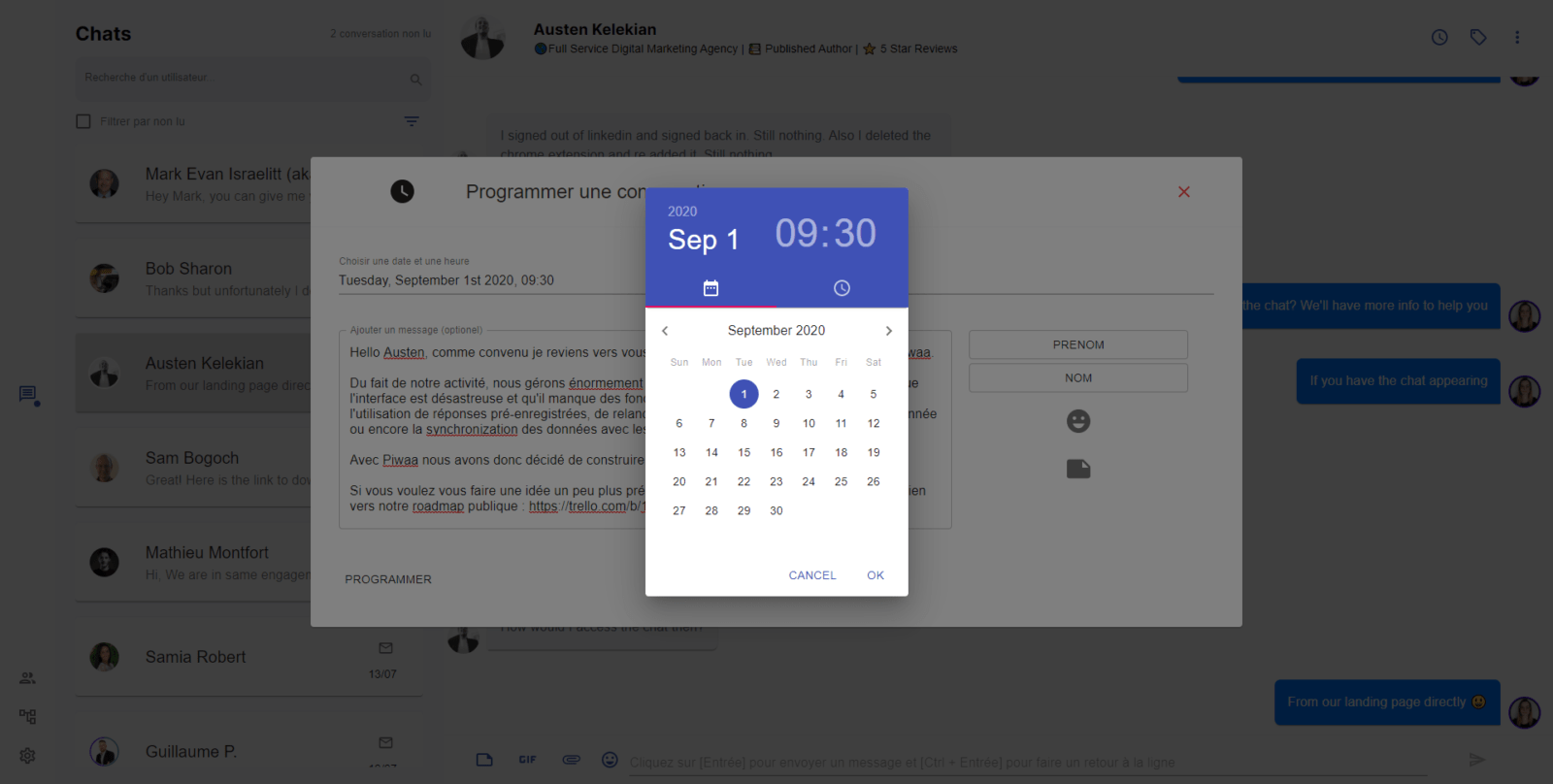 A prospect tells you that they are interested, but they need a couple weeks before they can make a decision? No worries, schedule your message to automatically re-contact them in 2 weeks.
With Inbox waalaxy, you will never forget to follow up with a prospect or contact a customer again. Using the automatic follow-up function to schedule your follow-up messages in advance almost guarantees a 5-star customer service score for your team.
---
Congratulations young Padawan, you have completed your mission. We are delighted to accompany you in your conquest of LinkedIn,
Now it's time to let you fly on your own. ?
But we're not far away. You can contact us via ProspectIn, Cloud Francewaa, Inbox waalaxy or Podawaa chat at any time.
Feel free to ask us for advice, give us feedback or just say hello. ?