Tools like Alcapod do not allow you to control your activity. You don't know what you like and comment on. You have no history or vision on the activity of your LinkedIn account.
It happens that sometimes, even after uninstalling the tool, your account continues to be associated with Alcapod (it happened to me). That's why we created an alternative. A pod, where you can control everything. From your likes and comments, to your personalized audience.
What is Alcapod?
Alcapod is a pod for LinkedIn. A pod is also called an engagement group. The principle is simple, you join a group on which all members share the link of their posts and they agree to like or comment on your post. If you want even more details, don't hesitate to read this article.
Alcapod is one of the best-known tools in the pod world. But not necessarily for the right reasons. This tool is known for its bugs and misuse. We are currently witnessing a wave of posts on the subject on LinkedIn.
It is not surprising. This tool does not provide a history of what we like and comment on. So, we can find ourselves liking or commenting on political posts or worse… Not great, right?
I even had the case personally: I uninstalled Alcapod, and my account continued to be used to like and comment on publications that I did not approve of. No wonder pods have a bad reputation.
Why pods have a bad reputation?
Pods have a bad reputation for two reasons:
Abuse: Some people abuse pods. A post with 1000 likes and 2 comments. First, it is not credible and there is a real risk of restriction by LinkedIn.
For the image, it is not top. Because people will see that you are using a pod for the wrong reasons. Get likes and comments with no real purpose behind it.
A low-quality tool: Pod bugs, when it doesn't work, when comments are duplicated, when two posts are published at the same time, on the same day… Or worse, when comments are in English on a post written in French. No credibility!
For these reasons, engagement pods are frowned upon. They have a bad reputation (negativity bias, if that speaks to you) but only because so far no pod has been established with good reasons, for a specific purpose. That's why we created Podawaa. To allow you to create a qualified audience, and generate qualified engagement. Or quite simply, to automate something that you did every morning: comment and like the posts of all your colleagues.
Podawaa, a tool to generate qualified engagement on your publications
Our tool is designed to simulate real human engagement and allow you to lead a content strategy on LinkedIn. Yes, it allows you to get likes and comments. But not only!
You can define the audiences you want to reach. Here, there is no question of getting everyone's engagement. You target, you define. If you only want to attract the attention of people in the SEO world, then you can configure and personalize your target among more than 15 criteria. The quality of your audience is essential. There is no point in obtaining 100,000 non-significant views.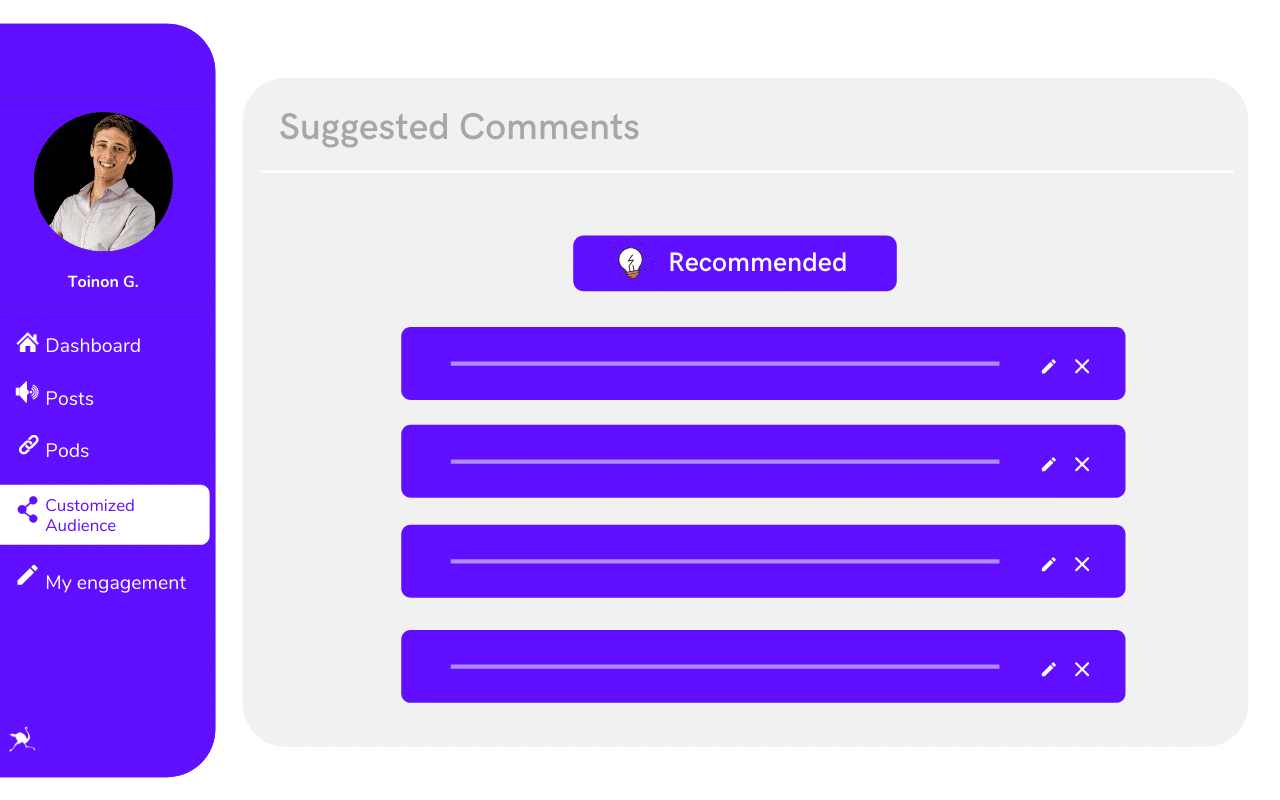 No, you will never end up with a like on a political post, or worse. Firstly, because you have access to all your history (comments and likes performed with your account). But also because it is YOU who decides on which topic and on which post your account will engage.
Above all, it is a LinkedIn Automation tool. You can schedule your posts, prepare your comments. No need to go through 56 tools to program your posts for the week or the month. No need to spend 50 minutes preparing the type of comment you want to receive. You just have to automate.
How does Podawaa work?
Write your post directly in the tool, and schedule it (or opt for immediate publication)
Follow the advice of our tool to optimize your reach. Automatically add outbound links as comments.
Define your audience: choose who will comment, and like your publication.
Follow our intelligent algorithm: It will offer you relevant comments.
Is Podawaa risky for my account?
This tool is designed to simulate human behavior, so unlike Alcapod, there is no risk for your LinkedIn account.
Podawaa is the best alternative to Alcapod
If you have come this far, you have already understood that Podawaa is the best alternative to Alcapod. As much for your image as for the security of your LinkedIn account. But, I offer you a little summary comparison!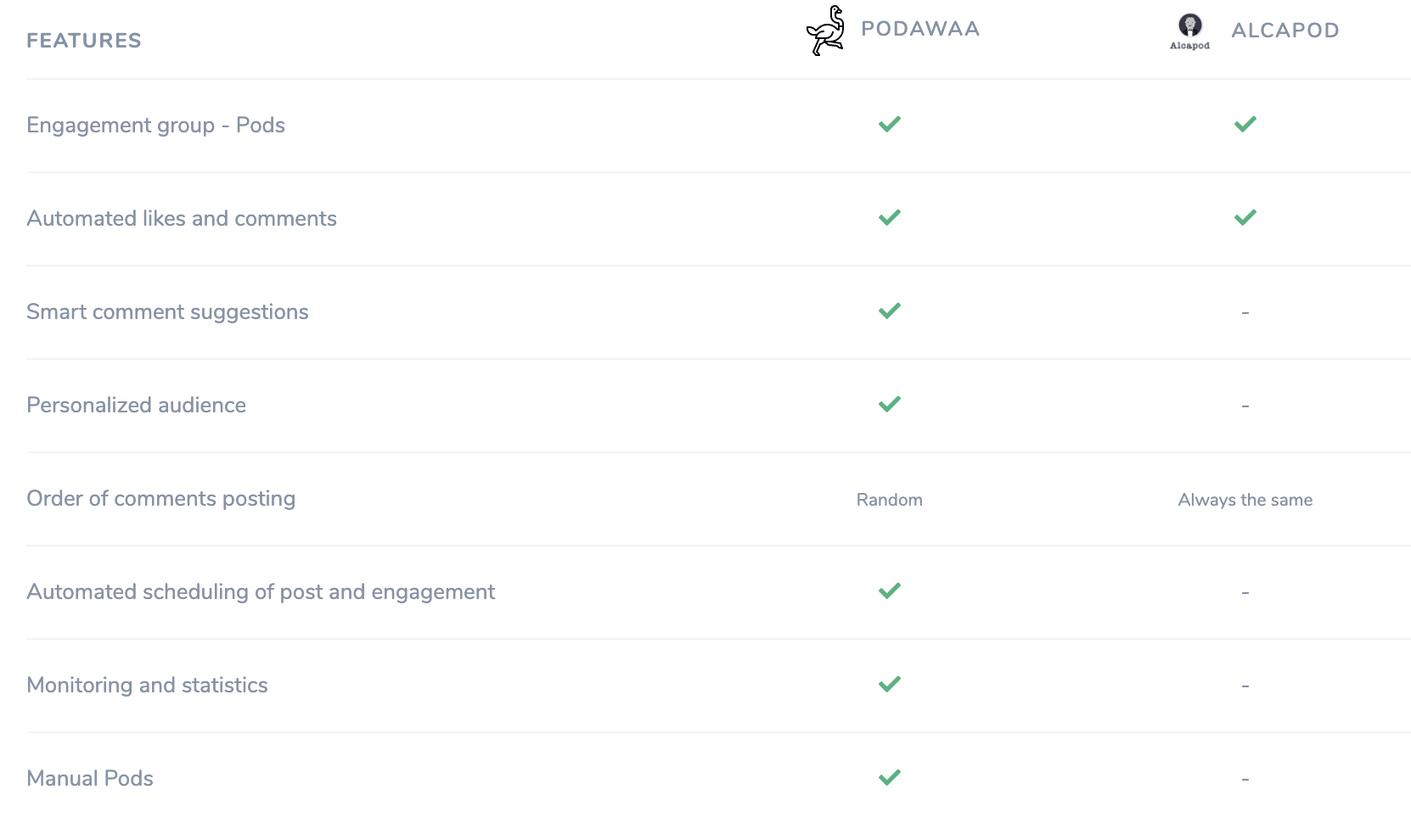 Feel free to give feedback on other tools in the comments! 😜