That's it, you have switched to Waalaxy's Team offer. Nothing better to manage your different accounts from a single platform. 😎
Prospecting with several accounts is very efficient. But you have to avoid prospecting the same person several times! Therefore, we have implemented a duplicate control with the Waalaxy "Team" format. So that you don't contact the same prospects several times with your different accounts.
What is the Team Plan?
Waalaxy's Team Plan aims to make multi-account management easier and take your LinkedIn + email prospecting to scale. 😎
It is dedicated to all people who need to manage multiple LinkedIn accounts at the same time.
What are the features of the Team plan?
Centralization of billing.
Cross-account lead import.
Access to other Waalaxy team plan accounts.
Anti-duplication security.
And it is this last feature that interests us here… 🤔
How duplicate checking works with Waalaxy
First duplicate rule
When importing your leads with the Waalaxy export pop-up, a small check mark allows you to import only those profiles that are not already present in the CRM of another company member.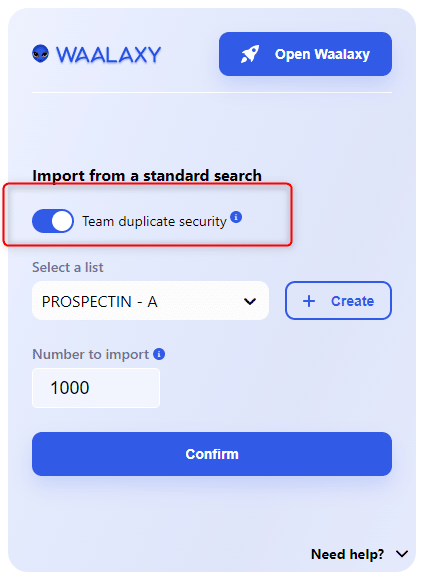 When this box is checked, if a profile from a LinkedIn search is already present in a company member's CRM, that lead will simply not be imported. This avoids the prospect ending up in several CRMs at the same time. At the risk of contacting them several times with different accounts.
This box can be unchecked, in which case duplicates between the different CRMs of the members of the company will be possible.
Second duplicate rule
When you add an account to the Team, a retroactive Waalaxy duplicate check is performed to allow you to exclude profiles that are present more than once in all the CRMs of the members of the company.
The duplicate control interface appears in the Team settings page and offers you several possibilities.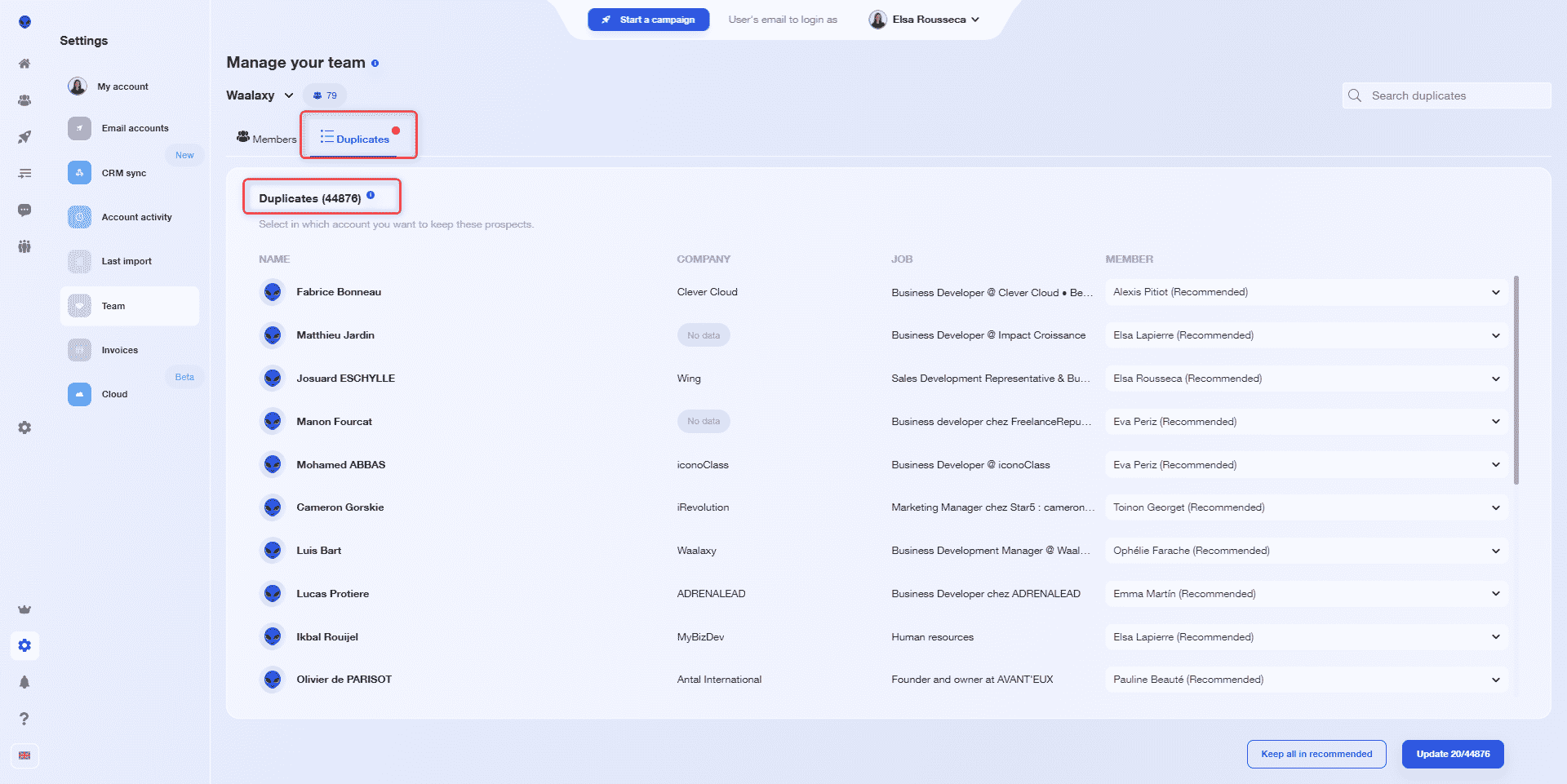 You can select the duplicates and click on "Update duplicates", i.e. delete them.
You can assign a duplicate to a team member.
You can search for a lead in the list of duplicates using the search bar.
You can choose a person who will be "recommended", and to whom the duplicates will be imported.
That's it, you know everything about duplicate control with Waalaxy, if it's still not clear for you, feel free to contact our chat. 😁