The best alternative to LinkHelp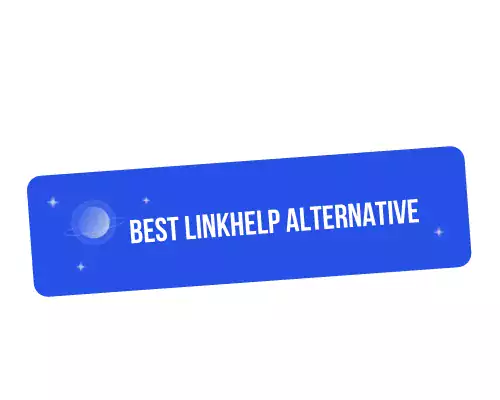 4
minutes
But who is LinkHelp, this new LinkedIn prospecting tool?😱
The name is reminiscent of Linked Helper, with a little Uber-like design.
Could this be the beginning of the best software to automate your LinkedIn actions?
Not really.
The reason?
A rocket goes faster than an Uber car!
More seriously, you will see through this article how Waalaxy is (clearly) the best alternative to Link Help.
What is the LinkHelp tool?
LinkHelp is an automation tool on LinkedIn that allows you to schedule your marketing actions in order to :
Prospect for new customers.
Boost your acquisition of qualified leads.
Among other things, this tool allows you to send LinkedIn invitations, personalized connection notes, send messages, visit profiles, and track prospects.. This is one of the latest tools released aboutLinkedIn automation.
Is LinkHelp dangerous for your LinkedIn account?
Take a breath and blow it out. As for your LinkedIn account, it may not live long if you link it to LinkHelp. It's not great for your company's digital marketing…
The tool is too new, with the lack of hindsight, it does not allow to fully secure your account. So avoid using it and choose a proven solution undetectable by LinkedIn, like Waalaxy.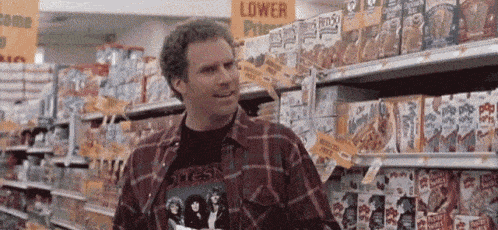 LinkHelp versus other automation tools on the market?
LinkHelp is brand new. In the beginning, automating LinkedIn was "only for smart people" But today, automation has become commonplace.
The vast majority of messages you receive on LinkedIn are automated with a tool. And using such a tool requires a certain level of expertise and advanced knowledge to avoid having your LinkedIn account restricted.
In the world of subscription software, the user experience (UX) must come first. LinkHelp cannot be a reliable alternative in the long run.
A not efficient graphical interface
The dashboard of LinkHelp leaves much to be desired in terms of graphics. Everything is the same color, important elements are not visible, settings are not clear… in short, there could be better.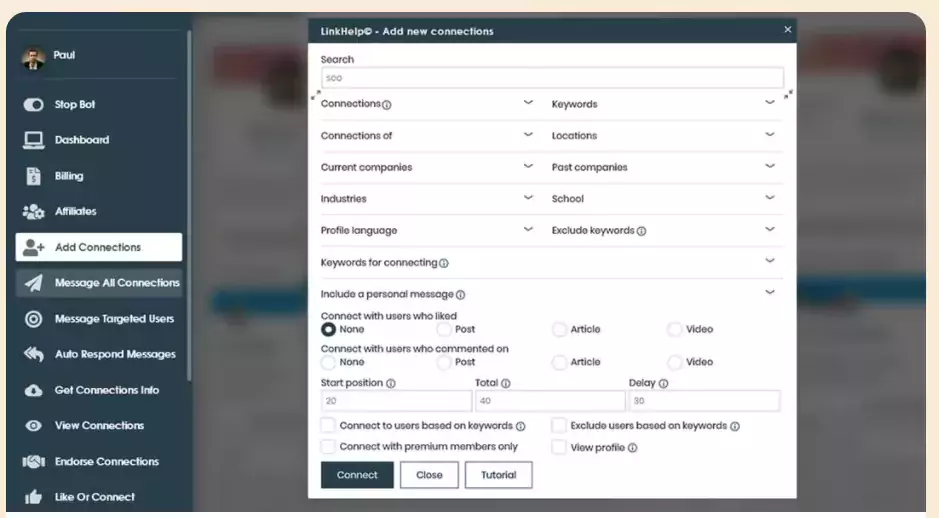 In the end the typical user of LinkHelp :
Gets lost on the dashboard because he doesn't know where to click.
Has the impression of using a gas factory, too complicated.
As for Waalaxy, we have created a tool with a world-class user and graphic experience. See for yourself.
The big plus of Waalaxy, which LinkHelp does not have
Our tool allows you to do LinkedIn prospecting and email marketing to your prospects on LinkedIn by scrapping their email address (which LinkHelp doesn't allow).
Thanks to our dashboard, you can monitor and visualize your KPIs such as your open rate or response ratevery easily and create marketing sequences.
The best part?
You can send us the prospecting sequence you want and we will send you the personalized scenario. Also, you have access to a lot of statistics like :
Your number of established and pending connections.
The number of views on your LinkedIn profile.
The reach on your last post.
Your weekly activity by marketing action is also present on our dashboard, with the possibility of using filters to obtain a precision in the comparison of the data.
In addition, Waalaxy offers a 7-day free trial while LinkHelp offers 3 days.
Why is Waalaxy better than LinkHelp?
Waalaxy uses a completely different technology, which does not manipulate LinkedIn's HTML code and leaves no trace unlike LinkHelp.
We offer a secure and hyper-ergonomic marketing tool, accessible to everyone thanks to its low price.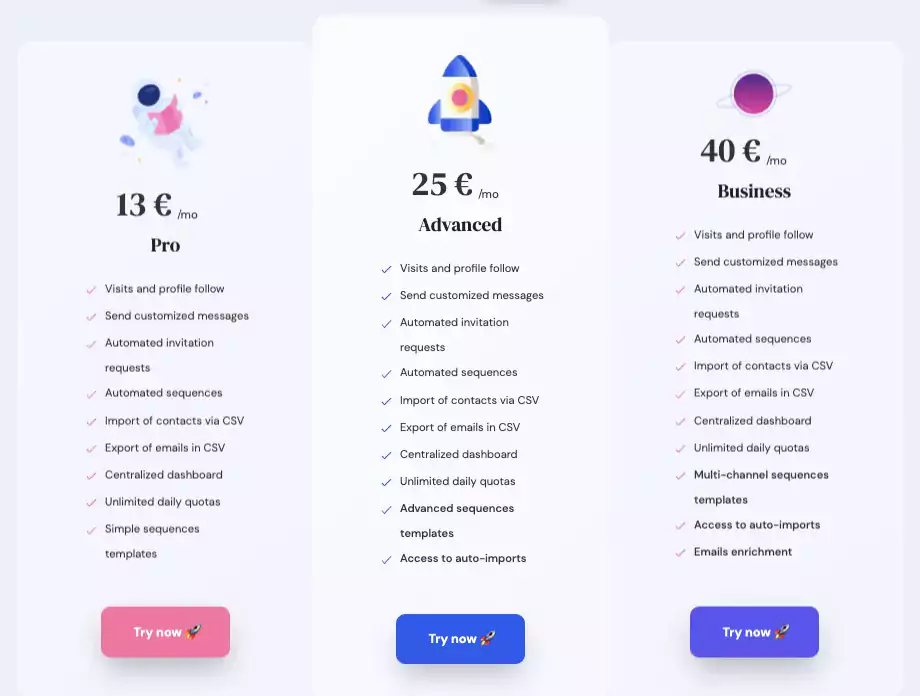 Why choose Waalaxy?
Waalaxy is a simple, uncluttered tool designed by Pauline, our superb UX/UI Designer. With more features than LinkHelp, but with the added ergonomics and security!
On Waalaxy you can create LinkedIn scenarios, integrating emails as well. Soon, you will even be able to integrate Twitter and mailings! It's the ideal software to set up a marketing automation strategy.
For example, you can send invitations to a prospect, then 1 day after acceptance, send a message, then an email afterwards, etc.
You can even send a specific reminder if the person sees the message or clicks on the link. Thanks to Waalaxy's clear and intuitive dashboard, you can track the performance of your campaigns and messages and easily implement A/B tests to optimize your results in terms of open and click rate
The best alternative to LinkHelp – what to remember?
In the end, the real question is "should you use LinkHelp for your B2B prospecting on LinkedIn? ». The answer: no. Here are the reasons that prove this:
It's too new and has little security.
Too few features, limited to LinkedIn.
It's less beautiful.
It's potentially a threat to your LinkedIn account.
On the other hand, we encourage you to test our Waalaxy tool for free for 7 days. We trust our software because:
We offer multi-channel prospecting for maximum performance.
We offer a freemium version long enough to test serenely.
We put a lot of emphasis on the user experience (UX).
It's totally secure for your LinkedIn.
There is customer support via chat.
The best part: thanks to our engineers, you can exceed the 100 weekly invitations imposed by LinkedIn without risk to your LinkedIn account! 💪