While trying to send an invitation on LinkedIn, you receive this error message. You have reached your weekly LinkedIn invitation limit. 😅
So what now ?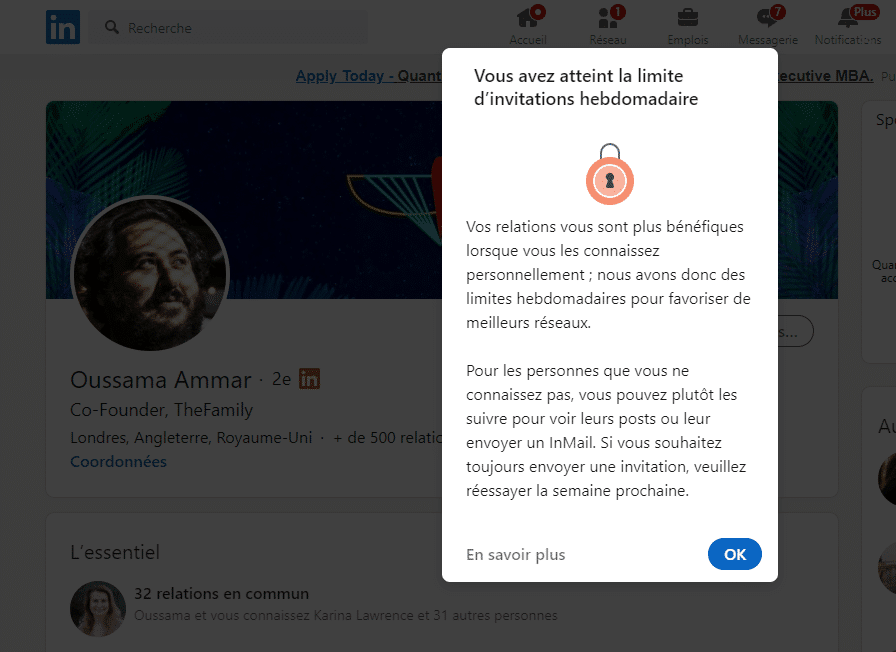 First: Don't panic! It's okay, and your account isn't at risk. This is a suspension is only temporary. 😜
Why have I reached the weekly invitation limit on LinkedIn?
LinkedIn wants to improve the quality of relationships built on the social network. That's why they recently made an update to limit weekly invitation sends.
After having closely studied the evolution of this update and its propagation within our user base, we are now able to say that this update:
Applies to all users,
Does not depend on the number of pending requests sent,
Does not depend on your performance (acceptance rate, responses to messages),
Does not depend on the size of your network,
Applies to both standard and premium users as well as Sales Navigator. No LinkedIn subscription will allow you to send more invitations,
Reduces the number of connection requests that users can send to around 200 per week.
How to lift the weekly invitation limit?
Once you have received this message, unfortunately there is nothing you can do immediately. You'll have to wait until the following week to send out new invitations on LinkedIn.
How does Waalaxy handle when you've reached your weekly invite limit?
Your invitations will appear as "Postponed" in your campaigns and in the queue.
These will be sent automatically the following week when LinkedIn has released your quota of invitations.
Conclusion about the LinkedIn weekly invitation limit
LinkedIn has drastically reduced the number of connection requests that can be sent manually, so you need to be more attentive and precise about your targets and your prospects: make sure that they are highly qualified so that you don't lose your invitation quota to prospects who are not at all qualified.
FAQ of the article
Does restricting invitations on LinkedIn mean I'm banned?
If you got the alert message, don't panic, you're not banned. You have exceeded the weekly LinkedIn connection request quota.
How do I lift the weekly invitation limit on LinkedIn?
Unfortunately you have to wait until the following week.
Will the restriction harm your image on LinkedIn?
No. Don't worry, other users are not notified that your account has been restricted.
Will LinkedIn notify me when the restriction ends?
No, there is no need to monitor your email. The best way to know if it is lifted is to test!
So there you have it, now you know all about the weekly LinkedIn invitation limit! 🚀