While trying to send an invitation on LinkedIn, you receive this error message. You have reached your weekly LinkedIn invitation limit. 😅
If you are looking for a solution, check out our tool : Waalaxy, which is not affected by LinkedIn's restrictions. Otherwise, in this article we explain all the different LinkedIn restrictions and our tips on how to get out of them. 👊
Find out more 🔥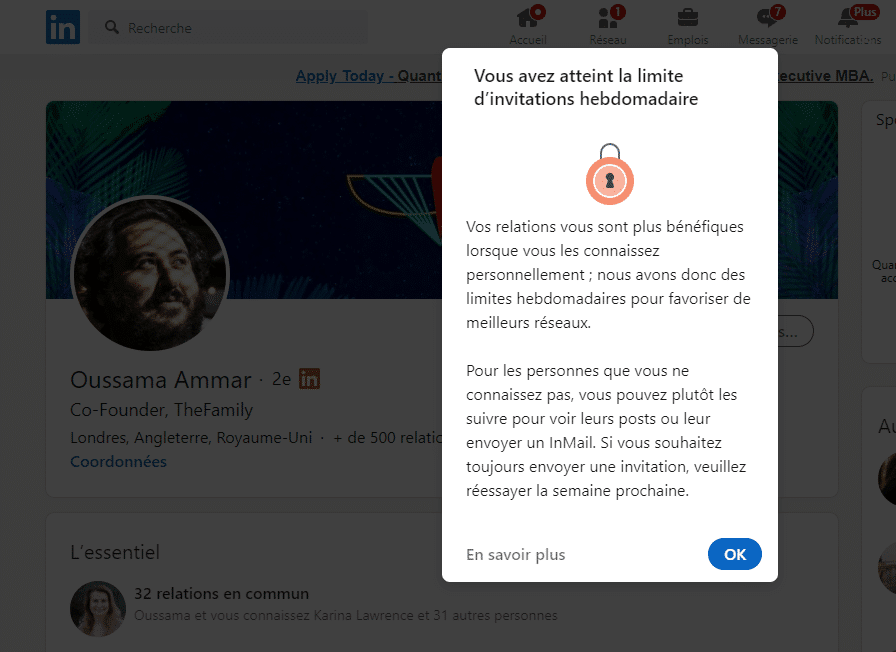 First: Don't panic! It's okay, and your account isn't at risk. This is a suspension is only temporary. 😜
Why have I reached the weekly invitation limit on LinkedIn?
LinkedIn wants to improve the quality of relationships built on the social network. That's why they recently made an update to limit weekly invitation sends.
After having closely studied the evolution of this update and its propagation within our user base, we are now able to say that this update:
Applies to all users,
Does not depend on the number of pending requests sent,
Does not depend on your performance (acceptance rate, responses to messages),
Does not depend on the size of your network,
Applies to both standard and premium users as well as Sales Navigator. No LinkedIn subscription will allow you to send more invitations,
Reduces the number of connection requests that users can send to around 100 per week.
How to lift the weekly invitation limit?
Once you get this message, unfortunately there is nothing you can do immediately. You have to wait until the following week to send new invitations.
If you're using an automation tool like Dux-Soup, or another tool on the market, you'll need to pause your campaigns while this restriction is lifted. 👌🏻
On the other hand, tools like Waalaxy allow you to exceed the weekly quota for sending a connection.
Indeed, the tool automatically retrieves the email of the people with whom you want to connect and therefore makes it possible to send the request via the email (which is not subject to weekly quotas) and not via the classic connection request.
So you can send up to 100 connection requests per day without any worries, even if you are restricted by LinkedIn on sending manual requests, not bad isn't it? 😉
How does Waalaxy handle when you've reached your weekly invite limit?
Invitation requests are sent to your prospects using your regular LinkedIn invitations. When you reach that limit, we automatically use our bypass system, which replicates the old "invitation with email" feature on LinkedIn and allow you to continue sending invitations!

You can also bypass the weekly invitation request limitation by sending message requests to people from the same group or event. Here's a video that shows you how it works 😊
Conclusion about the LinkedIn weekly invitation limit
LinkedIn has drastically reduced the number of connection requests that it is possible to send manually, on the other hand it is still possible to send a large number of requests using tools like Waalaxy.
These tools not only allow you not to be limited in the number of connection requests you can send per week, but they also allow you to test multi-channel prospecting by integrating email. Now is the time to test it all!
FAQ of the article
Does restricting invitations on LinkedIn mean I'm banned?
If you got the alert message, don't panic, you're not banned. You have exceeded the weekly LinkedIn connection request quota. If you want to send more requests, you will have to go through a tool like Waalaxy whose technology allows you to bypass LinkedIn's limit.
How do I lift the weekly invitation limit on LinkedIn?
Unfortunately you have to wait until the following week or use Waalaxy to see your prospecting automatically resume.
Will the restriction harm your image on LinkedIn?
No. Don't worry, other users are not notified that your account has been restricted.
Will LinkedIn notify me when the restriction ends?
No, there is no need to monitor your email. The best way to know if it is lifted is to test!
So there you have it, now you know all about the weekly LinkedIn invitation limit! 🚀