In this tutorial, we will show you the most efficient way to import your Facebook contacts to LinkedIn. In the article you will find:
🎁 Free tools,
💡 Tips for managing your contacts,
👨‍🏫 A step-by-step picture tutorial.
Step 0 : Transfer contacts from your Facebook to LinkedIn
First of all, you should know that not all your Facebook contacts have LinkedIn, and therefore your results will not reach 100%. But today, there are billions of people on LinkedIn, so the list of potential contacts is endless.😉
We've found a way to get all of your Facebook contacts that have LinkedIn. Yes yes, you read that right, ALL contacts.
To do this, you'll need 3 tools to set up easily (they're all available for FREE).
Next, be aware that the tutorial goes beyond just "Import your contacts from Facebook to LinkedIn". In fact, it also explains how to use the Waalaxy tool for free to add your LinkedIn contacts in a CRM and automate all your future prospecting actions:
🚀 But also with the advanced option:
We find the emails of your prospects,
You can automate your emailing and do multi-channel.
Step 1: Import contacts with 3 free tools
Let's start with Octoparse.
Octoparse is a tool that allows you to quickly scrape web data without coding.
It's a tool to scrape* names, first names, phone numbers, email addresses, companies, restaurants, social networks, in short all those you want. *scraper = the translation is "to scrape", i.e. to go and find/grape the data of the users.
The tool is very quick to pick up and the features can achieve great things 😉.
So we let you download the tool right here.
2. Next, you'll need Derrick.
Derrick is a Google Sheet add-on that makes cleaning up and enriching your leads very easy. You can download Derrick here.
3. Finally, you'll need Waalaxy.
The tool allows you to automate prospecting on LinkedIn and through emails. You can, visit, follow, connect and send personalized messages and emails to your targets. If you still haven't done so, you can download Waalaxy here.
Now that you have the necessary tools, we can explain how to get your Facebook contacts into LinkedIn contacts.
Step 2: Importing contacts through scrapping
We promise you this is a quick part, but it's essential for contact synchronization. We will use the Facebook contacts, search their data and find the equivalent on LinkedIn.
It's totally automated, the tool takes care of it, you just have to follow these steps: 👉 Direction Octoparse to Scrape Facebook profiles.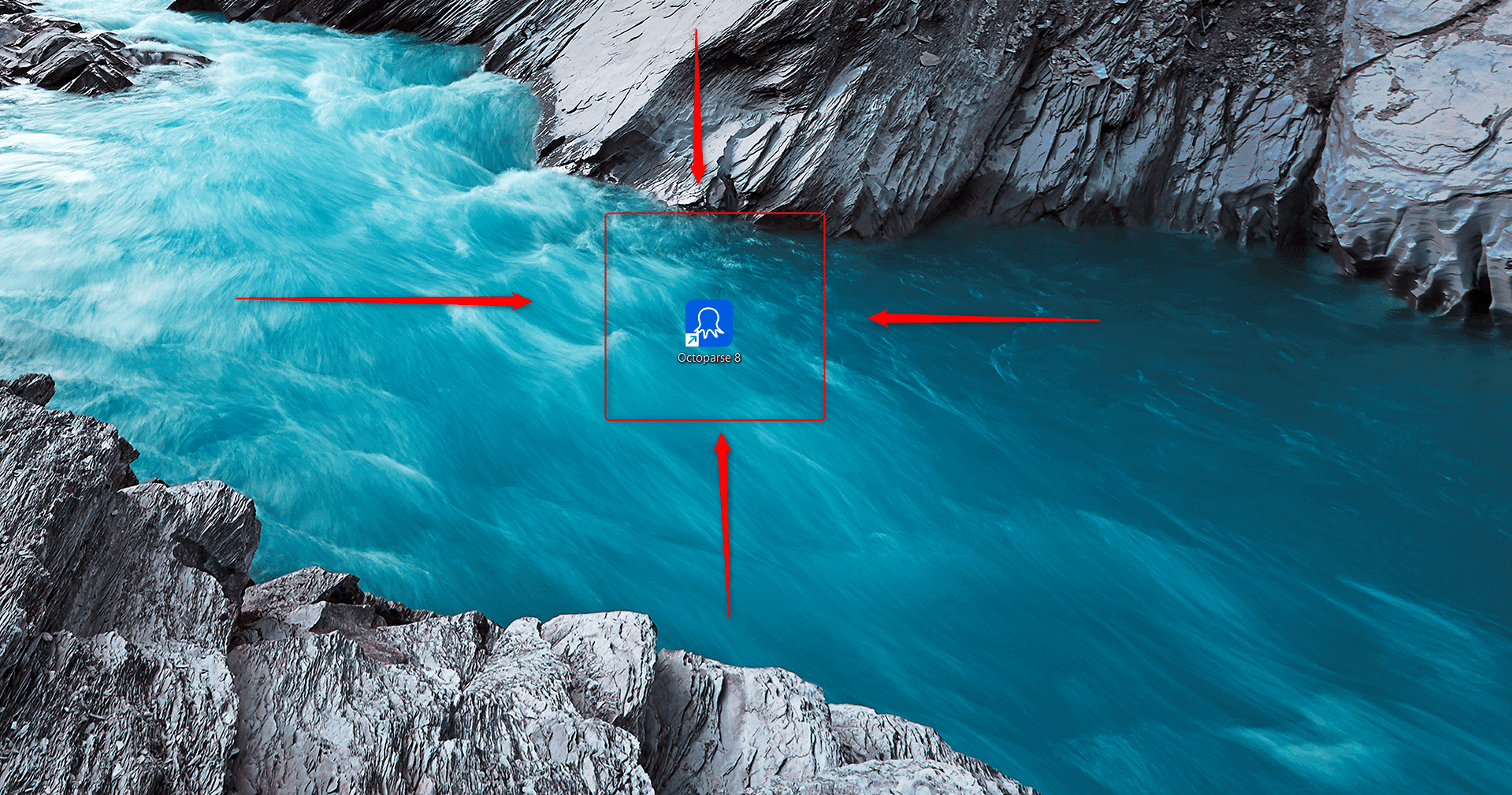 👉 Enter the URL of your Facebook contact page on Octoparse (copy/paste).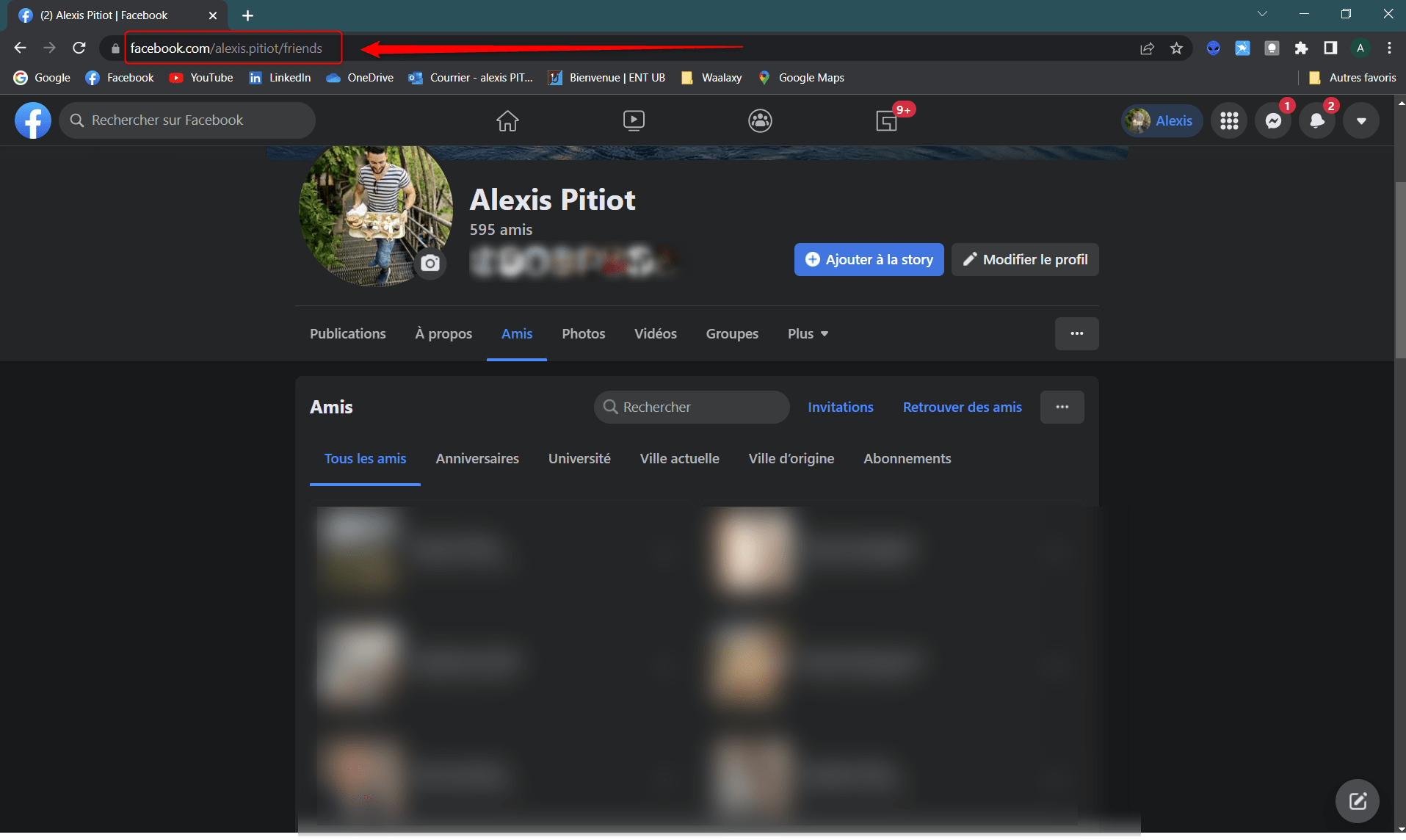 👉 On Octoparse, check the "Browse" button so you can go to the browser.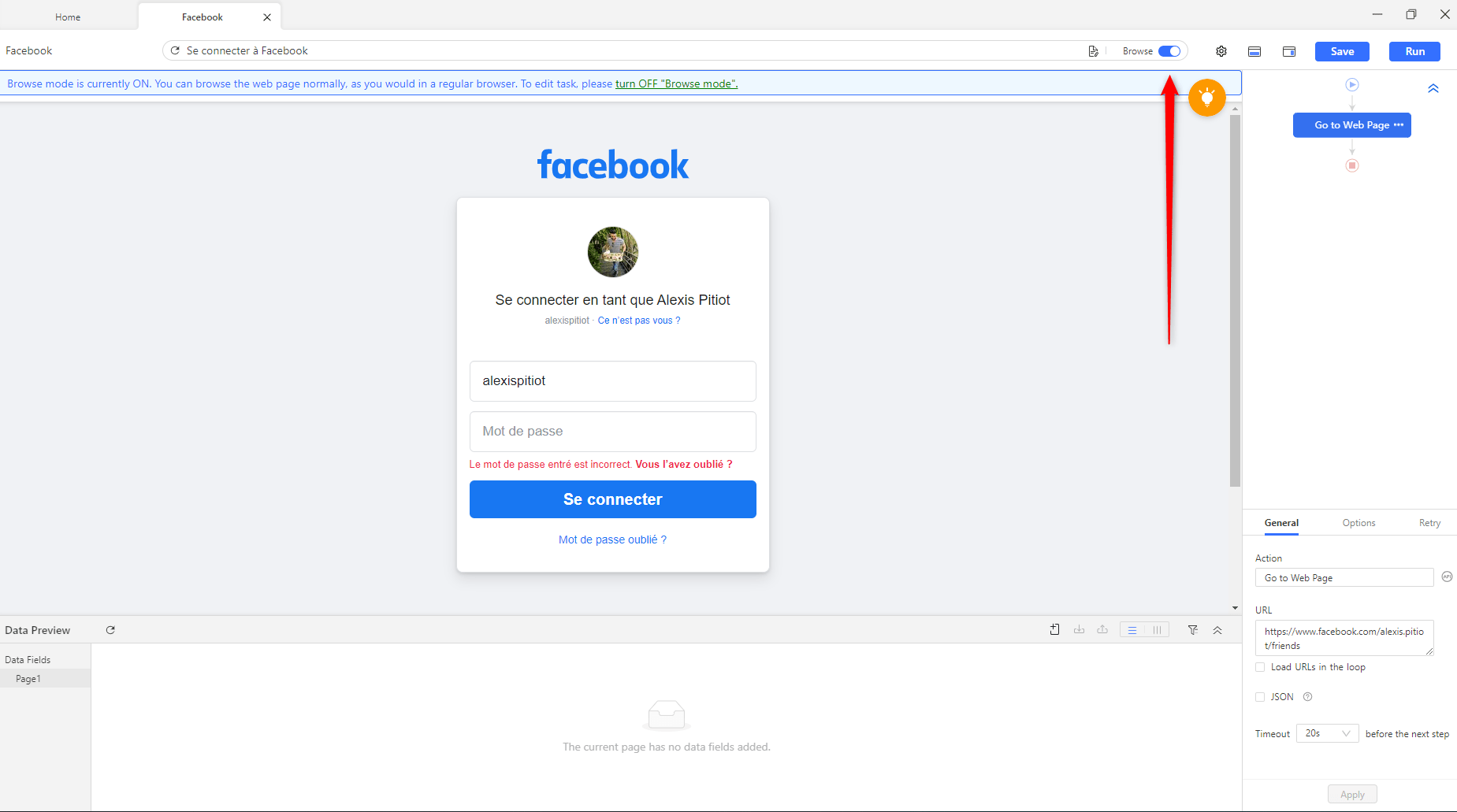 Once connected:
We disable the "Browse".
Click on "Options" in the box at the bottom right then on "Use Cookie",
"Use cookie from the current page" and "Apply". (This will prevent you from reconnecting during the data scrapping)
On your Facebook friends page, you can click on "Auto detect web page data" then "Create to workflow".
You can then select and rename the data that interest you, for this process, we keep only the name and surname. To finish the button "Save" then "Run" in the upper right. Here are the steps that you should have on your screen on the right. 👇
You can see the preview of your scrapping by clicking on "Show Browser".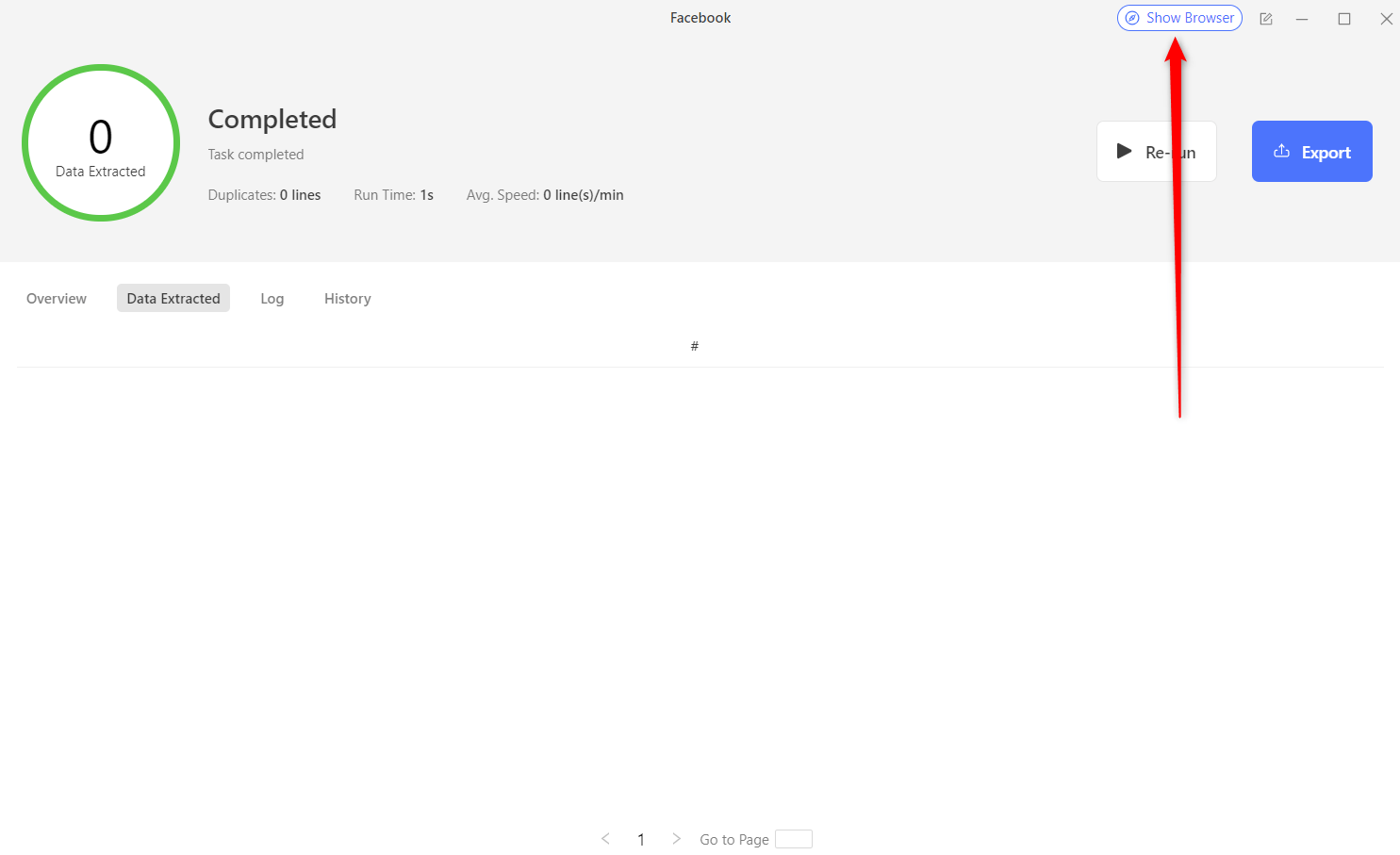 Once finished, you will be able to export your data in CSV format to process them on Derrick.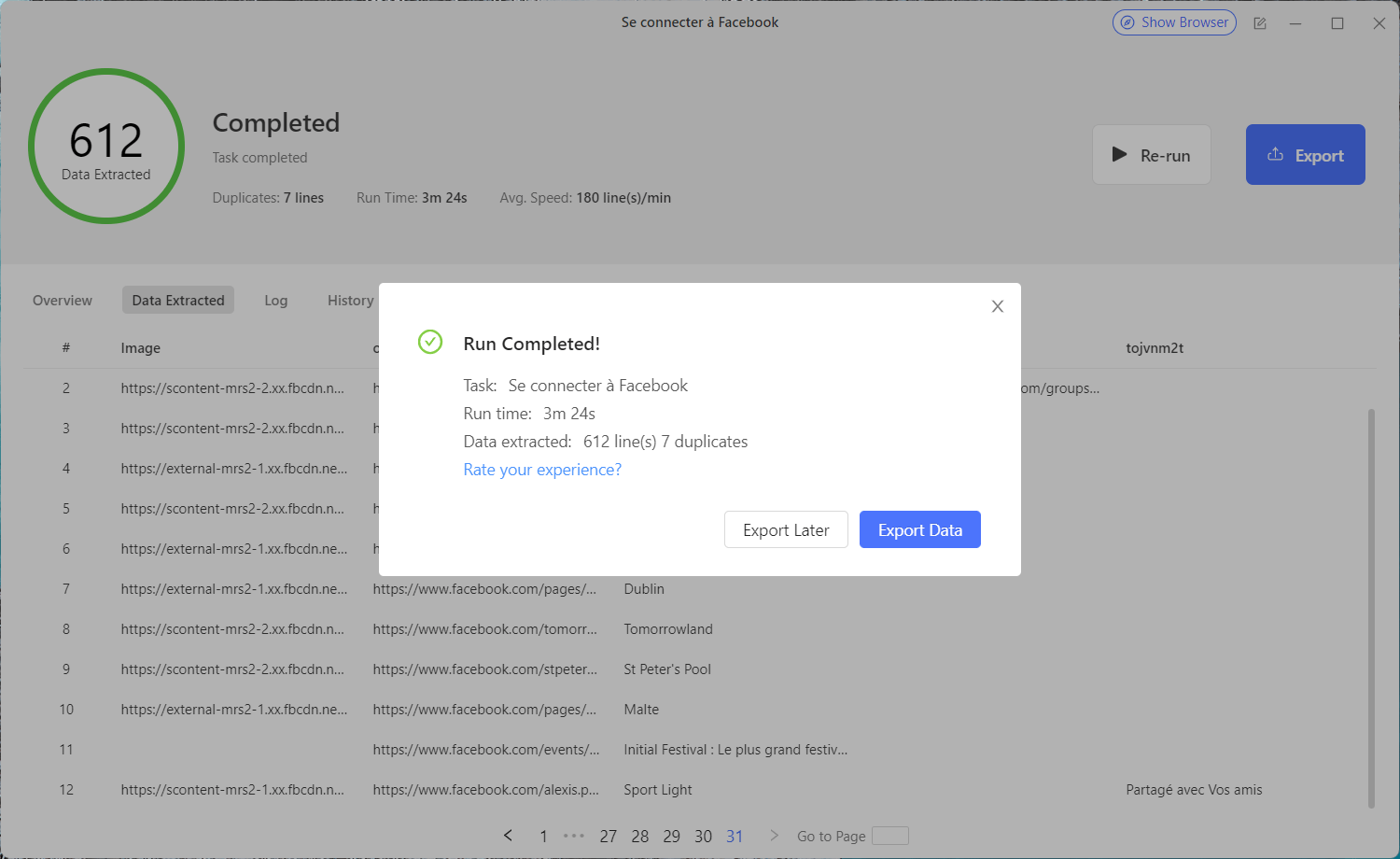 Step 3 : We pass on a CSV file to link everything
For this tutorial, we have chosen to present you Derrick.
But if you want to have a tuto with another tool, you will have a new example in Bonus. 🎁
Open your CSV, copy the whole column and then go to a Google Sheet to paste it. Once on Google Sheet, enable the Derrick extension.
Click on Extensions at the top of your Google Sheet then "LinkedIn importer for Google Sheet – Derrick" and "Open sidebar".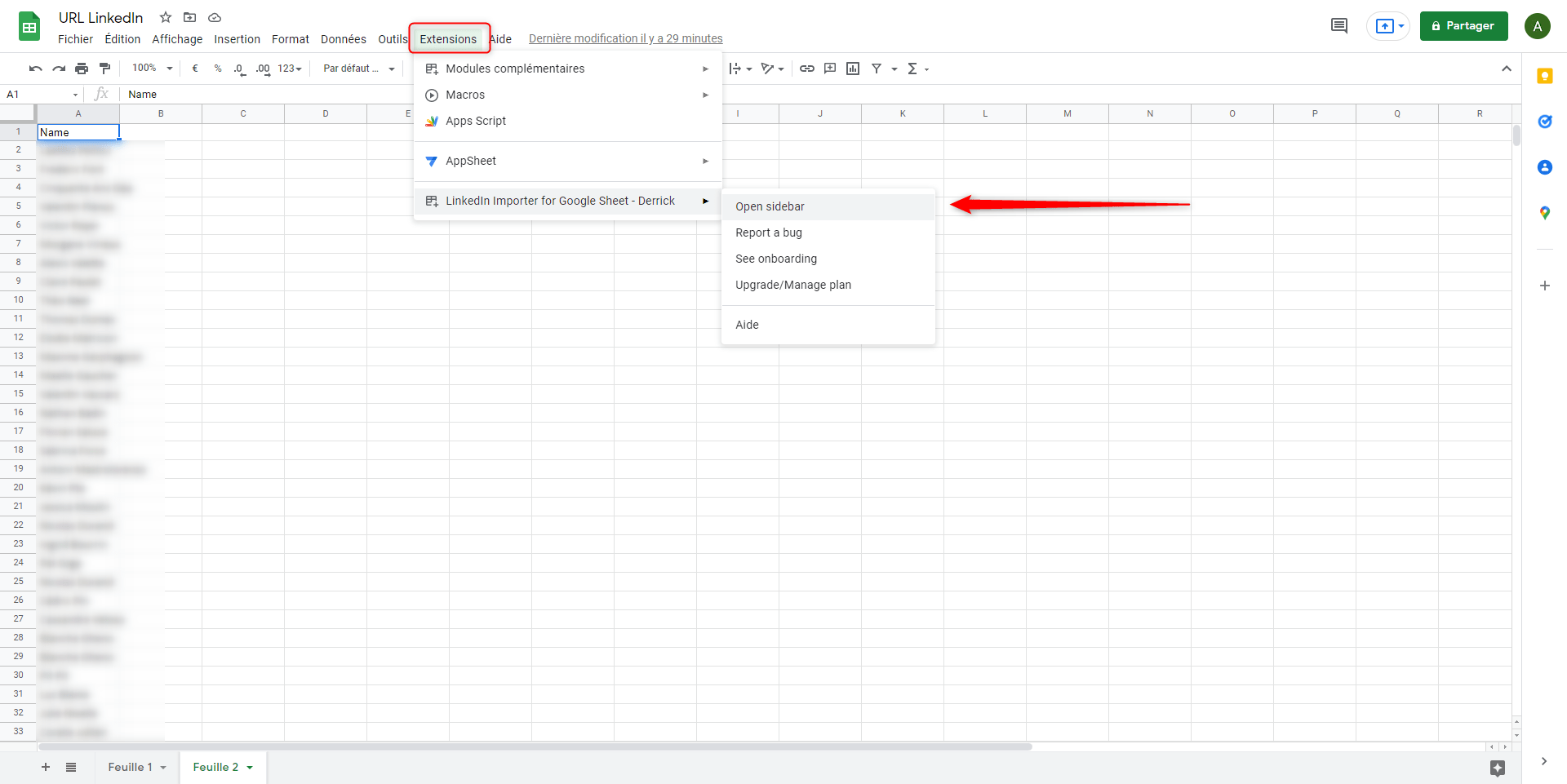 Derrick asks you to add your "LinkedIn Token." don't worry, it's very simple. It doesn't matter if you have LinkedIn or LinkedIn premium, however, we suggest you go through LinkedIn classic rather than SalesNavigator as presented in the Derrick tutorial.
Go to your LinkedIn profile, right click on one side of the page, and then "Inspect." Go to "Application", "Cookies" and "Linkedin.com" then copy your "li_at".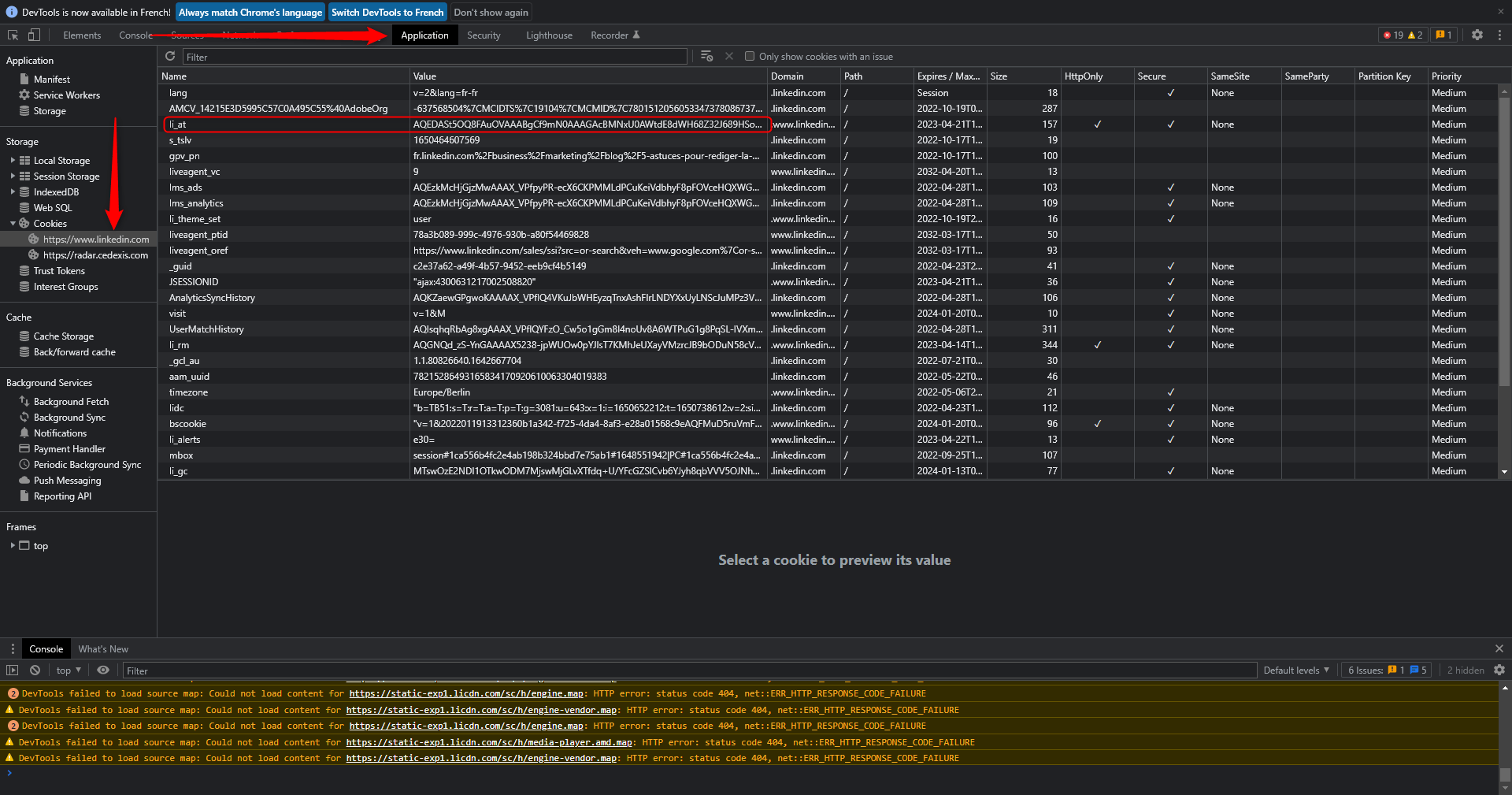 Paste it on Derrick then you can start your search.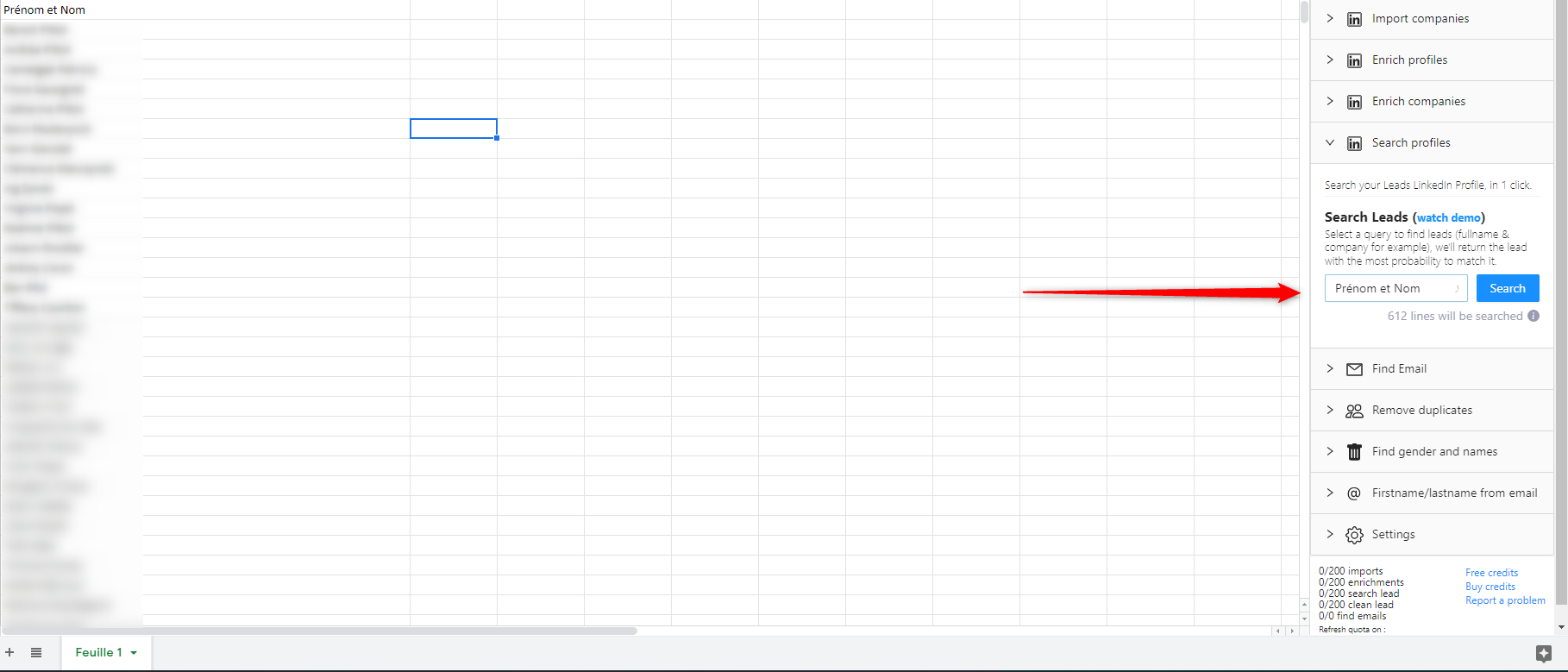 As a reminder, the free version is limited to 200 credits / week. And 1 search = 1 Credit. Once the search is launched, here are the results you will get: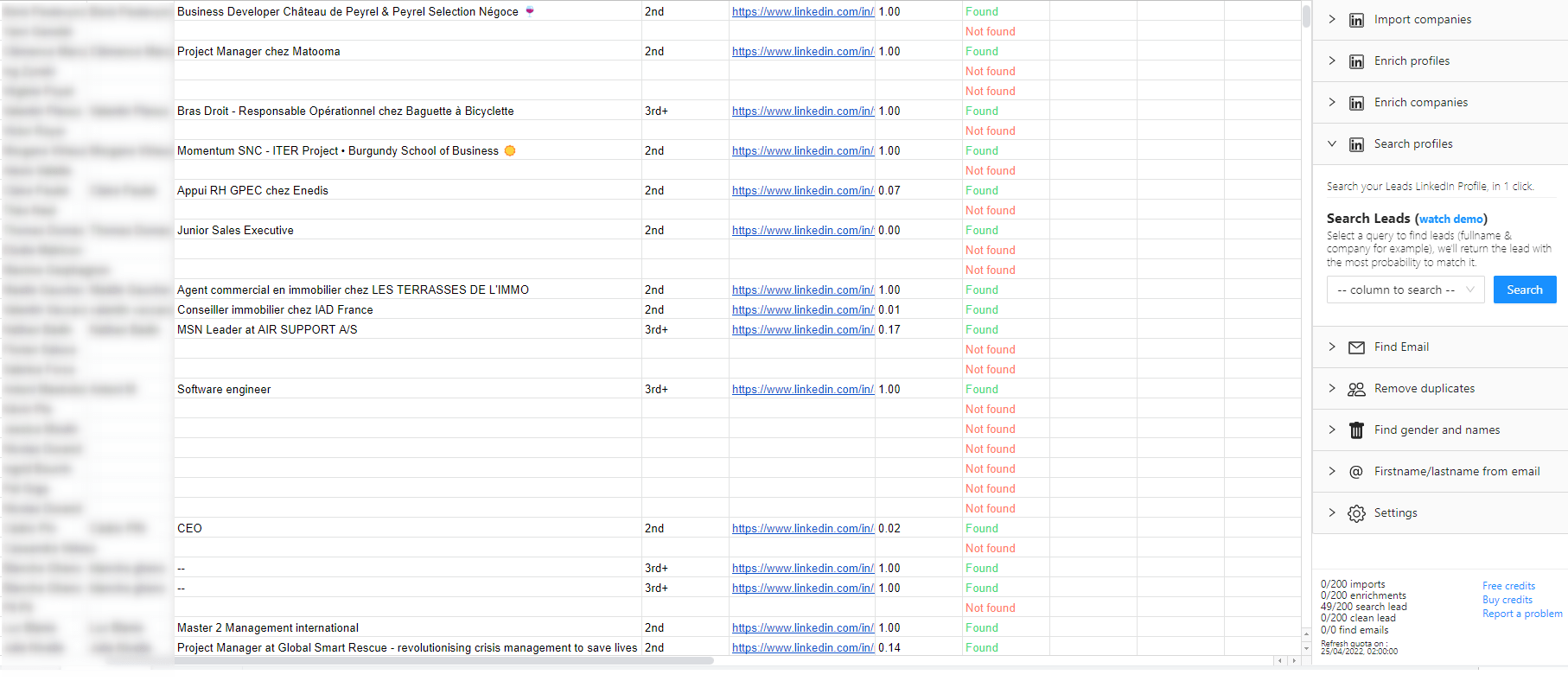 The table contains :
First and last name,
Position held,
The degree of relationship on LinkedIn,
LinkedIn URL,
The trust index of the URL,
The search result.
Now that you have just retrieved the LinkedIn URLs, you can upload your file in CSV format for the final step. 🥳
Step 4: Transfer the contacts from the CSV file to Waalaxy
Go to Waalaxy, create your contact list, import your CSV file and then the magic happens. It may be that the profile information is not up to date. You just need to do a simple visit/tracking/invitation/message action to update them.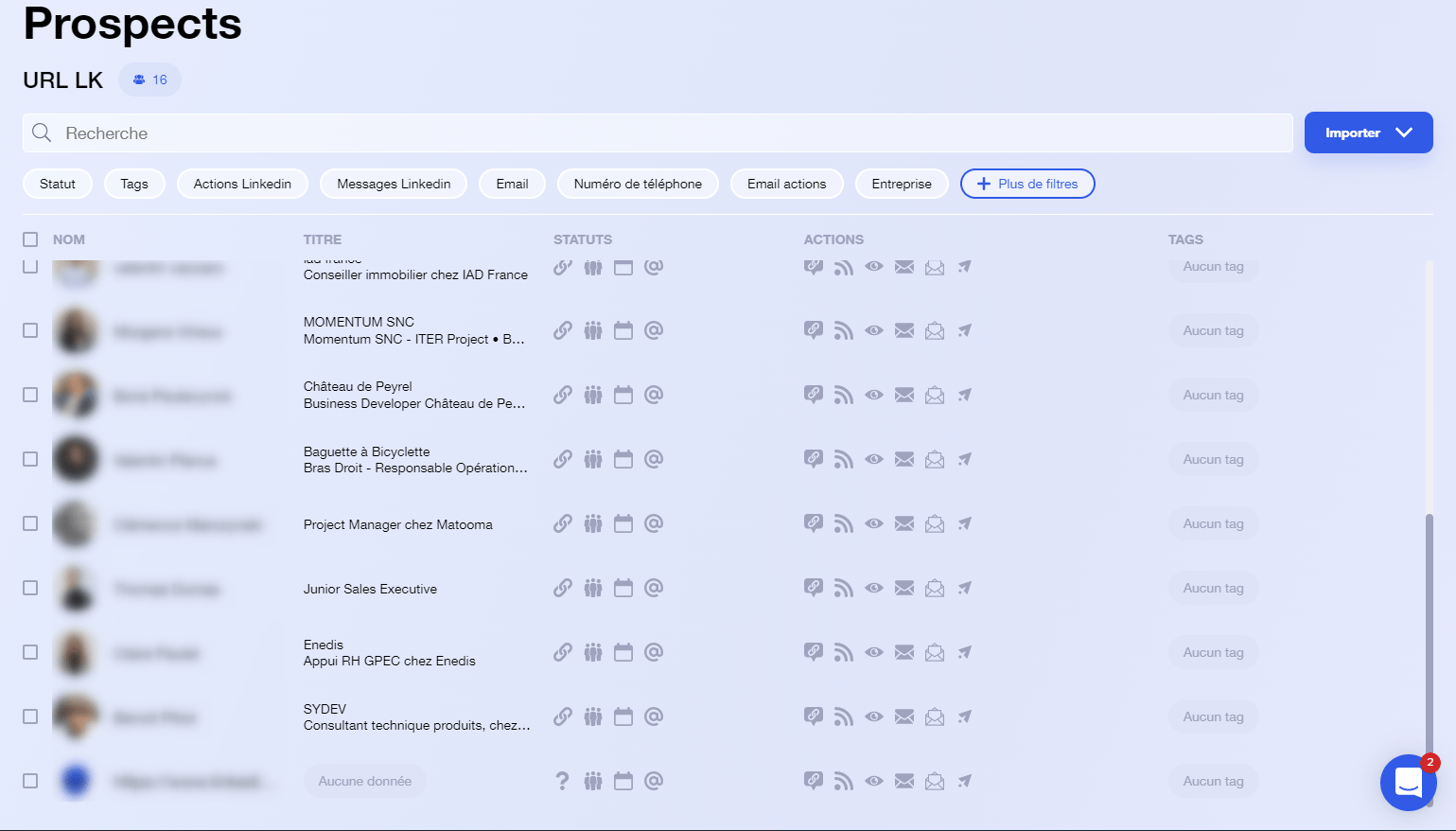 Bonus of the article: The Facebook Groups Hack
How to get new leads through Facebook group?
Well we know a system that allows you to add people from Facebook groups you are in, directly into your lead management CRM and then be able to contact you.
The process is slightly different than the first one. Go to the page of your Facebook group and then to the list of members. Copy the URL and paste it on Octoparse.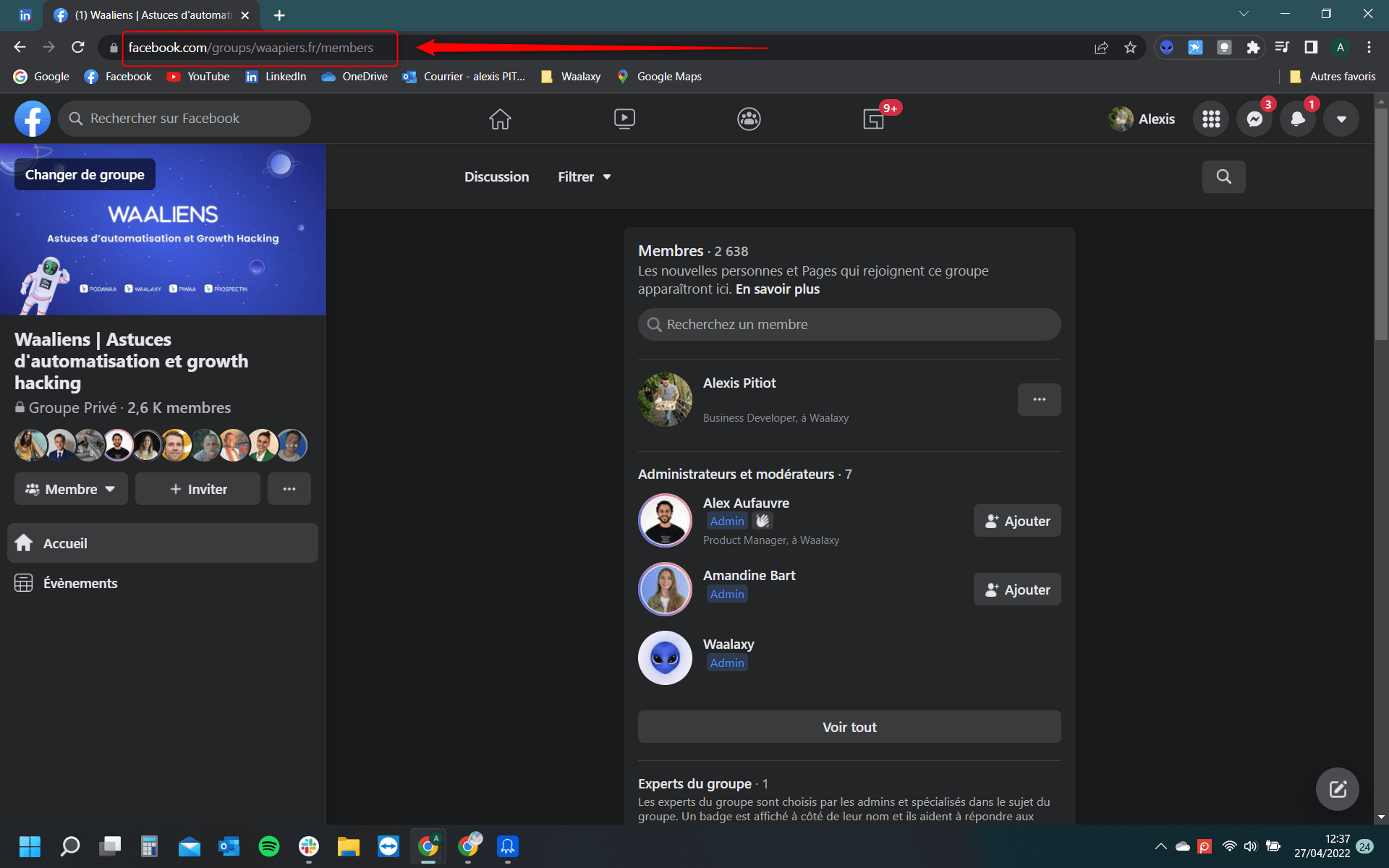 We activate the Browse mode, we connect with Octoparse, then we deactivate the browse. We start by saving the cookies.
"Go to web page -> Option -> Use Cookie -> Use Cookie from the current page -> Apply. Then we click on the tab "add a step."
We select Loop, and we click on the new step to modify the parameters. Change the "Loop Mode" by choosing Scroll Page.
Attention 🅰 If your group has more than 1000 members, you will have to change the number of repetitions.
We recommend you to put the maximum (Ex: 9,999) because Octorparse will stop the Scrap automatically when there is no more given. Then Apply.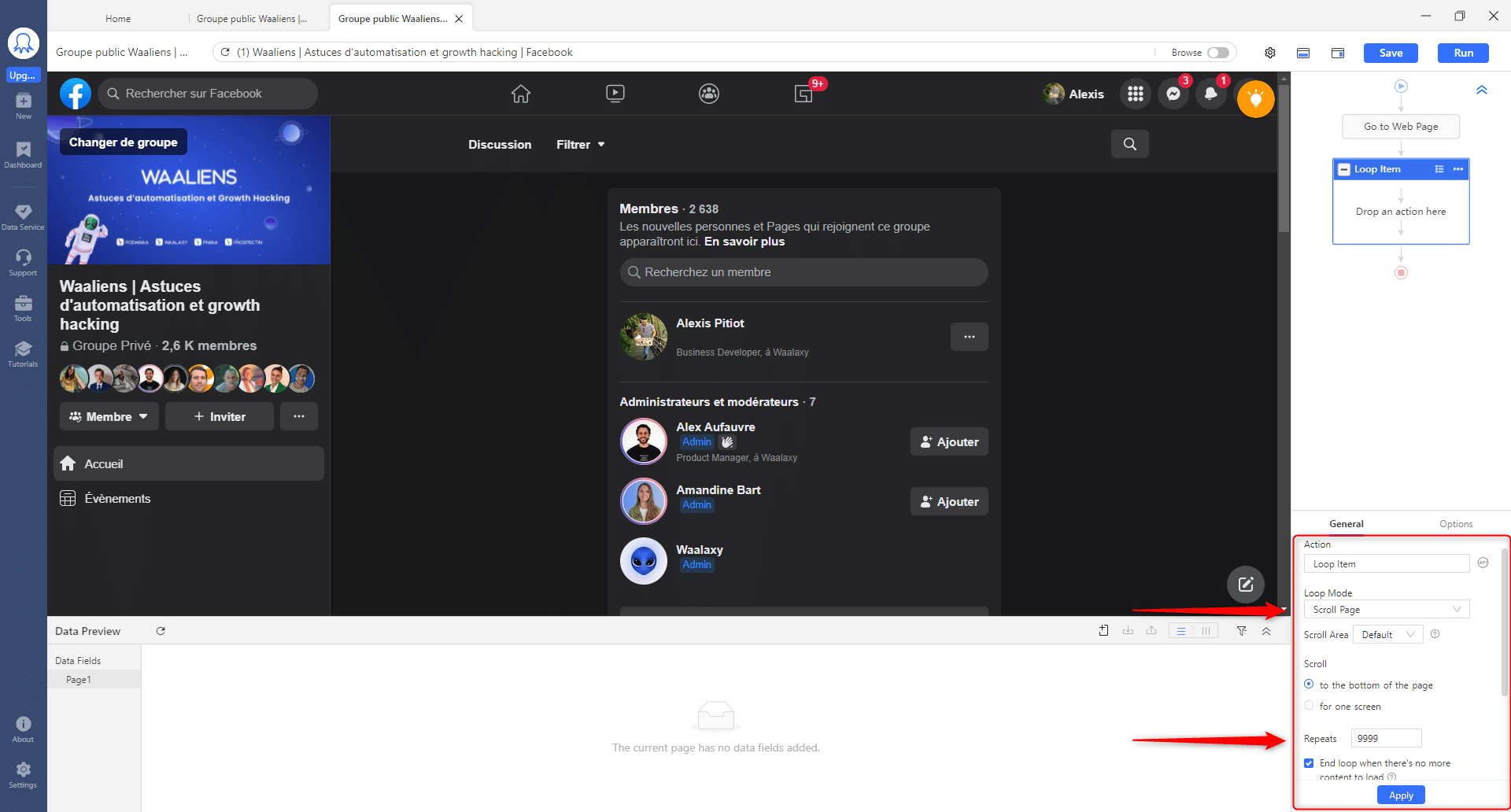 Then we click on the name of a new member then select All and Extract text of the selected links. 👇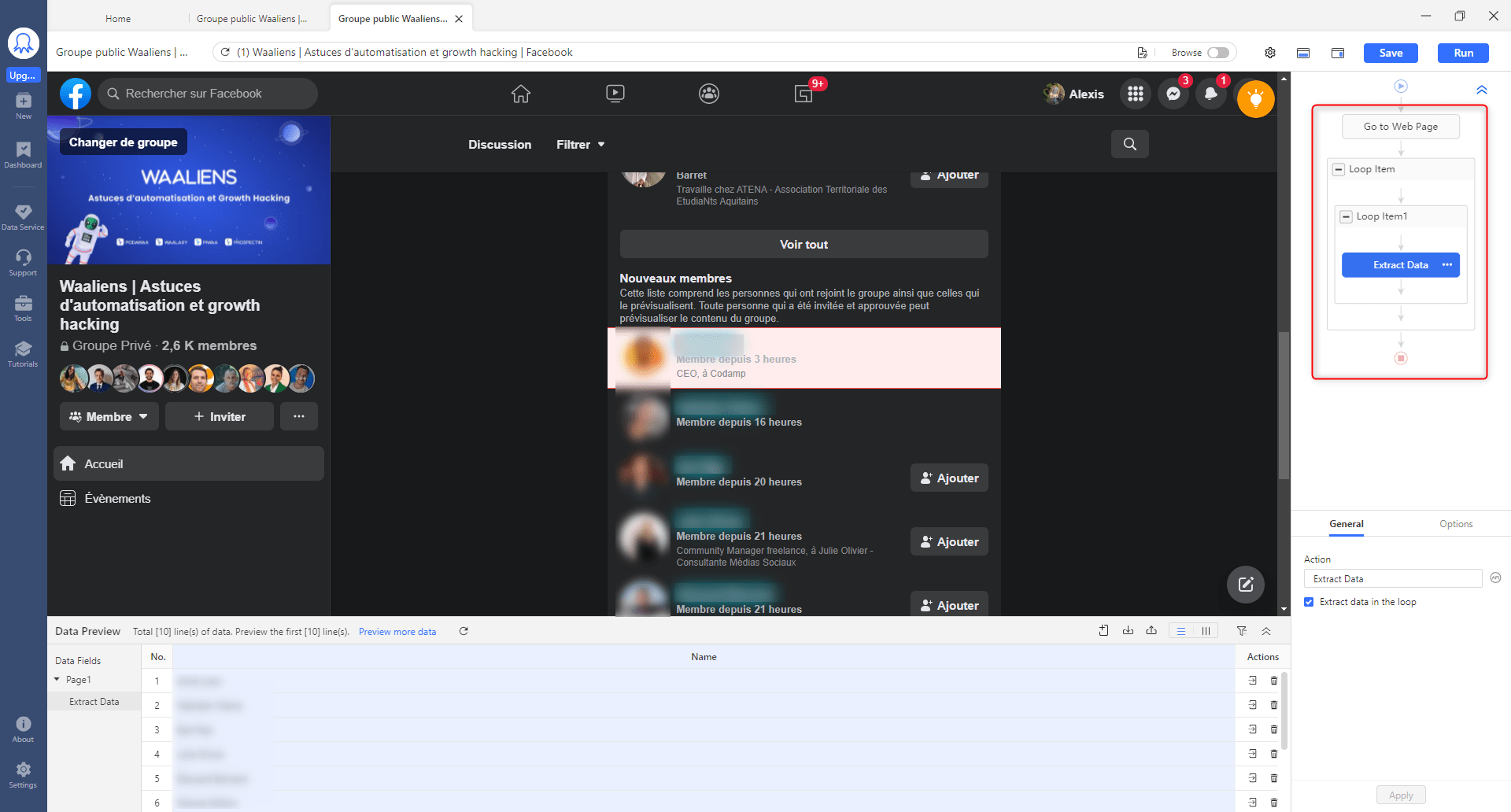 The workflow is finished. On Save and Run. Then copy your data to a Google Sheet(excel file).
Activate the sharing of the Google Sheet data. Share-> Get link -> All users with link -> Copy link.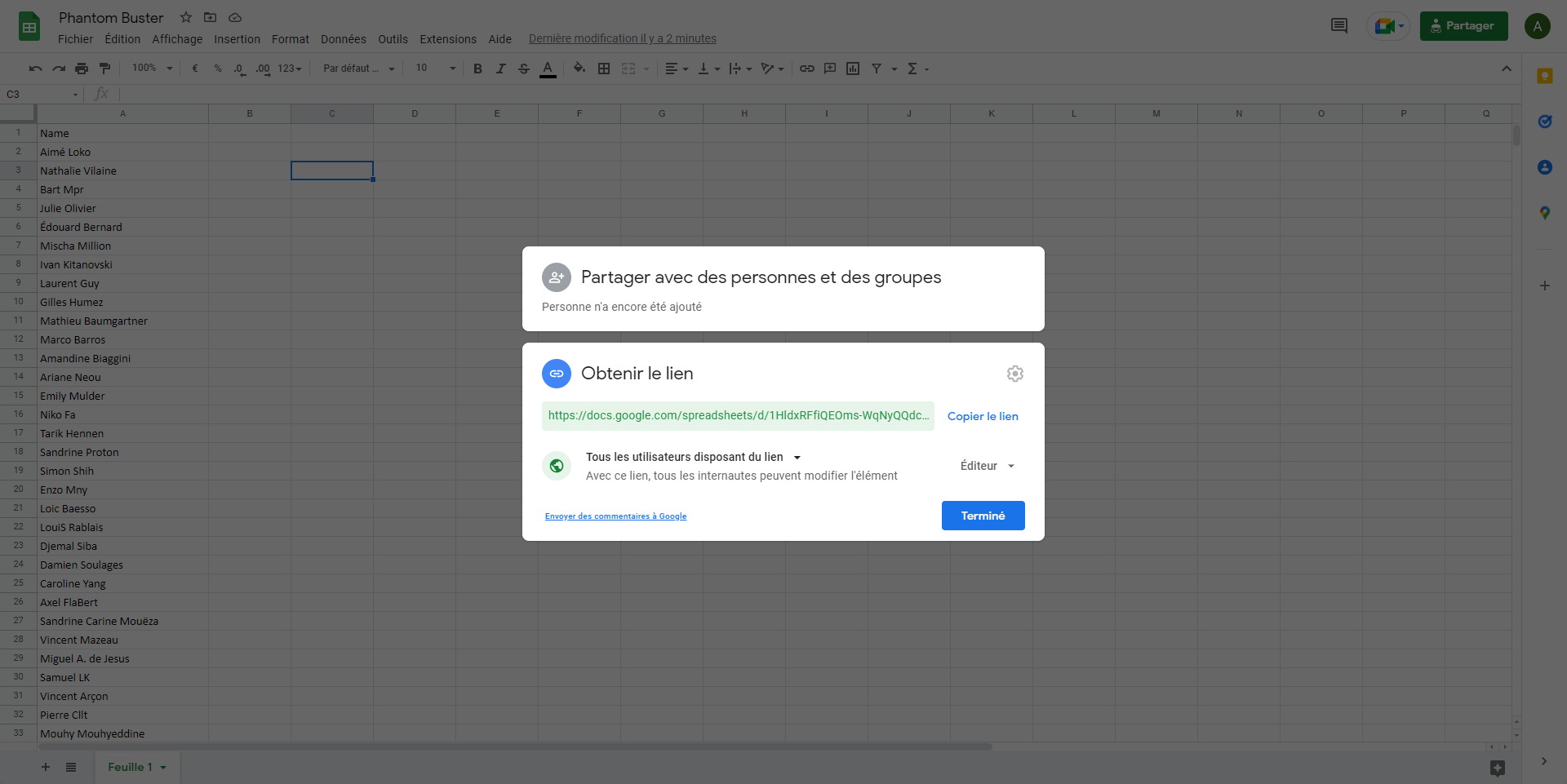 For the second part, we suggest you use Phantom Buster ! We will use Phantom Buster to find the URLs of LinkedIn profiles.
To do this, go to the creation of a Phantom Buster account. Once created, go to the LinkedIn category and take the LinkedIn Profile URL Finder feature.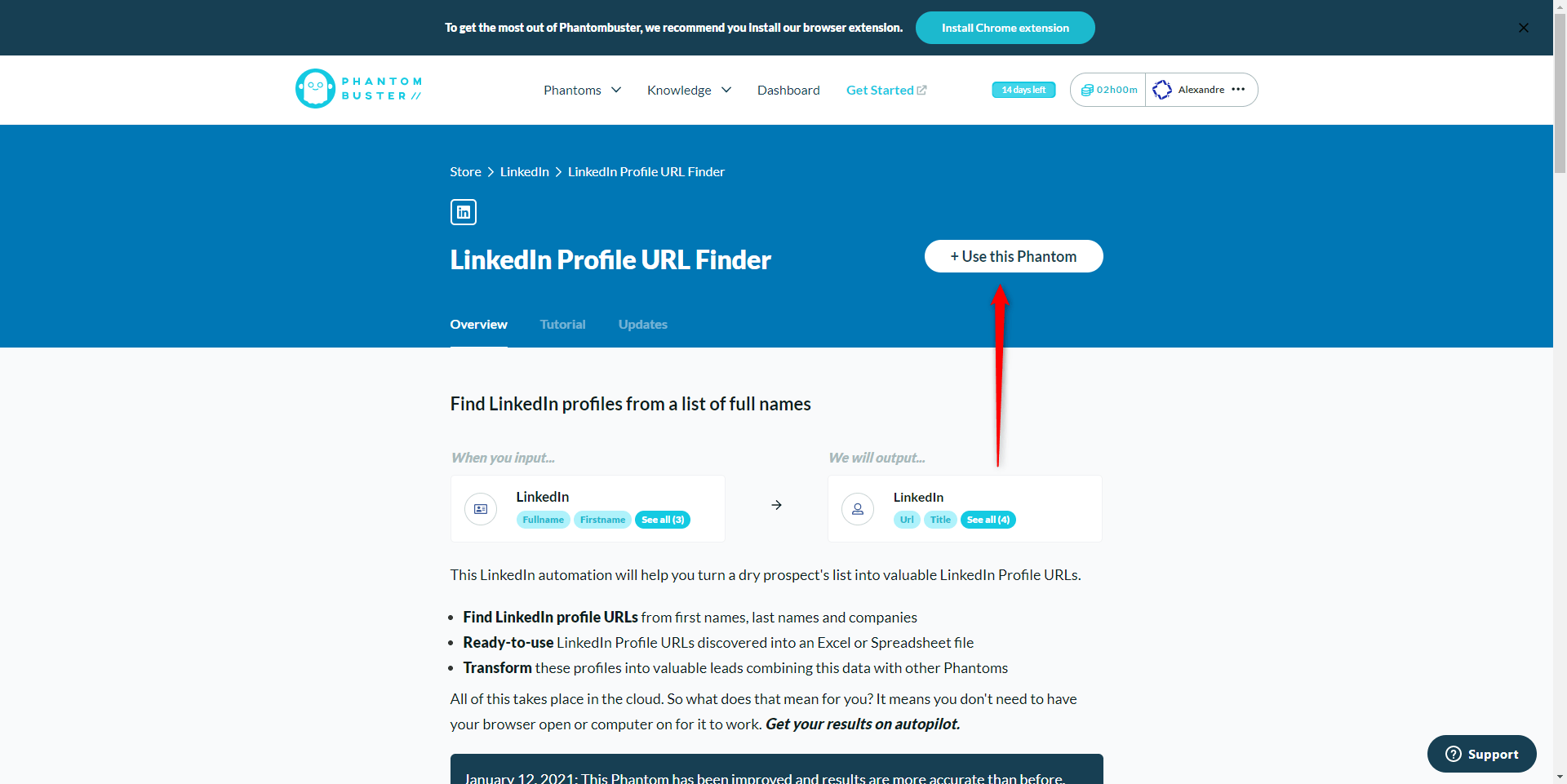 Take the URL from your Google Sheet with your data.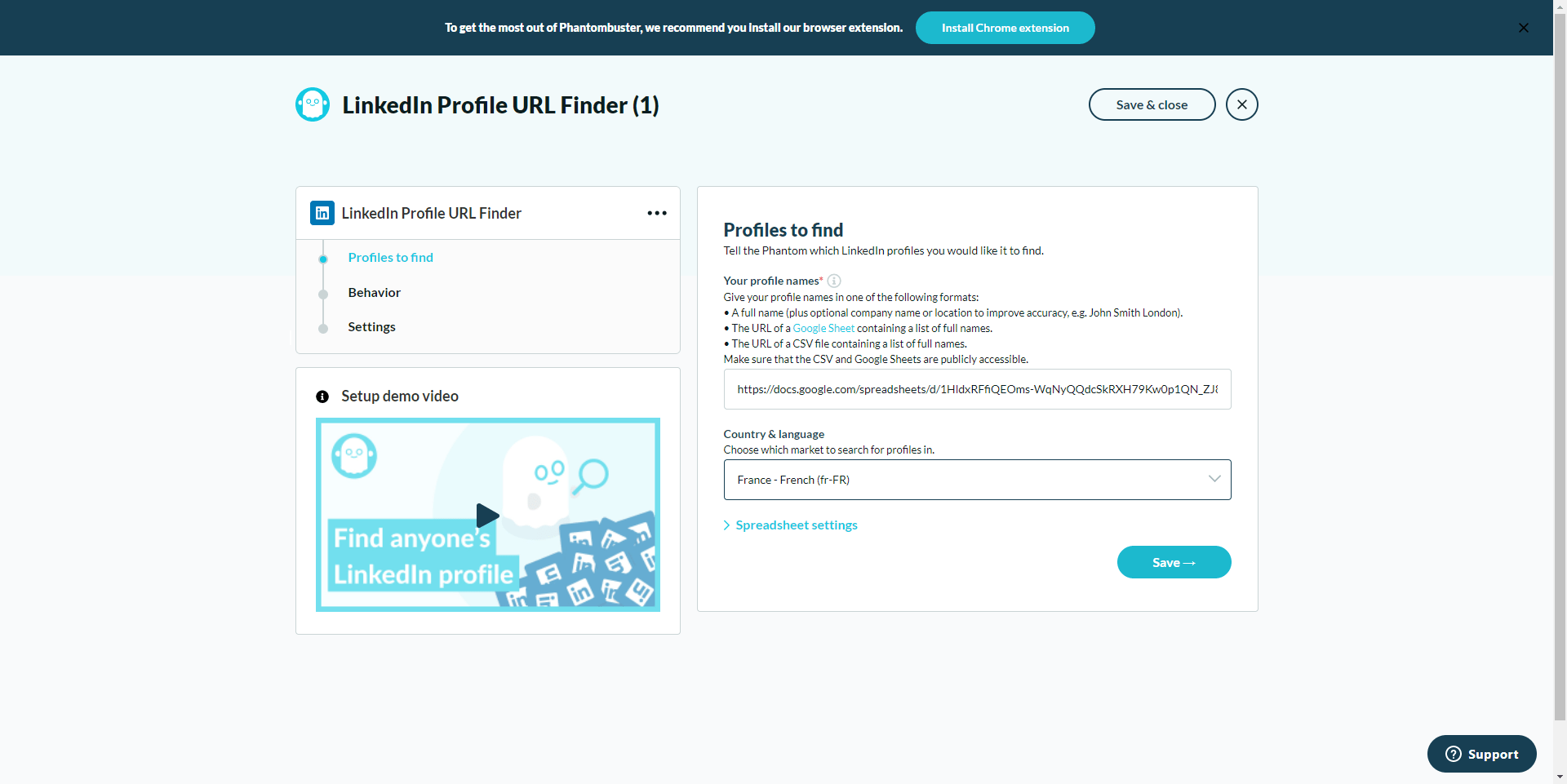 Indicate the number of search lines.
(Attention the free phantom buster is limited to 02h00 per month).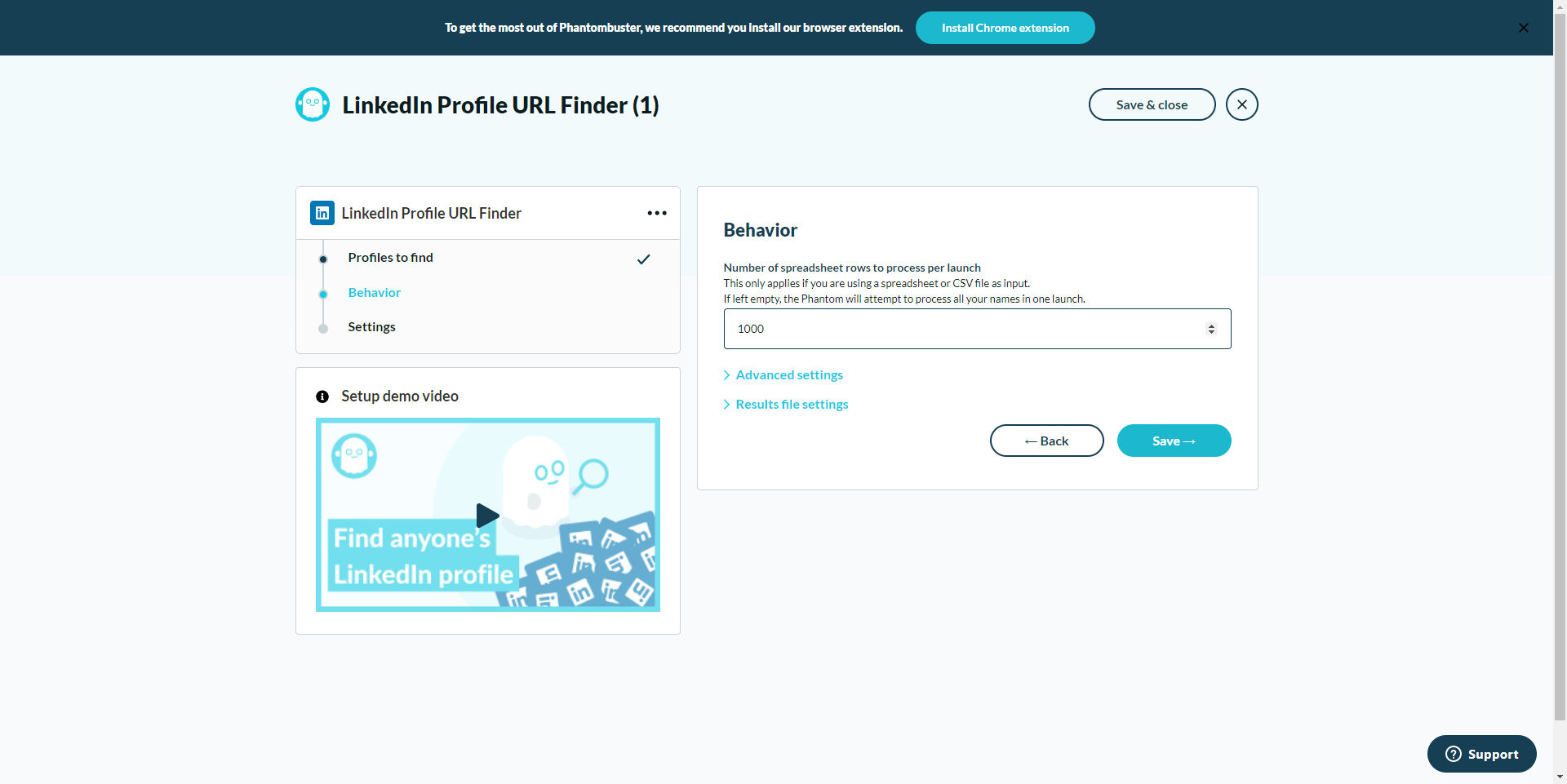 Once the process is complete, download and open the file to convert the data. Data -> Convert -> Delimited -> Comma -> Finish.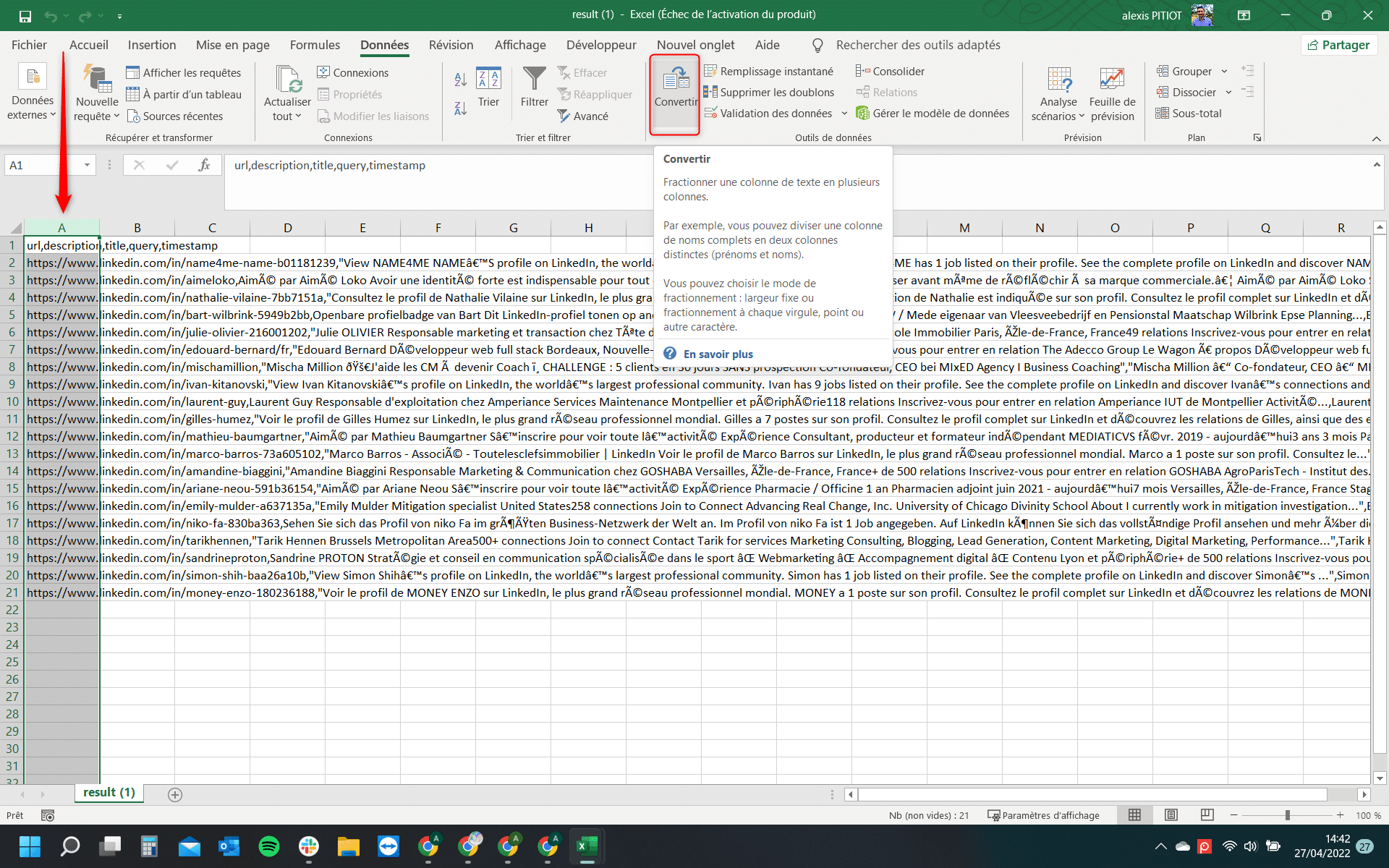 Save the file in CSV format to import it on Waalaxy.
Go to Waalaxy.
Create a new contacts list and then import your list with the csv file.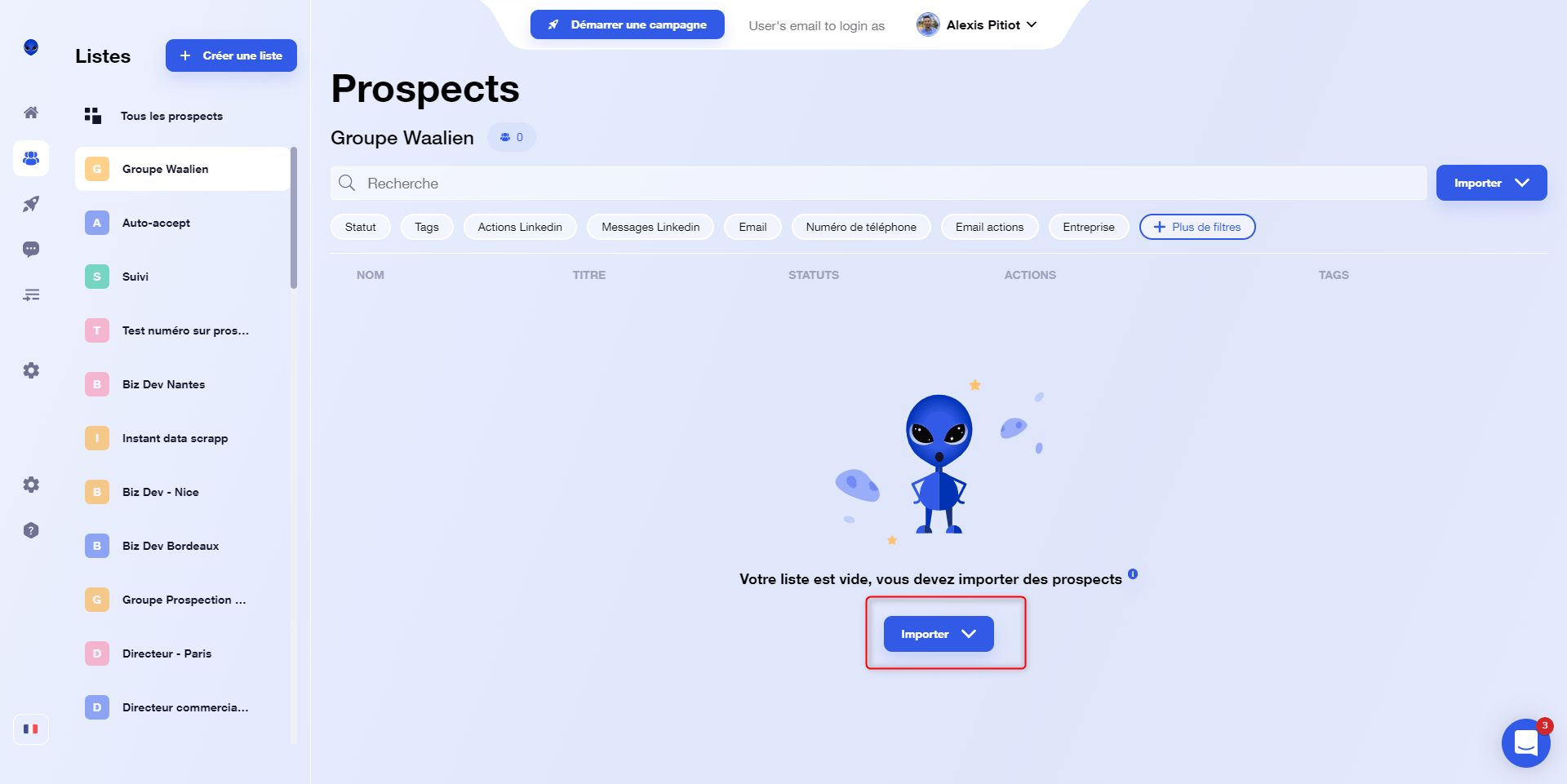 Once imported you will be able to take action on these profiles to update the data.
To conclude : You can Import your Facebook contacts to LinkedIn easily
Thanks to this article, you can now find your Facebook contacts on LinkedIn but also :
Find people on Facebook groups and add them to your CRM,
Send automated messages to your exported contacts.
Now we're going to go even further, and with just a few clicks. Because at Waalaxy we don't do things by halves. 🤯 Ready to talk about email addresses? Read the Bonus. 😏
Faq / Bonus article: import Facebook contacts to get their mail addresses
At Waalaxy, we have developed a mail finder. It is a tool that allows you, thanks to the LinkedIn URL, to find the associated professional email address. (it can be outlook, gmail, or other ones.) You just have to choose a scenario with "email Finder" and launch the tool.
It takes care of everything. You don't have to worry about anything. You can then communicate with your new contacts on 3 channels: Facebook, LinkedIn, Emails.
Plus, you can add multiple contacts to your CRM each week and continue to feed your lead generation, and all that; automatically. 🙃
Check out the scenarios. 
If you have any difficulties in transferring your contacts, write to us on the Waalaxy tool chat, we will try to help you. 🥰
There you go, you know how to Import your Facebook contacts to LinkedIn.
See you soon.