How can I use a single Sales Navigator account for several ProspectIn accounts?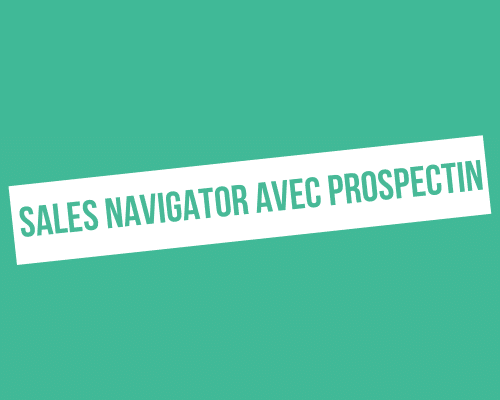 2
minutes
Sales Navigator, a very powerful search tool, allows you to segment your LinkedIn searches in an extremely precise way. 🎯
This tool has a major drawback though, it is very expensive. In this article, we explain how to use a single Sales Navigator account to prospect with all your LinkedIn accounts, thanks to ProspectIn.
Suppose you use 3 ProspectIn accounts for your prospecting activities on LinkedIn.
The first step is, of course, to take a Sales Navigator account with one of your 3 LinkedIn profiles. If possible go for the one with the most first-level connections (this opens up more opportunities). The principle is very simple.
Define your strategy
Define your prospecting strategy: which personas do you want to target? From which research? With which account?
Once your strategy is set, go to the CRM of the account that has the Sales Navigator subscription, then create a Campaign for each LinkedIn profile that you want to use to prospect. For example, if you have decided to prospect the "CEO" with your account A, the "COO" with your account B, the "President" with your account C; you can create 3 campaigns:
"CEO – Account A"
"COO – Account B"
"President – Account C"
You create the same Campaigns in your corresponding accounts. In our example, you, therefore, create a "COO" Campaign on your account B and a "President" Campaign on your account C.
Exporting your prospects
Then you perform your search from Sales Navigator. Then export the leads from the Sales Navigator search results into the corresponding Campaigns of your CRM.
Once all of your prospects have been exported, all you have to do is export the data from the different Campaigns via CSV export. Then re-import this data into your 2 other accounts, in the corresponding Campaigns, via the CSV import.
Using our example again, you will import the data from the "COO – Account B '" Campaign into the "COO" Campaign in your account B. And the "President – Account C" Campaign data into the "President" Campaign from your account C.
We have several articles that explain how to proceed to export campaign data and how to import your data via a CSV file.
The duplicate control security measure active on the account that has exported the prospects via Sales Navigator ensures that you will not have any duplicates among the prospects of your 3 accounts.
You can repeat this technique with as many accounts as you want. This will save you so much on Sales Navigator subscriptions. 😉


Guillaume
Chief Operating Officer @ ProspectIn 😎