This is the question that more and more new B2b marketers are asking: how do you automate LinkedIn and attract new customers through targeted digital prospecting? What is the best tool to do this in an easy, fast and secure way for your account?
If you are asking yourself these questions, then this article is for you! It should help you understand why our tool, ProspectIn, is the ideal companion for your LinkedIn prospecting campaigns. Here is why…
Why should you automate LinkedIn to generate more leads?
The first thing to know is that LinkedIn is a gold mine for your business. Your prospects are there. They have specific needs in various areas of the professional field. So LinkedIn is the ideal social network to find qualified customers.
However, in your company, time is short and you must try to optimize it by automating your marketing actions on LinkedIn. This is where our ProspectIn tool comes in. Here are the advantages of using it:
Saving time in commercial prospecting.
Accuracy when targeting prospecting actions.
Reinforced security of your LinkedIn account.
In the end, what are the positive consequences following these advantages? 🚀
You save more time to devote yourself to other things in your company. More time also means more money.
You are more precise in your prospecting on LinkedIn by addressing your target customer, so you sell more. You earn more money too.
Your LinkedIn account remains clean and secure thanks to our automatic protection system for your daily marketing actions.
Automating LinkedIn also means expanding your own network of relationships with people who share the same interests and complement your business. It's 100% winning.
Why should you automate your LinkedIn actions with ProspectIn?
It is important to know that all LinkedIn prospecting CRM software is dangerous. All except ProspectIn. Here's why… ⬇️
Our software stimulates human behavior during automated actions, with daily quotas to be respected. Respecting these quotas is essential to avoid being banned from LinkedIn. Our tool manages it all for you automatically!

Also, ProspectIn is the best tool to automate LinkedIn because its ergonomics is the most worked on among all BtoB automation software. It is specially designed to spend as little time as possible on it by making the automated intelligence work.
When using it, we propose scenarios with high conversion rates, with a monitoring of your campaigns to generate many customers every day.
Another essential point: the price.
ProspectIn is one of the most affordable automation software on the market, for a higher quality than its competitors (you understood it above).
In short, here's what you can do with ProspectIn :
Automatic invitation requests on targeted people.
Sending personalized messages (very practical for generating leads as soon as the invitation is sent).
Launching automation scenarios to convert new clients in automatic pilot mode. And much more.
In fact, you just have to read our landing page where we talk about all its features.
How to use ProspectIn to do automated digital prospecting on LinkedIn?
Now that you've seen all the reasons to automate LinkedIn as part of your digital strategy, and why you should use ProspectIn, it's now time to find out how to use it properly… 💪
The first step is to install the extension on Google Chrome. You will notice that a LinkedIn tab opens by itself and this is normal.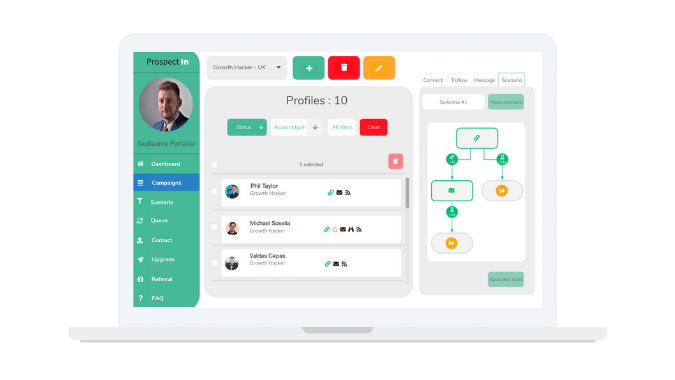 Then, depending on your goal (automate invitations, profile lives, etc…) follow these few steps.
For example, if you want to send automatic invitations with a personalized message then follow the following procedure:
Create a campaign.
Create a personalized note.
Select the profiles you want to target.
Send a login request.
Now ProspectIn does 95% of the work for you! All you have to do is watch the conversion results in your sales funnel.
So ProspectIn is really the best alternative to automate LinkedIn?
Among the multiple marketing automation tools for this social network (Zopto, Linked helper, Dux-Soup, Meet Alfred, Phantom Buster, Neodeal, OctopusCRM…), the tool that offers you the most security, the most ease of use and the most return on investment is ProspectIn.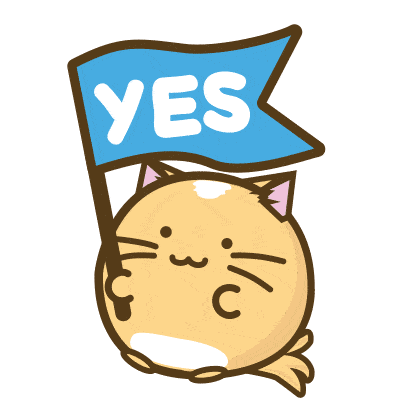 In France, our software is n°1 on the market. And our goal through this article is to tell you that it is not useful to waste your time with the English-speaking competition.
Most of these tools are dangerous for your LinkedIn account and your account has a strong chance to be banned using them. Most importantly, they are very expensive.
What you need today is a reliable, secure, economical and ultra efficient marketing solution to prospect intelligently. ProspectIn is made for you, try it!
ProspectIn to get the best conversion rates on your automated campaigns
Thanks to a clear and intuitive dashboard, you have a direct view of your performance. Even better, you can do A/B Testing on your marketing actions to make sure that your campaign is a hit! You will get much higher opening rates and engagement than emailing for example.
In the end, you generate more leads and customers than with any other Linkedin automation tool.
Automating LinkedIn with ProspectIn saves you (a lot) of time in your prospecting process.
With the best tool, you no longer send invitations manually. Reminders are done automatically and everything is done perfectly. You have just one thing to do: see your prospect list grow and answer them!
This data makes ProspectIn the best tool on the market
First of all, there are more than 3000 customers worldwide: France, Spain, Italy, UK, USA, etc…

With our prospecting tool LinkedIn, it is 400% of leads generated compared to traditional prospecting.
Moreover, 98.5% of our users recommend ProspectIn to manage their B2B marketing.
Finally, on the Chrome store it's more than 4.9/5 in average rating!
Here is an example of a customer notification received about our tool:
Prospectin is one of those tools that make themselves indispensable from the very first use. Of all the prospecting tools that I have tested, I can say that it is indeed one of the most efficient and secure tools on the market
You now know how to automate LinkedIn! And for that you know which tool to use! 😁
---
FAQ summary about this article
Why automate my prospecting on Linkedin?
It allows you to save time, increase your targeting performance, improve your conversion rates and make more sales in the B2B sector.
How to automate LinkedIn to generate new leads?
You need to use an automated prospecting tool that is secure, affordable and powerful at the same time, that's why ProspectIn gathers all these criteria and makes it the best tool on the market.