Sendinblue is an emailing, SMS and marketing automation tool, it allows you to send "scenarios", a concept you should already be familiar with from us. 😅
SendinBlue's scenario, what is it?
In a few words, here is what you can do:
Welcome message

: automatically send a welcome email when subscribing to a list. Useful to address visitors logged to your site and personalize your message.
Birthday

: send an email for a special event like a customer's birthday. A classic message but still works very well in marketing.
Page visit

: send an email after a visitor has visited a certain page. This type of email offers you endless possibilities in terms of marketing action.
Website event

: send an email after the visitor has done a predefined action on the website.
Purchase of a product

: send an email after a purchase.
Marketing activity

: send an email according to the opening actions of your emailing campaigns. This scenario allows you to create complex campaigns and manage your marketing pressure with precision.
Abandoned cart

: a classic scenario that allows you to address the visitor who has abandoned his cart.
Prerequisite:
First, you need to link Prospectin and Google Sheet via a trigger in a Zap.
The procedure is in this article. 🤩
Set the output action to Sendinblue
1. Create an account on Sendinblue:
You can login if you already have an account or create an account by filling out the fields below, or directly by logging in from your google chrome session.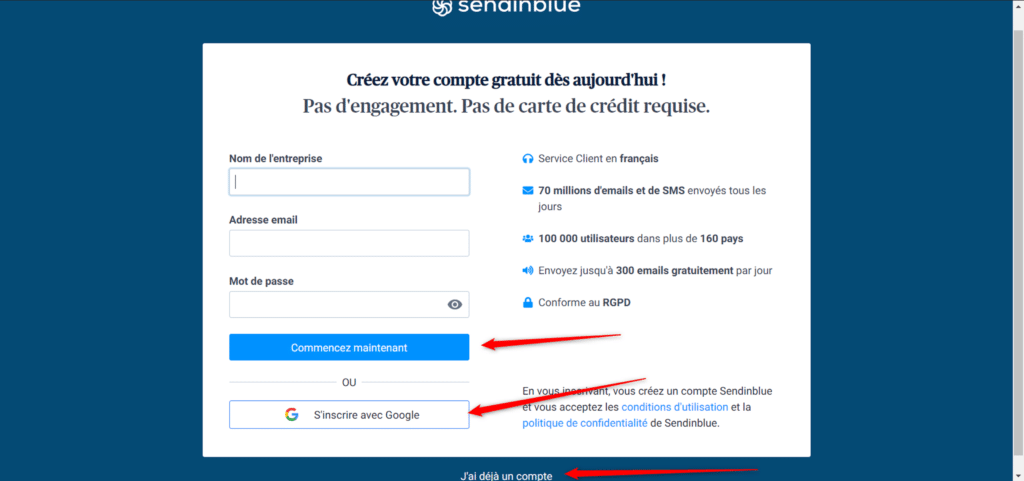 You will then need to fill in the information as requested and then click on "Finish my registration" :
Ps: Don't forget to validate the General Conditions. 😉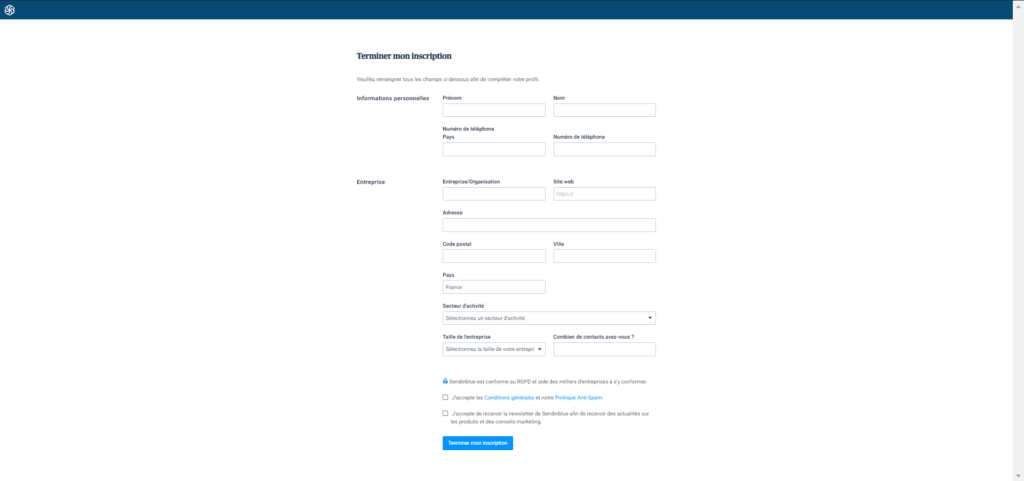 You will be asked to validate your registration by entering the code received by phone: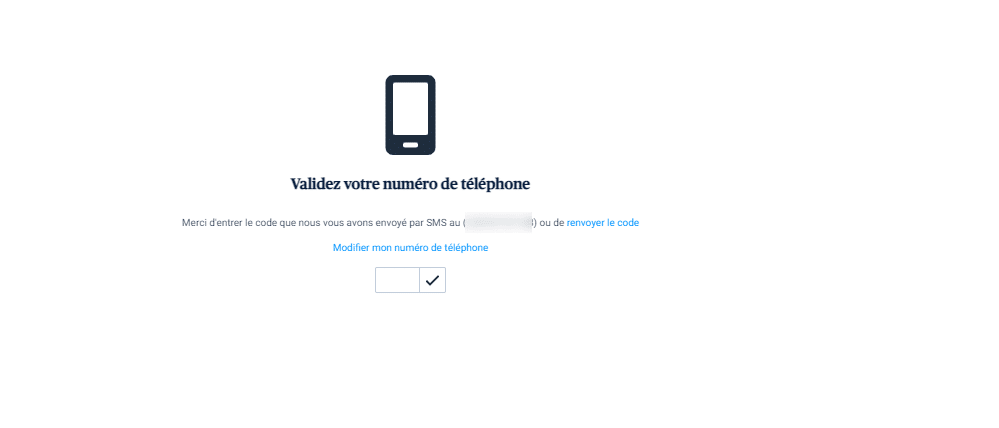 You will arrive on a page presenting the different subscriptions and rates of Sendinblue; the rate depends on the number of emails that will be sent per month, you have an offer:
Free: 300 emails per month,
Lite: 10,000 emails per month,
Premium: 20,000 emails per month,
Enterprise: You can set up personalized sending volumes.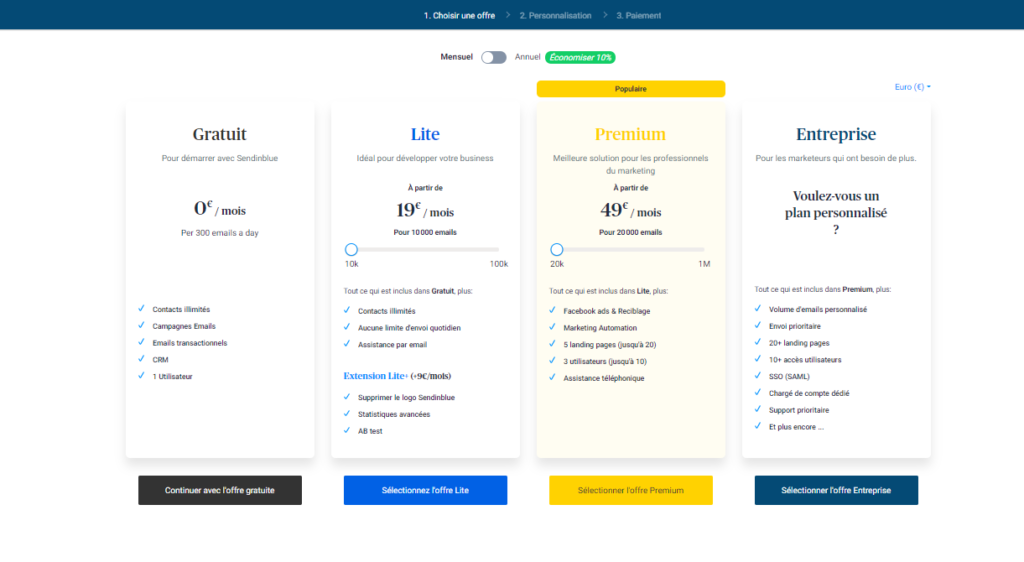 For this example, we will start on the free offer at 0 €.
2. Configure the synchronization on Zapier :
Access from the "My zaps" tab.
Click on it, then click on the "+" at the end which will allow us to add one last step to our Zap.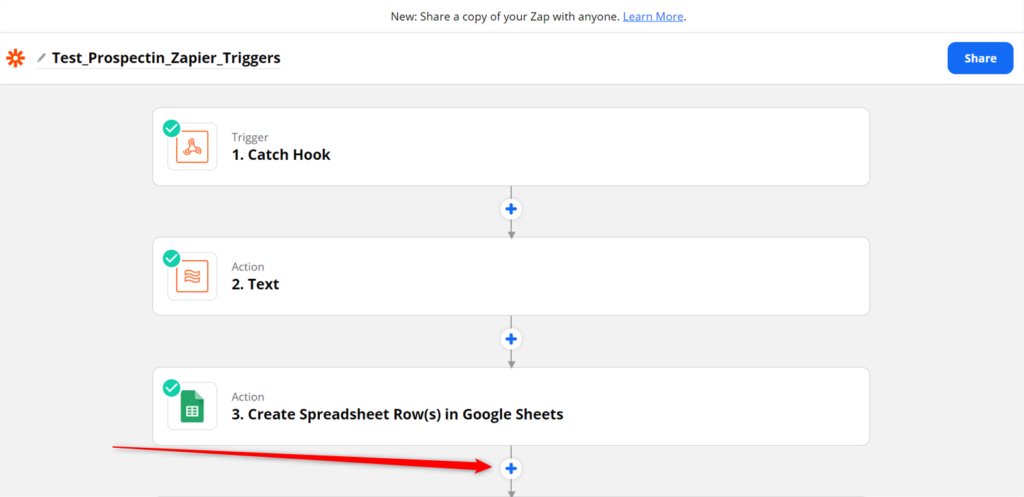 Then you will need to select "Sendinblue" in the search bar: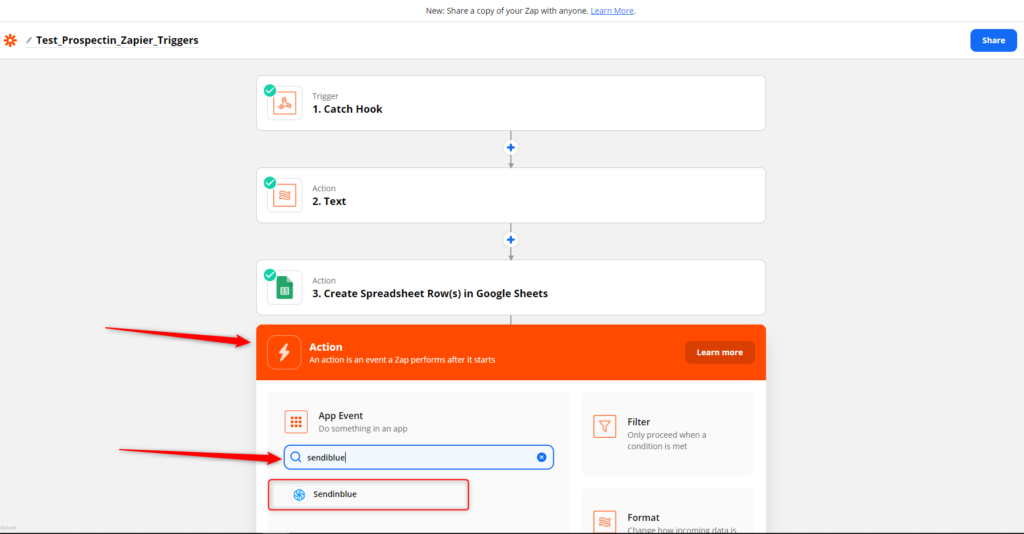 Define the Action Event
Then click on "Send Transactional Email" and "Continue":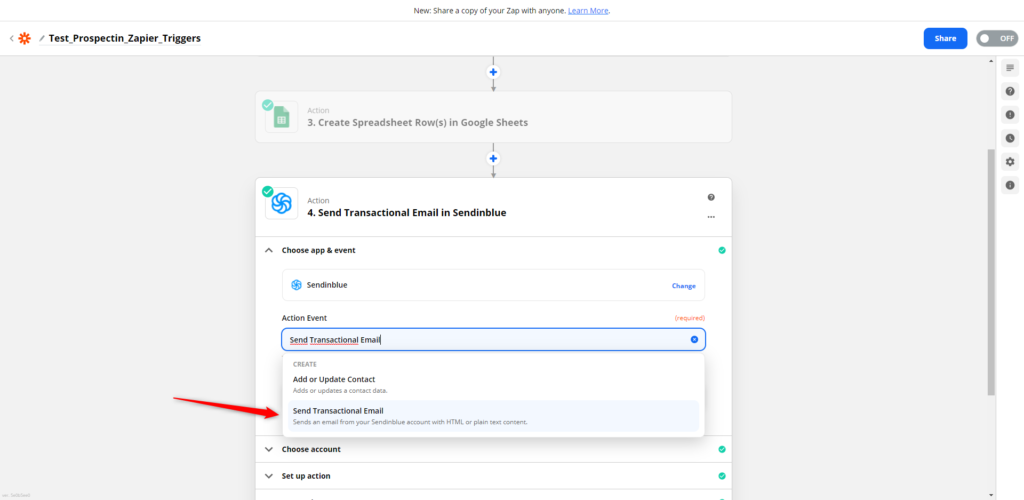 You will then have to connect your Sendinblue account, by clicking on "Sign In", a window will open, and you will have to fill in the API key given by Sendinblue.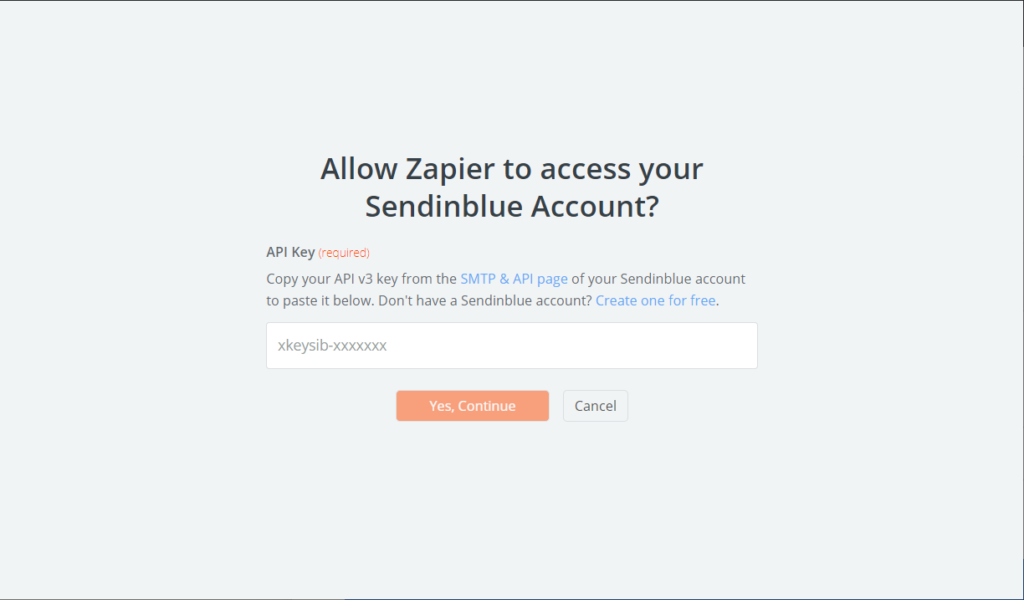 How to find the API key on Sendinblue?
Go back to your Sendinblue account.
Click on the "Transactional" tab at the top.
In "Configuration", click on "API Settings".
Copy/Paste the API Key and enter it in Zapier.
All you have to do is select the associated account: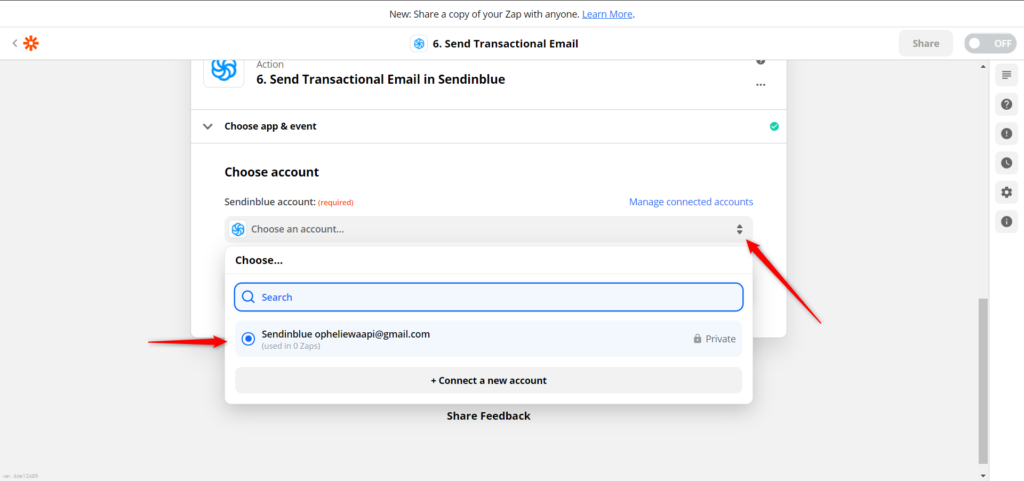 Set Up Action
We pass to the "Set Up Action", you have several fields to fill which correspond to the classic fields of an email:
NB: For the test, I added in the "To" tab my personal email address.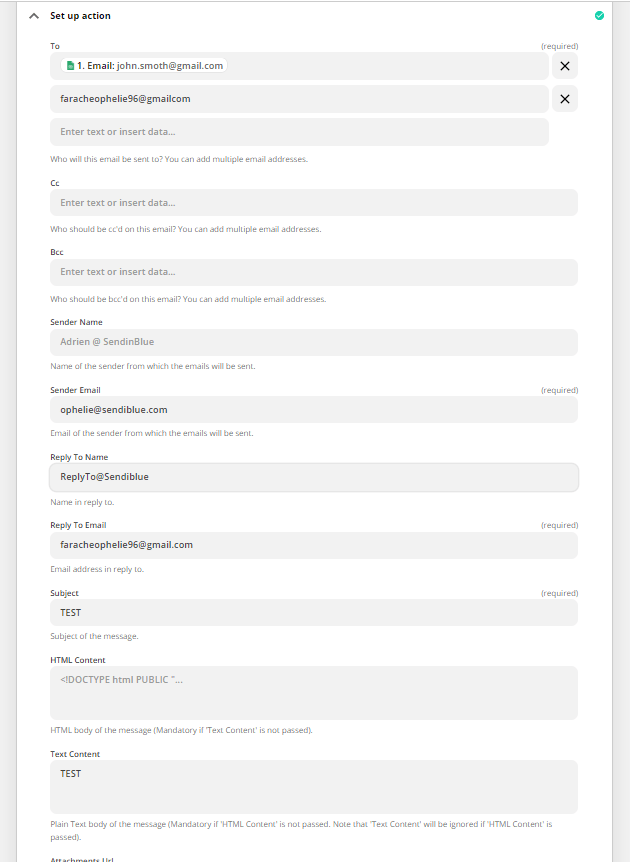 For this to work, you must have access to the SMTP server on Sendinblue.
An " SMTP server " is a mail server that sends emails over the Internet from a sender to one or more recipients according to the SMTP network protocol rules.
It is configured by default even for the free account.
Otherwise you can send a simple email to Sendinblue Support so that they activate the access.
Your Transactional account is now active.
Back to Zapier
You have filled in the various fields on Zapier :
Click on "Test & Continue" at the end of your zap.
Click on "Tun On Zap".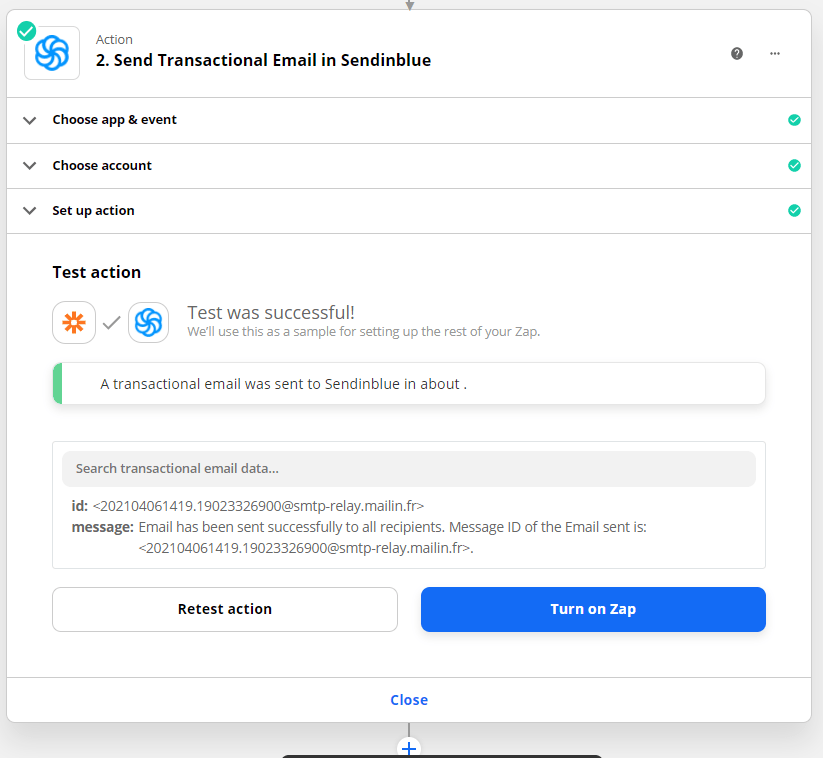 View on Sendinblue
On Sendinblue, you can go to the"Transactional" section: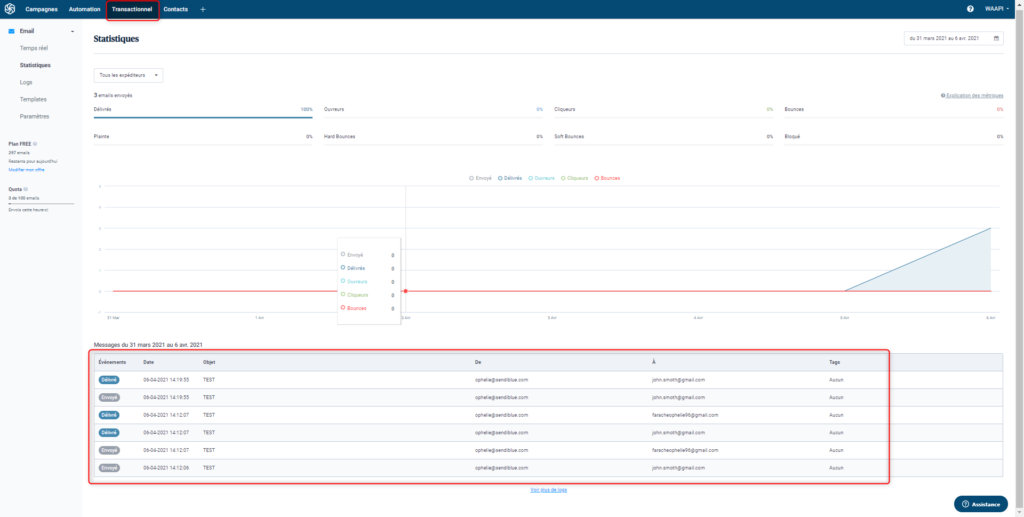 In my personal inbox :

See you soon! 😎