Since mid-January, I have started a particularly intense content strategy on LinkedIn. Today, I do between 50k and 100k views per week, spending only 30 minutes a day. Probably one of my tasks where the Pareto law is the most powerful. 20% of effort yields 80% of the results.
In this article, no miracle recipe. No magic formula. Common sense and a well-refined process. Welcome behind the scenes of my content creation and my engagement on LinkedIn! 😉
1. Find ideas for LinkedIn posts
Before deciding how often I was going to publish, I asked myself:
"With all the material I have in mind, how many posts can I write? And therefore how long I can keep up with a frequency of 3 to 5 posts per week?".
The idea was to have 3 months of specific content in front of me (the exact subjects of the posts) and 3 other months of ideas to clarify.
So I started by creating a Google Doc with all my raw ideas. I had wanted to publish on LinkedIn for a long time and being quite creative, I quickly exceeded fifty subjects, some of which were treatable on several posts.
I then asked the rest of the team if they had any ideas and got about 20 more topics. So here I am with 100 publications to write.
2. Write LinkedIn posts
Here we are in the second and most important phase of content creation: Writing posts and get engagement on LinkedIn. 😁
Use the correct publication format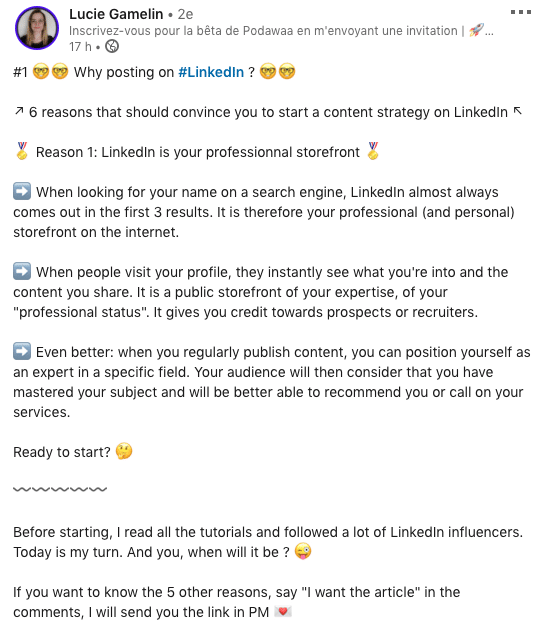 I had to find a style. A readable and fairly quickly recognizable format. So I followed to the letter the article by Benoît Dubos on Groowster.com for the format of my posts. Something airy, with emojis and fairly short sentences.
That's it, I was ready to write.
Optimize your time
At ProspectIn, we are a small team. 6 people at the time of writing. In my daily missions I, therefore, have to manage a whole set of things (administrative tasks, product design, prospecting, customer service…).
I wanted to lead my own LinkedIn content strategy and not delegate it to another person on the team. So my time had to be optimized.
However, to be effective in the variety of tasks that we have, we have got into the habit of operating by doing work sprints by themes (X days to improve the site, X days writing articles, etc. …). So I decided to spend 1 day every 3 weeks to write my content and program it with a suitable tool (Hootsuite in this case which gives me 30 free scheduled posts).
1 day for tens of thousands of views, the game is clearly worth the effort. But how do you get so much engagement on LinkedIn?
3. Use pods intelligently
I don't hide it. The use of pods is controversial but for my part, it is perfectly assumed. I only use automated pods, for time-efficiency reasons. If you don't know what a pod is, check out this article. This is a technique to consider in your LinkedIn content strategy.
Why not use tools that allow you to multiply by 10 or even 50 the number of views on LinkedIn?
Like any automation, you have to use it intelligently. Because nobody wants to see 30 "Great articles" on its posts (the basic comments offered by current tools). So I created a Google Sheet with the publications to come.
For each, I add:
My first comment, with an outgoing link (See "best practices for publishing on Linkedin") or the identifications of people (which cannot be done with Hootsuite or afterward on a post)
The comments I want to receive.
This second point is quite time consuming and requires a little bit of imagination. I spend 2-3 hours writing credible comments for 15 posts, then I ask the rest of the team to add a few.
The idea is to have 15 pre-written comments per post including 5 very complete ones. These 5 comments bring a real reflection that goes in the direction of my publication or in the other direction.
4. Increase the reach of  posts : Engagement on LinkedIn
This point is more a parallel process than really a step. There are two essential best practices:
If you want organic engagement on your posts, be dividing. Take sides, even if you soften the speech via comments afterward. When you address people's beliefs, it is more easily ready to engage, to go against or with you. So comment and increase your reach. (See my post on Business Schools which made 45k views but where I got hit).
Publish at the right times. Personally, I publish every working day between 10 am and 11 am. These are the hours known to have the "best" reach. I also anticipate posts that I consider to have the best potential for Tuesday and Thursday, known as "the best days".
5. Manage and distribute
Once all the posts are written, scheduled and pre-commented, you have to manage the broadcasting.
That is to say:
Manually start the engagement on your post (because at the time of writing, Podawaa does not exist and competing tools do not allow planning). That is, take the link from the post, put it on the pod tools, copy/paste the prepared comments, add the first comment with the outgoing link.
Respond to comments. This part is essential because it allows to create interactions with the audience (more comments and therefore more views but also a contact with real people, which is the goal, ultimately)
Some tips for your content strategy on LinkedIn
I publish 10 minutes later than the day before every day. The reason? Lempod won't let me add a post every less than 24 hours (#userexperience). I add the link of the post and I take a 10 minutes margin each day to be able to engage with the publication the next day. (Another tip is to delete the previous day's post on Lempod)
I have an

alarm during publication times s

o as not to miss adding my link on the pods. Early engagement matters most!*
6. Take feedback and iterate
Once you have your first post published and your strategy is running, it must be adjusted. Each person has its own methods, but remember to take feedback from the audience and see which posts have worked best to analyze the patterns and re-use them.
I am only at the beginning of my content strategy (3 months of publications is quite short) but the results and engagement on LinkedIn are already there! Contact me on LinkedIn if you want to discuss this or follow my content! ☺️